Remember Rigoletto? Remember Verdi's beloved, tune-filled, melodramatic opera, completed in 1851? The one about a tragic hunchbacked jester, his virginal daughter and the lusty duke who seduces her? Remember the historic setting, 16th-century Mantua?
Forget all that.
For some reason, many modern productions contradict the dramatic framework in hand-me-down masterpieces. Doing so has become fashionable. Americans, often resistant to artistic change, decry (un)poetic license and call the unconventional stagings "Eurotrash." Europeans, more curious, perhaps, about the possibilities of expressive adventure, prefer a nicer term, "Regietheater." Loosely translated, that means "director's theater."
And so it is, for better or worse, with Rigoletto.
The groundbreaking reinterpretation must have been the version created by Jonathan Miller for the English National Opera in 1975, crucially revised in 1982. It is still revived in London, and a vivid souvenir can be seen on a DVD released by Kultur. Miller's most bracing innovation involved moving the action to Little I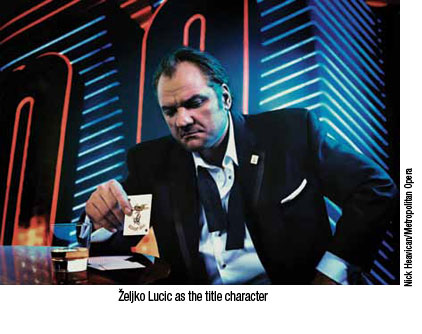 taly in Manhattan, ca. 1950. Invoking the spirit of The Godfather, he made the Duke a Mafia capo and Rigoletto his bartender/henchman. Everyone sang, of course, in English.
In 1991, Elijah Moshinsky retained the Mafia theme for a Rigoletto he staged in Sydney for Opera Australia. His visual inspiration, however, was the post-war decadence of Fellini's epochal film La Dolce Vita.
In 2002, James Macdonald created a Rigoletto for the Welsh National Opera in which the locale turned out to be an emphatically hedonistic Washington D.C. in the early 1960s. And, yes, the central philanderer bore a striking resemblance to President John F. Kennedy. Initially, the irreverent effort drew mixed reviews. Critical responses became relatively positive, however, during a revival two years ago.
Moving from the possibly ridiculous to the probably preposterous, Doris Dorrie moved the opera to the planet of the apes in her Munich production of 2005. The cinematic avant-gardist made the Duke of Mantua a gorilla, his court populated by hairy baboons. Rigoletto wore a space suit. Gilda resembled a refugee from Star Wars. Bavarian witnesses swear they can still hear the boos.
Just this May, Lindy Hume introduced a milder yet still brash vision of Rigoletto at the New Zealand Opera. Audiences in Auckland and Wellington saw the tale of lust, murder, revenge and political immorality unravel in the contemporary Italy of prime minister Silvio Berlusconi. The critic of The Listener sided with the majority when he found the result "intelligent and coherent….a must-see."
Until now, the Metropolitan Opera has treated Rigoletto with cautious respect. The most recent production, staged in 1989 by Otto Schenk, concentrated on cardboard realism and traditional ritual. At worst it provided an unobtrusive, picturesque background for a mellifluous concert in costume.
If all had gone as planned, it would have been replaced on January 28 by Rigoletto as envisioned by Luc Bondy. His presentation of Puccini's Tosca at the Met in 2009, however, was not a success, and, for reasons officially unexplained, Verdi's early masterpiece has been quietly reassigned. The man now in charge is Michael Mayer, the Broadway pro who won a Tony Award in 2007 for the daring quasi-rock musical, Spring Awakening. He has never directed an opera before. And – surprise! – he has chosen to bring back the Mafiosi.
For his period he has revisited the 1960s. That isn't exactly revolutionary at this juncture. For his setting he has chosen something equally untrue but untried: sleazy easy Las Vegas.
Mayer has told an AP interviewer that he wants to examine "a recent world that captures the decadence of the Duke's palace. The participants are in pursuit of power, money, and beauty. Las Vegas in the '60s is such a world, where a kind of prankster energy could go bad – it's the epitome of the kinds of events that happen in Rigoletto. Vegas was always the locus of a decadent society."
Mayer envisions the womanizing bad-guy tenor, now just called Duke, as a character like Frank Sinatra. His entourage includes figures who bear obvious resemblances to Sammy Davis Jr. and Jackie Gleason.
Instead of the Verdi's elegant palace, Mayer and his designer, Christine Jones, give us a glitzy casino. The garish neon of the Strip flashes in the background. Rigoletto serves as his boss' sidekick, yes-man and sometime comedian. Monterone, the man who dares curse Duke, turns up as an Arab tycoon. Sparafucile becomes a shady hitman who runs not an inn on the outskirts of town but a sex club. Maddalena, his voluptuous sister, works, of course, as a hooker.
The new production is conducted by Michele Mariotti. Born in Urbino, a walled city southwest of Pesaro, he turns out to be the only Italian involved in the production. While Gilda is portrayed by the lovely German soprano, Diana Damrau, all the other principals are Slavic. The celebrated baritone ?eljko Lucic, born in Zrenjanin, Serbia, undertakes the hard-to-cast title-role. Piotr Beczala, a fast-rising tenor from Czechowice-Dziedzice, Poland, gets to sing the hit tune, "La donna è mobile," as Duke. Štefan Kocán, a young bass from Trnava, Slovakia, plays the assassin Sparafucile, and Oksana Volkova, a mezzo-soprano from Minsk whose home base is the Bolshoi in Moscow, makes her Met debut as sexy Maddalena.
Stubborn purists may find this Rigoletto disconcerting. Esthetic libertines may not. Neither camp, in any case, should find it boring.
Metropolitan Opera
metoperafamily.org
To view the pages in pdf form, click here.
---