New York's East Side in the 50's runs the gamut from upscale to up-and-coming. For seekers of pampering euphoria, this dichotomy could not be better represented than by two of the city's most impressive spas: The New York Palace Spa, with its pristinely-appointed treatment rooms, many overlooking a celebrated Manhattan landmark; and Spa Martier, an inviting underground warren of boudoir-inspired chambers offering everything from facials, massages and wraps to showpiece manicures and pedicures.
The New York Palace Spa

B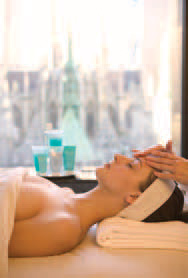 right, welcoming, and discreetly luxe, the New York Palace Spa and Fitness Center has a sleek appeal that attracts locals and hotel guests alike. Design elements marked by modern clean lines, light woods, and subtle Asian touches make this an equally comfortable oasis for female and male patrons and offer a distinct contrast to the city's more theme-centric spas. In fact, the spa's layout - integrating a spacious, state-of-the-art workout room into its blueprint of treatment and locker rooms - makes The New York Palace Spa a primo intro for "the guys" - which is not to say it lacks feminine allure, especially in its indulgent menu of services "guaranteed to melt away the stresses of travel and inspire a renewal of the senses."
Situated on the eighth floor of The New York Palace Hotel - which just happens to be directly across Madison Avenue from the eastern spires of St. Patrick's Cathedral - the Spa offers a breathtakingly Gothic visual from several treatment rooms, although the blinds can be drawn if you prefer a more secluded experience. [In-room massages - solo and for couples - are also popular with Palace hotel guests, often with the same iconic view.]
As for international and bi-coastal travelers prone to jet lag, The New York Palace Spa's services come in a customized array of rejuvenating therapies, including their signature Aromatic Hot Towel Massage, which involves applying hot compresses infused with your choice of pure essential oils - a selection that includes lavender, rose, eucalyptus, and citrus. The massage pressure - from deep tissue to Swedish - is available to your preference.
Post Script: Should your schedule allow for pre-treatment workout, the facilities are complimentary and the Palace spa front desk can provide you with sneakers, shorts, a T-shirt and socks (also free of charge!). 455 Madison Avenue (between 51st and 52nd Sts.), 212-303-7777; nypalace.com
Spa Martier
Barely a year in residence in a neighborhood that, until its arrival, had little to offer in the way of high-end spa treatments, this charming gem of a spa has already become an off-the-radar star. Once discovered - seductively hidden down a flight of stairs within the Martier Boutique - the media (including the New York Post and Time Out magazine) were quick to pounce on such dramatic Martier offerings as their Gold Leaf Facial ("99.99% pure to stimulate cell activity and boost natural healing") and outré-cool Snakeskin manicures/pedicures that utilize bits of actual (shed!) snakeskin.
The force behind Spa Martier's crossover collection of holistic and glamour services is Yuki Nator who, having honed her innovative and entrepreneurial skills in her native Japan partnered here in New York with designer Joseph Khaloyan to redefine the spa experience in terms of comprehensive services juxtaposed against an eclectic mix of European, Middle Eastern, a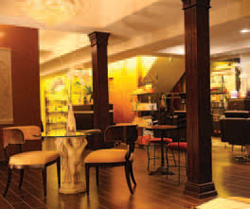 nd Asian furnishings. The effect? Exotic, quirky, comfortable, and highly professional.
Each treatment room has its own shower (the couples room shower accommodates two), sink, toiletries and unique design (think silk, velvet, recessed lighting, and total privacy.) Indeed, Spa Martier has mastered the concept of a fantasy spa experience. Certainly, the clientele are so relaxed and enamored by the care lavished on all aspects of the spa, they readily share their passion for the space, the treatments, and especially the aestheticians. (I believe the word "addicted" was bandied about - but then the individuals I spoke to also made sure I knew that there is another nifty perk to consider: in-spa dining. You see, adjacent to the boutique is Martier Café (excellent, according to the regulars) and, like the spa, they deliver!) 1014 Second Avenue (between 53rd and 54th Sts.) 212-758-5370 , spamartierny.com
National Spa Week
Bountiful Bliss Is Back!
October 10th through October 16th
Spa Week, the seminal semiannual event that gives spa lovers and newbies free reign to go a little wild trying on a designer wardrobe of treatments from New York's foremost spas, is celebrating its 15th edition this fall under the auspices of the event's title sponsor, CAREFREE®. As always, the price point remains a mind-blowing $50 for full-service spa experiences.
Reservations for everything from high-end massages, wraps, and facials to yoga classes and wellness counseling - which normally range in price from $100 to $400 - can be made starting September 12th by visiting spaweek.com, a site that also provides an up-to-the-minute roster of the Fall 2011 participating spas and the services they're offering. Inside tip: many spas extend the special rate up to a month after Spa Week!
Also worth noting: This fall, a number of participating spas are offering multiple options. For instance, Spa Martier (mentioned above) is making available three of its hottest services: their 24-Carat-Gold Facial; a one-hour Rolling Stone Massage; and a Sculptured Gel Nail Manicure-Pedicure.
To view the pages in pdf form, click here.
---