Gotham's creative pastry chefs are offering a great way to enjoy summer: Think
silky-smooth ice creams, melt-in-your-mouth gelati, and thirst-quenching sorbetti, all served up in tempting, "curated" flavors. Two eateries with brand-new ice cream menus for the spring/summer season are Payard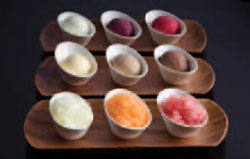 and A Voce. At the former, François Payard Bakery (and at the maestro's Chocolate Bar), frosty ice cream sandwiches in dee-lish flavors await: strawberry cheesecake, brownie with vanilla-bean ice cream, and raspberry apricot sorbet ($5). The cookie "bread" is moist and flavorful and the ice cream "fillings" are ambrosial. At A Voce, pastry chef Erin Burns (a veteran of The River Café, The Modern, and Picholine) has whipped up a roster of seductive gelato and sorbet flavors ($3 per scoop) far removed from the mundane vanilla (although her vanilla-bean gelato is pretty darn scr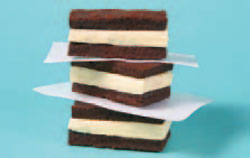 umptious), including ricotta, ginger, caramel, cider, grapefruit, and the usual suspects like coffee and mint, which is refreshingly perfumed with the scent and zest of real mint leaves, plucked right from the garden.
François Chocolate Bar, The Plaza Hotel, Concourse Level, 1 W. 58th St. (Fifth-Sixth Aves.), 212-986-9241; FPB, 116 W. Houston St., 212-995-0888; payard.com; A Voce, 41 Madison Ave. (26th St.); 212-545-8555; 10 Columbus Circle (Time-Warner Building), Third Floor, 212-823-2523; avocerestaurant.com

To view the pages in pdf form, click here.
---