Charlie Palmer has opened 13 restaurants across the country in 20 years, and when asked how the journey has been, Palmer answers simply, "It's been invigorating; I don't get tired." This may come as a surp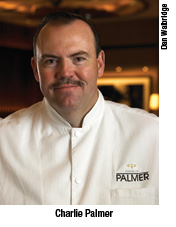 rise, because just reading his resume would tire the common man - but Palmer is, of course, anything but common. In 1988, after spending three lauded years as the Executive Chef at the River Café on the Brooklyn side of New York Harbor, Palmer opened Aureole on the Upper East Side of Manhattan - his first restaurant as a chef/owner. He would hone his craft there for nearly a decade, garnering a three-star New York Times review in 1991 and several other kudos, including a James Beard Award for Best Chef New York in 1997.
It must have been around this time that the entrepreneur trapped inside his chef's outfit broke free and began to spread fantastic "progressive American" cuisine across the land. Hurricane Palmer started small, with Astra, a beautiful but subtle event space and café here in Manhattan on 3rd Avenue. Then, two years later, Palmer opened Aureole Las Vegas in 1999, and since he was already there, he opened Charlie Palmer Steak in Vegas the same year. Métrazur opened in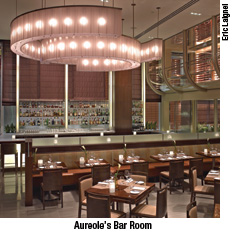 Grand Central Terminal in 2000 and between then and now Palmer has opened seven more restaurants, a hotel, two wine shops, written four cookbooks, and re-located his NYC flagship Aureole to One Bryant Park in 2009. Aureole New York is "his soul" as Palmer says himself, and although he's usually in the kitchen, he's often seen by the far corner of the bar, usually smiling and cracking jokes about the speed at which other restaurateurs move.
Q.
World-class restaurants, wine shops, hotels, I hear you make furniture (which may be hearsay). Is there anything that you want to do that you haven't been able to do yet?

Hundreds of things, I just haven't had enough time to do them, yet. I've started to make my own wine; I love the wine business from the vineyards to the people. One of my first experiences with food was in my family's vegetable garden, so the nuances, all of the variables that go into making great wine, are interesting to me from an agrarian standpoint and a chef's perspective, but also the business aspect of making and selling wine. I have the wine shops in Dallas and Costa Mesa and I hope to expand on those.
Q.
What was it like moving a flagship restaurant from the Upper East Side to a drastically different neighborhood, in the heart of midtown?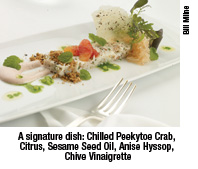 Obviously, I felt like One Bryant Park offered the ideal environment; it's new and it's different but that fit the ideal that Aureole was founded upon-constantly striving for better products and new ideas. The view of 42nd Street's evolving landscape sparked something new for me and I feel like we built our ideal restaurant space with a dream kitchen, larger wine storage, and more diverse dining rooms. Combined with our talent in the kitchen and dining room, this Aureole is designed to last another 20 years.
Q. What was the biggest obstacle in moving?

Packing and unpacking all the wine. It may sound funny, but we have over 14,000 bottles on premise; and besides the sheer volume and weight, we obviously had to be pretty careful with them. It required a lot of coordinated work among the team, but we set up in a little production line down the stairs in the townhouse and had all the cases moved in just one day.
Q.
Among all of these accomplishments, is there one that you're most proud of?

My four kids. I've been very blessed with a loving home. When we're not watching or playing football, we cook together and they help out with events like Pigs & Pinot. They also keep tabs on my Facebook and Twitter pages now.
135 West 42nd Street • 212-319-1660 • charliepalmer.com/Properties/Aureole/
To view the pages in pdf form, click here.
---