(1/4-1/10) City Guide's Things to Do in NYC brings you the best in special NYC events, exhibits, sightseeing activities, fun for kids, concerts, and nightlife. This week, get ready for the ride of your life, as the Professional Bull Riders return to Madison Square Garden for the Monster Energy Buck Off! Plus, bring the family out to celebrate a Three Kings Day Parade with El Museo del Barrio or Audubon Winter Cruises with New York Water Taxi. For the adult set, there's great comedy and nightlife, including a special discount to the show Wild Women of Planet Wongo, which includes a Wongotini!
THIS WEEK IN NEW YORK: THE BIG EVENT
(1/6-1/8) If you're seeking adrenaline-pumping action well beyond a Broadway show or a bustling nightclub, grab a seat for The Professional Bull Riders (PBR) Monster Energy Buck Off at Madison Square Garden. The famed New York arena will see the world's top 35 bull riders risking it all to single-handedly ride eight seconds on 1,800 pound beasts for top points and a hefty purse. This New York weekend series marks the kickoff of the 2017 PBR season.
PLUS
(1/6) La Bohème at Metropolitan Opera.
(1/6) Everyone loves a parade, especially when it involves music, dancing, puppets, and live camels. Celebrate the 40th Annual Three Kings Day Parade with uptown's El Museo del Barrio, which will also be hosting open galleries in the afternoon.
(1/6-1/11) The aircraft carrier USS Intrepid now hosts the Intrepid Sea, Air & Space Museum. Catch a flashback to the carrier's WWII origins with Blueprint Specials: Soldier Musicals, a series of musicals written during the war to boost morale, packaged as complete "blueprints" with scripts and staging all put together. The revues will star Tony nominees Laura Osnes and Will Swenson. Five nights of performances at the museum mark the first stagings of these shows since 1945!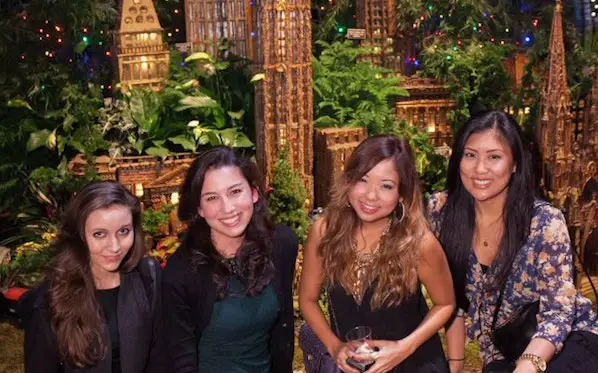 (Now-1/7/17) Final week! The Rockefeller Center Christmas Tree Lighting for 2016 took place on Nov. 30th, but you can appreciate its majestic beauty all throughout December. The towering tree in Rockefeller Center is a global symbol of the holiday spirit. You can also enjoy the surrounding holiday shop windows and The Rink at Rockefeller Center, the world's most famous patch of ice. This year marks the rink's 80th anniversary and to celebrate Rock Center will be flashing back to opening year with nostalgic touches. The rink will play Billboard #1 songs from the last 80 years and Rock Center Café will serve the throwback specialty cocktail "The Preakness." To further bring the mood of opening year, the skate house is decorated with historic photos. Take advantage of a package deal, like Après Skate (appetizers and drinks), a Starlight Skate on the night's last session, or a combo ticket with the Christmas Spectacular Starring the Radio City Rockettes™ that'll get you both into the show and onto the rink. rockefellercenter.com
(now-3/5) Bryant Park Winter Village offers a wide array of vendors to find that perfect gift, plus tasty cider and chocolate snacks, Ping Pong tables, and more! wintervillage.org.
THIS WEEK IN NEW YORK: EXHIBITION OF THE WEEK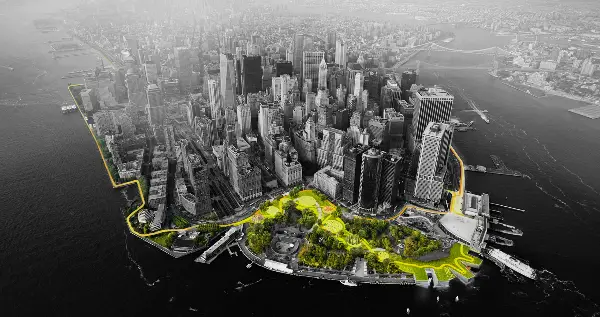 Image courtesy of BIG Team / Rebuild by Design competition
The Museum of the City of New York presents NY at Its Core. Ten years in the making, New York at Its Core tells the compelling story of New York's rise from a striving Dutch village to today's "Capital of the World." The exhibition captures the human energy that drove New York to become a city like no other and a subject of fascination the world over. Entertaining, inspiring, important, and at times bemusing, New York City "big personalities," including Alexander Hamilton, Walt Whitman, Boss Tweed, Emma Goldman, JP Morgan, Fiorello La Guardia, Jane Jacobs, Jay-Z, and dozens more, parade through the exhibition. Visitors will also learn the stories of lesser-known New York personalities, like Lenape chieftain Penhawitz and Italian immigrant Susie Rocco. Even animals like the horse, the pig, the beaver, and the oyster, which played pivotal roles in the economy and daily life of New York, get their moment in the historical spotlight.
Occupying the entire first floor in three interactive galleries (Port City, 1609-1898, World City, 1898-2012, and Future City Lab) New York at Its Core is shaped by four themes: money, density, diversity, and creativity. Together, they provide a lens for examining the character of the city, and underlie the modern global metropolis we know today.
PLUS
(now-4/23/17) Now on display at the New-York Historical Society are two revealing new exhibits—Muhammad Ali, LeRoy Neiman, and the Art of Boxing and "I Am The King of the World"—Photographs of Muhammad Ali by George Kalinsky. The complementary exhibits, one by a watercolor painter/sketch artist and one by a Madison Square Garden photographer, offer an intimate perspective of the heavyweight boxing champion's trailblazing career. Both shows come from a place of deep respect and trust; they chronicle highlights and low points, as well as capturing Ali's sometimes quieter, more thoughtful interior life.
(now-2/17) The Holiday Express show, also at the New-York Historical Society, is about more than trains; it includes boats, planes, and even dirigibles. With items from the Jerni Collection of more than 10,000 toys and trains dating to between 1850 and 1950, it modernizes the old-fashioned miniatures with a multiscreen, multimedia display. You'll hear the clanging of bells and the mooing of cows as a train passes them in the countryside. A figure eight of track runs overhead. In one display, kids can crawl into a transparent bubble and pop their heads in for a close-up look as European and American trains swirl around them.
(now-4/23/17) Prolific NYC filmmaker Martin Scorsese is the subject of a new exhibition opening Dec. 11 at Astoria's Museum of the Moving Image. In addition to exploring his films, the exhibit grants visitors unprecedented access to his personal storyboards (including one he made when he was 11 years old!), screenplays, photos, props, costumes, letters written to him by various directors including Frank Capra, Steven Spielberg, Paul Schraeder, actor Robert DeNiro, and others.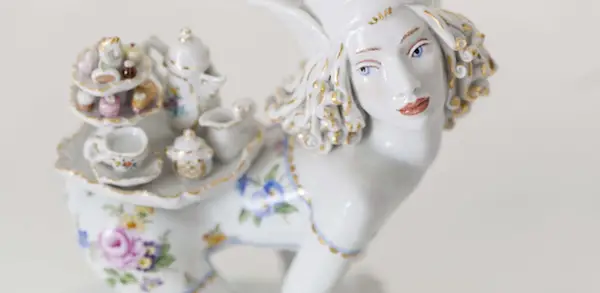 (now-2/5/17) Explore contemporary art and design through a craft lens at The Museum of Arts and Design, an intimately sized museum in the heart of Columbus Circle. MAD offers five exhibition floors, open artist studios, an award-winning store, and an iconic restaurant, Robert, with spectacular views of Central Park. The new exhibit Chris Antemann: Forbidden Fruit celebrates the collaboration between Oregon-based artist Chris Antemann and the renowned MEISSEN Porcelain manufactory, founded in 1710. Antemann's limited editions are displayed here in an installation that reinvents and refreshes the figurative tradition.
(Now-2/26/17) The First Jewish Americans: Freedom and Culture in the New World at the New-York Historical Society. This exhibition examines the story of newcomers to the New World, both Jewish and of Jewish ancestry, who made their way to colonial America and engaged fully in the cultural, social, and political life of the young nation. The exhibition showcases more than 170 rare early portraits, drawings, maps, books, documents, and ritual objects, illuminating the birth of a new Jewish American tradition and the extraordinary contributions of 18th- and 19th-century Jewish artists, writers, activists, and others to the development of American culture and politics.
(Now-2/5/17) Dreamlands: Immersive Cinema & Art: 1905-2016 at the Whitney Museum of American Art focuses on the ways in which artists have dismantled and reassembled the conventions of cinema—screen, projection, darkness—to create new experiences of the moving image. The exhibition will fill the Museum's 18,000-square-foot fifth-floor galleries, and will include a film series in the third-floor theater. Dreamlands spans more than a century of works by American artists and filmmakers, and also includes a small number of works of German cinema and art from the 1920s with a strong relationship to, and influence on, American art and film. Featured are works in installation, drawing, 3-D environments, sculpture, performance, painting, and online space.
(now-1/11/17) Final weeks! Agnes Martin at the Guggenheim Museum, which traces the artist's career from her early experiments of the 1950s through her final paintings in what is the first comprehensive survey of her work since her death. Influenced by Asian belief systems including Taoism and Zen Buddhism and the natural surroundings of her home in New Mexico, Martin's restrained style was underpinned by a belief in the expressive power of art. This retrospective presents the scope of Martin's output, including her biomorphic abstractions of the 1950s, signature grid and stripe compositions, and final paintings. Together these works illuminate Martin's practice as she developed and refined a format to express her singular vision.
(now-1/8/17) Final week! The Battle of Brooklyn at the New-York Historical Society presents the dramatic story of the largest single battle of the American Revolution. On August 27, 1776, on the marshy fields of Gowanus and Red Hook, George Washington and his ragtag army of untrained soldiers fought Great Britain's Royal Army, one of the most powerful military forces in the world. Things did not go well. In the first major armed campaign for the colonies after declaring their independence, the British seized control of the strategically important city of New York. Washington was able to make a surprising retreat that saved the day for his troops and ultimately for the American cause. Through 90 objects and documents, including Hugh Gaine's printing of the Declaration of Independence, a camp bed used by George Washington during the war, Thomas Paine's 1776 Common Sense, which lays out the arguments for independence, and a rare hunting shirt that became the first "uniform" of the Continental Army, this new exhibition presents the dramatic story of the near-disaster that played a major role in the making of America.
(now-1/8/17) Final week! Who Shot Sports, A Photographic History, 1843-Present at the Brooklyn Museum gathers together approximately 230 works—from daguerreotypes and salted paper prints to digital images—that capture the universal appeal of sports, highlighting unforgettable moments of drama and excitement from around the globe.
(now-1/17) The American Museum of Natural History welcomes an exhibit with bite: Crocs: Ancient Predators in a Modern World provides a fascinating look at the world of archosaurs, a group that includes alligators and crocodiles as well as extinct dinosaurs and modern birds.
(ongoing) On The Line: Intrepid & The Vietnam War is up at the Intrepid Sea, Air & Space Museum. Intrepid made three tours of duty in Vietnam between 1966-1969.
Click here for our Intrepid Coupon to save $3 now (max 4 persons) off general admission!
(now-2/19/17) Night Fever: New York Disco 1977-1979, the Bill Bernstein Photographs at the Museum of Sex explores the sexually and socially radical multiculturalism embraced by the New York disco clubs of the late '70s. The exhibition assembles 40 photographs from Bill Bernstein, accompanied by audio interviews, in an immersive installation that invites viewers to experience the freedom and intoxication of the disco era. Take $3 off Museum of Sex admission with this coupon.
THIS WEEK IN NEW YORK: COMEDY

PLUS
(1/5) Stand Up NY Showcase, with Christian Finnegan, Tyler Richardson, and Sergio Chicon, at Stand Up NY.
(1/6) Stand Up NY Showcase, with Marina Franklin, Brian Scott McFadden, Marion Grodin, Jon Fisch, and Mike Vecchione, at Stand Up NY.
Get free admission for two to Stand Up NY!
THIS WEEK IN NEW YORK: KIDS
Photo: Thom Kaine
(Now-1/8/17) Final week! Pip's Island at Skylight Modern lets loose 21st-century pop culture goodies (graphic novels, web series, apps, video games, etc.) and tosses in live actors, a propulsive storyline, and creative problem solving for an all-immersive theatrical experience.
(Ongoing) Explore the beautiful interactive exhibit Connected Worlds at the New York Hall of Science in Queens.
THIS WEEK IN NEW YORK: SIGHTSEEING
PLUS
(Now-1/8) Final week! THE RIDE: HOLIDAY EDITION returns to turn the streets of New York into a stage. You'll cruise in comfort in a patented $1.5 million travelling theater. Technology galore and floor-to-ceiling glass with side-facing VIP seating provide perfect views to dazzling holiday performances you'll find along a 4.2-mile journey through Manhattan. Original seasonal music, videos, and hilarious hosts complete the experience, definitely one to remember. Click here to take $30 off THE RIDE: HOLIDAY EDITION!
(now-1/16) The annual Holiday Train Show at the New York Botanical Garden is back! Enchanting model trains zip through a display of 150 landmarks, each re-created with bark, leaves, and other natural materials—all under the twinkling glow of the Enid A. Haupt Conservatory. Marvel at G-scale locomotives humming along among familiar sights such as the Brooklyn Bridge, Statue of Liberty, and Rockefeller Center on nearly a half-mile of track. The recent exhibition expansion continues with more trains and a true New York finale featuring a whimsical tribute to the iconic Coney Island amusement park's architecture and attractions.
Grab your honey or friend for a cozy ride aboard A Slice of Brooklyn's Chocolate Tour, TripAdvisor's top-rated NYC tour company A Slice of Brooklyn Bus Tours has launched its Brooklyn Chocolate Tour, which visits artisanal chocolate sites Jacques Torres Chocolate in DUMBO, The Chocolate Room in Cobble Hill, Raaka in Red Hook, and Li-Lac Chocolates in Industry City, Sunset Park. Offered every Monday, Wednesday, and Friday.
(Ongoing) Grab a date or friend and enjoy the most incredible views of NYC at Top of the Rock.
(ongoing) Catch the Ghostbusters Experience (walk through/immersive) and Ghostbusters Dimension, a Virtual Reality Experience at Madame Tussauds. Get ready to strap on some gear and laser some ghosts against breathtaking, realistic backdrops. The technology puts you right there!
(ongoing) Take a one-hour tour of one of the world's most important buildings, the United Nations, now celebrating 70 years. (Tours offered weekdays only.)
Check out the new "tour about nothing" When Harry Met Seinfeld with On Location Tours.
Explore NYC's Financial District with Wall Street Walks.
THIS WEEK IN NEW YORK: NIGHTLIFE & MUSIC
(1/6-1/7) Wild Women of Planet Wongo at Parkside Lounge. Use this City Guide coupon: admission is only $29, and includes a Wongotini.
PLUS
(1/6) A Darlene Love Christmas at B.B. King Blues Club & Grill.
(1/7-1/8, 1/11) Chanteuse Ute Lemper perforrms at Feinstein's/54 Below.
(1/8)
Every Sunday at noon and 2pm don't miss Broadway "Boozy" Brunch, with a cabaret show and the option for bottomless bellinis, Bloody Marys, and mimosas.
Don't Tell Mama
.
(now-4/29/17) New York Theatre Ballet 2016/17 Season at St. Mark's in the Bowery.
SNEAK PEEK, NEXT WEEK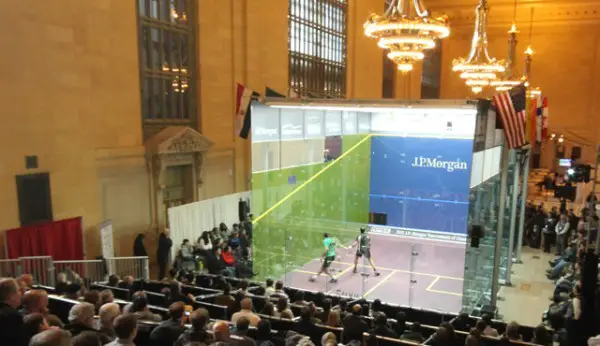 (1/12-1/19) The 20th annual J. P. Morgan Tournament of Champions (ToC) brings together the world's greatest squash stars for an exciting week of international competition and live spectator events at Grand Central Terminal. The matches are played beneath the iconic chandeliers in Vanderbilt Hall in a state-of-the-art glass squash court, with stadium seating for 500 and a free standing room area for commuters and passersby.
PLUS
(1/10)
Secret Science Club Presents Canine Cognition Researcher & Author Alexandra Horowitz
at
The Bell House
.
(1/11-1/15)
Shen Yun Performing Arts
bring their colorful, timeless stories told through Chinese dance to Lincoln Center.
(1/11) The Wailers perform at Brooklyn Bowl.
_______________________________________________________________________
Like what you see here? Share it with your friends on Facebook! Find out more about what to do in January. We got February covered, too!
---