On the Vast Track
The East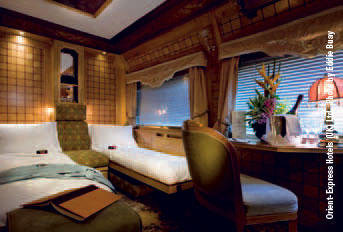 ern & Oriental Express pulls into the station with a historic patina that conjures up images of the ultimate in opulent travel. Like all Orient Express offerings, E&O rail "voyages" continue to reinvent themselves to cater to contemporary travelers - without sacrificing an iota of the grand mystique portrayed on the silver screen for decades.
The latest collection of new rail excursions - Chronicles of South-East Asia - features ultra-exclusive accommodations in their State and Presidential cabins and are limited to a maximum of 60 guests. The four itineraries - Epic Thailand; Legends of the Peninsula; Fables of Hills, and Tales of Laos - are beyond unique, each catering to individuals with a passion for adventure and a taste for the exotic. orient-express.com
Apps Under Wraps
Hardcore electronic geeks and geek-ettes may view the Apple iPad/iPad 2 as an upper echelon communication tool/information hotline for the transient techie, but the majority of us revere them for putting the "fun" in functional. After all, the iPad serves its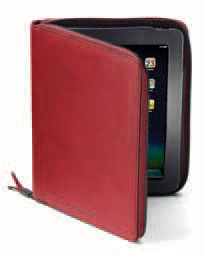 jet-setting masters with such portable pleasures as movies, games, novels and music. Shouldn't we return the favor by providing them with safe and fashionable homes? And who says fashionable better than Burberry?
The Burberry London Leather iPad Case, imported from Italy, bears the company's insignia in front and features a wrap-around zipper. Its sleek dimensions are 10.5"H x 8.25"W x 1"D and its price is $455. Your iPad will be very happy. Bloomingdales.com
Above It All Down Under
When you leas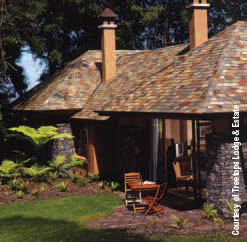 t expect it, the impulse strikes: to abandon the rut of routine and responsibility and connect with the extraordinary - preferably against a "far from the madding crowd" backdrop.
I give you Treetops Lodge & Estate in Rotorua, New Zealand: a world-class retreat sequestered somewhere between heaven and earth in the half-moon valley of Treetops at the edge of the Mamaku Plateau. With its Maori legacy, the area is known for its healing thermal springs, towering bluffs and giant, eight-century-old trees. Blending seamlessly into this idyllic setting, the lodge etches a fine line between the rustic and the luxurious. The resort spans 2,500 acres of native forest and game reserve (seven trout streams, myriad lakes, and all the hiking, horseback riding and exploring imaginable) to emerge a nature-rich sanctuary, continents away from the beaten path. treetops.co.nz/index.html
The Hawk of the Town
It's something you might find on a class schedule at Hogwarts: "Falconry 101." Only this course, for all ages and abilities, is essentially a one-hour private Hawk Walk a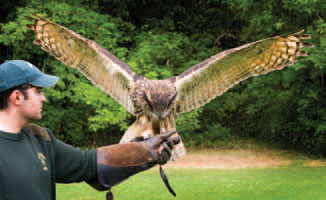 t Ireland's School of Falconry. Here guests, along with their chosen hawk and personal falconer, head to the surrounding woodlands where the bird soars free. "No one ever forgets the moment when their hawk first swoops down from the tree to land back on their gloved fist," note longtime school directors James and Deborah Knight.
And like the grounds of Hogwarts, where Harry, Hermione and Ron learned the "Care of Magical Creatures" from Hagrid, the Hawk Walk is affiliated with a castle campus: the 783-year-old Ashford Castle (now a distinguished five-star hotel) in Cong, County Mayo, where John Ford filmed The Quiet Man in 1951. falconry.ie; ashford.ie
To view the pages in pdf form, click here.
---