At street level, there's a cube with tinted windows and sign poles supporting transparent boxes which hold the beautifully minimalist food and drink menus of Beautique. Just inside, sits a beautifully lacquered grand piano and past that, a curved, descending staircase. Even taking the piano into consideration, it's a pretty unassuming entrance compared to what lies beneath.
It's said that the décor was inspired by Coco Chanel's Parisian home and after doing a bit of research, I'd say one can see the resemblance. It's especially apparent in the textures - the velveteen chairs, the intermittent soft beiges, mixed with hard grays and blacks, well-worn leathers, and myriad decanters lining the main dining room.
---
This winter at Beautique:
Sunset Supper
Join them for their Sunset Supper menu Monday to Friday 5:30pm to 7:30pm ($49 per person). Great for guests with theater plans and complimentary champagne for all hotel guests.

Live Jazz Mondays
With Michael Fredo from 7pm to 11pm. Entertainer Michael Fredo was chosen as the first house band to perform at The Plaza Hotel since the 1960s. He spent two years performing in the famed Rose Club, formerly known as The Persian Room, serenading a packed house of New York's socialites, celebs, young professionals, and sometimes even royalty from around the globe.

Lounge
Tucked away is the private lounge where exclusive art, glowing champagne bottles, and chic company will transport you to a dream-filled night of revelry. Foodies and trendsetters alike can partake in this unique blend of "restaurant-meets-lounge" with cocktails from James Beard- nominated mixologist Charlotte Voisey and music from a featured DJ every Tuesday to Saturday. For VIP inquires, please contact Mathias Van Leyden at 917-292-5624 or Roberto Buchelli at 917-930-6141.
---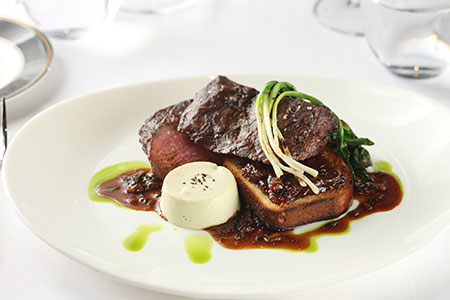 Grass Fed Beef with bone marrow flan, red onion toast, and ramp jus

The food and cocktail programs on the other hand, don't try nearly as hard to be spectacular. They impress with whimsy. They nonchalantly knock your socks off: From a small flourish like a club-shaped hole punched into the orange peel in a "King of Clubs" cocktail, to a "Crab Flan" appetizer that will take you on a salty-sweet-crispy-oceanic taste voyage (despite its simple moniker).

---
8 West 58th Street, 212-753-1200; beautiquedining.com
---