The need for a winter coat sneaks upon us every year. One day we're getting by with nothing more than a sweater and leather jacket, and the next thing we know temps dip quickly into the 40s.
Luckily, the cape has become a mainstay of top designers' fall-winter collections, and is just the piece to buy now and relish having later. It is a brilliant layering item, and works over lightweight knits for the autumn months, and atop thicker separates come winter.
Whether you prefer a classic cut like the one by Roberto Cavalli or a daring number (e.g., DKNY, Delpozo), you're certain to see something here that will keep you happy and toasty all season long.
---
Since Josep Font was appointed creative director of Delpozo, the brand's ready-to-wear offerings have taken on a couture-like quality. Here, a checked cape is resplendent in vibrant pink and yellow hues, and a sash promises to tie your whole look together. $3,450. 754 Fifth Avenue (57th/58th Streets); 212-753-7300; bergdorfgoodman.com
---
The cold-weather blues don't stand a chance when you're sporting The Row's Tonpell cape. This virgin-wool-and-angora piece is reversible; one side is of a textured brown hue and the other has a forest-green plaid. $5,190. 116 Wooster Street (Prince/Spring Streets); 212-965-9964; barneys.com
---
While Saint Laurent's wool cape instantly conjures up ideas of Little Red Riding Hood, the cut of this piece is decidedly adult. An A-line hem flatters, and a hood will keep you extra toasty and dry. $2,550. 3 East 57th Street (Madison/Fifth Avenues); 212-980-2970; ysl.com
---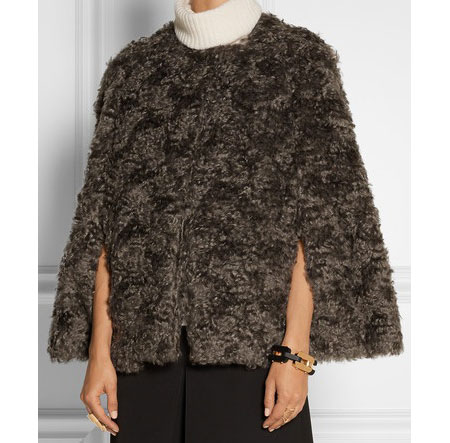 Made in Italy from super-soft mohair and cotton, this topper from Derek Lam is perfect for the transitional period between fall and winter. The style also features hook fastenings in front. $2,390. 12 Crosby Street (Grand/Howard Streets); 212-966-1616; dereklam.com
---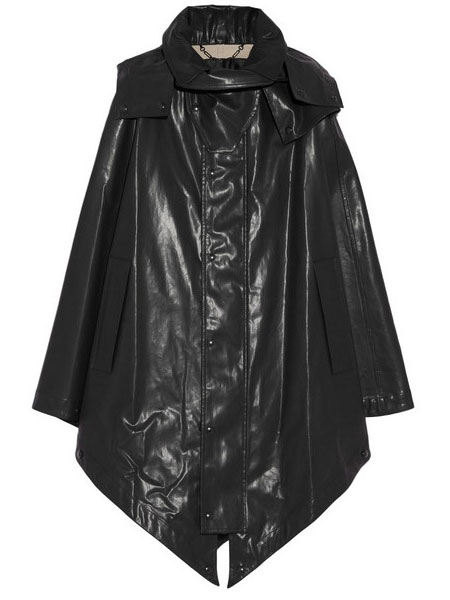 The Cora cape by Belstaff is ingeniously made from waterproof, rubberized cotton. A buckle detail nods to the brand's moto history. $2,150. 814 Madison Avenue (68th/69th Streets); 212-897-1880; belstaff.com
---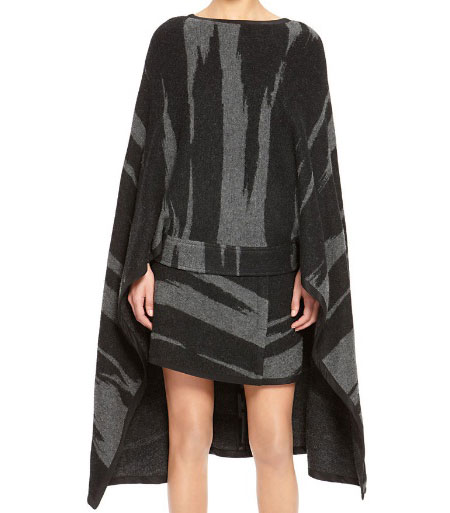 There's a good reason why DKNY dubbed this outerwear style the Drama cape. This statement piece was seen on the label's fall runway and features a tiger-print jacquard pattern. $495. 420 West Broadway (Prince/Spring Streets); 646-613-1100; dkny.com
---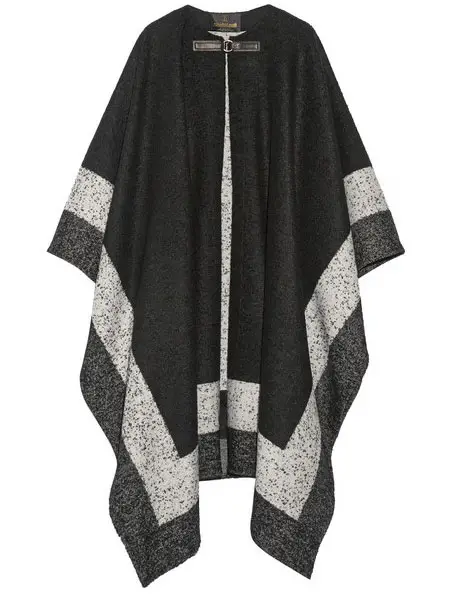 Roberto Cavalli's blanket-style cape is just the thing to get you from the subway to the office on even the blusteriest of days. The gray-hued bouclé has a leather fastening at the neck and mohair and wool woven throughout. $2,270. 711 Madison Avenue (63rd/64th Streets); 212-755-7722; robertocavalli.com
---
It's hard not to instantly fall in love with the Caban duffel coat cape by Carven. It's simultaneously adorable and sophisticated, and we adore the oversized lapels and toggle closures. $1,270. 83 Mercer Street (Spring/Broome Streets); 646-684-4368; carven.com
---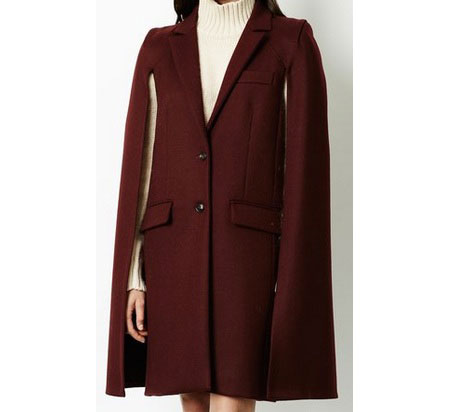 Veronique Branquinho successfully riffs on the idea of donning a coat atop one's shoulders by creating a cape version of the concept. Her piece is rendered in a gorgeous, rich Bordeaux shade. $2,640. 35 Howard Street (Broadway/Crosby Street); 212-219-2688; openingceremony.us
---
Short in front and lengthy in the back, this reversible cape by Adam Lippes is a no-brainer addition to your wardrobe. We love the mix of ivory and burgundy colors — think of it as two coats in one. $1,950. 477 Broome Street (Wooster/Greene Streets); 212-941-9656; kirnazabete.com
---