Our sense of smell is arguably the most unappreciated of our sensory gifts. Capable of actually distinguishing over 10,000 disparate scents, our olfactory abilities are clearly underutilized. But walk into a fragrance department in a boutique and suddenly those dormant capabilities electrify with a frisson of exhilaration — Musk? Liliac? Oud? Coriander? Sandalwood? Freshly mown grass?
Scents are among the most evocative of stimuli floating through our brain's aroma computer, the limbic system: Remember the initial whiff of the interior of your first new car...your first Christmas tree, freshly cut and trundled to the middle of the living room...of just-baked chocolate-chip cookies? All evoke a tidal wave of memories. By year's end, over 1,000 new perfumes will have been brought to market, each an individual, distinct intermingling of nature's delicious alchemy. Here are but four that will waft into a store near you.
---
The rare Iris Nazarena, which grows in the mountains east of Nazareth, has super-soft, suede-like petals and it is that gentleness that has been captured in the appealing fragrance of the same name, blending pear, rose, musk, juniper, patchouli, and star anise, among its mélange of heady notes, in this signature scent from one of Gotham's preeminent fragrance destinations. $245 (3.4 oz.). Aedes de Venustas, 9 Christopher Street (Gay Street/Greenwich Avenue); 212-206-8674; aedes.com
---
Known originally for her stunningly gorgeous bridal fashions, Reem Acra's newest effort is her first (and eponymous) perfume. Spray a burst and initially inhale amber, orange blossom, pear, and bergamot, followed by a cascade of florals—jasmine, lily of the valley, and peony—and as the scent lingers, catch notes of patchouli and musk. $125 (3 oz.). Saks Fifth Avenue, 611 Fifth Avenue (49th/50th Streets); 877-551-7257; 212-753-4000; saksfifthavenue.com, reemacra.com
---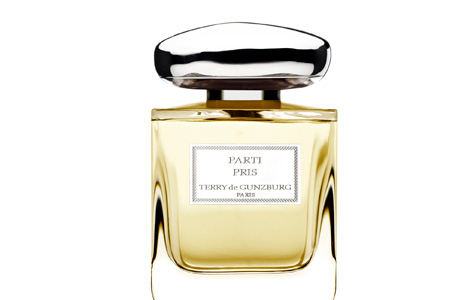 Turkish rose, orange blossom, ylang ylang, sandalwood, and vanilla meld together in a smashing scent, Partis Pris, from cosmetics genius Terry de Gunzburg, whose fragrances are all unusual and memorable. Parti Pris delivers a feminine and seductive scent with hidden notes — among them, Turkish tobacco and smoked vetiver — which surface as the scent evolves. $195 (3.4 oz.). Barneys New York, 660 Madison Avenue (61st Street); 212-826-8900; 888-822-7639; barneys.com, byterrydegunzburg.com
---
Notes designer Tom Ford, "This fragrance began with a dream of the Silk and Spice Roads..." And all that abundance, luxury, and opulence is captured in Shanghai Lily. Dashes of jasmine and tuberose, tempered with rich spices and woodsy notes, all combine to deliver an intoxicating scent, redolent of the Far East. $520 (8.4 oz.). Tom Ford, 845 Madison Avenue (70th/71st Streets); 212-359-0300; tomford.com
To view the pages in pdf form, click here.
---