The designer and her business partner, Keren Craig, dress the stars for the red carpet: Naomi Watts, Katie Holmes, Kylie Minogue, and Heidi Klum are among the many. Now there is a heady fragrance, lavish handbags, tabletop and giftware, bridal, an offshoot line, Marchesa Notte, and the newest line, Voyage, for everyday wear. Very busy.
---
Luisa, Marchesa Casati Stampa di Soncino (1881-1957) was an Italian grandee, gadfly-dandy, and jet-setter, before that word even made it into the Oxford English Dictionary. If Madonna or Lady Gaga thought they were shocking their public with their oft-outrageous, theatrical get-ups, they need only to have looked back to the Marchesa for inspiration...she, who, long before the Internet turned nobodies into somebodies, was admired and held in thrall by le tout Europe for her outrageous, dramatic, eccentric, and fabulous garb. It was she who apocryphally claimed that she wanted to be a living work of art. And she was — and was, also, in turn, years later, the inspiration for the likes of Dior's spring/summer 1998 and autumn/winter 2007-08 collections, as well as for designer Alexander McQueen's romantic spring/summer 2007 collection.
But it is the crowning jewel of the marchesa's legacy that partners Georgina Chapman and Keren Craig — the names behind the Marchesa brand — christened their business in her honor. And, indeed, the marchesa might have eagerly donned their sumptuous confections and might have continued to be the toast of the continent, as she sashayed into elegant soirées, sporting Marchesa's luxe looks. It is no wonder that Marchesa enrobes bold-faced names for their star turns on the red carpet; in the last few months Marchesa dressed Naomi Watts (Cannes Film Festival), Katie Holmes, Karolina Kurkova, and Kylie Minogue (Metropolitan Museum Costume Institute Gala), and Heidi Klum (Golden Globes), among the many.
Chapman, a graduate of the prestigious Chelsea College of Arts, went on to study costume design at the equally renowned Wimbledon College of Arts, both part of the University of the Arts London. Chapman, 38, had a vibrant flair for creating her own ensembles, and although she also worked quite successfully as an actress and model, her passion was design; at an industry event, when she was sporting one of her own creations, she was noticed by the iconic and legendary Isabella Blow, who encouraged her to go out on her own. In 2004, she joined forces with undergrad pal Craig to form the company.
In these brief 10 years, the duo have expanded the brand with a heady fragrance (d'Extase), lavish handbags, a collaboration with Lenox for tabletop and giftware, a bridal line that equals the richness and opulence of the ready-to-wear and couture evening frocks, an offshoot line, Marchesa Notte, and most notably, a more moderate-priced line, Voyage, for everyday wear.
In 2006, Marchesa was named as one of the CFDA/Vogue Fashion Fund's top 10 finalists, and in 2007 the label won the British Fashion Awards for Red Carpet Designer of the Year. In 2008, Chapman was tapped to be the first guest designer for the esteemed jeweler, Garrard. Other collaborations are in the works. Today, Marchesa is sold in over 200 high-status retailers, like Neiman Marcus, Saks Fifth Avenue, and Bergdorf-Goodman in Gotham, in the UK in Harrods and Harvey Nichols, and in farflung metropolises in over 30 countries, in Europe, the Soviet Union, China, the United Arab Emirates, and beyond. Indeed, the original marchesa would be proud to know she inspired so much!
Chapman is married to media mogul Harvey Weinstein, the co-chair of The Weinstein Company. They have two children and reside bi-coastally. Recently Promenade sat down with Chapman to discuss her life and her design collaborations.
Q. How do you plot a season's line?
GC: The creative process is very different for each collection. Keren is much more methodical and organized in her work, and I tend to figure things out as I go along, draping and sketching as inspiration strikes me. Once we settle on a specific inspiration, we begin building our mood boards. They are enormous and filled with images, fabric swatches, and anything we find that helps bring our inspiration to life.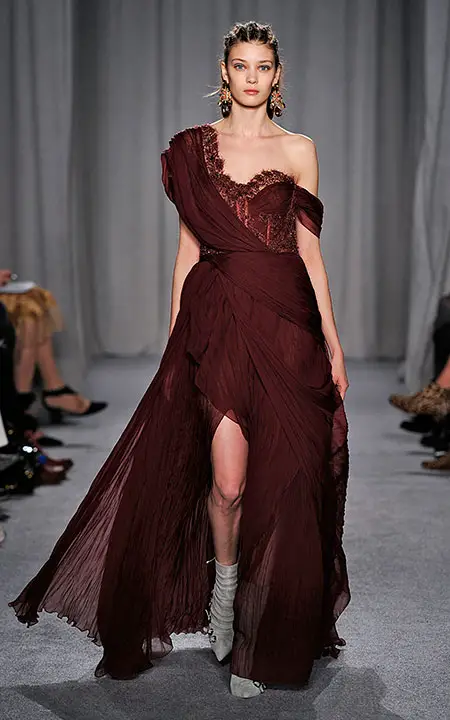 Q. Do you have a personal style or wardrobe accent or item that people know you for?
GC: I definitely have a tendency to collect vintage clothing—tea dresses and caftans in particular.
Q. What are we always going to find in your wardrobe or closet?
GC: Shoes!
Q. How often do you wear your own designs?
GC: I wear Marchesa Voyage almost every day and I am very lucky to have countless gowns and cocktail dresses for evening events!
Q. Tell us about the genesis of the Voyage line and what you love about it.
GC: With Marchesa Voyage, we are able to create a contemporary collection that is suited for daywear, but still captures the spirit of Marchesa. I think people still want pieces in their wardrobe for the day that feel special and unique and we have been able to focus on that while designing Voyage.
Q. How much fun was it to design a fragrance? Was it harder to create the scent itself or that stunning bottle?
GC: Creating the fragrance was such a memorable experience for Keren and me! Our vision, when creating any piece, is to develop the perfect balance of sophistication and femininity. With that, it was important that the Marchesa fragrance maintain this same idea. The scent incorporates sensual, feminine notes like iris, jasmine, and musk. We designed an elegant bottle that evokes the look and feel of raw quartz crystal, an iconic symbol of captured energy; and the bottle is wrapped with a silver embellished cord.
Q. Tell us about your line for Lenox and how you apply your design talents to it.
GC: Marchesa is all about romance, drama, and femininity. We like to bring a sense of this to our Lenox collection by way of mixing bold colors with interesting textures with original hand-painted motifs and embroideries. China, glasses, and flatware are completely different media from dresses and handbags. It's been a really fun challenge to figure out how to bring our signature aesthetic to life in this way. We work closely with the team at Lenox to realize our visions and are always so pleased with the level of detail we are able to achieve.
Q. When did you start the handbag line? Do you design certain bags to go with particular gowns?
GC: Our handbag line debuted in spring, 2010. It can go both ways; we certainly think about handbag designs that will work well with our dresses and complete a look. At the same time we are thinking about the handbag collection as a whole and we incorporate elements into the designs that mirror the mood of each season's inspiration. We like to incorporate the same details and bespoke feeling that our dresses do. A lot of our handbags come in exotic skin, leather, and suede with embroideries and beading.
Q. Although you are clearly busy 24/7, do you have time for outside activities, pursuing personal passions, charities?
GC: Right now I am working with Magic Bus, Asia's largest mentoring organization. They work with children, ages 7 through 18, and help them build life skills, get a better education, and to teach them about gender equality and health issues. The programs have been running since 1999 and today they run programs across India. I am also very involved in the UNHCR [United Nations High Commissioner for Refugees] and this past spring I spent time with Syrian refugees in Jordan. I took the trip with renowned author, Neil Gaiman, and together we visited the refugee camps and witnessed firsthand the impact that this conflict has had on its people. Through our trip we were able to discover ways to raise awareness and funds to help impact significant change. [donate.unhcr.org/neilandgeorgina]
Q. On a more personal note, do you have a favorite, secret grooming/beauty product you cannot live without?
GC: I like to visit [Manhattan dermatologist] Patricia Wexler every few months for a facial; it helps keep my skin looking and feeling fresh. I use her exfoliating glyco-peel pads, which are amazing and I could not live without her daily moisturizer with SPF. I use it twice a day!
Q. While we are on the topic of beauty, tell us about the compacts you designed for Revlon; how did that come about?
GC: We work with [makeup artist] Gucci Westman for all of our runway shows and it has been so exciting to develop beauty tools with Revlon that feature signature Marchesa elements. We had a line of lace-detailed tools this past year and I can't wait to unveil the new designs in the coming months.
Q. Speaking of glam-related projects, tell us about your affiliation with Toni & Guy.
GC: Toni & Guy is also very involved with our runway shows. Mark Hampton [the salon's global ambassador] helps create the hairstyles each season. We also created a design—a beautiful floral motif--that will be featured on limited-edition products this fall.
Q. What is always in your pocketbook or tote? In your fridge?
GC: My iPhone, and my children's toys! And in the fridge, green juice. I have one every morning. And cheese and wine!
Q. What is the first thing you do in the morning?
GC: I like to have coffee in the morning and spend time with my children.
---