Serve it up in style this fall with a variety of eye-catching dishes that will garner you some serious dinner party clout. With classic patterns, subtle details, and bold and bright edges, these plates function as both conversation and serving pieces for elegant entertaining. Bon appétit!
---
GOLD LEAF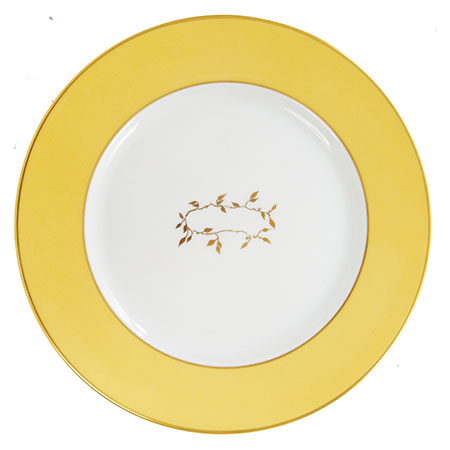 This Cathy Waterman design offers an element of surprise when your dinner guests join the Clean Plate Club! The gold-rimmed China is accented with a bright yellow color pop – one of Waterman's favorites – and centrally showcases a delicate golden wreath. Made in France. $220. Barneys New York, 660 Madison Avenue (61st Street); 212-826-8900; barneys.com
---
CHECK YES

MacKenzie-Childs' Courtly Check Fluted Dinner Plate showcases the brand's most recognizable classic pattern surrounded by a delicate gold-luster edge. Handcrafted at the MacKenzie-Childs compound in Aurora, New York. $112. 20 W. 57th Street (Fifth/Sixth Avenues); 212-570-6050; mackenzie-childs.com
---
SWEET ENDING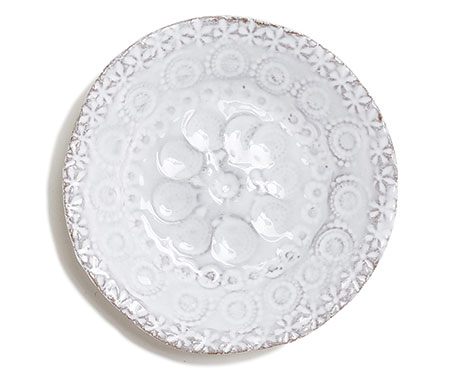 Pile the cake high on this charming, yet dynamic Nathalie Dessert Plate by Astier de Villatte. The lace-inspired pattern catches the eye, while the delicate white glaze helps draw attention to the treats you serve. Handmade in Paris. $65. ABC Carpet & Home, 888 Broadway (19th Street); 212-473-3000; abchome.com
---
GLAZED GLAMOR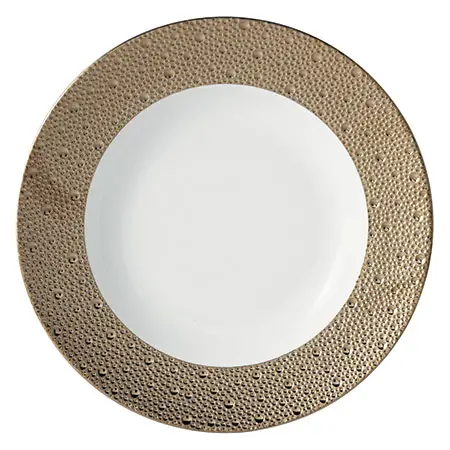 With a striking écume – sea foam in French – platinum edge, luxury porcelain manufacturer Bernardaud presents a plate rich in texture. Using innovative, top-notch glazing methods and hollow engraving to achieve the écume style, Bernardaud's plate is a striking addition to your elegant table. $201. 499 Park Avenue (59th Street), 212-371-4300; bernardaud.fr
---
BOLD BLOSSOM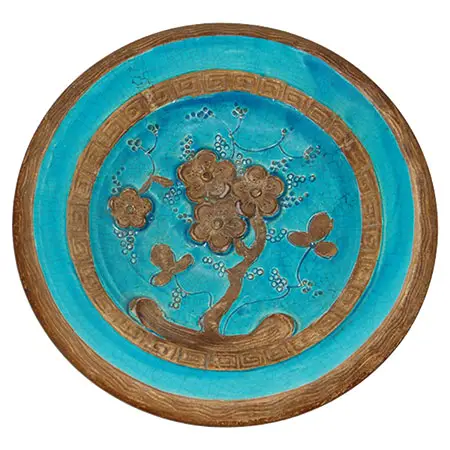 This Ugo Zaccagnini art pottery dish touches on Chinese antique design elements with a strong, yet delicate cherry blossom as the center point against a bold aquamarine background. $550. Anthology at Center44.com
---
PIECE OF PROVENCE

Jars Provence Stoneware Dinnerware in the Plume Ocean Blue pattern by Jars Ceramistes has a uniquely scalloped edge and is handmade in southern France. Jars has been combining traditional craftsmanship with state-of-the-art technology in Provence since 1857. Their mission remains "to make daily objects works of art, and to make the useful beautiful." This durable stoneware is dishwasher and microwave safe for the perfect modern blend of contemporary beauty and convenience. $55. Michael C. Fina, 500 Park Ave. (59th Street); 212-557-2500; michaelcfina.com
---
Melanie Baker hopes her aura is purple, and maintains a strict sushi diet. Big fan of mini-horses, Spotify, and pretending to be fluent in Spanish. She has 19 siblings and counting.