I usually stay in London at a friend's flat (lucky me), which happens to be around the corner from the hotel One Aldwych. By default, One Aldwych has become my local canteen, my hangout; this started way back when the hotel had a cozy coffee shop (street entrance) called The Cinnamon Bar. It is long gone, the space having been turned into the Lounge at One, an equally comfy place (stocked with astonishing Rizzoli coffee-table books) where hotel guests can dally with tasty victuals and peruse the library. Cinnamon provided a flavorsome alternative to Starbuck's and the popular London Café Nero and had the best pastries, but no matter. There are plenty of other resources at One Aldwych that I love, and why I consider it practically "my club" in London, even though I have never (hard to believe) stayed there...
But I have done everything else there! Even on a day when I land at Heathrow at 6am on my way through London, with a connecting flight late in the evening (perhaps on my way to the Far East), I end up with a day to kill — and where better to spend it than at One Aldwych? I could linger in the airport lounge, true, but why not head directly to One Aldwych, where I make arrangements for a spa treatment, a meal, and some lounging time. It has become a home away from home. (For the record, there are no "day passes," but if you book a spa treatment, then you have the use of the spa, gym, and of course the lobby lounge/bar and restaurant. The hotel even has a program called Sip & Spa that is perfect for the in-transit, weary soul: Start with a 60-minute Radiance Booster facial, which revitalizes the skin with a Natura Bissé Vitamin C scrub and serum, followed by a 30-minute energy-boosting Vitamin C body scrub. After a trip to the gym or the pool, a relaxation room snooze, a sauna or steam decompression, and shower, top it off with a Citrus Treat Cocktail in the lobby bar. This is a blend of Babicka kumquat-infused vodka, Southern Comfort, orange and carrot juices, topped with Champagne. (£135 per person)
One Aldwych is a trendy hotel, without being in your face; in other words, it's not so edgy that you cannot figure out how to turn on the faucet in the bathroom. Neither is it so full of itself that you cannot locate a decent bedside reading light. It is hip and homey at the same time; everything about it is gracious and elegant.
And it could not be better located. The fashionistas regard it as base camp during London Fashion Week (which is conveniently staged across the street at the go-to Somerset House), a destination in itself. (The renowned Courtauld Gallery is also in this complex.) Last year when I was in London (lingering, of course, at One Aldwych), there was a comprehensive exhibit at Somerset House, a tribute to the late Isabella Blow (Isabella Blow: Fashion Galore!), and One Aldwych had a special package for visiting the exhibit. Smart tourists who come to London for theatre, theatre, and more theatre make One Aldwych home, also, since it is conveniently located to the West End, home to Theatre Land, not to mention that it is a stone's throw from the Royal Opera House in Covent Garden, and of course, by extension, to all the action, eateries, and shopping in the Covent Garden colonnade market place.
When I am in transit, the first stop at One Adlwych is the spa for the Detox and Body Sculpting treatment, a perfect antidote to jet lag and an ideal way to also combat fluid retention after a transatlantic flight. The spa also offers all manner of massage therapies, beauty treatments, manis and pedis, facials, waxing, and so on. The gym is equally handy and the ideal spot for a reinvigorating treadmill or elliptical machine session; or, conversely, I might opt for a few laps in the 56-foot-long, chlorine-free pool. Whatever the routine, I emerge invigorated and prepared for a little London larceny, i.e., shopping, and by the end of the day I am even more ready for a delicious meal.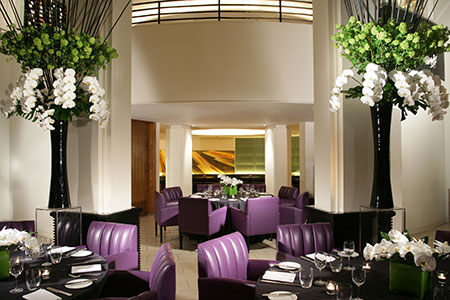 In the food department, One Aldwych does not disappoint, with its casual Indigo eatery and its more formal Axis restaurant. Last trip to One Aldwych, I had a leisurely repast with another friend in transit and I savored a starter of Colchester crab, English pea bavoise, pink grapefruit, wood sorrel; followed by fillet of Dingley Dell pork, miso-glazed belly, broad beans, radish, lettuce, and confit potato; then my friend and I split a too-delicious dessert, the Guanaja chocolate mousse, with rainer cherries, kirsch, and white chocolate sorbet.
Next trip, I am thinking it would be good to have more than a 16-hour transit visit—next visit, I must plug into the schedule a proper overnight stay.
There are so many other things to enjoy at this welcoming hotel, it would be hard to enumerate them all, but if you're there for a weekend, don't miss out on the Film & Fizz movie-and-a-meal combo. There are a few options for enjoying stellar cinema and a delicious meal at Axis: Many Friday and Saturday evenings at 6:30 you can hunker down in the hotel's 30-seat, private screening room for a showing of a newly-released film, and then follow that with a mouth-watering dinner at Axis. Cinematic offerings may include brand-new hits like Boyhood and Chef, or beloved flicks, such as installments of the X-Men franchise, or at holiday-time, seasonal chestnuts, like White Christmas, It's a Wonderful Life, and Miracle on 34th Street. Additionally there are often Sunday afternoon screenings, as well, starting with brunch at 1pm followed by the movie.
Additionally, the screening room is going to get quite a work out this season, with the freshly minted program Live at One, an exciting series of evenings at the hotel, with live broadcasts from the Royal Opera House, the National Theatre, and the Royal Shakespeare Company. The upcoming Live At One season includes front-row seats to world-renowned operas, ballets, and theatre, including L'Elisir d'Amore, Alice's Adventures in Wonderland, and A Streetcar Named Desire. The festive evening begins with two seductive courses in Axis followed by the live performance with a glass of Champagne Lallier Grand Cru Grand Réserve Brut in the screening room. Decadent desserts and coffee are served in Axis during the interval.
To accompany your celluloid experience, there are inviting culinary offerings from executive chef Dominic Teague, including: appetizers of Teruel Serrano ham (D.O.P), Charentais melon, and early harvest Arbequina olive oil; Cornish mackerel escabeche, fennel, radish, rainbow carrots, and wood sorrel. For main courses: Dingley Dell pork belly, Kentish cob nuts, corn, scallions, and herb spaetzle; or, roasted iron park pumpkin, gnocchi, sage pest, and trompette mushrooms. The tantalizing dessert cart presents more calories than you really want, but indulge! Among the many tempting selections are nougatine glacé, poached cherries, almond tuile, and kirsch syrup; or Whipped vanilla cheesecake, loganberries, and shortbread.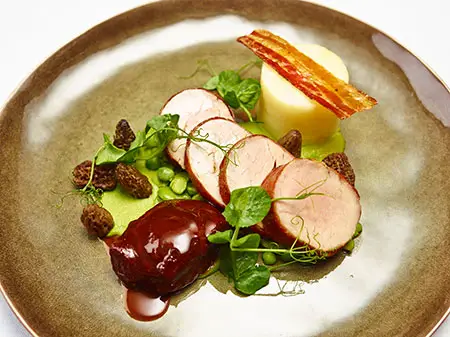 The Film & Fizz Sunday brunch menu offers equally enticing dishes, including, among the many menu items, a starter of eggs Benedict and blueberry pancakes, crème fraiche, and maple syrup; and main courses of lemon-and-thyme-roasted chicken, green vegetables, and roast potatoes; braised breast of Welsh lamb, minted peas, lettuce, and feta. An indulgent dessert buffet accompanies the screening, as well — look for orange crème brûlée; vanilla cheesecake with mango and honeycomb; or white chocolate and blackberry éclairs, among the groaning board of offerings. (The tariff for each of these three diverse dine-and-visually-devour treats is £49.50.)
Additionally, the hotel has wonderfully clever promotions and presentations, such as the perennial favorite (reservations are a must), the Charlie and the Chocolate Factory Tea. Afternoon tea is £34.50 or £45.00 per person (the latter, with a glass of Champagne or a special, smoking Cocktail Charlie, not for children). Expect sumptuous goodies like the Eton mess, the coffee bean financier, chocolate caramel milk, and candy floss, among the gooey and grand offerings! And speaking of children, One Aldwych is child-friendly; when a family books a spacious two-bedroom suite, the children's bedroom is free of charge, with complimentary breakfast for everyone throughout their stay. There are, also, complimentary refreshments for kids that include milk and cookies, or milkshakes, or fruit cocktails; there are Teddy bears for babies and young children, and suitable story books for the little ones.
You simply cannot miss with a stay at One Aldwych.
One Aldwych Hotel, London WC2B 4BZ; +44 (0)20 7300 1000
---