At the just-opened store on Gansevoort Street, the traditions of onsite ancient goldsmithing continue adjacent to a new modern gallery showcasing the work of jewelry artists inspired by the fashion world.
---
Photos by Ari Mintz
A walk past the corner of Gansevoort and Hudson Streets in the Meatpacking District may have you pausing for a double take. Between the cobblestones and a goldsmith working away in a shop window, it's hard to believe this is 21st-century New York City, and not a flashback to a bygone era. This is exactly how Reinstein/Ross co-owner Andrew Schloss prefers it. It was part of the reason he chose to open a location in the bustling neighborhood — next to the famed High Line park — that simultaneously embraces the fashion and art worlds. As Schloss says, "It's perfect for us."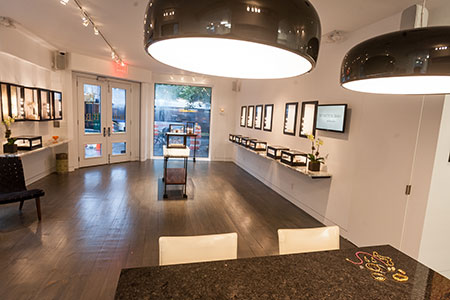 For nearly 30 years Reinstein/Ross has been designing and hand-fabricating their coveted bijoux entirely within Manhattan. From the beginning, when the company was founded, it utilized principles of goldsmith techniques perfected by ancient Greeks and Etruscans, and they continue to carry those principles forward. In 1985, Reinstein/Ross' first boutique opened in SoHo. Over the years they expanded to an Upper East Side location on Madison Avenue, and now they've opened their newest downtown outpost on Gansevoort Street, replacing their SoHo shop. The company has been prized for their work with precious stones and high carat gold, all while employing artisans to make each piece in-house.
Reinstein/Ross' new digs promise to continue the tradition, and also introduce new ones. Early September will mark the opening of R|R Gallery, an exhibition space adjacent to the new boutique that will explore the connection between jewelry and other art-related fields.
We caught up with Andrew Schloss to talk about Reinstein/Ross' exciting future, and why some of the best things in life are gold and shiny.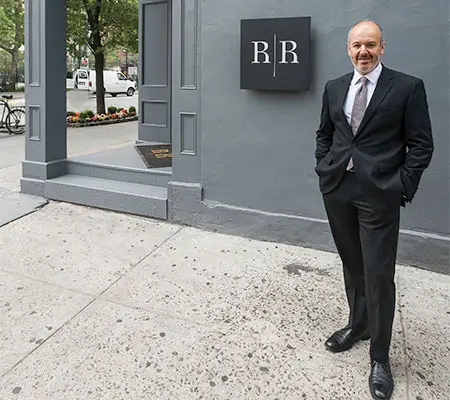 Q. What inspired Reinstein/Ross to open on Gansevoort Street?
AS: We began downtown in SoHo, when it was a nexus of art world activity. Since then SoHo has changed dramatically, and we felt we were not as good a match for the current atmosphere. Now, we love our new location. It gives us one foot in the art and fashion world of the Meatpacking District and Chelsea, and one foot in the West Village. We are excited to spread our wings here.
Q. The debut exhibit at R|R Gallery in September coincides with New York Fashion Week. Why did you decide to add an exhibition component to your new location?
AS: New York City is such a strong center for design, art, and fashion, but it has astonishingly few venues to show art jewelry, which has an incredible history. We believe the gallery will be a perfect complement to what we do at Reinstein/Ross. It will feature progressive work in studio art jewelry, and bring exposure to emerging and established international artists.
Q. What can we expect from R|R Gallery's first show?
AS: We will be working with noted curators Bella Neyman and Ruta Reifen to create an exhibit highlighting the deep connection between jewelry and fashion. We are working closely with a number of important jewelry artists who look to the fashion world for inspiration.
Q. The in-store workshop has long been a key component of the Reinstein/Ross brand. Will the new location continue to offer those services?
AS: Our team of very talented goldsmiths has grown, and most everyone will have a chance to work in both our locations. Most of our goldsmiths have been with us for many years. It is interesting for us and our customers to see it all take place, right in the middle of the shopping experience. We are proud to be working at this master level in New York City. . .in Manhattan!
Q. Will the company's famed high-carat gold continue to play an integral part in designs this season?
AS: Our fabrication methodology is firmly rooted in classical goldsmithing, and we continue to begin with 24kt gold and create our own alloys in five beautiful colors. Our designs are contemporary, but each piece is always hand-fabricated using ancient techniques.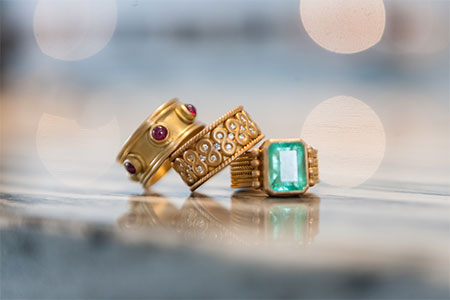 Q. What are some current bestsellers?
AS: Wedding bands are always very popular. Right now pieces featuring cognac diamonds or other exotic diamonds have been in demand. Bangles that feature multi-colored sapphires, and our light, hand-woven chains continue to be favorites as well.
Q. In addition to your in-house designs, Reinstein/Ross has long been known as a go-to resource for custom styles. What type of customization work do clients come in for?
AS: Many of our customers have heirloom pieces that are meaningful, but are of a style they would never wear. It is rewarding to work with a client who has, for example, had her grandmother's diamond ring in a drawer for years and help remake it into a beautiful R|R piece that she is delighted to wear. The ring becomes a whole new family heirloom.
Q. When entering the new store, the first thing one notices are the beautiful white marble countertops and, of course, the jewelry on full display. What inspired the interior aesthetic?
AS: This location is intended to feel more like a gallery of jewelry than a traditional jewelry store. The workshop is also a focal point from both inside and from the street. Overall, the space is spare and modern with a focus on rich materials. There is a fantastic marble from Vermont, walnut wood detailing, and blackened steel metalwork. We also saved and refinished the original, beautiful wood floors. The space feels both comfortable and exciting.
Q. Who is the quintessential Reinstein/Ross customer and what makes him/her unique?
AS: Many of our fans are New Yorkers, but we have customers from all over the country and the world. Some clients come see us every year when in town for the U.S. Open, or in the city for a day of shopping and theater. Many customers find us as couples looking at engagement rings and wedding bands. One of the greatest parts about being in New York is seeing people from all over the world.
---