(3/15-3/17) Looking for what to do in New York City this St. Patrick's Day weekend? We've got the latest on all the goings-on, from concerts to museum exhibitions to comedy to the best in city sightseeing. Celebrate being Irish or just enjoy being Irish for a day!
THE BIG EVENT
Photo: Joe Buglewicz
(*3/16) Thirteen percent of New York traces its heritage to the Emerald Island, but on St. Patrick's Day everyone in the city is Irish for a day. The city's main event is the St. Patrick's Day Parade, which marches up Fifth Avenue from 44th to 86th Street (*it'll be held on Saturday, a day ahead of St. Pat's official day). This year's Grand Marshal is distinguished New York attorney Brian J. O'Dwyer. The parade runs from 11am to 5pm, at which point the city's bars swell with revelers. Click here for more of the "Best Ways to Celebrate St. Patrick's Day in NYC."
PLUS
(3/15) Hudson Yards opens! Learn more.
(3/17) Whiskey Wars Tour and Tasting: "Irish Town" at the Brooklyn Navy Yard. Join BLDG 92 and Kings County Distillery for a tour and tasting that explores whiskey scandals of the past and the resurgence of the industry today. Participants will get the opportunity to learn about the Brooklyn Navy Yard's role in dispatching Marines to crack down on illegal whiskey distilling in the nineteenth century, as well as the details of distilling and crafting whiskey today. Tours last approximately 2 hours and participants must be 21 years of age. 4:30pm.
Agor Tibetan Female Ear Ornament, available at Vajra Gallery, specializing in fine Tibetan arts and crafts.
(3/13-3/23) The Manhattan Art & Antiques Center is the largest center of its kind in the country, boasting 100 galleries and three full floors filled with antiques, fine art, decorations, silver, and jewelry. Ten of The MAAC's galleries will be participating in the 10th anniversary year of Asia Week New York. Stop in to see a wide variety of Asian art and antiques, including Chinese, Japanese, Tibetan, Indian, Near Eastern, and Islamic works. (European and African art is also on display at this treasure trove.) Open seven days a week. the-maac.com
(3/17) Black Women's Film Conference at MoMA PS1. The inaugural Black Women's Film Conference will convene Black women from all over the country to screen work, exchange filmmaking strategies, and build community. Offering a space that centers Black women's voices and experiences, this conference provides a vital alternative to a white, male-dominated film industry. Featuring screenings, talkbacks, and roundtables in a mix of intimate and communal spaces, the conference explores the current landscape of Black women's cinema and the intersections of history, film theory, filmmaking, and political action.
EXHIBITION OF THE WEEK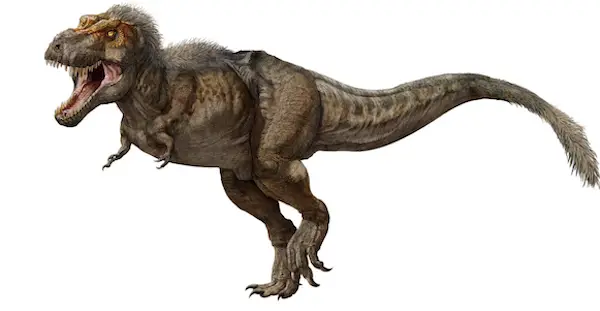 (New!) T. rex: The Ultimate Predator opens at the American Museum of Natural History. Visitors will encounter a massive, life-sized model of a T. rex with patches of feathers—as well as reconstructions of a fluffy T. rex hatchling and a four-year-old juvenile T. rex; and a "roar mixer" where visitors can imagine what T. rex might have sounded like by blending sounds from other animals. The museum will also present its first interactive, multi-player virtual reality experience.
PLUS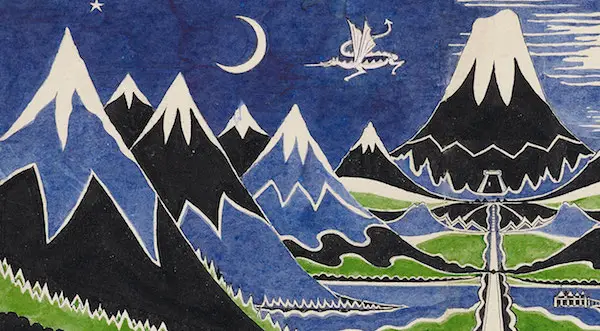 J. R. R. Tolkien (1892–1973), Dust jacket design for The Hobbit [April 1937], pencil, black ink, watercolor, goache. Bodleian Libraries, MS. Tolkien Drawings 32. © The Tolkien Estate Limited 1937.
(Now-5/12) "In a hole in the ground there lived a hobbit." With these words Oxford professor J.R.R. Tolkien ignited a spark that's burned for generations of readers. From the children's classic The Hobbit to the epic The Lord of the Rings, Tolkien's tales of hobbits and elves, dwarves and wizards have introduced millions to Middle-earth, a world that Tolkien populated with creatures, languages, and histories. Tolkien: Maker of Middle-earth at the Morgan Library & Museum is the most extensive public display of original Tolkien material in decades, stocked with family photographs and memorabilia, maps, draft manuscripts, and Tolkien's original illustrations.
(Now-4/28) The Orchid Show celebrates its 17th year at The New York Botanical Garden with a tribute to Singapore, the "City in a Garden." Thousands of flowers pay homage to Singapore's innovative garden designs, floral displays, and advances in cultivation. Two iconic architectural elements take inspiration from the show's two Singaporean partners: the "Supertrees" of Gardens by the Bay and the famed "Arches" of Singapore Botanic Gardens' National Orchid Garden. The energy and nightlife of Singapore also come to the Bronx on Orchid Evenings, with music, cocktails like the Singapore Sling, and the installations brilliantly illuminated (weekends of the 12th/13th and 19th/20th). The garden, just a 20-minute Metro-North ride from Grand Central Terminal, also features more than one million plants. nybg.org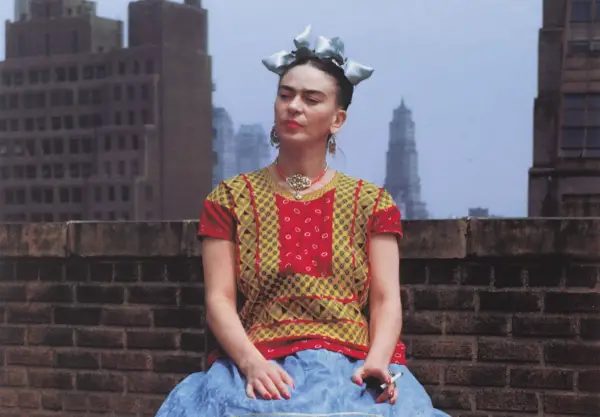 Nickolas Muray (American, born Hungary, 1892–1965). Frida in New York, 1946? printed 2006. Carbon pigment print, image: 14 x 11 in. (35.6 x 27.9 cm). Brooklyn Museum, Emily Winthrop Miles Fund, 2010.80. Photo by Nickolas Muray, © Nickolas Muray Photo Archive. (Photo: Brooklyn Museum)
(New) Mexican painter Frida Kahlo (1907-1954) lived and worked in a manner which challenged the political, social, and sexual norms of her era. Kahlo held her national identity dear and used traditional Mexican dress as a fixture of her public persona. Her large body of self-portraits created a mythos of self (some say she invented the selfie). New at the Brooklyn Museum is Frida Kahlo: Appearances Can Be Deceiving, a lush exhibition that shows off Kahlo's art, in addition to personal artifacts like her cosmetics, letters, jewelry, and clothing. Additional context is provided by items from the museum's Arts of the Americas collection, including Aztec sculptures, ceramics made in Guadalajara in the early 20th century, and an ancient Colima dog sculpture of a Xoloitzcuintli, a Mexican hairless dog that Kahlo had an affinity for.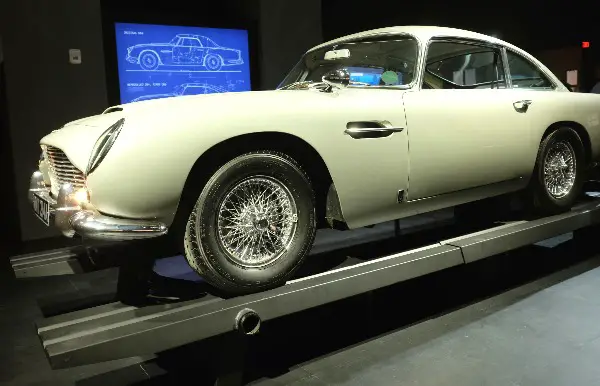 (New!) You can experience the world of history's most famous spy at007 x SPYSCAPE: Driven, a brand-new exhibition inside New York's spy museum, SPYSCAPE. This immersive exhibition brings you into the Bond universe with sets, props, and insights about the creation of the ageless secret agent. Among the highlights: an Aston Martin DB5, the lab of Quartermaster (or Q), M16's gadget master, concept art from Oscar-winning production designer Sir Ken Adams, and an exploration of 2012 Bond film Skyfall's unforgettable final scene.
(Now-3/31) Extended!! Even over a century after his birth, Dutch artist M.C. Escher (1898-1972) continues to astound. Catch more than 200 of Escher's mind-bending works at Escher: The Exhibition & Experience, installed at Brooklyn's Industry City. Exploring the intersection of art, mathematics, science, and poetry, the exhibition will feature interactive immersive experiences that bring the artist's optical illusions to life.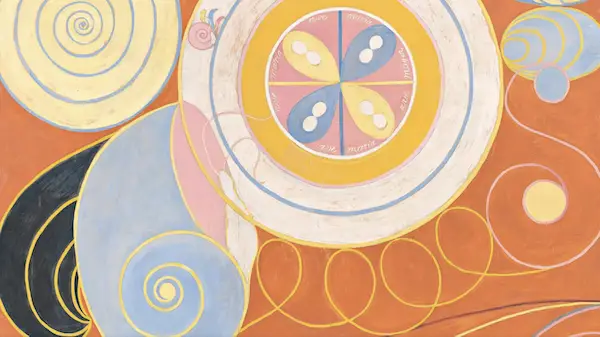 Group IV, the Ten Largest, No. 3, Youth, 1907, from Untitled Series. Photo: Albin Dahlström, Moderna Museet, Stockholm
(Now-4/23) Before abstract art was a speck in Kandinsky's eye, the painter Hilma af Klint (1862-1944) was pioneering non-representational painting in Sweden. A spiritualist who claimed to communicate with the dead, af Klint worked in near-obscurity, forbidding her paintings to receive public exposure until 20 years after her passing. Discover Hilma af Klint, a woman before her time, at the Solomon R. Guggenheim Museum exhibition Hilma af Klint: Paintings for the Future. Over 170 of af Klint's non-figurative paintings are on display, richly colored and often staggering in scale. Many pieces play with geometry and floral shapes that seem to swim across the canvas. As af Klint worked on her series The Paintings for the Temple, she envisioned a spiral temple as their eventual home. She got her wish over a century later with this eye-opening exhibition at the Guggenheim. Open Mondays.
(Now-7/10) Photographer Robert Mapplethorpe, who died 30 years ago of complications from AIDS, is the subject of Implicit Tensions: Mapplethorpe Now, now displaying the first installment of a two-part retrospective at The Solomon R. Guggenheim Museum. Mapplethorpe is known not just for his images, but for the controversies they incited. In 1989, after his death, his work became the centerpiece of a national debate about artistic censorship and what kinds of works public funds should cover (ironically, it was the debate that led to his widespread fame). Many of the images are graphic and retain the ability to cause discomfort, but time has lessened the shock; it has also brought to the forefront Mapplethorpe's technical proficiency and his ability to capture deeply insightful looks at his subjects.
(Ongoing) Faith and Empire at the Rubin Museum. Religion has influenced and empowered countless political leaders throughout history, and Tibetan Buddhism is no exception. "Faith and Empire: Art and Politics in Tibetan Buddhism" is the first exhibition of its kind to explore Tibetan Buddhism's dynamic political role in the empires of Asia from the 7th to the early 20th century. Artwork highlights include a set of 8th-century gilt-silver drinking vessels from the Tibetan Empire; an early 13th-century wrathful icon made of silk and ornamented with tiny seed pearls; a 4 ½-foot-tall 680-pound gilt-bronze bodhisattva from the early 15th-century Ming court; and a 19th-century 8-feet-wide Mongolian depiction of the final battle against the heretics and nonbelievers. The exhibition is arranged chronologically, beginning with the Tibetan Empire in the 7th century, and includes sections on the Tangut kingdom of Xixia, the Mongol Empire, the Chinese Ming dynasty, the rule of the Dalai Lamas, and the Manchu Qing dynasty. Open Monday.

(Now-6/23) A City for Corduroy: Don Freeman's New York, now open at the Museum of the City of New York, presents the gamut of Freeman's New York work, from his lively and humane depictions of ordinary New Yorkers and the city in the 1930s, to his illustrated scenes of the Broadway backstage, to his children's books inspired by the city. For the latter, you'll see not just the beloved children's Corduroy books, but also lesser known examples like Pet of the Met and Hattie the Backstage Bat. The exhibition features drawings, paintings, publications, and prints, as well as the artist's original studies and sketches of Corduroy and other characters. Open Monday.
Photo: Jin Lee
(Ongoing) Sports in America provided a unique form of solace after the seismic losses of the terrorist attacks of September 11th, 2001. Comeback Season: Sports After 9/11, a special exhibition at the National September 11 Memorial & Museum, delves into uplifting moments at games in the aftermath of the attacks. Explore the stories of Mike Piazza's home run during a New York Mets home game, President George W. Bush's first pitch at a World Series game at Yankee Stadium, and the New York City Marathon on November 4th, 2001. Video, artifacts, and moving images help provide context for a nation coming back together. Open Monday.
(Permanent) The Jim Henson Exhibition at the Museum of the Moving Image celebrates the life and legacy of the famed Muppet creator, exploring both his prolific career and the enduring effect his work has on pop culture to this day. Visitors will learn more about the creation of such beloved works as The Muppet Show, Sesame Street, Fraggle Rock, The Dark Crystal, and Labryinth, as well as discover the cutting-edge experimental works Henson made throughout his career.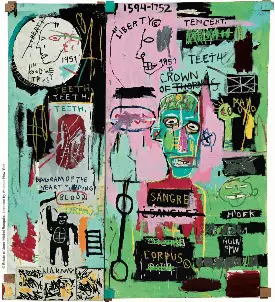 (Now-5/15) Jean-Michel Basquiat at The Brant Foundation Art Study Center in the East Village. Eighties it-painter Jean-Michel Basquiat, a Brooklyn product, created passionate, bold street art and canvases. He died at only 28. Organized in collaboration with the Fondation Louis Vuitton and curated by Brant Foundation founder Peter M. Brant and Dr. Dieter Buchhart, the inaugural exhibition will bring together Basquiat's most important masterworks from the Brant Collections joined by contributions from international museums and private collections. No walk ins. Get tickets here (FREE). Note: there is a waitlist.
COMEDY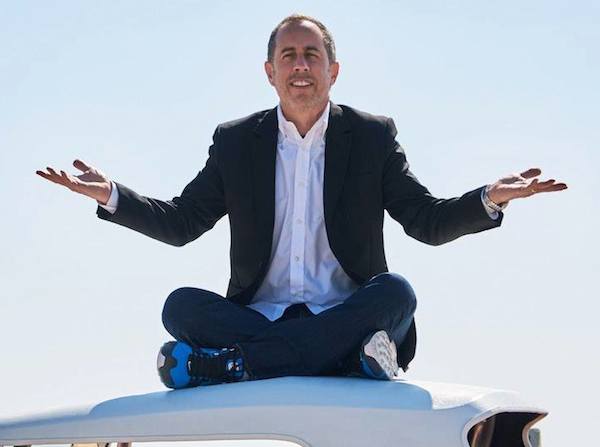 (3/14-3/15) Jerry Seinfeld at the Beacon Theatre.
PLUS
(3/14-3/16) Mark Lawrence, winner of Season 1 of Comedy Central's Roast Battle, at Carolines.
(3/14-3/15) Bob Odenkirk and David Cross at The Bell House.
(3/15-3/16) Robert Kelly at Gotham Comedy Club.
(Ongoing) Check out great comedic talent every night at Broadway Comedy Club! Use our coupon and pay only $5 for admission!
Click here for more comedy shows in NYC this weekend.
KIDS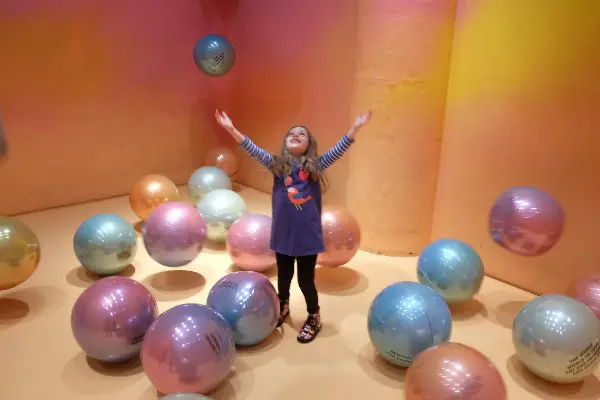 (Ongoing) Color Factory, a massive interactive art space, began in August 2017 in San Francisco. Wildly popular, the project has set up shop in SoHo and is sure to inspire lines as long as the cronut did at nearby Dominique Ansel Bakery. Designed by a wide spectrum of artists, Color Factory walks visitors through 16 rooms devoted to the wonder of color. You're invited to compliment someone using color words, discover your signature color, and read wishes for the world written by NYC school children on varicolored balloons. Each room is equipped with a camera that can take a picture of you and send it to your phone: the better to post with! On view now through August, 2019. 251 Spring St., support@colorfactory.co, colorfactory.co, @colorfactoryco
Read about more Instagrammable pop-up exhibits in NYC here.
PLUS
(Now-5/5) Bionic Me at the NY Hall of Science. With hands-on displays and full-body experiences, this exhibition explores the inventive and ingenious medical and industrial breakthroughs that have helped enhance the human experience. Visitors can move a ball with their mind, manipulate a robot arm, race against a Paralympian, use night vision to see in the dark, and explore how technology can provide camouflage and make you invisible.
(Ongoing) A 7D experience at Madame Tussauds New York, Mission: Undead, tasks you with killing more zombies than your friends! Prevent the zombie apocalypse and survive your first night of work on the force at this state-of-the-art Times Square attraction (13+).
(Ongoing) Exhilarating Family Fun at Stomp NYC. Special discount packages available!
Click here for more events to do with kids this weekend.
For even more kids activities, check out our sister site nymetroparents.com!
SIGHTSEEING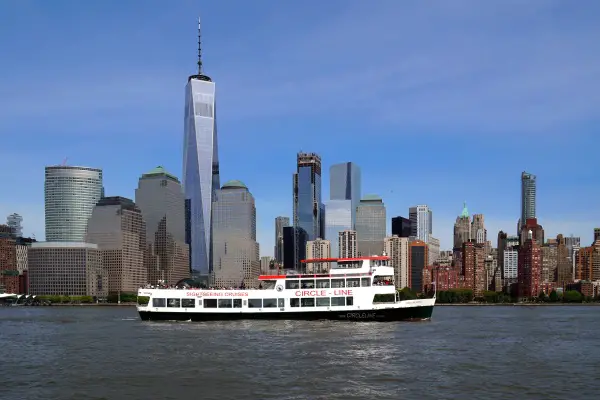 (Ongoing) For more than 70 years, Circle Line has been showing visitors the city, including the only cruise that goes all the way around Manhattan: Circle Line's Best of NYC Cruise. One trip will show off five boroughs, three rivers, and more than 20 bridges on the way to 101 New York City sights. State-of-the-art Empire Class ships have recently launched, providing quieter rides, better sound for the personable onboard guides, bigger windows, improved climate control, and more outdoor deck space. (For dining and entertainment, take a ride on Hudson's, a three-story "floating rooftop" that's a Circle Line sibling.)
PLUS
(Ongoing) THE DOWNTOWN EXPERIENCE Powered by THE RIDE lets visitors re-live iconic moments in NYC history through the magic of virtual reality. In addition to video clips, you'll get a personable tour guide and a state-of-the-art rolling theatre cruise through the city's past—and present. Surprise street performances complete an unforgettable journey. Use our coupon and save $10 off!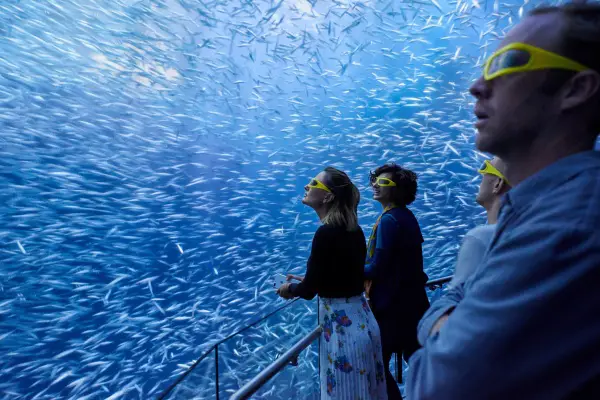 Immerse yourself in the deep, dark depths of the ocean, where Humboldt squid fight to the death, 50 foot whales ride overhead, play with sea lions, navigate a sea kelp maze and more at National Geographic Encounter: Ocean Odyssey! Here's a $10 off coupon!
Bring a loved one to take in the breathtaking view at Top of the Rock.
(Ongoing) The Rink at Rockefeller Center, the most famous patch of ice in the world, welcomes skaters for a very glamorous experience.
(Ongoing) Get all of the best of NYC with the SightSeeing Pass NYC, from CitySightseeing. You can mix and match your way to a complete New York experience, with more than 100 attractions and special discounts to choose from. This is the only pass that includes options for five double-decker loops, Woodbury Common shopping, a horse and carriage ride, or entry to One World Observatory. You can even save on lunch: the pass includes prix fixe meals and other discounts. For amazing water vantages, CitySightseeing offers a Hop-On, Hop-Off ferry tour. Passes are available in digital or physical format and available for one to seven days; check the website for complete details. sightseeingpass.com
MUSIC & NIGHTLIFE
(3/16) Orchid Evening at The New York Botanical Garden. Step into one of the world's greenest cultures as "Supertrees" come alive around you, exhilarating with a display of lights and orchids after dark in the conservatory. Sip a Singapore Sling and purchase a bite to eat from the Bronx Night Market Pop-Up (while freestyle dancers and DJs perform throughout the night) and explore the kaleidoscope of orchid varieties from the "City in a Garden" and beyond.
PLUS
(3/15) Grammy-winning singer Loudon Wainwright III performs Surviving Twin (as seen on Netflix) at Sony Hall.
(3/15, 3/20) Rigoletto at the Metropolitan Opera.
(3/15) The AfroMantra Latin Jazz Quartet performs at The Sound Bite. AfroMantra was created in New York City more than a decade ago by Chilean-born, Cuban-raised drummer, EMMY winner, and composer Alejandro "Alex" Garcia. The band has been acclaimed by critics for Garcia's masterful ability to combine rich harmonies with powerful rhythms and flavors of North and Latin America. 7pm and 10pm sets.
(3/15, 3/16) Vamp Pamela Anderson stars in midnight screenings of Barb Wire at Nitehawk Cinema.
(3/16-3/17) Hornblower's St. Paddy's Day Rock the Yacht. Join Hornblower for a post-parade St. Patrick's Day party on the water in NYC aboard Rock the Yacht! Drinks, bar snacks, sights, and sounds from the onboard DJ will run 9pm-midnight. (Boards 8:30pm.)
(3/16) The Unforgettable Fire at Sony Hall.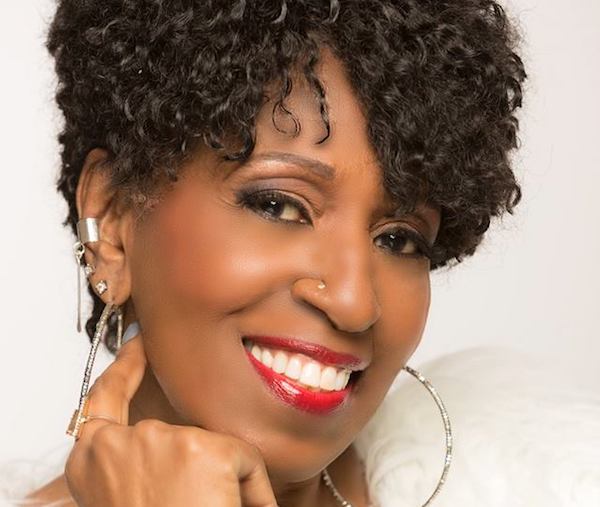 (3/16) The Aziza Miller Quartet at The Sound Bite. Miller's talents have sparked acclaimed writing collaborations with Natalie Cole ("La Costa"), Ahmad Jamal ("Whisperings," among others), Ray Bryant ("One Fine Day"), Tommy Turrentine ("Big Brown Eyes"), and UK-based DJ Ben Westbeech ("Get Closer").
(3/17) St. Patrick's Day Tribute to Dexys Midnight Runners at The Bell House.
(3/16) Guster at the Beacon Theatre.
(Ongoing) The Imbible: A Spirited History of Drinking sweeps New World Stages audiences along a 10,000-year historical journey accompanied by craft cocktails and acapella singing. Sit back and enjoy the music (and drinks, three of which are included with your ticket) while experiencing live demonstrations and plenty of opportunities for laughter. Shows are 8pm Mondays, Thursdays, and Fridays, 5pm and 8pm on Saturdays. Here's a $15-off coupon!
Click here for nightlife in NYC this weekend.
For information on LGBTQ nightlife, visit our brother site metrosource.com! Planning on being in New York in June for WorldPride? We've got all the WorldPride 2019 info you need right here.
---
Like what you see? Click here for more ideas on Best Things to Do in NYC in March. We've got April covered, too!
---