A show at MoMA explores the work of the French artist, who died at 36 — but not before colorfully capturing the Belle Époque of Paris.
---
I have two lives," Henri de Toulouse-Lautrec once said.
His first life was as an aristocrat, the offspring of first cousins whose noble but thin bloodlines no doubt contributed to his many physical impairments. But of course it is as an artist—his other existence—that we know Toulouse-Lautrec. Perhaps no one better captured and publicized the Belle Époque of Paris, with its cabarets and dance halls, singers and saucy cancan dancers, brothels, Bohemians and bourgeoisie out for a good time.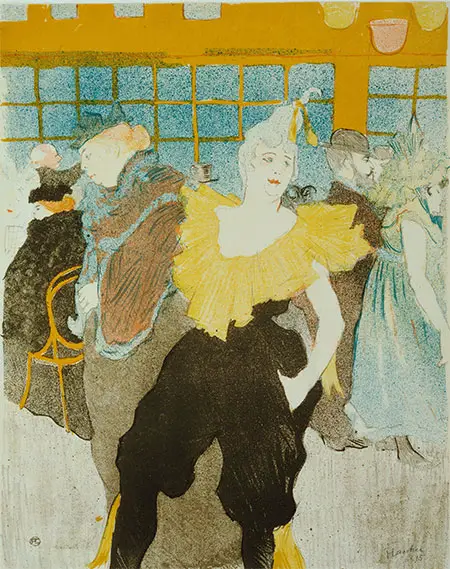 La Clownesse au Moulin Rouge (The Clowness at the Moulin Rouge), 1897. The Museum of Modern Art, New York. Gift of Abby Aldrich Rockefeller, 1946

It's this Toulouse-Lautrec whose work and life are explored in The Paris of Toulouse-Lautrec: Prints and Posters from the Museum of Modern Art, on view at MoMA through March 22, 2015. Organized by Sarah Suzuki, associate curator in the department of drawings and prints, the exhibition is taken almost entirely from MoMA's collection of more than 100 prints and posters by Lautrec. Book covers and illustrations, journals, sheet music and theater programs also abound.
And always, there are women. Much of Lautrec's finest work, produced between 1891 and his death in 1901, revolves around the female performers of his day: We see La Goulue ("the Glutton"), who danced the cancan at the Moulin Rouge in see-through knickers; Yvette Guilbert, the singer, with her long black gloves; Jane Avril, the dancer who became Lautrec's close friend and the only performer he ever depicted off-hours (sitting at the bar, in his poster "Divan Japonais"); prostitutes, also in their off hours, washing up or resting in bed, in his portfolio of softly sympathetic lithographs called "Elles."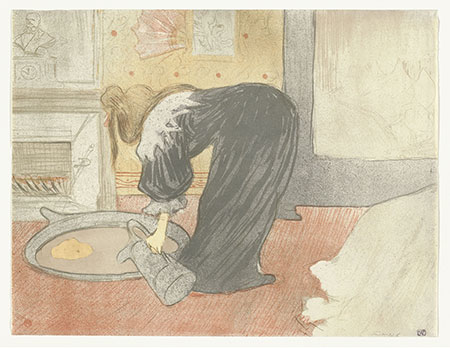 Femme au tub (Woman at the Tub) from the portfolio Elles, 1896. The Museum of Modern Art, New York. Gift of Abby Aldrich Rockefeller, 1946

"Lautrec was an observer," Suzuki said, and he showed the prostitutes without the false "gloss" or sexiness the public expected. Consequently, that portfolio was a commercial failure
But there was so much else. The artist was "quite prolific," Suzuki said—all the more remarkable given his early death after a stroke (and years of alcoholic dissipation) at age 36. "To think that he had a mature public career of only 10 years!" the curator said.
Short as his life was, it was vastly different from what might have been marked out for him originally. Born in 1864, Lautrec was the product of three lines of French aristocrats—the families of Toulouse, Lautrec and Monfa. Like his father, Henri was no doubt initially expected to lead a life of leisure, riding to the hunt and perhaps indulging occasionally in a dilettante's gift for drawing.
But like one-quarter of his cousins, Henri suffered from various genetic defects, including fragile bones; two falls in his early teens—ordinarily "quite innocuous," Suzuki said—broke his thigh bones and stunted his growth. He remained four-feet-11-inches tall, and walked with a cane for the duration of his life.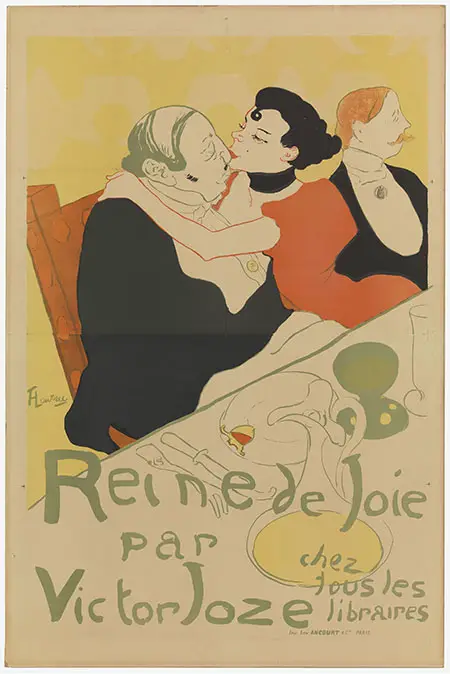 Reine de joie (Queen of Joy), 1892. The Museum of Modern Art, New York. Gift of Mr. and Mrs. Richard Rodgers, 1961.

With the usual vigorous life of an aristocrat not an option for their son, his parents encouraged him to move to Paris, to study art. Soon he was a regular of the city's often debauched nightlife, which was to provide much of his artistic material. His first poster (not in this show) was printed in 1891 and immediately launched his career.
Having looked first to Degas, especially, for artistic inspiration, Lautrec found it more lastingly in the 18th-century Japanese woodblock (ukiyo-e) print, a form that often chronicled the world of entertainers and transient, daily activities.
Early in the MoMA show, for example, we see his large-scale 1893 poster of the songwriter-cabaret owner Aristide Bruant, wearing his trademark caped coat, red scarf and broad-brimmed hat; the work features the flattened blocks of color and the use of clothing identified with its subject that are among the hallmarks of ukiyo-e prints.
Lautrec also had a seemingly instinctive feel for what posters, essentially advertisements intended for public viewing, had to accomplish. "The pace of life was picking up," Suzuki said, and Lautrec understood "the speed with which those images had to grab you."

The Museum of Modern Art, New York. Gift of A. Conger Goodyear, 1954

A classic grabber is the 1893 poster of Jane Avril onstage in mid-kick (above). Lautrec lassoes our attention by extending the neck of the orchestra's double bass into a frame around Avril. (That extended line, Suzuki writes in the exhibition catalogue, also followed the irregular outline of the lithographic stone.)
Given the lithographic advances of the period, other artists inevitably created prints, but usually as a sideline to their paintings. With Lautrec, the printed work was the equal of painting. (The show includes one Lautrec painting, "La Goulue at the Moulin Rouge," from 1891-92.)
In his prints and posters, "he pushed himself to develop a language that was really his own," Suzuki said. His printed oeuvre "doesn't really look like the work of anyone else of this period."
So recognizable was his work that fellow-artist Théophile Steinlen appropriated it in a cover illustration for a Paris periodical in 1893: The illustration showed a top-hatted man stopping to look at Lautrec's poster of Aristide Bruant affixed to a fence.
"That's a testament to how powerful those images were," Suzuki said, "and how quickly they were absorbed into the public consciousness."
---
Karin Lipson, a former arts writer and editor for Newsday, is a frequent contributor to The New York Times. Her last article in Promenade was on Re: Collection at the MAD Museum.
---