(1/17-1/24) Looking for what to do in New York? We've got the latest on all the goings-on in NYC, from concerts to museum exhibitions to comedy to the best in city sightseeing. Read on for our picks for the best of this week in New York City.
THE BIG EVENT
photo: Andrew Eccles
(1/20) Bernadette Peters returns to Broadway, starring in Hello, Dolly!

PLUS
(1/18-1/25) Ever watched a squash game in a train station? The 21st annual J.P. Morgan Tournament of Champions (ToC) arrives in Grand Central Terminal for an exciting week of international competition and live spectator events. The matches are played beneath the iconic chandeliers in Vanderbilt Hall in a state-of-the-art glass squash court, with stadium seating for 500 and a free standing room area for commuters and passersby.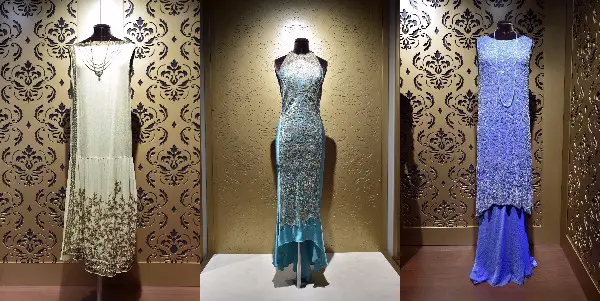 (Now-1/31) Final weeks! Downton Abbey: The Exhibition, based on the beloved television show Downton Abbey. Be transported to post-Edwardian England, where the characters and the iconic house come to life. You'll be immersed in the fascinating social history, culture, and some of the most memorable moments and sets from the show's six-season run, including Mrs. Patmore's kitchen and the servants' quarters.
PLUS
(Now-1/21/18) Final weeks! In the ancient burial ground at Saqqara, Egypt, one animal cemetery alone has yielded over four million ibis mummies. The dog cemetery nearby has over seven million, and similar sites are found throughout Egypt. Despite its prominence, this unusual practice of ancient Egyptian culture has remained largely a mystery. The new Brooklyn Museum exhibition Soulful Creatures: Animal Mummies in Ancient Egypt sheds light on the religious purpose of these mummies, how they were made, and why there are so many. Animals were central to the ancient Egyptian worldview. Most animals had connections to a particular deity. After death, mummified animals' souls could carry a message to a god. Drawn from the museum's extensive collection, the exhibition features choice examples of mummies of birds, cats, dogs, snakes, and other animals. The show also reveals corruption beneath the surface: CT scans displayed in the exhibition uncover empty wrappings, double mummies, and misleading packaging among some of the mummies that the priests sold to worshippers.
(Now-4/22) Also; Rodin at The Brooklyn Museum: The Body in Bronze highlights the extraordinary tension in Rodin's work between the figure itself and abstract form, allowing the fluid contours, animated surfaces, and emotional presence of these bronzes to emerge fully. The presentation places the works in their historical context, examining Rodin's legacy and reputation, and exploring his sculptural practice and the bronze casting process.
(Now-2/12) Michelangelo: Divine Draftsman & Designer at the Metropolitan Museum of Art. Michelangelo Buonarroti (1475–1564) is the subject of this once-in-a-lifetime exhibition. During his long life, Michelangelo was celebrated for the excellence of his disegno, the power of drawing and invention. This exhibition will present approximately 150 of his drawings, three of his marble sculptures, his earliest painting, his wood architectural model for a chapel vault, and complementary works by other artists for comparison and context. Among the extraordinary international loans are the complete series of masterpiece drawings he created for his friend Tommaso de' Cavalieri and a monumental cartoon for his last fresco in the Vatican Palace.
(Now-1/28) Items: Is Fashion Modern? at MoMA explores the present, past—and sometimes the future—of 111 items of clothing and accessories that have had a strong impact on the world in the 20th and 21st centuries—and continue to hold currency today. Among them are pieces as well-known and transformative as the Levi's 501s, the Breton shirt, and the Little Black Dress, and as ancient and culturally charged as the sari, the pearl necklace, the kippah, and the keffiyeh. Items will also invite some designers, engineers, and manufacturers to respond to some of these indispensable items with pioneering materials, approaches, and techniques—extending this conversation into the near and distant futures, and connecting the history of these garments with their present recombination and use.
(Now-2/4) Edvard Munch: Between the Clock and the Bed at the Met Breuer. Norwegian artist Edvard Munch (1863–1944) attained fame early in his career for his depictions of human anxiety. This exhibition features 43 of the artist's landmark compositions created over a span of six decades, including 16 self-portraits and works that have never before been seen in the United States.
(Now-3/28) Artist Josef Albers was best known for his vivid abstract paintings. A new show at the Solomon R. Guggenheim Museum provides fresh context on that work with a focus on Albers' black and white photographs, as well as his photo collages, in the newly opened Josef Albers in Mexico. Albers and his wife Anni traveled to Mexico many times over a period of more than 30 years, from 1935 through the 1960s. While there, they spent time at numerous archeological sites, from Uxmal to Chichen Itza. Albers took photos of everything from the landscape to shrines and monuments he encountered throughout the country; the resulting photo collages demonstrate his interest in geometric experimentation as seen through the influence of pre-Columbian art. The museum's airy, somewhat stark interior is a perfect foil for both the photos and the rich, colorful geometric shapes. Wander through, and then wander through again. This one's a treat.
Permanent) The New-York Historical Society's Fourth Floor Renovation, now complete, includes a brand new Tiffany Lamps Gallery, in addition to the opening of its Women's History Center.
(Permanent) The Jim Henson Exhibition at the Museum of the Moving Image will celebrate the life and legacy of the famed Muppet creator, exploring both his prolific career and the enduring effect his work has on pop culture to this day. Visitors can expect to learn more about the creation of such beloved works as The Muppet Show, Sesame Street, Fraggle Rock, The Dark Crystal, and Labryinth, as well as to discover the cutting-edge experimental works Henson made throughout his career.
(Permanent) The Museum of the City of New York presents NY at Its Core. Ten years in the making, New York at Its Core presents the compelling story of New York's rise from a striving Dutch village to today's "Capital of the World." The exhibition captures the human energy that drove New York to become a city like no other and a subject of fascination the world over. Entertaining, inspiring, important, and at times bemusing, New York City "big personalities," including Alexander Hamilton, Walt Whitman, Boss Tweed, Emma Goldman, JP Morgan, Fiorello La Guardia, Jane Jacobs, Jay-Z, and dozens more, parade through the exhibition.
(1/18-1/20) Pablo Francisco at Gotham Comedy Club.
PLUS
(1/17) The Gotham All-Stars with Marina Franklin, Chris Roach, Ophira Eisenberg and more at Gotham Comedy Club.
(1/18-1/20) Jen Kirkman, with the current Netflix special Just Keep Livin'?, performs at Carolines.
(1/19) Janeane Garofalo featuring Todd Barry at Eastville Comedy Club.
KIDS
(1/20-1/21) All Aboard with Thomas & Friends at the New York Botanical Garden. Thomas & Friends™ are pulling into the station. Don't miss the opportunity to meet the Really Useful Engine and get your photo taken. Join Thomas on a fun-filled, sing-along performance, Thomas' Budding Adventure, where kids will help Thomas discover the steps to grow a beautiful garden! Be sure to bring your camera to capture the special day. 11am, 1:30pm, and 3:30pm.
PLUS
(Ongoing) Blue Man Group at Astor Place Theatre. Best known for their wildly popular theatrical shows, Blue Man Group combines music, comedy, and multimedia theatrics to produce a unique form of entertainment. The hour and forty five minute show is fun for the whole family. The show recently celebrated its 25th anniversary.
For more kids activities, check out our sister site nymetroparents.com!
SIGHTSEEING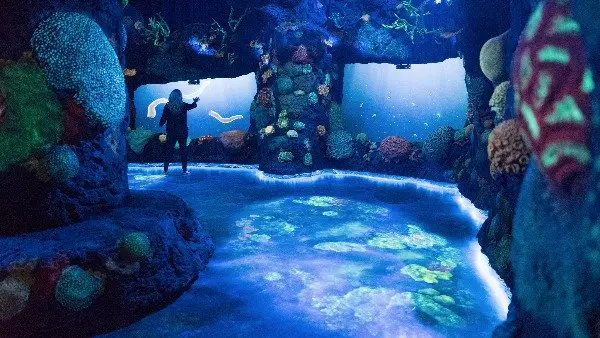 Take a deep dive into an underwater world with New York City's newest attraction, National Geographic Encounter: Ocean Odyssey, in Times Square. This experience lets visitors explore the ocean like never before thanks to state-of-the-art technology and a brilliant team of designers. This is not a museum, exhibit, movie, aquarium, or virtual reality; instead, the producers consulted with dozens of scientists to create a new kind of immersive experience that guests can walk through as they share ocean encounters. Blockbuster new science—some of it not even published yet—was used in its creation. Short of a submarine, you'll be hard pressed to find a better way to experience life as it's lived under the sea.
(Ongoing) The largest VR entertainment center in the Western Hemisphere is New York's latest attraction: VR World. Get inspired by virtual reality in a diverse space with three floors that bring culture, gaming, and entertainment together. With over 50 experiences to choose from, VR World offers an unforgettable experience that's yours to create! Fight off droids, climb Mt. Kilimanjaro, race Formula One cars against your friends, and create a 3D masterpiece. The adventures are limitless.
(Ongoing) Every year, at 11:59pm on December 31st, people from all over the world are focused on the Times Square New Year's Eve Ball. Millions of voices unite to count down the final seconds of the old year and celebrate the beginning of the new. Now you can get up close and personal with the Times Square New Year's Eve Ball at Ripley's Believe It or Not—Times Square! Press the button yourself and ring in the New Year every day of the year. A home to rare artifacts and thrilling interactive exhibits, Ripley's is for anyone who wants to immerse themselves in the unexpected and the unbelievable. Here's a coupon.
MUSIC & NIGHTLIFE
(Now-1/21) Shen Yun 2018 at the David Koch Theater. SHEN YUN's unique artistic vision expands theatrical experience into a multi-dimensional, inspiring journey through one of humanity's greatest treasures—the five millennia of traditional Chinese culture.
PLUS
Luca Pisaroni and the Count and Christiane Karg as Susanna in Mozart's Le Nozze di Figaro. Photo by Chris Lee/Metropolitan Opera.
(1/19) Mozart's Le Nozze di Figaro at the Metropolitan Opera. An exceptional ensemble of performers share the stage in Mozart's comic yet profound exploration of love, betrayal, and reconciliation over the course of one crazy day in a wealthy Spanish household. Harry Bicket conducts Richard Eyre's high-spirited production.
PLUS
(1/17) Wynton Marsalis speaks at Cooper Union's Great Hall.
(1/17) Evening Cocktail & Craft: Winter Terrariums at the Queens Botanical Garden.
(1/17) Wig Out! with Rich Medina & Marley Marl at House of Yes.
(1/18) New York Rangers vs. Buffalo Sabres at Madison Square Garden.
(1/19) Wine Tasting by Master WineClassNYC at Little Italy legend Grotta Azzura.
(1/20, 1/24, 1/27) Our Sinatra, A Musical Celebration returns to the Cutting Room (44 E 32nd Street) on 1/20, 24th and 27th. Our Sinatra includes over 50 songs interspersed with witty banter and humor. The show covers Sinatra's entire musical cannon from the classic ballads of the 40's to the saloon and torch songs, the 50's and 60's swingers and the all time hits. This year's cast includes Ronny Whyte, Karen Oberlin and Brian Long.
For information on LGBT nightlife, visit our brother site metrosource.com!
SNEAK PEEK, NEXT WEEK
Jean-Michel Basquiat (American, 1960–1988). Untitled, 1982. Acrylic, spray paint, and oilstick on canvas, 721/8 x 681/8 in. (183.2 x 173 cm). Collection of Yusaku Maezawa. © Estate of Jean-Michel Basquiat. Licensed by Artestar, New York
(1/26-3/11) One Basquiat at Brooklyn Museum. Brooklyn-raised artist Jean-Michel Basquiat's landmark painting Untitled was created in 1982, considered a breakout year in the artist's meteoric career. It depicts a crowned, spectral head rendered with a painterly ferocity remarkable even amid the artist's other vigorously expressive images. The exhibition One Basquiat is the first museum presentation of Untitled, which sold for a record-breaking $110.5 million at auction in 2017.

PLUS
(1/25) DMX at B.B. King Blues Club & Grill.
(1/26-1/27) CNN's Anderson Cooper and Andy Cohen at the Beacon Theatre.
_____________________________________________________________________
Like what you see here? Share it with your friends on Facebook! Find out more about what to do in January. We've got February covered, too!
---