If the Upper West Side were a day of the week, it would be Sunday. Here's why: it's an easygoing area (by New York standards) full of families, dependable food, and culture. It's very different from midtown but close enough to walk there, just like lazy Sunday is one day away from manic Monday. We've put together an itinerary in chronological order for your Upper West Side day. This is the best of the best the neighborhood has to offer, particularly if you have a child or two in tow.
Sunday on the Upper West Side: St. John the Divine
Photo: Kara Flannery (Facebook)
Take advantage of the Upper West Side's beautiful St. John the Divine cathedral, constructed in 1892. This beautiful church numbers among the five largest churches in the world. You can come for a visit any day of the week to check out the art exhibits and activities happening inside. Sundays are special for the Episcopal services conducted at St. John the Divine. Each Sunday there are 3 morning services at 8am, 9am, and 11am, and one in the afternoon at 4pm. At the popular 11am service, hear beautiful choral music, take communion, and hear a sermon. All are welcome! 1047 Amsterdam Ave., 212-316-7540, stjohndivine.org
Sunday on the Upper West Side: Brunch at Nice Matin
There's something for everyone at this Upper West Side brunch institution. Nice Matin serves egg dishes from the shakshuka to eggs benedict, several hearty salads, and a wonderful croque madame. Oatmeal? They have that too. Fast, friendly service and solid coffee and brunch cocktails seal the deal: this is your Sunday brunch, and you're going to love it. Be sure to nab a table outside in warm weather. 201 W. 79th St., 212-873-6423, nicematinnyc.com
Sunday on the Upper West Side: The New-York Historical Society

The beautiful Tiffany Collection is a permanent exhibit at the New-York Historical Society.
As one of the first major towns in the nation (and, fun fact, the first capital of the United States), New York City has a long and fascinating history. The impeccable, accessible exhibits at the New-York Historical Society will show you the city through many lenses, pinning the past to the present for you and your whole family. Sundays at N-Y Historical Society are for families, with activities for you and your kids all day long. Solve a historical mystery that takes you throughout the museum to look for clues with History Detective Briefcase. Or bring small kids to Sunday Story Time, where a museum staffer will read a book and lead children in related crafts and activities. There are also interactive Living History presentations for children to engage with historical figures stepping out of the past! 170 Central Park West, 212-873-3400, nyhistory.org
Sunday on the Upper West Side: Grand Bazaar NYC
After your tour through local history, take a short walk to the market to end all markets: Grand Bazaar NYC. Every week on the Upper West Side, you can find local treasures at this indoor/outdoor market, no matter the weather. This tradition has over 35 years of history in the area and benefits local public schools. You can find city-made home goods, jewelry, clothing, and plenty of food every Sunday from 10am until 5:30pm. Find your next favorite piece of jewelry, locally made leather bag, a gift for the antique-o-phile in your life, or browse away! 100 W. 77th St., grandbazaarnyc.org
Sunday on the Upper West Side: Cookies at Levain Bakery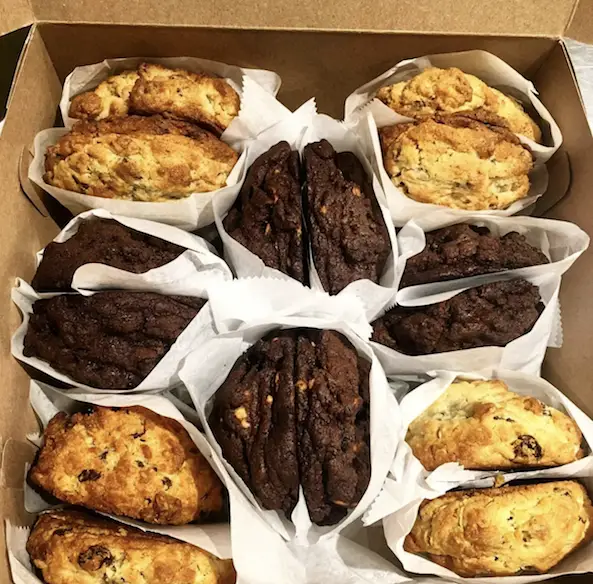 The cookies at Levain are the stuff of legends and long lines. With cookies half the size of your head, gooey and warm in the middle, the wait outside will come as no surprise. All flavors of Levain cookies make you want to cartwheel, but we're partial to the Dark Chocolate Chocolate Chip. 167 W 74th St., 212-874-6080, levainbakery.com
Sunday on the Upper West Side: Boat Basin Cafe and Riverside Park
If it's warm out, visit Boat Basin Cafe for drinks al fresco at sunset. Beer in hand, you can enjoy sunset on the Hudson River—with hundreds of your dearest friends (fair warning: it'll be crowded). The plus: it's a family-friendly place and may land you the perfect Christmas card photo. If you'd like a walk beforehand or instead of, take a stroll through gorgeous Riverside Park. A long, thin park along the Hudson River, this lovely green space brings peace with well-kept gardens and a steady stream of local families, cyclists, and joggers. Boat Basin Cafe at W 79th St. at the 79th St. Boat Basin, 212-496-5542, boatbasincafe.com; Riverside Park: nycgovparks.org
Sunday on the Upper West Side: Dinner at Calle Ocho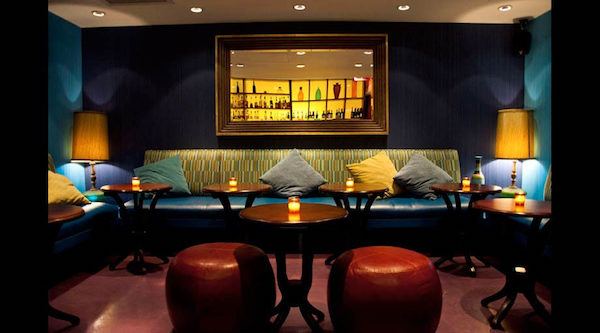 Calle Ocho is another sizeable restaurant for groups and families, and the menu impresses from start to finish. Start with a ceviche sampler to whet the palate, and be sure someone at the table orders the fantastic paella (a seafood rice dish made with saffron). The Cuban-inspired cuisine will also satisfy vegetarians with its grilled cauliflower steak with wild mushroom rice. We didn't use Calle Ocho as our brunch pick, but just know they have a killer bottomless sangria brunch on weekends (i.e. best enjoyed sans kids). 45 W 81st St., 212-873-5025, calleochonyc.com
Sunday on the Upper West Side: A Movie at AMC 84th Street 6
Cap off your day with a movie in style. This AMC has everything you need at the movies—great selection of movies, popcorn and candy, nice facilities—but with one key advantage. There are giant red recliners so you can enjoy your movie lying down. These things are so cushy, be careful you don't fall asleep! 2310 Broadway, amctheatres.com
---