Pop-Up Exhibit & Grand Opening Event in NYC
Oct 10
Through Oct 13
| Thu | 11am-5pm | Free

Due to the coronavirus, please call to ensure this event is still happening before you leave home.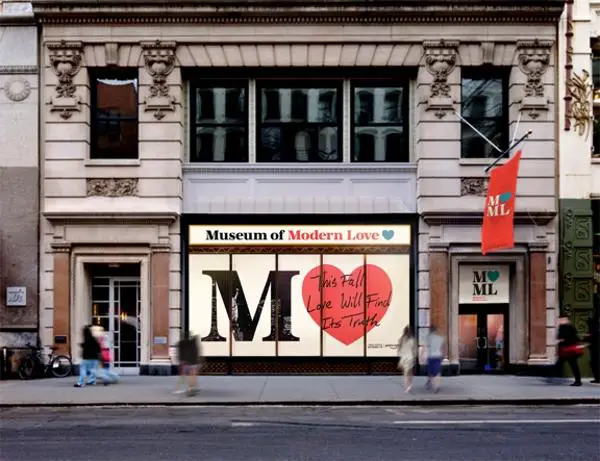 LOVE WILL FIND ITS TRUTH IN NEW YORK CITY AS PRIME VIDEO PRESENTS THE MUSEUM OF MODERN LOVE (MoML) IN CELEBRATION OF THE PREMIERE OF THE AMAZON ORIGINAL SERIES "MODERN LOVE"
Stories from the new Amazon Original Series Will Come to Life In One-of-a-Kind Interactive Experience October 10th through October 13th. Must-Attend 'MoML' Exhibit Will be Open to the Public and Feature Exclusive Events by Amazon Fire TV, Amazon Wedding Registry x Domino, Entertainment Weekly and More.
Modern Love Premieres Oct. 18 Exclusively on Prime Video! Love will find its truth as Prime Video today announced that it will present an interactive exhibit, the Museum of Modern Love (MoML), on October 10th through October 13th in New York City in celebration of the upcoming Amazon Original series Modern Love. The new 8-part romantic comedy anthology, based on the popular New York Times column of the same name, will premiere on October 18th on Prime Video in more than 200 countries and territories worldwide. A museum-inspired expression of Modern Love, the MoML is a showcase for modern romantics, diving into the highs and lows of the universal search for human connection while bringing to life stories from the series in dedicated installations. Guests will experience shareable moments and first-of-a-kind exhibits including an aura portrait booth that will include a Living Proof hair styling station for touch-ups prior to the photo, a collaborative map of love, a creative confessional, a 'growing' family tree, and more. The NYC pop-up will be an immersive conversation starter, where guests can leave their own personal mark of love. MoML will be located at 632 Broadway in New York and will be open to the public from 11:00AM to 5:00PM ET beginning Friday, October 11th through Sunday, October 13th, following the grand opening celebration and red carpet premiere event of Modern Love on Thursday, October 10th.
Modern Love, inspired by the popular New York Times column of the same name, is a romantic comedy anthology series that explores love in all of its complicated and beautiful forms. Each standalone episode of the half-hour series will bring some of the most beloved stories to life with a stellar cast. Among the series stars are Jane Alexander ("The Good Fight"), Sofia Boutella ("Kingsman: The Secret Service"), Gary Carr ("The Deuce," "Downton Abbey"), Olivia Cooke ("Ready Player One"), Emmy Award nominee Brandon Victor Dixon ("Power"), Emmy Award winner Tina Fey ("30 Rock"), Tony Award winner John Gallagher, Jr. ("The Newsroom"), Academy Award nominee Andy Garcia ("Ocean's Eleven"), Emmy Award winner Julia Garner ("Ozark"), Brandon Kyle Goodman ("Plus One"), Academy Award winner Anne Hathaway ("Ocean's Eight"), Academy Award nominee Catherine Keener ("Get Out"), Caitlin McGee ("Bluff City Law"), Cristin Milioti ("Black Mirror"), Academy Award nominee Dev Patel ("Lion"), Laurentiu Possa ("Killing Eve"), James Saito ("Always Be My Maybe"), Andrew Scott ("Fleabag"), Emmy Award nominee John Slattery ("Mad Men") and Shea Whigham ("Homecoming"). The series will premiere on Friday, October 18th on Prime Video. The Museum of Modern Love is presented by Amazon Studios in partnership with Invisible North. Sponsors include Living Proof, the top prestige hair company in the US, which will be styling guests onsite and Recess which will be providing refreshments. Please visit the MoML Facebook page for more details.
Venue: Amazon Prime Video Presents Museum of Modern Love (MoML)
632 Broadway Map