The Ultimate Doo-Wop Show
06/15/19 | 8pm
Beacon Theatre
2124 Broadway Map
212-465-6500
$49.50 and up
15-06-2019 12:00:00
15-06-2019 12:00:00
America/New_York
The Ultimate Doo-Wop Show | 8pm
The Beacon Theatre will transform into a juke joint for one special night this summer. Some of the greatest oldie hits will be heard when some of the most highly requested marquee artists hit the iconic Beacon Theatre's stage. The 12th annual Ultimate Doo-Wop Show will feature Charlie Thomas & The Drifters, Larry Chance & The Earls, The Marcels, The Vogues, Barbara Harris & The Toys, The Classics, The Super Girls, The Tee Tones, and The Blue Suede Orchestra with Pete Mastropaolo & the Coda Band. http://www.cityguideny.com/eventinfo.cfm?id=361378
Beacon Theatre
Beacon Theatre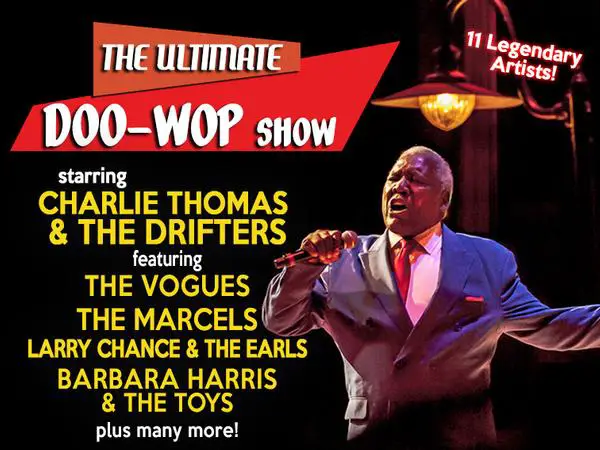 The Beacon Theatre will transform into a juke joint for one special night this summer. Some of the greatest oldie hits will be heard when some of the most highly requested marquee artists hit the iconic Beacon Theatre's stage.
The 12th annual Ultimate Doo-Wop Show will feature Charlie Thomas & The Drifters, Larry Chance & The Earls, The Marcels, The Vogues, Barbara Harris & The Toys, The Classics, The Super Girls, The Tee Tones, and The Blue Suede Orchestra with Pete Mastropaolo & the Coda Band.
Venue Description: Located on the Upper West Side, the 2,894-seat Beacon Theatre is considered to be Radio City Music Hall's "older sister." The art deco-designed Beacon opened in 1929 as a venue for vaudeville acts, drama, opera and movies and is well regarded for its superior acoustics. In 2006, former President Bill Clinton celebrated his birthday with a private Rolling Stones concert. Past performers include Queen, Jerry Garcia, Allman Brothers (some 200 times), Radiohead, Bryan Ferry, and many more. Beacon Theatre is accessible by subway; get the 1/2/3 train to 72nd Street.
Upcoming Events at Beacon Theatre