New York: Big City Songbook
Feb 23
| Sun | Doors: 5:30 pm - Show: 7PM | $30 and up (plus $10 food/drink minimum)

Due to the coronavirus, please call to ensure this event is still happening before you leave home.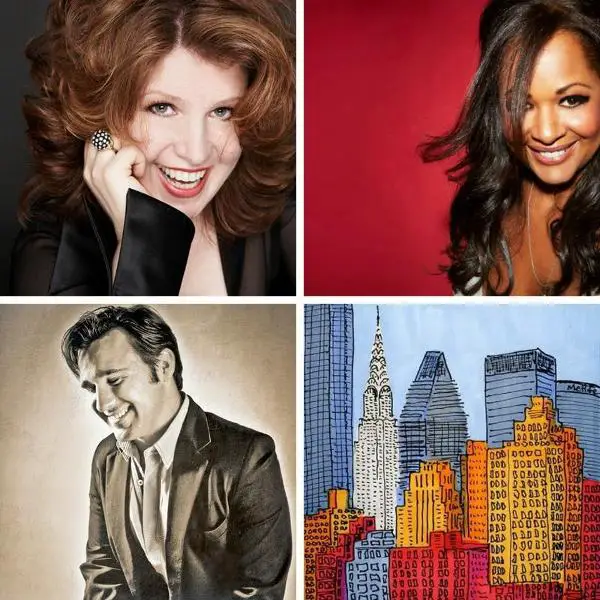 "A triumph" raves The New York Times and Theatre Pizzazz says: "The entire evening made me want to dance, and appreciate all that New York, New York has to offer"
Created, scripted & hosted by Deborah Grace Winer
Directed by Mark Waldrop with Musical Arrangements by John Oddo
A virtual guide book to New York City in song, this monthly musical revue at Birdland is becoming a top tourist 'must see.' Take the A Train...I Happen to Like New York...Boy from New York City. Why has everyone from Billy Joel and Rodgers & Hart to Mary Chapin Carpenter and Comden & Green been compelled to write about New York? What is it about this city that fuels an endless supply of stories? This jewelbox revue NEW YORK: BIG CITY SONGBOOK offers a kaleidoscopic tour of life in the city, from the inspiring and romantic to the aggravating and the quirky.
Deborah Grace Winer, who led the 92Y's celebrated Lyrics & Lyricists™ series for 9 seasons, now hosts BIG CITY SONGBOOK at the new Birdland Theater one Sunday a month.
Called "A must-see guide to the city in song" NEW YORK: BIG CITY SONGBOOK will continue its monthly Sunday night Birdland engagement on Sunday, February 23rd, 2020.
For video of BIG CITY SONGBOOK go to https://vimeo.com/301460258.
Bios:
Deborah Grace Winer (Creator, Writer, Host) is a leading expert on the classic American Songbook. Collaborations include Feinstein's/54 Below and Jazz at Lincoln Center and she recently completed a nine season run as Artistic Director of the 92Y's Lyrics & Lyricists™ concert series, presiding over 50 original shows and steering the venerable series back to audience and critical acclaim. Author and dramatist, her four books include On the Sunny Side of the Street: The Life and Lyrics of Dorothy Fields, recently reissued on Amazon, and The Night and the Music: Rosemary Clooney, Barbara Cook and Julie Wilson Inside the World of Cabaret. Her articles have appeared in The New York Times, and her plays, off-Broadway and regionally.
Klea Blackhurst (Vocalist) is known for her award-winning tribute to Ethel Merman, Everything The Traffic Will Allow. She starred in the world premiere production of Hazel at Drury Lane Oakbrook in Chicago and The Nutty Professor, which premiered in Nashville, directed by Jerry Lewis and featuring a score by Marvin Hamlisch and Rupert Holmes. Klea starred in Goodspeed Opera's 50th Anniversary production of Hello, Dolly! She's appeared in legendary halls from The London Palladium to Carnegie Hall, The Royal Albert Hall to Jazz at Lincoln Center and with symphony orchestras from Atlanta to Philly.
Nicolas King (Vocalist) has been performing professionally since he was 4 years old. He appeared in three Broadway productions (Beauty & The Beast, A Thousand Clowns with Tom Selleck, and Carol Burnett's Hollywood Arms directed by Hal Prince) before the age of 12. He released his latest album "On Another Note", with jazz icon Mike Renzi. He is recipient of the Talent America Award (1995, 1996), 2010 Julie Wilson Award, 2015 AMG Award for Artist of the Year, and New York's coveted Bistro Award in 2012 for 'Outstanding Performer of the Year'. He has also performed alongside the legendary Liza Minnelli since he was 11 years old, and as her opening act from 2002-2012, touring all over the country. thenicolasking.com
Laurie Wells (Vocalist) is a singer and actress who has performed on Broadway in Mamma Mia! as Donna Sheridan, as well as in the National Tour, and also toured the country with the Broadway hit Swing! Laurie was among of the original company of the hit revue Our Sinatra in New York and around the country. She has had the pleasure of singing at the Grand Ole Opry, Orchard Hall in Tokyo, and on the high seas with her one-woman show on Princess Cruises. She was also seen starring in Trip of Love in NYC at Stage 42: a journey through the 60's with song and dance. Visit www.lauriewells.net
Jay Leonhart (bass & vocals) Among his many associations have been Barbara Carroll, Marian McPartland, Phil Woods, Gerry Mulligan, Lee Konitz and Mike Renzi. He has been named most valuable bassist in the recording industry three times by the National Association of Recording Arts and Sciences. In the 1980s, Jay became known as a lyricist when he began leading his own recording sessions and his songs started to be recorded by other singers. He has recorded 15 albums for DMP, Sunnyside, Nesak and DRG. His one-man show of his own songs is titled The Bass Lesson.
John Oddo (Co-creator & Arrangements) was music director, pianist and arranger for Rosemary Clooney for almost 20 years, including for 20 of her recordings and countless televised performances. He was pianist for NBC Tony Bennett 90th Birthday special, and as an arranger collaborated frequently with the Boston Pops. He was music director/arranger/pianist for such artists as Tony Danza, Christine Ebersole, James Naughton, Tony Bennett, Ray Charles, Barbara Cook and a longtime collaborator of Michael Feinstein's. Various PBS specials as music director/arranger/conductor include Feinstein's recent shows from the Rainbow Room.
Mark Waldrop (Co-creator & Stage Director) is director, book writer and lyricist of the legendary Howard Crabtree's When Pigs Fly. He directed and provided special material for Bea Arthur on Broadway: Just Between Friends, which earned a Tony award nomination. He directed and wrote material for Bette Midler on her Divine Miss Millennium tour, and has directed cabaret and concert performances for Faith Prince, Sutton Foster and Brooke Shields, among many others. His numerous New York and regional credits include Radio City Music Hall and NEWSical the Musical.
Venue: Birdland Jazz Club
315 W. 44th St. Map
212-581-3080