Luminaries
Looking for things to do in NYC? Get our free email with 8 can't-miss city events every week
Sign-up Here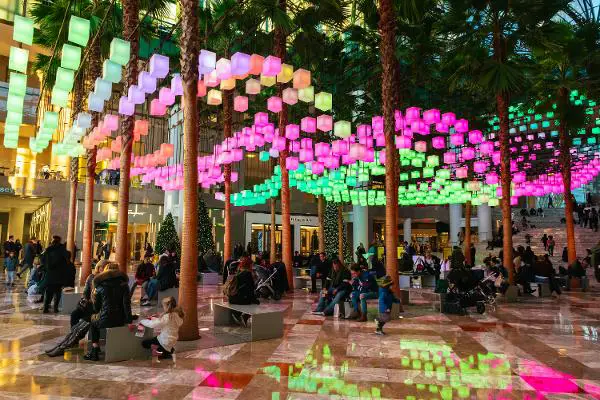 View the mesmerizing display of colorful lanterns created for Brookfield Place by the innovative minds at the LAB at Rockwell Group. You're invited to interact with the magic of 640 lanterns that dance in a symphony of colors and intensity, composing a breathtaking spectacle above the Winter Garden. But that's not all – every interaction at Luminaries adds to a greater cause. To celebrate the season of giving, Brookfield Place will donate $1 for every interaction, up to $25,000, to the GO Project to help NYC public school students.
Best of all, this radiant holiday experience is absolutely FREE! So, gather your loved ones and join us at Brookfield Place as we illuminate the heart of New York City with the spirit of the season. Come, make a wish, enjoy the light shows, and be a part of the magic at Luminaries – where every twinkle tells a tale of holiday joy and giving!
HOLIDAY WISHING & MAESTRO (10am – 8pm) // THROUGH JANUARY 1
Illuminate your holiday wish by sending a motion-activated wish or conducting the canopy of glowing lanterns above.
LIGHT SHOWS (8am – 10pm) // THROUGH JANUARY 1
View a special light show at the top of every hour from 8am to 10pm featuring one of following holiday songs:
Winter Wonderland by Michael Bublé Silver Bells by Tony Bennett Carol of the Bells by The Bird and The Bee Let It Snow by Pentatonix SCHEDULE:
November 24 – January 1: Wishing, Maestro and Light Shows Friday December 1 at 3pm through Sunday December 3: Luminaries will be in ambient mode due to the Nutcracker performances. January 2 – 6: Luminaries' canopy is in ambient mode. There's no wishing, Maestro or light shows. Luminaries will close at 5pm on January 6. ABOUT THE LAB AT ROCKWELL GROUP:
The LAB at Rockwell Group is an experience design studio that builds memorable spaces that engage the senses through strategic storytelling, immersive environments, and evocative content. Our architects, strategists, interaction and graphic designers, and content developers help forward-thinking companies create compelling brand narratives through a variety of mediums. Our content tells stories; our technology is interactive and captures the imagination; and our programming creates a reason to return again and again. Using story, architecture, and technology, the LAB choreographs unique, seamless journeys.
ABOUT GO PROJECT:
The GO Project helps New York City public school students thrive in the earliest stages of their education through year-round academic, social-emotional, and family support. Since 1968, GO's out-of- school time programs have equipped thousands of children with the confidence and skills needed to make academic gains, reach and exceed grade proficiency, enroll in high-performing middle and high schools, graduate on time, and achieve college success. By harnessing New York's physical, financial, and intellectual resources, GO has grown from a group of volunteers serving 30 students on the Lower East Side into a $3 million organization creating equal opportunity for more than 700 students citywide.
Venue: Brookfield Place
230 Vesey Street Map
212-978-1673