Carter Burden Gallery Announces New Exhibitions by Re-Emerging Older Artists
Jun 02
Through Jun 22
| Fri | 11 AM | FREE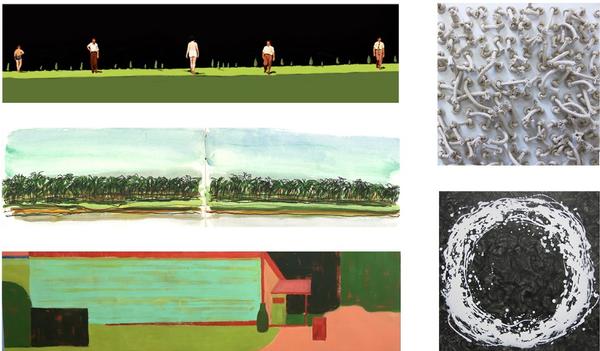 Three new exhibitions featuring the unique artwork of five re-emerging older artists will be on display from June 1st-22nd at the Carter Burden Gallery located at 548 West 28th Street #534 in Manhattan. The Carter Burden Gallery showcases the vibrant, cutting-edge and transformative art that is the product of the unique cultural wealth possessed by older professional artists.
Peripheral Visions in the East Gallery features painter Adrianne Lobel and digital artist Marjorie Weiss. Lobel presents dramatic and colorful paintings of seemingly banal subject matter, finding beauty in places and things that might usually go unnoticed. Weiss presents her latest series 'Night Lives,' digitally produced panoramic prints that are a continuation of her interest in memory, dimensional uncertainties, and the enigmatic juxtaposition of images and their surroundings.
Kaiwa (??) in the West Gallery translates to Conversation and features husband and wife Sue Koch and Kiyoshi Otsuka. Koch explores a mixed media series entitled 'Lacings,' which ties together her interest in structure, architecture, and textiles with a deep influence from Japanese aesthetics and culture. Otsuka presents monochromatic paintings on canvas, inspired by organic forms and water, speaking to the beauty, intensity, and mystery of nature and its ever-evolving and transformative power.
On the Wall features an installation by the artist Rezendes. Inspired by time spent on the Nile River, Rezendes presents a reflection of a journey through Egypt through a panoramic illustration of the Nile at day and at night.
OPENING RECEPTION: June 1, 2017, 6pm - 8pm
EXHIBITION DATES: June 2, 2017 – June 22, 2017 (select days/times below)
TIMES: Tuesdays – Fridays, 11am – 5pm Saturdays, 11am – 6pm
Venue: Carter Burden Gallery
548 W. 28th Street, #534 Map
Looking for...
Be in the Know