Crispr: The Musical!
Looking for things to do in NYC? Get our free email with 8 can't-miss city events every week
Sign-up Here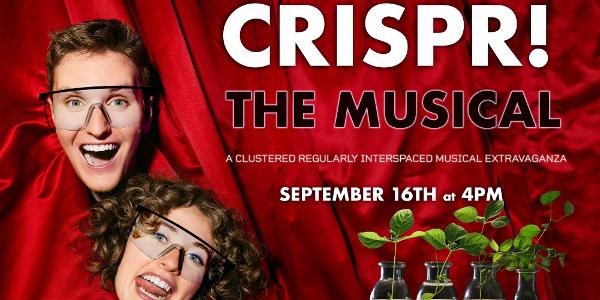 Finally, a musical about gene editing technology!
One night only: A fast-paced, laugh-out-loud comedic musical by Lina Zikas and Duane Stanford.
Two gene-editing researchers in a struggling lab attempt to create a super-soybean plant and escape the sabotage of a rival research facility. Featuring original songs and dance numbers, this show is perfect for nerds, comedy fans, and anyone who loves to laugh.
Lina Zikas is an NYC writer and producer. Her short film "Start Over" was represented in the Court Métrage in the 2018 Cannes International Film Festival. She produces a monthly variety show called Hottie Bop at Under St Marks theater in the East Village. Her original musical Superlike debuted at the Brooklyn Comedy Collective Nov 5, 2022. Her films have received Jury awards in 48 Hour Film Festival Chicago, Campus Movie Fest and Georgia Tech Film Scramble competitions. She graduated with a Materials Engineering degree from the Georgia Institute of Technology.
Duane Stanford is a performer, writer and digital media specialist in NYC. He co-produces Hottie Bop, a monthly variety show in NYC, where he performs songs from his narrative albums Hot Pita, Pope Amanda, Feynman Wine, Softbank, and Citizens United. Video and photography clients include MTVu, Ideas United, Everspark Interactive, Zenith Global, and Cox Media Group.
Venue: Caveat
21 A Clinton Street Map
212-228-2100