TueNight 10th Anniversary Birthday Bash!
Looking for things to do in NYC? Get our free email with 8 can't-miss city events every week
Sign-up Here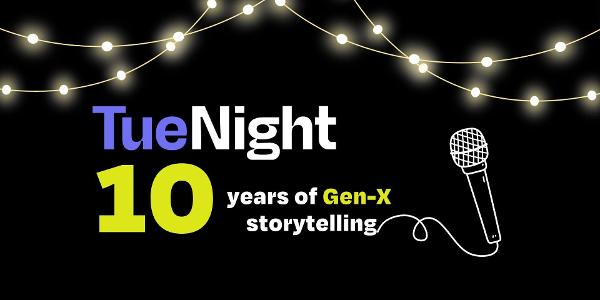 A night of storytelling from Gen-X women sharing the true, messy, deep, often hilarious stories of our midlife lives.
Join us as we celebrating our 10th birthday telling stories around the theme of "AMBITION" ('Cause it took some ambition to last this long!). Expect an informal party vibe with 6 storytellers, quick 30-second tales from the audience and maybe even some cake?
Our fabulous host for the evening is none other than Ophira Eisenberg, the award-winning standup comedian, writer, and the host of the comedy podcast Parenting Is A Joke with iHeart Radio and Pretty Good Friends. She also hosted NPR's Ask Me Another where she interviewed hundreds of celebrities including Sir Patrick Harris, Rosie Perez, Yo-Yo Ma, Awkwafina, Roxanne Gay, Nick Kroll, Chelsea Handler and more.
Our storytellers:
Abbe Aronson runs the Hudson Valley-based firm Abbe Does It, focusing on PR and marketing, event planning and more. She writes a "what's hot right now" column for The Mountains, a new Catskills/Upstate-centric magazine, and is the content creator for WelSpotted, an international design and trend quarterly.
Carlene Bauer is the author of Not That Kind of Girl, Frances and Bernard, and most recently, the novel Girls They Write Songs About, which The New Yorker named one of the best books of 2022. Her work has been published in The New York Times Book Review, The Virginia Quarterly, The Los Angeles Review of Books, Elle, and n+1.
Julia Khvasechko is an accomplished marathoner and a 3X Finisher of the 50 States Marathon Club; she has also completed marathons in 10 countries on 5 continents, and Nov 5th will be her 300th-lifetime marathon. Today she lives to travel all over the world, running marathons, and helping others find freedom and joy in movement.
Ebele Onyema is the director of digital content and partnerships at The One Love Foundation, educating youth about healthy relationships. When not at One Love, Ebele researches the impact gender, sexual orientation, class, race, and social media have on romantic relationships. She's currently developing a docuseries about Gen Z and hookup culture.
Penny Wrenn is an award-nominated writer, editor, and content marketer based in Philadelphia. An early contributor to TueNight, Penny's work has been published in O, The OprahMagazine, Glamour, and Forbes, and she previously worked as an editor at Essence, Esquire and Redbook.
Carla Zanoni is an award-winning journalist, writer and media strategist. Her work has appeared in The New York Times, The Wall Street Journal, TED, The Common, Human Shift and more. In 2023, she published a bilingual poetry chapbook, Knowing, and is currently writing a memoir on self-worth.
What people say about us....
"TueNight is a great place to share and exchange thoughts and ideas in an intimate and safe environment. I highly recommend it as a speaker or a listener to feel more connected to a wonderful community." —Stacy London, menopause & style expert.
"TueNight is cathartic, emotionally-wrenching, fun with a bunch of wonderful strangers and friends. It's pretty much the only reason I ever leave my house on a weeknight." —Lori Leibovich, New York Times.
"TueNight events feel like a giant hug from that one friend that gets you." —Amy S Choi, Mashup Americans.
To learn more about our community, visit tuenight.substack.com.
Venue: Caveat
21 A Clinton Street Map
212-228-2100