Interschool Orchestras of New York's Women Composers Concert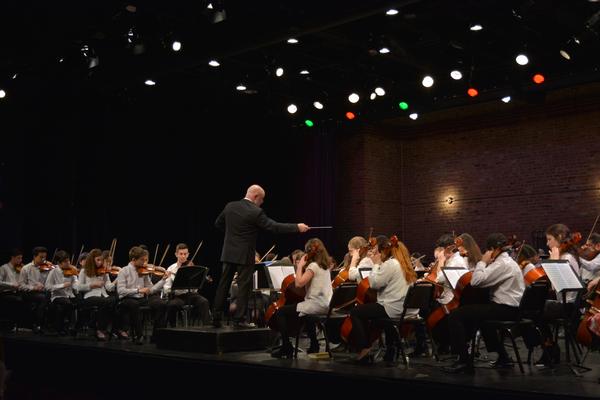 InterSchool Orchestras (ISO) Women Composers Concert at Hewitt Theater at St. Jean, 150 East 76th Street, New York, NY 10021 will be on Wednesday February 13th at 6:30 PM. The ISO Symphony Orchestra will present a concert dedicated to three outstanding women composers. The program includes Michi for Solo Marimba by world renowned Japanese composer and percussionist Keiko Abe; Flute Concertino, Op. 107, by French romanticist Cecile Chaminade; and first movement of the grand Piano Concerto, Op. 45, by one of the most brilliant American composers and pianists, Amy Beach. ISO Student Musician, Isabel Guerrero, will be performing the Abe as a soloist. ISO Teaching Artist, Mary Barto, will be the flute soloist in the Chaminade. Soloist Mika Sasaki will also join the ISO Symphony Orchestra and perform in the Beach Piano Concerto. The Conductor of the ISO Symphony Orchestra is Petko Dmitrov.
Composer Keiko Abe Born in 1937 in Tokyo, Keiko Abe is the author of more than 70 compositions for percussion, and her contribution to developing the marimba as a solo instrument is unmatched. Abe's collaboration with the Yamaha Corporation in the 1960s resulted in expanding the marimba range to five octaves, as well as improving the design and sound quality of this instrument.
Composer Cecile Chaminade (1857 - 1944) Chaminade is the author of more than 400 works. Her musical talent was recognized by George Bizet at the age of 8. After her Carnegie Hall recital in 1908, the New York Evening Post ran a piece stating: "Chaminade's concert confirmed the conviction held by many that while women may someday vote, they will never learn to compose anything worthwhile. All of them seem superficial when they write music." This is an example of the unjust and discriminatory fate of female artists in a male-dominated world.
Composer Amy Beach (1867 - 1944) Beach completed her first compositions at the age of four and in her teens was already an established concert pianist and made her debut with the Boston Symphony. This bright career was delayed for decades by one condition in Beach's marriage agreement: she was not allowed to play more than two concerts a year and was forced to give up teaching. As a result, Beach focused all her efforts on composing, and this gave birth to one of the most colorful and masterful pieces of American romantic music such as Mass in E flat Major, Gaelic Symphony, Piano Quintet, and Piano Concerto.
The ISO Women Composers Concert is being funded by a grant from Women's Philharmonic Advocacy. They provide grants to organizations to promote women composers of orchestral music.
InterSchool Orchestras of New York Founded in 1972 and incorporated in 1974, the InterSchool Orchestras of New York (ISO) began with a single orchestra of 20 children. Today, ISO serves more than 250 children, creating opportunities for school-aged children in New York City to make music together through four tiered level orchestras. ISO provides a nurturing environment where all children can realize their personal best, achieve high artistic standards, and share music with the community. The ensembles perform in major concert halls, schools and community centers, bringing great music to over 7,000 people annually. Generous financial aid and scholarships ensure that every child can participate. For more information, please visit http://isorch.org/.
Venue: Hewitt Theater at St. Jean
150 East 76th Street Map