Mazel! Yiddish Classics Reimagined by an Unlikely Trio
Looking for things to do in NYC? Get our free email with 8 can't-miss city events every week
Sign-up Here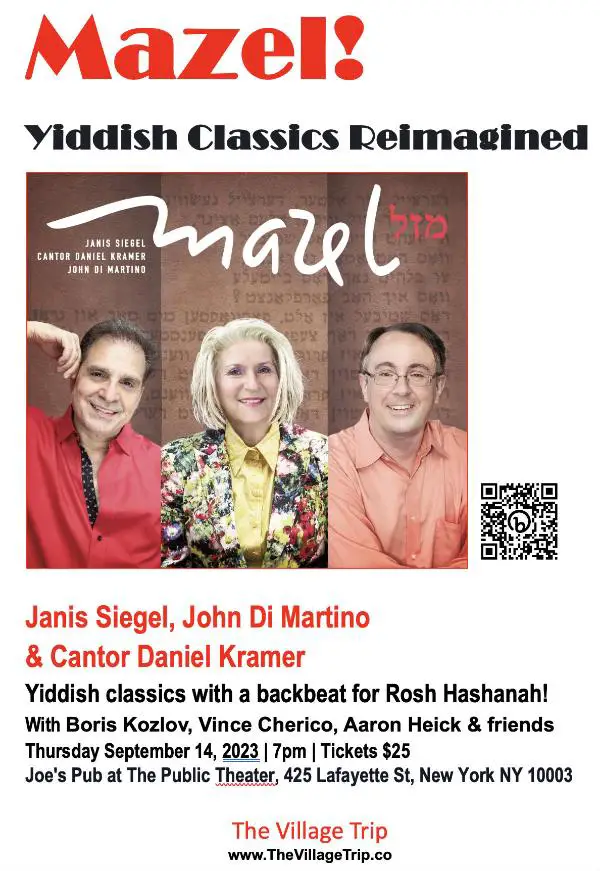 Celebrate Rosh Hashanah in the company of Janis Siegel, John Di Martino and Cantor Daniel Kramer for the first live presentation of their highly acclaimed Covid-lockdown album of Yiddish classics with a backbeat.
What happens when a West Village-dwelling 10-time Grammy-winning vocalist extraordinaire from Brooklyn and a cantor from a Long Island congregation get linked by a Grammy-nominated, Philadelphia-born Italian jazz pianist with a love of Yiddish music? If you'd like to know, then please join us for a very special show with The Manhattan Transfer's Janis Siegel, New York City staple John Di Martino, and Cantor Daniel Kramer, as they present Mazel, a collection of Yiddish and Yiddish-composed tunes reinterpreted through mainly jazz and Latin lenses.
A unique opportunity to hear from this fascinating (and unlikely) combination of musicians, this is the first full-length live performance of tunes from the album, as the pandemic did not allow for such shows at the time of its release.  Many of the musicians from the recording will be in the band, including Boris Kozlov, Vince Cherico, and Aaron Heick. Surprises and shenanigans await!
Venue: Joe's Pub
425 Lafayette St. Map