Luna Park in Coney Island's First-Ever Winter Extravaganza: Frost Fest Kicks Off on November 18
Looking for things to do in NYC? Get our free email with 8 can't-miss city events every week
Sign-up Here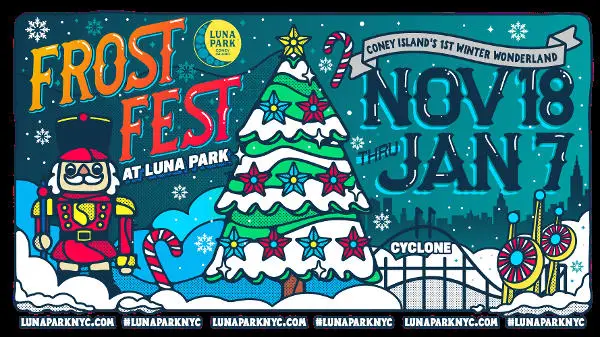 Luna Park in Coney Island, New York City's most iconic destination for fun, is extending its season for the first time to welcome visitors to a thrilling winter wonderland. The inaugural holiday event kicks off on November 18, offering a wide array of enchanting activities and attractions that will delight visitors of all ages. Frost Fest will run through January 7, 2024. 
Visitors will get indulge in the holiday spirit by enjoying Frost Fest's variety of winter activations, including:  
Rudolph's Rink: Revel in the magic of an outdoor ice skating rink with the iconic backdrop of Luna Park in Coney Island. 
Santa's Wonderland: Celebrate the spirit of the season with a visit to Santa's Wonderland, where families can capture cherished moments with Santa Claus. 
Holiday Market: Explore a vibrant holiday market where you can find unique gifts and savor delicious seasonal treats from local Brooklyn vendors.  
Holiday Lights & Décor: Luna Park will be adorned with a dazzling display of holiday lights and decorations, creating a picturesque and festive atmosphere. 
Select Rides and Attractions: A selection of Luna Park's thrilling rides and attractions will remain open throughout Frost Fest.
Festive Food Options: Delight your taste buds with a wide array of delectable holiday treats, catering to the diverse palates of both New Yorkers and visitors. 
Venue: Luna Park in Coney Island
1000 Surf Ave Map
845-304-3894