Dave Portnoy's One Bite Pizza Festival
Looking for things to do in NYC? Get our free email with 8 can't-miss city events every week
Sign-up Here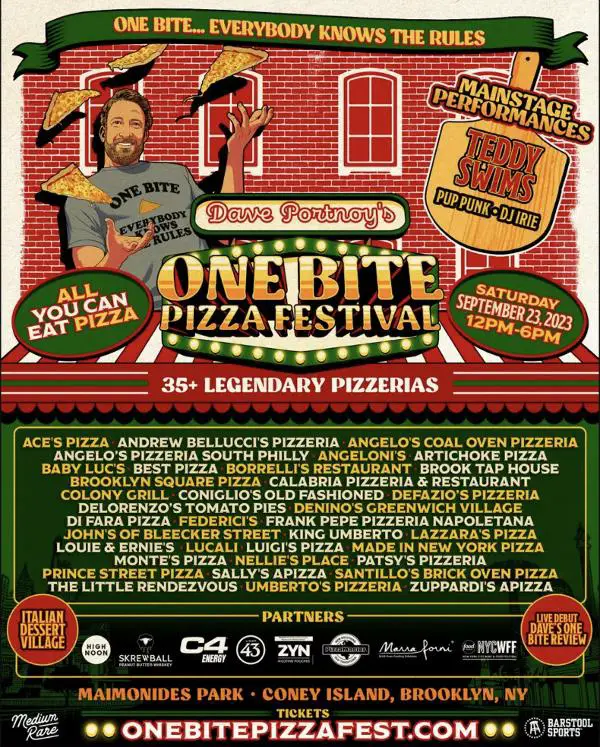 Don't miss the largest all-you-can-eat pizza & music festival at Coney Island! 
Barstool Sports founder and legendary pizza aficionado, Dave Portnoy, is hosting his first-ever food and music festival, Dave Portnoy's One Bite Pizza Festival on Saturday, September 23, 2023. Together with Portnoy, Medium Rare will bring Dave's over-the-top, pizza-loving personality to life for the inaugural One Bite Pizza Festival which will welcome 5,000+ pizza-loving fans to Maimonides Park to experience the greatest gathering of pizzerias ever, interactive pizza experiences and mainstage performances. 
Featuring Dave's top rated One Bite Pizzerias, fans will experience the greatest all-you-can-eat gathering of Pizzerias ever: Lucali, Sally's Apizza, Patsy's Pizzeria, Prince Street Pizza, John's of Bleecker Street, DeLorenzo's Tomato Pies, Di Fara Pizza, Frank Pepe Pizzeria, Napoletana, Angelo's Pizzeria South Philly, and 25+ more. Plus, fans will enjoy Main Stage performances from musical superstar Teddy Swims, Pup Punk, DJ IRIE and a live One Bite review from Dave Portnoy.
Venue: Maimonides Park l Coney Island, New York
1904 Surf Ave Map
562-745-4237