Ballet Master Class with New York City Ballet Greatest
12/18/17 | 12pm
Manhattan Movement & Arts Center (MMAC)
248 W. 60th St. (between Amsterdam & West End Avenues) Map
917-780-5040
$25-$35
18-12-2017 12:00:00
18-12-2017 12:00:00
America/New_York
Ballet Master Class with New York City Ballet Greatest | 12pm
Learn from the NYCB's Principal Dancer Ask la Cour* — students (ages 10 and older with prior dance experience) have the opportunity to take a Balanchine technique ballet class. Broadway professionals, performing arts students, and alumni, as well as international visitors with prior dance experience, are welcome to join this unique master class. Choose from either a 60- or 90-minute session. 90-min (advanced/intermediate) session at 12pm $35 per student 60-min (intermediate/beginner) session at 1:30pm $25 per student Location: Manhattan Movement & Arts Center (MMAC) 248 W. 60th St. (between Amsterdam & West End Avenues) New York, NY 10023 Subway: 1, A, C, B, D to 59th Street/Columbus Circle To book online, please visit http://artwithoutbordersnyc.org Phone inquiries at 917-780-5040 Email: contact@artwithoutbordersnyc.org Onsite sales are available on the date of the class, up to 30min prior to the class and are subject to availability. *guest teacher/s subject to change. No refunds once tickets have been processed. Classes begin at the announced start time and there is no late entry. Please allow sufficient time to change into your ballet class attire — dressing rooms available. We regret that we cannot replace or refund tickets for classes you miss. http://www.cityguideny.com/eventinfo.cfm?id=265438
Manhattan Movement & Arts Center (MMAC)
Manhattan Movement & Arts Center (MMAC)
This event has already taken place. Click here for the latest events.
Learn from the NYCB's Principal Dancer Ask la Cour* — students (ages 10 and older with prior dance experience) have the opportunity to take a Balanchine technique ballet class. Broadway professionals, performing arts students, and alumni, as well as international visitors with prior dance experience, are welcome to join this unique master class. Choose from either a 60- or 90-minute session.
90-min (advanced/intermediate) session at 12pm
$35 per student
60-min (intermediate/beginner) session at 1:30pm
$25 per student
Location: Manhattan Movement & Arts Center (MMAC)
248 W. 60th St. (between Amsterdam & West End Avenues)
New York, NY 10023
Subway: 1, A, C, B, D to 59th Street/Columbus Circle
To book online, please visit http://artwithoutbordersnyc.org
Phone inquiries at 917-780-5040
Email: contact@artwithoutbordersnyc.org
Onsite sales are available on the date of the class, up to 30min prior to the class and are subject to availability.
*guest teacher/s subject to change. No refunds once tickets have been processed. Classes begin at the announced start time and there is no late entry. Please allow sufficient time to change into your ballet class attire — dressing rooms available. We regret that we cannot replace or refund tickets for classes you miss.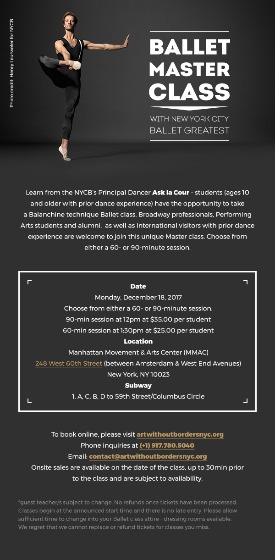 This event has already taken place. Click here for the latest events.