F*** Cancer NYC Hosted by Jadakiss
Nov 21
Through Nov 22
| Thu | 8 PM | $40

Due to the coronavirus, please call to ensure this event is still happening before you leave home.
Buy Tickets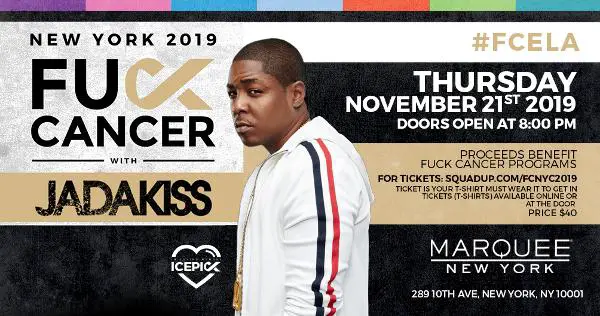 On Nov. 21, 2019, New York-Native rapper Jadakiss will be performing and hosting an F Cancer event at Marquee nightclub in NYC, celebrating the debut of his upcoming album drop. Together with F Cancer, Jadakiss will be honoring the memory of his late friend Jay "Icepick" Jackson who lost his life to colon cancer; educating and raising awareness on the importance of early detection and colon cancer screenings. All proceeds from the event will be donated to F Cancer, an organization that focuses on prevention, early detection and psychosocial support for those affected by cancer.
Tickets to the event are in the form of a limited edition F Cancer + Jadakiss t-shirt that must be worn to gain entry. Jadakiss will be using his platform to continue educating and spreading awareness around the importance of prevention and early detection specifically for colon cancer.
This event is open to ages 21+
Venue: Marquee
289 10th Ave Map
212-343-3920