Pride in the Pacific: Special Offerings in Celebration of Pride Month in June
Jun 01
Through Jun 30
| Sat | $99 for four

Due to the coronavirus, please call to ensure this event is still happening before you leave home.
Buy Tickets
In celebration of WorldPride NYC and in commemoration of the 50th anniversary of the Stonewall Uprising, National Geographic Encounter: Ocean Odyssey in Times Square is joining the collection of Pride events and activities around New York City during the month of June by offering Pride discounted ticket packages and supporting local LGBTQ+ youth.
National Geographic Encounter welcomes families and friends of the LGBTQ+ community of all ages – from the young to the young-at-heart – to dive into a virtual ocean in Times Square where high tech meets the deep sea for a family-friendly, fun and interactive journey across the Pacific Ocean.
Throughout the month of June, Encounter will offer a "Rainbow Family Fun Pack." Guests can use the code RAINBOWto purchase a pack of four tickets for only $99 (up to a 37% savings off retail prices), or use the code PRIDE8 to receive $8 off any individual ticket. And for every Rainbow Family Fun Pack and every four "PRIDE8" tickets purchased, Encounter will donate a free admission ticket to the Hetrick-Martin Institute (HMI), which will provide local LGBTQ+ youth the opportunity to visit Encounter.
Located in New York City, HMI is the nation's first and largest LGBTQ+ Youth Services organization serving over 2,000 LGBTQ+ young people.
In addition to supporting HMI during the month of June, Encounter continually supports National Geographic Society's critical works around the globe, including the Pristine Seas Project by returning a portion of its proceeds to the non-profit work of the Society.
For more information, visit NatGeoEncounter.com or follow on Facebook, Instagram and Twitter @NatGeoENCOUNTER.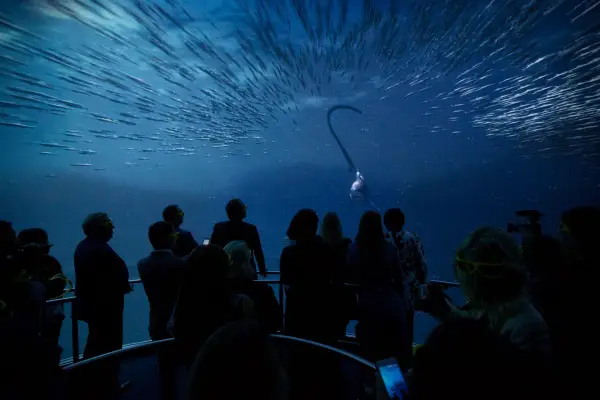 Venue: National Geographic Encounter: Ocean Odyssey
226 W. 44th St. Map
212-316-0315