Japanese Textiles: Discharge-Dyed Tenugui Workshops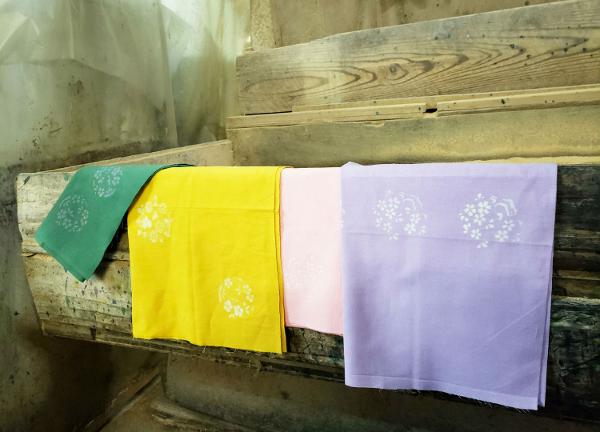 Discharge-Dyed Tenugui Workshops
Date: Sunday, November 17, 2019 6:00pm–7:30pm Sunday, November 24, 2019 6:00pm–7:30pm
Location: RESOBOX LIC 41-26 27th Street, Long Island City, NY 11101 Website: https://resobox.com/event/discharge-dyed-tenugui-workshops/ Workshop Fee: $40 (Dye and the Tenugui cloth are included in the fee) Tickets: https://squareup.com/store/resobox/item/discharge-dyed-tenugui-workshops
Workshop Overview
Ruri Kippenbrock, owner of Wuhao New York, a tenugui shop based in New York City, will teach discharge-dyeing techniques during this workshop. You will design and create your own custom tenugui, choosing the design from old Japanese kimono katagami (stencils) that are specially made for tenugui. You will also learn about the history and many uses for tenugui during this class and leave with your own hand-dyed tenugui.
Please Note: Because we will be using dyes, please wear or bring clothing that you don't mind getting dye on. Please remove any rings or bracelets during the class.
The workshop is scheduled to last about 1.5 hours. Please make your schedule flexible in case your particular hand-dyeing project takes more than 1.5 hours.
Because we will be using bleach during the class, please consider not attending if you are sensitive to bleach.
What to Bring: Please bring an apron to keep the dye from getting on your clothes.
Find out more at our website: https://resobox.com/event/discharge-dyed-tenugui-workshops/
Venue: RESOBOX Long Island City
41-26 27th Street Map
718-784-3680