Let Freedom Ring! Music and Voices of the March for Civil Rights, Then and Now
Looking for things to do in NYC? Get our free email with 8 can't-miss city events every week
Sign-up Here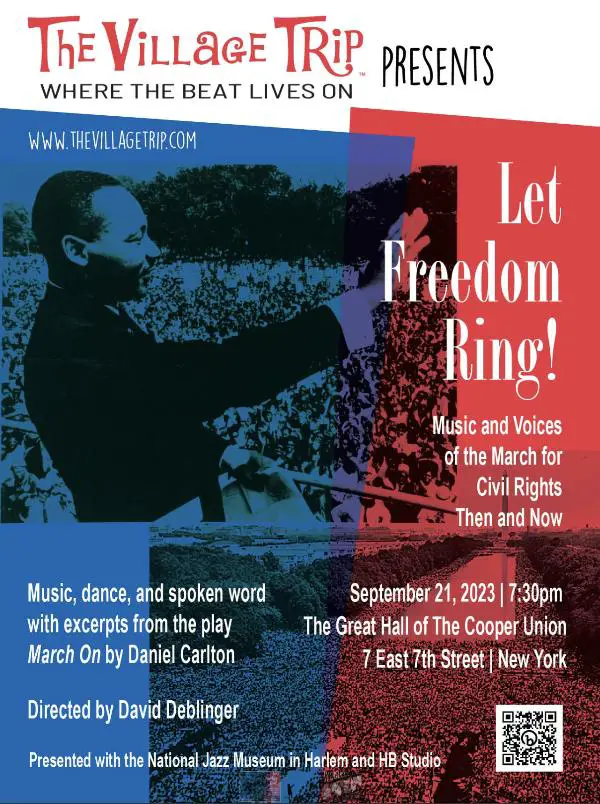 In the Great Hall where Lincoln spoke and the NAACP was born, Let Freedom Ring! Music and Voices of the March for Civil Rights, Then and Now will honor the sixtieth anniversary of the March on Washington, with an evening of song, dance, and oratory that address the way our society confronts discrimination, inequality, and oppression.
Conceived and created by award-winning poet, playwright, and storyteller Daniel Carlton (March On) and directed by David Deblinger, this unique evening with Fred Johnson as melodic host, will entertain, elevate, and inspire.
All profits will go to the National Jazz Museum in Harlem, an institution whose raison d'être is part of the Black experience.
Working with HB Studio, the National Jazz Museum in Harlem, and the Cooper Union, The Village Trip has assembled a stellar group of musicians, speakers, and performers who will express the joy and heartache of bending the arc of the moral universe toward justice. Let Freedom Ring! – like The Village Trip itself – will honor the ongoing struggle for freedom, equality, and social justice for all.
The evening brings together a diverse group of artists to celebrate all our humanity through story, song, poetry, movement, and excerpts from Daniel Carlton's March On, a play with a cappella songs and music that capture the stories of a multicultural group of people who participated in the March on Washington. The play follows the characters from their arrival on the Great Mall to the climactic moment of Dr. Martin Luther King's "I Have a Dream" speech. Intertwined with these stories will be freedom songs past and present, plus poetry and spoken word by special guest artists who will connect past struggles with today's fights for justice. The evening will end in rally-style as an interactive call to action. March on!
Performers include:
Hassan Baker
Alvin Keith
LaRon Grant
Richard Kent Green
Venue: The Great Hall at Cooper Union
7 E. 7th St. Map