Listen To Your Mother NYC
Looking for things to do in NYC? Get our free email with 8 can't-miss city events every week
Sign-up Here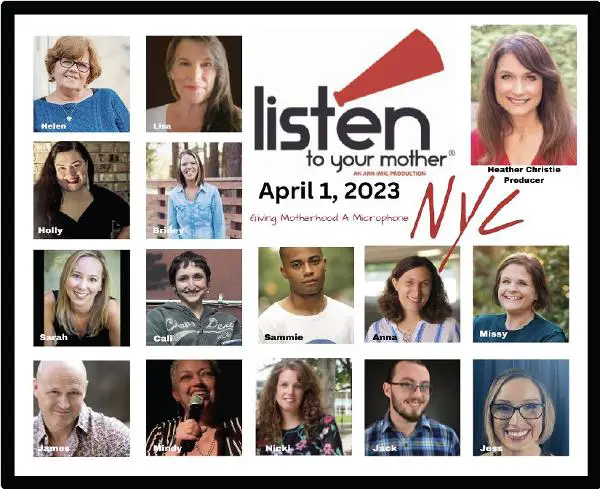 We're Giving Motherhood a Microphone!
After spanning 50+ American cities, and over 250+ productions, Ann Imig's Listen To Your Mother, a grassroots storytelling phenomenon, lands on Off-Off Broadway under the production and direction of author Heather Christie at Theatre 71 on Saturday, April 1st. Fourteen storytellers from across the United States have been chosen to share their well-crafted essays about motherhood.
Cast members include: Sarah Glubish, Sammie King, Mindy Matijasevic, Melissa Rozetar, Bridey Thelen-Heidel, Cali Snyder, Jessica Messier, Nicole Christie, Jack Mahoney, Lisa Lucca, Anna Sandler, James Christie, Holly Rutchik, and Helen Firestone.
LISTEN TO YOUR MOTHER NYC, produced and directed by Heather Christie, is a well-crafted 90 minute journey of true stories about motherhood—being a mom, having a mom, losing a mom, finding mom—as many interpretations on the theme of mothering as you can imagine. From the hilarious and heartwarming, to the emotionally intense and profound, LISTEN TO YOUR MOTHER NYC entertains, energizes, and leaves everyone feeling a little less alone and a little more understood. That's the goal.
Performances are at 3PM and 7PM. The 7PM show will be available via livestream. Tickets range from $37-$50. All tickets can be purchased here: https://bit.ly/3WjUAAg. For livestream, click the 7PM show, and then click the livestream button. A portion of the proceeds will support the David J. Christie Scholarship Fund, which funds a community college student who is entering the medical field.
Venue: Theatre 71
152 W. 71st St. Map