The Village Trip: A Festival of Arts and Activism
Looking for things to do in NYC? Get our free email with 8 can't-miss city events every week
Sign-up Here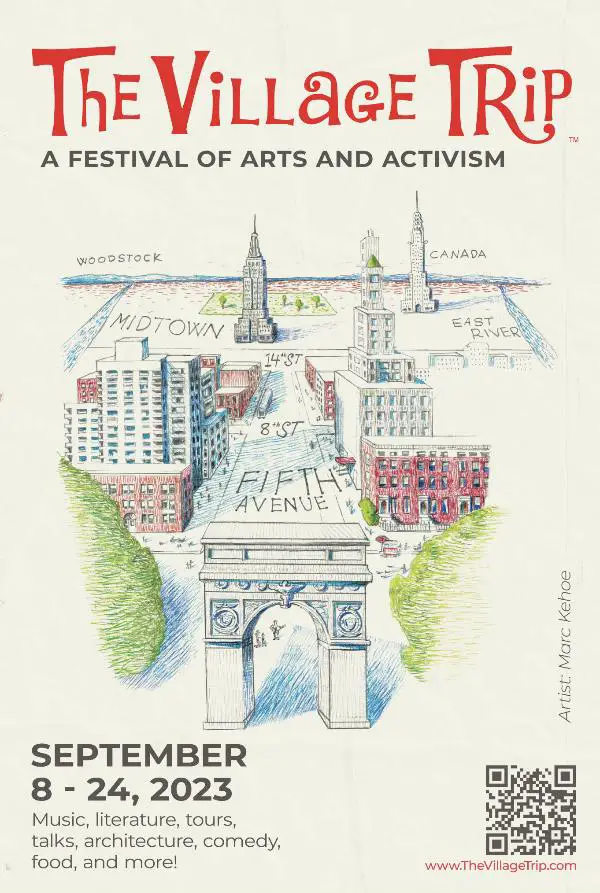 In September 2023, The Village Trip presents a series of events celebrating the rich culture and history of Greenwich Village:
**September 6 - September 24**: Moshava Art Gallery hosts an exhibition titled "Framing the Village: Portraits by Village Artists," showcasing paintings, drawings, and photography depicting individuals associated with Greenwich Village/East Village.
**September 9**: The Village Trip launches with the Eighth Street Block Party, featuring musician David Amram and friends, marking the start of a two-week festival of music, art, poetry, walks, talks, and more.
**September 9**: Salmagundi Club presents "Neighbors, Lovers and Friends: Michael Kelly and Brad Moore at Salmagundi," an evening of classical American art song with Michael Kelly and Bradley Moore, celebrating the Village's iconic residents through music and words.
**September 10**: David Amram's East Village Ramble offers a guided walk through six decades of art, theater, and music that have shaped the Village's cultural scene.
**September 10**: "Ukraine Day" is a program of events throughout the East Village celebrating Ukrainian culture and raising funds for the Ukraine Children's Action Project.
**September 10**: "Playing for Change: a Play-a-Thon for Ukraine" invites performers of all ages to participate in a musical event benefiting the Ukraine Children's Action Project.
**September 10**: "Killing the Silence: A Concert for Ukraine" features chamber music by Ukrainian composers, with special guests Ukrainian Chorus Dumka, Bowers-Fader Duo, Didorenko-Basis Duo, supporting the Ukraine Children's Action Project.
**September 10**: "From Odesa: Kommuna Lux plus special guests" brings the hi-energy seven-piece band Kommuna Lux from Ukraine to perform their blend of Klezmer and speakeasy tunes at DROM.
**September 11**: At Jefferson Market Library, "Greenwich Village as Harlem's Preamble and Echo: A Random Illustrated Survey" is a lecture by Eric K Washington exploring the African American history woven into Greenwich Village.
**September 12**: "Terri Thal and Friends: Greenwich Village and Me" at The Bitter End features Terri Thal in conversation with musicians Tom Paxton and Happy Traum, discussing the Village's influence on their music.
**September 13**: "Wonderful Town – Jamie Bernstein and Janis Siegel" at The Public Theater at Joe's Pub celebrates the seventieth anniversary of Leonard Bernstein's musical with a cabaret featuring Jamie Bernstein, Janis Siegel, and others.
**September 14**: "Mazel! Yiddish Classics Reimagined by an Unlikely Trio" at The Public Theater at Joe's Pub presents Janis Siegel, John Di Martino, and Cantor Daniel Kramer reimagining Yiddish classics.
**September 16**: "Jazz for Justice: Freedom First – We Are With You / Estamos Contigo" at Nuyorican Poets Café is a concert supporting Keith LaMar, who has spent decades in solitary confinement for a crime he didn't commit.
**September 17**: "Shanah Tovah! A Joyous New Year's Musical Celebration" at DROM features Avram Pengas, David Amram, and friends performing songs from New York City's Yiddish theater and Sephardic folklore.
**September 18**: "Public/Private: Gail Papp, in conversation with George C Wolfe" at The Public Theater at Joe's Pub delves into the behind-the-scenes memoir of Gail Papp's life with Joe Papp at The Public Theater.
**September 18**: "So Surreal – Anarchy Under the Arch! Innovators, Radicals, Mavericks and Game-changers" at Salmagundi Club explores the connections between the French surrealist movement and American musicians through music.
**September 19**: "Simic Colors at Salmagundi" features baritone Joseph Keckler and soprano Sharon Harms performing new settings of Pulitzer Prize-winning poet Charles Simic's work, alongside other works.
**September 21**: "Let Freedom Ring! Music and Voices of the March for Civil Rights, Then and Now" at Great Hall at Cooper Union commemorates the sixtieth anniversary of the March on Washington with song, dance, and oratory addressing discrimination and inequality.
**September 22**: "Julie Gold: Closing the Distance" at Greenwich House Music School presents Grammy-winning singer-songwriter Julie Gold in an intimate evening of songs and stories.
**September 23**: "Bringing It All Back Home to Washington Square" is a free concert at Washington Square Arch, featuring People of Earth, The Peace Poets, and BETTY, celebrating the spirit of Washington Square Park and the Village's artistic heart.
Venue: Washington Square