New wagamama Location Opening in Murray Hill!
02/06/19
wagamama
605 Third Ave., at 39th Street Map
06-02-2019 12:00:00
06-02-2019 12:00:00
America/New_York
New wagamama Location Opening in Murray Hill!
http://www.cityguideny.com/eventinfo.cfm?id=347828
wagamama
wagamama
Brand new to the Murray Hill area, UK Asian fusion restaurant wagamama will be opening its newest location in New York on Wednesday, February 6th. wagamama, which has 197 locations across 27 countries, started in 1992 in England. The wagamama menu blends flavors from Japan, Korea, China, India, Thailand, and Vietnam.
The pan-Asian restaurant will enter the food culture of "Curry Hill," where many Indian restaurants thrive along Murray Hill's nearby Lexington and Third Avenue stretches. In honor of its neighbors, the new wagamama will serve an extra-spicy version of its famous katsu curry called Hot Katsu Curry. It will be available at the new restaurant for only the first month of business.
The opening of the Murray Hill restaurant coincides with Veganuary, which started in the UK in 2014 as part of an effort to inspire people to eat more plant-based food. In support of Veganuary, wagamama will feature a special limited-edition vegan dish—Avant Gard'n—co-developed by wagamama's Executive Chef Steve Mangleshot and trailblazing UK vegan chef Gaz Oakley. It will be available for four weeks beginning January 28th (February 6th in the new location) at all wagamama restaurants in New York and Boston.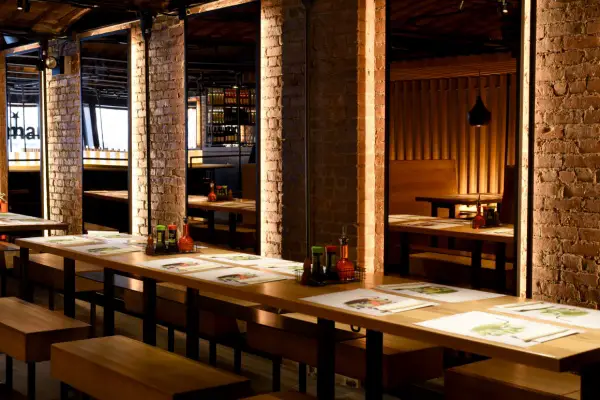 Photo: Danielle Adams.
The new wagamama will be located near Grand Central Terminal and the Morgan Library & Museum. It will be perfect for a convivial dinner with friends and family, a date over drinks, or a party. Wagamama Murray Hill is opening soon. It is located at 605 Third Ave., at 39th Street. Visit wagamama.us for more.