The Givers Holiday Gala
Nov 29
| Tue | 6:30 PM – 11PM | $170 and up
Buy Tickets
Looking for things to do in NYC? Get our free email with 8 can't-miss city events every week
Sign-up Here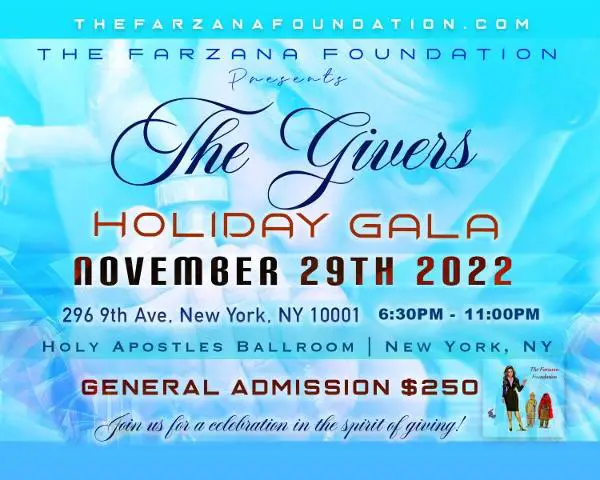 The Farzana Foundation hosts The Givers Holiday Gala, an event to fund the construction of fresh water wells in Afghanistan.

On Tuesday, November 29, 2022, The Farzana Foundation will host a fundraising event at 296 9th Ave, New York, NY 10001. The goal is to raise $250,000 to provide funding for the construction of fresh water wells within the many small villages throughout Afghanistan that do not enjoy this basic necessity of everyday life. Those of us who live in the more developed nations take fresh running water for granted, however, as hard as it may be to believe, many of the smaller villages in Afghanistan do not have ready access to fresh running water for regular everyday drinking and sanitary purposes.
Event goers will enjoy a lively experience with hors d'oeuvres, a five-star dinner, open bar, red carpet and entertainment that includes live performances, a DJ with dance floor and "Cinderella on Fifth Avenue" TV show premiere. Press coverage will include Getty Images, NY1, BRONXNET Live, Special Guests Appearances and More!
"Once we have built enough fresh water wells to satisfy the basic needs of the villages we are trying to help, the next mission will be to construct schools to promote the education of young children, as well as healthcare facilities to care for the sick and infirm. For me, it's not just about serving a single geographic location, since our intention is to take this beyond Afghanistan to other underserved countries in the World where basic needs such as fresh water, healthcare, and schools are also needed," said Founder Farzana Niemann.
Venue: Ballroom at the Church of the Holy Apostles
296 9th Avenue Map