The Carle Honors
Looking for things to do in NYC? Get our free email with 8 can't-miss city events every week
Sign-up Here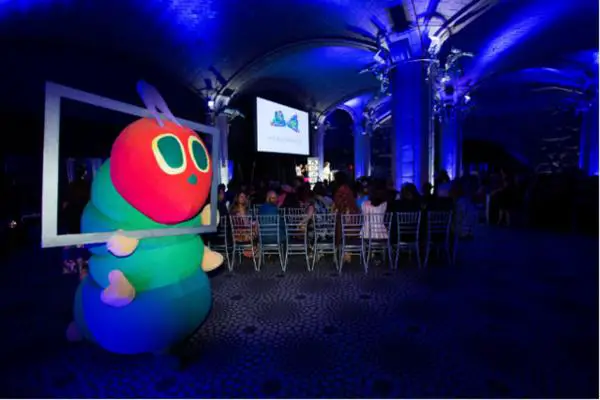 The Eric Carle Museum of Picture Book Art will be hosting the 16th annual Carle Honors awards gala on Thursday, September 29, 2022, at Guastavino's in New York City.
 
Co-chaired by Suzanne Collins and Charles Pryor, The Carle Honors is thrilled to be returning in person for the first time since 2019. The Carle Honors will highlight five outstanding luminaries for their creative vision and long-term dedication to the world of picture books: Faith Ringgold, Dolly Parton's Imagination Library, Ajia (阿甲), and Wade and Cheryl Hudson. Virtual tickets are available for those unable join us on-site.
Who: The 2022 Carle Honors honorees are:
Faith Ringgold, Artist: For lifelong innovation in the field—
Ringgold is a painter, mixed media sculptor, teacher, lecturer, and author of numerous award-winning children's books. Known for her oil paintings and her narrative painted story quilts, her first children's book, the renowned Tar Beach, won over 20 awards including the 1991 Caldecott Honor and Coretta Scott King award. A creative and cultural force whose work is in the permanent collections of numerous museums in the US and abroad, Ms. Ringgold is a role model for artists and scholars and continues to influence and inspire others.
 
Dolly Parton's Imagination Library, Angel represented by President Jeff Conyers: For individuals whose generous resources make picture book art exhibitions and education programs a reality—
Dolly Parton's Imagination Library inspires a lifelong love of books and learning by mailing specially selected books to the homes of registered children, from birth to age 5, each month. Inspired by her father, who could not read or write, Dolly Parton founded and launched the program in East Tennessee in 1995. The Imagination Library now gifts over 1.8 million books each month internationally and has gifted over 180 million books since inception.
 
Ajia (阿甲), Bridge: For those who have found inspired ways to bring the art of the picture book to larger audiences through work in other fields—
Ajia is one of China's foremost translators of Western children's books and an influential storyteller, author, and educator. In addition to authoring his own picture books and books about children's literature, he has translated several reference books and more than 200 picture books from English to Chinese, including such classics as Goodnight Moon, the Peter Rabbit series, and Where the Wild Things Are. Ajia brings the joys and scholarship of picture books to a broad and eager audience.
 
Wade and Cheryl Hudson, Mentor: For the editors, designers, and educators who champion the art form—
Wade and Cheryl Hudson are authors, publishers, and leading advocates for equity, diversity, and inclusion in the children's book industry. In 1988, they founded Just Us Books to publish children's literature that centers and celebrates Black people, history, and culture. They have dedicated their careers to creating good books and more opportunities for talented creators—mentoring and giving numerous authors, illustrators, and other professionals their start in publishing.
 
What: 5:00 pm: Reception, hors d'oeuvres, cocktails; silent art auction opens
6:00 pm: Presentation of awards & virtual event begins
7:00 pm: Dinner, drinks, dessert, and silent art auction
9:00 pm: Silent auction closes
 
Where:             Guastavino's
                        409 East 59th Street
                        New York, NY 10022
 
When:Thursday, September 29, 2022
Note: The Carle will follow any Covid guidelines in place for the state and city of New York at the time of the event.
 
                       
Why:The Carle Honors is a fundraiser for The Eric Carle Museum of Picture Book Art, raising essential support for the work of the Museum and its mission to inspire a love of art and reading through picture books.
 
 
How: Individual Tickets: Early Bird Patron Tickets are $500 until July 16 and include cocktails, presentation, dinner, and dessert; Patron Tickets are $600 per person after July 16. Individual Sponsor Tickets are $750 and include cocktails, presentation, dinner, dessert, and a hardcover copy of a book by Faith Ringgold. Special Educator Tickets are $180 and include cocktails, presentation, dinner, and dessert. The majority of each ticket (except Educator) is tax deductible.
 
Sponsorships: Sponsorship packages start at $5,000 for a set of 8 Patron Tickets. Packages at $7,500 (10 tickets), $10,000 (12 tickets), and $20,000 (15 tickets) include cocktails, presentation, dinner, dessert, an Instagram takeover, logo at the event, Museum admission for all employees and a hardcover copy of a book by Faith Ringgold for each ticket holder. The majority of each sponsorship is tax deductible.
 
For more details or to purchase a sponsorship/ticket to the event, please contact Rebecca Miller Goggins at 413-559-6308 or rebeccag@carlemuseum.org.
 
Auction: The Carle Honors Art Auction will be part of the in-person and virtual event, and will feature exceptional artwork from more than 30 leading artists in the field. The list of participating artists will be available in July. The auction will open online for bidding on Friday, September 23, and will close at 9 pm sharp on Thursday, September 29.
Venue: Guastavino's
409 East 59th Street Map
413-559-6308