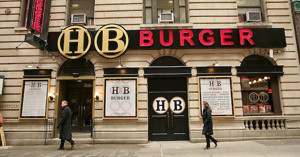 Inside Scoop: HB Burger
HB Burger, of New York's Heartland Brewery family, is not your average burger joint. With wrought iron and amber lighting, two bars and spacious seating, this restaurant serves up nine specialty burgers and great salads, accompanied by a tasty assortment of "Must Frys" from tater tots to tempura. The HB soda fountain makes shakes and malts, egg creams, hard shakes (not for the kids!), and the "World's Smallest Hot Fudge Sundae." You can also find a full selection of Heartland Brewery's fine handcrafted beers, of course.
Heartland has consistently brewed New York's freshest craft beers, including six classics and a wide range of seasonal ones. Brewers at Heartland assemble distinctly American ingredients to create their beer recipes. Heartland's beers taste different than beers from Germany and Britain because they are made from indigenous ingredients such as Wisconsin malt, hops from Washington and Oregon, and American yeast. All beers are served at their freshest: within one to two weeks of brewing.