The Sea Fire Grill
158 E. 48th St.
212-935-3785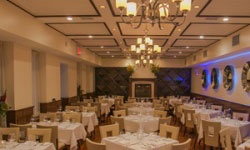 In the fall of 2012, the people behind midtown's Benjamin Steakhouse dipped their toes in the water with this seafood-centric offshoot, with a contemporary American seafood menu that takes straightforward presentation cues from their classic backgrounds. The result is an elegant yet classic experience where consistency is key and service is impeccable.
From the 10/22/2014 edition of the New York Times:
Two restaurants whose owners once worked at Peter Luger Steak House give perennial award winners like Per Se and Marea a run for their money in the 2015 Zagat Guide to New York City restaurants, released on Wednesday.
Benjamin Steak House in the Dylan Hotel on East 41st Street received a high score, 27 out of a possible 30, for its food. Sea Fire Grill, a steak and seafood restaurant on East 48th Street, came in with a 28.
Neither made it into the top food list last year. This year, Sea Fire Grill was just ahead of Per Se in the overall food rankings. In the seafood category, it was ahead of Marea and just below Le Bernardin. For steaks, Benjamin Steak House came in second only to Peter Luger, the famed 1887 steakhouse in Williamsburg, Brooklyn... (read more)
The kitchen is helmed by Ted Pryor, who brings his background as an executive chef at Michael Jordan's The Steak House N.Y.C., Opia, and Les Halles Downtown to the table. Raw bar favorites include East & West Coast Oysters and Montauk Fluke Crudo; appetizers highlights include Lobster Bisque, Smoked Brandade Fritters and sushi-quality Yellowfin Tuna Tartare. The entrée selections are also quite impressive: look for Alaskan King Crab Legs, Pancetta-Wrapped Wild Striped Bass, whole Maine Lobsters, and the Surf & Turf with lobster and bone-in filet mignon. As you would at a steakhouse, you'll want to indulge in the side dishes as well: whipped Yukon Gold potatoes, lobster mac & cheese, and Brussels sprouts with smoked bacon, among others.
The specialty cocktails are also a treat: try the Thyme Will Tell, made with bourbon, thyme, Vermont maple syrup and lemon, is a perfect pairing for the heartier meat dishes, or Love Potion 2 & 1/3, with Absolut pear vodka, lychee, and passion fruit nectars. Open for lunch Mon.-Fri., 11:30am-3pm; dinner daily, 4-10:45pm.