This Week in NYC (4/29-5/6)
April 29, 2015 - by CG News Desk
THE BIG EVENT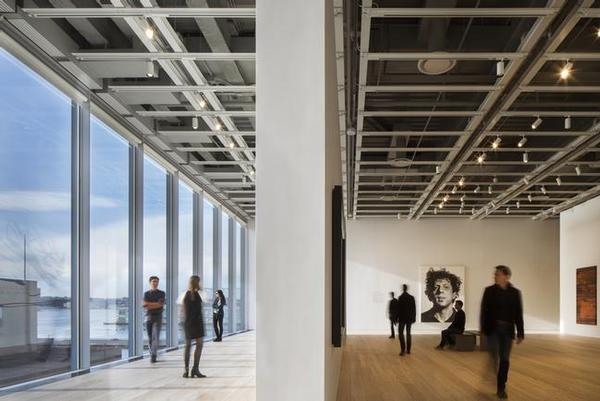 The Whitney American Museum opens down on Gansevoort Street on 5/1, with a daylong block party and free admission on 5/2.
PLUS: The Kentucky Derby takes place (5/1-2); the Beast kicks off its summer season.
EXHIBITION OF THE WEEK
Final weeks! Catch a glimpse of beauty at AMNH's Butterfly Conservatory: Tropical Butterflies Alive in Winter (through 5/24)
PLUS: Saving Place: Fifty Years of New York City Landmarks opens at MCNY...Designing Home: Jews and Midcentury Modernism at the Museum of Jewish Heritage...Life at the Limits: Stories of Amazing Species now at The American Museum of Natural History...Basquiat: The Unknown Notebooks, now at Brooklyn Museum...Lincoln and the Jews at the New York Historical Society is brimming with authentic letters and other artifacts demonstrating Lincoln's extensive friendships and working relationships with Jewish people...Audubon's Aviary: The Final Flight (Part III of The Complete Flock) at New York Historical Society... At the Intrepid Sea, Air & Space Museum, explore Hubble@25...At The Morgan Library & Museum, Lincoln Speaks: Words that Transformed a Nation...Explore an interactive retrospective of Bjork's work at MoMA (through 6/7)...The exhibit Matthew Weiner's Mad Men now at the Museum of the Moving Image is a must for fans, including authentic sets of Don Draper's office and the family kitchen, plus costumes, Draper's 'box of secrets' and more. (through 6/14)
---
COMEDY
Canadian comedy troupe Kids in the Hall perform for one night only at Town Hall, two shows (5/1)
PLUS: Mike Vecchione, Calise Hawkins, Brian McFadden at Broadway Comedy Club (4/29)...Lynne Koplitz at Gotham Comedy Club (5/1-5/2)...Sherry Davey, Brian Scott McFadden, Steve Marshall at Broadway Comedy Club...
________________________________________________________________
KIDS
See Katniss Everdeen from The Hunger Games up close and personal, at Madame Tussauds New York!
PLUS: Families are invited to visit for a day packed with fun filled activities with Spring Family Day at the Museum of the Moving Image (5/3)...Folklore Family Day at the Japan Society (5/3)...Last chance to catch Marvel Avengers S.T.A.T.I.O.N. at Discovery Times Square!...
---
SIGHTSEEING
Circle Line's Beast kicks off its summer season this weekend! Enjoy the beauty of the Manhattan skyline at top speed! Wet suit recommended but not required (5/2)
PLUS: Enjoy a romantic ride on Bateaux New York's Full Moon Dinner Cruise (5/3)...Baseball season has begun! Take the Yankee Stadium Tour now! ...New York Water Taxi is offering a combo rate for a New York City cruise plus admission to the National 9/11 Memorial Museum for $54.
________________________________________________________________________
NIGHTLIFE & MUSIC
Singer/percussionist Sheila E. shakes things up at B.B. King Blues Club (5/1)
PLUS: Audra McDonald at Carnegie Hall (4/29)...Amateur Night at The Apollo (4/29)...The Merry Widow at The Met (4/30, 5/7)...Ben Folds with yMusic at Town Hall (4/30)...Sufjan Stevens at Kings Theatre (5/1)...House on the Hudson with New York Water Taxi (5/1)...Saturday Night Dance Cruise with New York Water Taxi (5/2)...Eric Clapton celebrates his 70th birthday with shows at MSG (5/1, 5/3)...Roslyn Kind at 54 Below (5/1-5/3)...Spandau Ballet at The Beacon (5/2)...Nils Lofrgren Duo at B.B. King Blues Club (5/4)...James Monroe Iglehart at 54 Below (5/4)
---
SNEAK PEEK, NEXT WEEK
Singer/guitarist Todd Rundgren celebrates new release at Highline Ballroom (5/5-6)
PLUS: Paramore at The Beacon (5/6)...Homo Comicus: Girls Gone Hilarious at Gotham Comedy Club (5/6)...Designer Diane Von Furstenberg speaks at NYPL (5/6)...
Reader Feedback