This Week in NYC (3/22-3/29)
March 22, 2017 - by City Guide News Desk
(3/22-3/29) Every week, City Guide's Things to Do in NYC brings you the best in special NYC events, exhibits, sightseeing activities, fun for kids, concerts, and nightlife. This week, it's the official beginning of spring! Macy's popular Flower Show returns to dazzle shoppers, the Orchid Show dazzles in the Bronx, you can explore great NYC exhibits including the history of tattoos at the New-York Historical Society, and Tio Pepe's is throwing down for National Paella Day.
THIS WEEK: THE BIG EVENT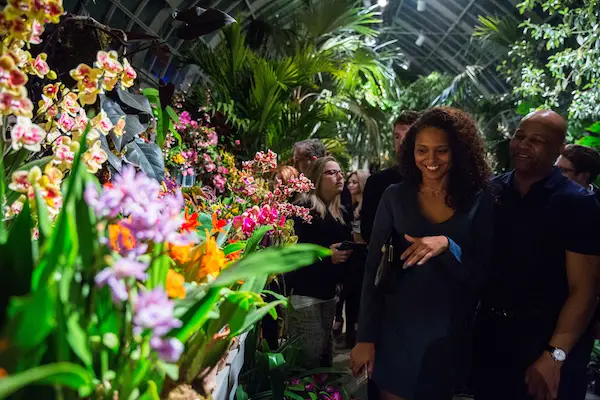 (3/25, 4/1, 4/7, 4/8; LGBT Night, 3/31) New York Botanical Garden's Orchid Evenings: Stroll through The Orchid Show: Thailand in the lush Bronx conservatory, while music, dance, and unmatched beauty create one of New York City's most spectacular evening outings.
PLUS

Photo: John Minchillo
(3/26-4/9) For decades, one of New York's markers of spring has been the Macy's Flower Show, which fills the landmark Herald Square department store with vivid blossoms. This year's display celebrates the classic American carnival, with floral arrangements paying homage to carousels and other totems of storied fairs.
(New) Chocolate aficionado Jacques Torres opens up his brand-new Choco Story New York, the city's first chocolate museum, in SoHo. Admission includes nine premium chocolate tastings of white, milk and dark varieties; original Mayan hot chocolate freshly ground by hand; and handmade chocolate truffles. There's a kids corner, too. mrchocolate.com/museum
THIS WEEK IN NEW YORK: EXHIBITION OF THE WEEK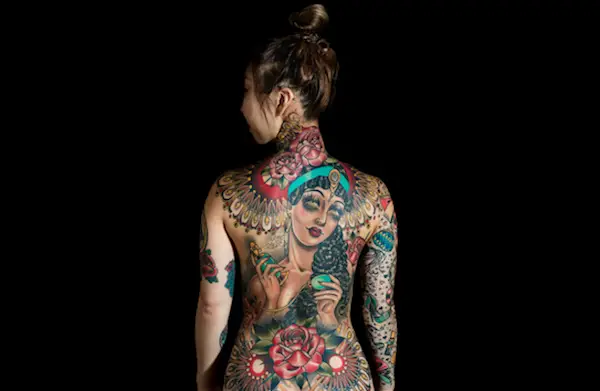 Tattoo Art by Rose Hardy on Zoe Brown, 2016. Courtesy Nicole Reed Photography.
(Now-4/30) Tattooed New York at the New-York Historical Society. This exhibition showcases more than 250 items, including mezzotints of the heavily inked Mohawk Indians who shocked London society during a visit in 1710; one of the earliest surviving pictographs of a Seneca warrior's tattoos (1706); an example of the Thomas Edison electric pen whose invention ushered in the modern era of tattooing; colorful banners advertising carnival sideshows of tattooed performers; and flash designs by pioneers of modern tattooing working on the Bowery.
PLUS
(Now-7/23) Georgia O'Keeffe: Living Modern provides a new look at an iconic American artist at the very institution that hosted her first solo museum exhibition in 1927—the Brooklyn Museum. Presenting O'Keeffe's remarkable wardrobe in dialogue with iconic paintings and photographs, this singular exhibition focuses in on the modernist persona O'Keeffe crafted for herself. With photographs by luminaries like Alfred Stieglitz, Ansel Adams, and Annie Leibovitz, the show reflects O'Keeffe's radical rethinking of female identity, and the artist's commitment to elements of modernism—minimalism, seriality, simplification—not only in her art, but also in her distinctive style of dress.
(3/24-4/8) Beyond Godzilla at Japan Society. Beyond Godzilla series curator Mark Schilling traces the evolution of the sci-fi/fantasy genre in Japan that (save for one big, scaly beast) remains largely neglected, considering its prewar origins to the present.
(Now-4/9) The Orchid Show: Thailand celebrates its 15th year at The New York Botanical Garden with an homage to the orchids and culture of Thailand. With 1,200 native orchid species calling Thailand home, expect a diverse array, culminating with a flower-festooned recreation of a traditional Thai pavilion. The garden (just a 20-minute Metro-North ride from Grand Central Terminal) also features a living collection of more than one million plants.
(now-1/7/18) Mummies at the American Museum of Natural History offers an up-close look at one of the largest collections of mummies housed in North America. From ancient Egypt to pre-Columbian Peru, the exhibition explores the intersection between societies, their environment, and the preparations they made for the dead. Through high-resolution CT scans and forensically reconstructed sculptures, visitors to Mummies will get insight into people from centuries ago and learn how contemporary scientists have gleaned stunning details about ages, practices, and even causes of death.
(Now-7/30) Muslims in NY at the Museum of the City of New York features 34 images by four photographers who have documented Muslim New Yorkers from the mid-20th to the early 21st century. Works by Alexander Alland date to ca. 1940, a time when New York's diverse Muslim community included Arabs, Turks, Afghans, East Indians, Albanians, Malayans, African Americans, and others. Photographs by Ed Grazda come from his 1990s project "New York Masjid: The Mosques of New York City," and cover both immigrant populations and native New York Muslims, including converts, the long-standing African-American community, and a growing Latino Muslim community. Mel Rosenthal's photographs of Arab New York Muslims from the early 2000s were commissioned for the Museum of the City of New York's exhibition A Community of Many Worlds: Arab Americans in New York (2002). Robert Gerhardt's images, a promised gift to the museum's collections, document Muslim New Yorkers in the early 2010s.
(now-4/23/17) Prolific NYC filmmaker Martin Scorsese is the subject of an exhibition at Astoria's Museum of the Moving Image. In addition to exploring his films, the exhibit grants visitors unprecedented access to his personal storyboards (including one he made when he was 11 years old!), screenplays, photos, props, costumes, letters written to him by various directors including Frank Capra, Steven Spielberg, Paul Schraeder, actor Robert DeNiro, and others.
(Now-9/6/17) The newest show at the Solomon R. Guggenheim Museum, Visionaries: Creating a Modern Guggenheim, provides a chance to explore in-depth some of the key artists of this essential New York institution. Framed by the interests of six leading patrons, Visionaries brings together canvases from masters like Max Ernst, René Magritte, and Yves Tanguy, and sculptures by Joseph Cornell and Alberto Giacometti. In addition, Jackson Pollock's Alchemy (1947) is being shown in the U.S. for the first time in nearly 50 years. More than a dozen works on paper by Picasso and Van Gogh, rarely on view to the public, can be seen in the Thannhauser Gallery, and paintings by Pierre-Auguste Renoir, Paul Gauguin, and Édouard Manet are displayed on the museum's legendary ramps.
(Now-5/21) Visitors to The Morgan Library & Museum get a rare insight into the life of one of literature's most enigmatic poets, Emily Dickinson. The museum's exhibition I'm Nobody! Who are you? The Life and Poetry of Emily Dickinson, opened on January 20, is the most ambition exhibition on the iconic poet to date. The show will display nearly 100 rarely seen items related to Dickinson's life and work, including manuscripts and letters, along with such visual materials as photographs and hand-cut silhouettes that illuminate the environment that informed Dickinson's writing. Also featured will be close examinations of drafts of 24 of Dickinson's poems.
Image courtesy of BIG Team / Rebuild by Design competition
(Ongoing) The Museum of the City of New York presents NY at Its Core. Ten years in the making, New York at Its Core tells the compelling story of New York's rise from a striving Dutch village to today's "Capital of the World." The exhibition captures the human energy that drove New York to become a city like no other and a subject of fascination the world over. Entertaining, inspiring, important, and at times bemusing, New York City "big personalities," including Alexander Hamilton, Walt Whitman, Boss Tweed, Emma Goldman, JP Morgan, Fiorello La Guardia, Jane Jacobs, Jay-Z, and dozens more, parade through the exhibition. Visitors will also learn the stories of lesser-known New York personalities, like Lenape chieftain Penhawitz and Italian immigrant Susie Rocco. Even animals like the horse, the pig, the beaver, and the oyster, which played pivotal roles in the economy and daily life of New York, get their moment in the historical spotlight. Occupying the entire first floor in three interactive galleries (Port City, 1609-1898, World City, 1898-2012, and Future City Lab) New York at Its Core is shaped by four themes: money, density, diversity, and creativity. Together, they provide a lens for examining the character of the city, and underlie the modern global metropolis we know today. mcny.org
(Now-3/26) Last days! Now on display at the New-York Historical Society are two revealing new exhibits—Muhammad Ali, LeRoy Neiman, and the Art of Boxing and "I Am The King of the World"—Photographs of Muhammad Ali by George Kalinsky. The complementary exhibits, one by a watercolor painter/sketch artist and one by a Madison Square Garden photographer, offer an intimate perspective of the heavyweight boxing champion's trailblazing career. Both shows come from a place of deep respect and trust; they chronicle highlights and low points, as well as capturing Ali's sometimes quieter, more thoughtful interior life.
(Now-5/14) Considered one of the city's greatest treasures, the Morgan Library & Museum showcases manuscripts, art, history, and architecture. An extraordinary group of more than 75 masterpieces is currently being shown in Treasures from the Nationalmuseum of Sweden: The Collections of Count Tessin. Among the artists represented are Italian masters, Tessin's French contemporaries, and Northern European luminaries like Albrecht Dürer, Peter Paul Rubens, and Rembrandt van Rijn. The show is on display until May while Sweden's largest and most distinguished art institution undergoes a major refurbishment.
(Ongoing) The legendary aircraft carrier that's now the Intrepid, Sea, Air & Space Museum served three tours of duty in Vietnam between 1966 and 1969. Learn more about its experiences in the Gulf of Tonkin, launching aircraft for missions over mainland Vietnam, at the exhibit On the Line: Intrepid and the Vietnam War, featuring many artifacts displayed for the very first time.
Click here for our Intrepid Coupon to save $3 now (max 4 persons) off general admission!
THIS WEEK IN NEW YORK: COMEDY
(3/23-3/26) Shawn Wayans at Gotham Comedy Club.
PLUS
(3/23-3/26) Nikki Glaser at Carolines on Broadway.
(3/24) Jon Laster, winner of Stand Up NBC, MCs, with Gregg Rogell, Lynne Koplitz, Jeff Lamp, Michael Che, 30 Rock's Judah Friedlander, and Keith Robinson, at Comedy Cellar.
(3/26) Cheap Date Comedy Show at Union Hall.
THIS WEEK IN NEW YORK: KIDS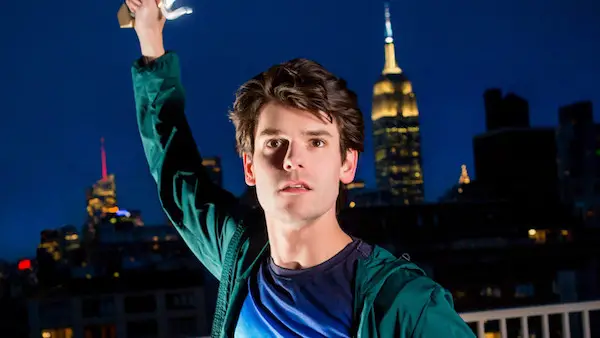 (3/23-5/6) The Lightning Thief: The Percy Jackson Musical at the Lucille Lortell Theatre.
(3/26) Kids n Comedy Show at Gotham Comedy Club.
(3/28) Pe-ewww! Check out the Hall of Fumes: Rotten Sneaker Contest at Ripley's Believe it or Not, where some lucky kid will win $2,500 for his or her stinky shoes!
(Ongoing) Explore the beautiful interactive exhibit Connected Worlds at the New York Hall of Science in Queens.
For more kids activities, check out our sister site nymetroparents.com!
THIS WEEK IN NEW YORK: SIGHTSEEING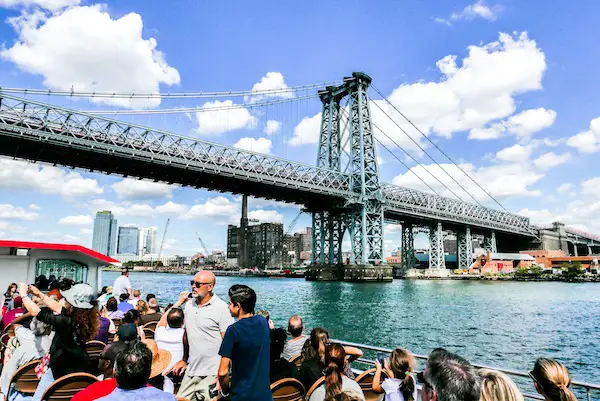 Day or night, the Manhattan skyline is a sight to behold. Circle Line Sightseeing sails year-round and has cruises of varying interests and lengths, including a 3-hour Best of NYC Cruise, a 2-hour Landmark Cruise, and a Harbor Lights Cruise for a romantic spring evening. Last year, Circle Line added its popular Landmarks & Brooklyn Cruise. Onboard, guests can purchase food and beverages from a variety of BK vendors, including Brooklyn Brewery, Coney Island Brewery, Brooklyn Cupcake, Blue Marble ice cream, Brooklyn Cured, and Junior's Cheesecake. circleline42.com
PLUS
(Ongoing) Sweets for the sweet! Grab your honey or friend for a cozy ride aboard A Slice of Brooklyn's Chocolate Tour. TripAdvisor's top-rated NYC tour company A Slice of Brooklyn Bus Tours has launched a tour that visits artisanal chocolate sites Jacques Torres Chocolate in DUMBO, The Chocolate Room in Cobble Hill, Raaka in Red Hook, and Li-Lac Chocolates in Industry City, Sunset Park. Offered every Monday, Wednesday, and Friday. Here you can read more about NYC for Chocolate Lovers.
(Ongoing) Catch the Ghostbusters Experience (walk through/immersive) and Ghostbusters Dimension, a Virtual Reality Experience at Madame Tussauds. Get ready to strap on some gear and laser some ghosts against breathtaking, realistic backdrops. The technology puts you right there!
(New) Every year, at 11:59pm on December 31st, people from all over the world are focused on the Times Square New Year's Eve Ball. Millions of voices unite to count down the final seconds of the old year and celebrate the beginning of the new. Now you can get up close and personal with the Times Square New Year's Eve Ball at Ripley's Believe It or Not—Times Square! Press the button yourself and ring in the New Year every day of the year. A home to rare artifacts and thrilling interactive exhibits, Ripley's is for anyone who wants to immerse themselves in the unexpected and the unbelievable.
(Ongoing) Grab a date or friend and enjoy the most incredible views of NYC at Top of the Rock.
(Ongoing) Take a one-hour tour of one of the world's most important buildings, the United Nations, now celebrating 70 years. (Tours offered weekdays only.)
Check out When Harry Met Seinfeld with On Location Tours. They've also got tours for Sex in the City and Sopranos fans, Central Park, NYC TV & Movie, and much more!
Explore NYC's Financial District with Wall Street Walks.
THIS WEEK IN NEW YORK: NIGHTLIFE & MUSIC
(3/22) Loah, one of Ireland's most exciting rising talents, will perform at Irish Arts Center with a full band.
PLUS
(Sundays-Tuesdays, 5pm-10pm) China Grill Pop-Up at Asia de Cuba. Expect to see many familiar faces from the China Grill staff, many of whom have been with the restaurant for its nearly 30-year run. On offer will be a full à la carte menu, plus a special Classics Prix-Fixe, priced at $52 per person, that includes revivals of a few lost favorites.
(Ongoing) Every Sunday at noon and 2pm don't miss Broadway "Boozy" Brunch, with a cabaret show and the option for bottomless bellinis, Bloody Marys, and mimosas. Don't Tell Mama.
(3/23, 3/27) Aida at Metropolitan Opera.
(3/23) Ella! A Centennial Celebration at the Apollo Theater. When Ella Fitzgerald made her debut on Apollo Amateur Night in 1934, she was a shy teenager. By 1939 she was leading the Chick Webb Orchestra in the wake of Webb's death. Today, Fitzgerald remains one of the most respected singers of the 20th century. In a discussion led by Farah Jasmine Griffin, Live Wire's celebration of Fitzgerald's centennial will explore "The First Lady of Song" through her music, her musicianship, and as a woman revered in an art form predominated by men. Moderated by Farah Jasmine Griffin, Author and Professor of English and Comparative Literature, Jazz Studies, and African-American Studies at Columbia University.
(3/23-3/26) Columbian Film Festival New York at Village East Cinemas.
(3/23-3/25) Dopapod at Brooklyn Bowl.
(3/24) American Museum of History Presents One Step Beyond, with Classixx (DJ), Lloydski, and Alex Behnke.
(3/24-3/26) Big Gay Sing: Welcome to New York at Skirball Center.
(3/24) 2017 NCAA® Division I Men's Basketball Championship East Regionals at Madison Square Garden.
(3/24) Foxygen at Terminal 5.
(3/25) Annual Whiskey Festival at Analogue.
(3/25) Screening of Martin Scorsese's Alice Doesn't Live Here Anymore, with an introduction by star Ellyn Burstyn, at the Museum of the Moving Image.
(3/26) Sexy/funny duo The Skivvies perform at Joe's Pub at the Public Theater.
(now-3/27) National Paella Day Special all week at Tio Pepe ($20 for any paella + a glass of Rioja). Choose from three versions of the dish: the classic Paella Valenciana (seafood, chicken, chorizo), Paella Marinera (seafood, saffron) or the Paella de Pollo (chicken, chorizo dulce, olives).
SNEAK PEEK, NEXT WEEK
(3/31-4/1) Harry Potter and the Sorcerer's Stone in Concert at Radio City Music Hall.
(3/26) NYCountry Brunch at Printers Alley.
(3/28) Fidelio at Metropolitan Opera.
(3/28) 80th Annual NIT The 80th Annual National Invitation Tournament is back to close the 2016-2017 Madison Square Garden college hoops schedule with the oldest running post-season tournament championship on March 28th & 30th.
(3/28) Astronomy Live: History of the Universe at the American Museum of Natural History.
(3/29) New York Knicks vs. Miami Heat at Madison Square Garden.
(3/29-4/2) The Joffrey Ballet performs Romeo & Juliet at The Joyce Theater.
(3/31-4/2) No Limits International Tattoo Expo, which will feature 250 + tattoo artists. At Resorts World Casino. $25 per day, $55 weekend pass. newyorktattooshow.com
_______________________________________________________________________
Like what you see here? Share it with your friends on Facebook! Find out more about what to do in March. We've got April covered, too!
Looking for Free Group Planning Services?
Get free advice on planning your group's trip to New York.
RESTAURANTS

Conveniently located in the Port Authority Bus Terminal, the...

THEATER

Gaston Leroux's famous period thriller is now one of Broadwa...

SHOPPING

Heaven for designers, artists, and antiques lovers....

SIGHTSEEING

Spirit Cruises is New York City's most vibrant and entertain...