This Week in NYC (5/24-5/30)
May 24, 2017 - by City Guide News Desk
(5/24-5/30) Looking for what to do in New York? We've got the latest on all the goings-on in NYC, from concerts to museum exhibitions to comedy to the best in city sightseeing. Fleet Week is here! Festivities will be taking place all week long at the Intrepid Sea, Air & Space Museum, concluding with a Memorial Day service on Monday. Feel the need for speed? The speedboat thrill ride The Shark returns this weekend! Plus, catch the opening of Amazon Books brick and mortar, great exhibits, concerts, and more!
THE BIG EVENT
(5/24-5/29) The legendary aircraft carrier that's now the Intrepid Sea, Air & Space Museum celebrates the men and women of the armed forces during the 29th annual Fleet Week, which brings ships of every size steaming into New York City. On Wednesday the 24th events kick off with the dramatic sight of Naval and Coast Guard ships sailing up the Hudson River. Through Memorial Day, check out tour guide talks, a free screening of Top Gun on the flight deck, planetarium shows, tours of oceanic research vessel R/V Neil Armstrong, kids' activities, vintage military vehicles, science demos, concerts, photo ops with Madame Tussauds, and much more! For additional info, visit fleetweeknewyork.com.
PLUS
(5/24-5/30), Bateaux New York will be honoring Fleet Week with specially themed three-course buffet, lunch, and dinner cruises on the Hudson and East Rivers, offering panoramic views of the NYC skyline from a fully glass-enclosed deck. Enjoy a curated music selection by live performers and hit the dance floor. Click here for reservations.
(5/24-5/29) Set sail with lunch and dinner cruises aboard Spirit Cruises. There will be fresh buffet dining, onboard entertainment with DJ'd music and interactive games, and plenty of spectacular skyline views. More information on Fleet Week cruises with Spirit Cruises here.
(5/25) Opening tomorrow, at a sprawling 4,000 square feet, is the first-ever NYC Amazon Book Store, in the Time Warner Center at Columbus Circle.
LEFT: Alfred Stieglitz (American, 1864–1946). Georgia O'Keeffe, circa 1920–22. Georgia O'Keeffe Museum, Santa Fe, N.M.; Gift of The Georgia O'Keeffe Foundation, 2003.01.006. © Georgia O'Keeffe Museum. CENTER: Georgia O'Keeffe (American, 1887?1986). Black Pansy & Forget-Me-Nots (Pansy), 1926. Brooklyn Museum; Gift of Mrs. Alfred S. Rossin, 28.521. © Georgia O'Keeffe Museum/Artists Rights Society (ARS), New York. (Photo: Christine Gant, Brooklyn Museum). RIGHT: Bruce Weber (American, born 1946). Georgia O'Keeffe, Abiquiu, N.M., 1984. Bruce Weber and Nan Bush Collection, New York. © Bruce Weber
(Now-7/23) Georgia O'Keeffe: Living Modern provides a new look at an iconic American artist at the very institution that hosted her first solo museum exhibition in 1927—the Brooklyn Museum. Presenting O'Keeffe's remarkable wardrobe in dialogue with iconic paintings and photographs, this singular exhibition focuses in on the modernist persona O'Keeffe crafted for herself. With photographs by luminaries like Alfred Stieglitz, Ansel Adams, and Annie Leibovitz, the show reflects O'Keeffe's radical rethinking of female identity, and the artist's commitment to elements of modernism—minimalism, seriality, simplification—not only in her art, but also in her distinctive style of dress.
PLUS
(New! Now-10/29 ) Drones: Is the Sky the Limit? opens at The Intrepid Sea, Air & Space Museum. It's the first major museum exhibition on pilotless aircraft to open in the U.S. The large-scale exhibition, which will be located in a 6,000-square-foot, custom-designed pavilion on the Museum's Pier 86, will reveal the history of drone technology, from its modern-day origins in World War I and its military development to its current applications in solving complex humanitarian challenges. Take $5 off admission with this coupon now!
(Now-10/29) CHIHULY at the New York Botanical Garden features nearly two dozen breathtaking works of art by world-renowned artist Dale Chihuly at NYBG in his first major garden exhibition in more than ten years in New York. On this Saturday's CHIHULY Night (*5/27), after sunset, experience CHIHULY's installations illuminated, plus enjoy a rotating lineup of peforming artists and musicians, food, cocktails, and shopping. $35, child (2-12) $15. 6:30pm-10:30pm.
(New) The New-York Historical Society's Fourth Floor Renovation, now complete, includes a brand new Tiffany Lamps Gallery, in addition to the opening of its Women's History Center.
Image courtesy of BIG Team/Rebuild by Design competition
(Ongoing) The Museum of the City of New York presents NY at Its Core. Ten years in the making, New York at Its Core tells the compelling story of New York's rise from a striving Dutch village to today's "Capital of the World." The exhibition captures the human energy that drove New York to become a city like no other and a subject of fascination the world over. Entertaining, inspiring, important, and at times bemusing, New York City "big personalities," including Alexander Hamilton, Walt Whitman, Boss Tweed, Emma Goldman, JP Morgan, Fiorello La Guardia, Jane Jacobs, Jay-Z, and dozens more, parade through the exhibition. Visitors will also learn the stories of lesser-known New York personalities, like Lenape chieftain Penhawitz and Italian immigrant Susie Rocco. Even animals like the horse, the pig, the beaver, and the oyster, which played pivotal roles in the economy and daily life of New York, get their moment in the historical spotlight. Occupying the entire first floor in three interactive galleries (Port City, 1609-1898, World City, 1898-2012, and Future City Lab) New York at Its Core is shaped by four themes: money, density, diversity, and creativity. Together, they provide a lens for examining the character of the city, and underlie the modern global metropolis we know today. mcny.org
(New) Chocolate aficionado Jacques Torres opens up his brand-new Choco Story New York, the city's first chocolate museum, in SoHo. Admission includes nine premium chocolate tastings of white, milk and dark varieties; original Mayan hot chocolate freshly ground by hand; and handmade chocolate truffles. There's a kids corner, too. $10-$15. 350 Hudson St. mrchocolate.com/museum
(Now-7/30) Muslims in NY at the Museum of the City of New York features 34 images by four photographers who have documented Muslim New Yorkers from the mid-20th to the early 21st century. Works by Alexander Alland date to ca. 1940, a time when New York's diverse Muslim community included Arabs, Turks, Afghans, East Indians, Albanians, Malayans, African Americans, and others. Photographs by Ed Grazda come from his 1990s project "New York Masjid: The Mosques of New York City," and cover both immigrant populations and native New York Muslims, including converts, the long-standing African-American community, and a growing Latino Muslim community. Mel Rosenthal's photographs of Arab New York Muslims from the early 2000s were commissioned for the Museum of the City of New York's exhibition A Community of Many Worlds: Arab Americans in New York (2002). Robert Gerhardt's images, a promised gift to the museum's collections, document Muslim New Yorkers in the early 2010s.
(Now-9/6) The newest show at the Solomon R. Guggenheim Museum, Visionaries: Creating a Modern Guggenheim, provides a chance to explore in-depth some of the key artists of this essential New York institution. Framed by the interests of six leading patrons, Visionaries brings together canvases from masters like Max Ernst, René Magritte, and Yves Tanguy, and sculptures by Joseph Cornell and Alberto Giacometti. In addition, Jackson Pollock's Alchemy (1947) is being shown in the U.S. for the first time in nearly 50 years. More than a dozen works on paper by Picasso and Van Gogh, rarely on view to the public, can be seen in the Thannhauser Gallery, and paintings by Pierre-Auguste Renoir, Paul Gauguin, and Édouard Manet are displayed on the museum's legendary ramps.
(Now-5/28) Last days! Visitors to The Morgan Library & Museum get a rare insight into the life of one of literature's most enigmatic poets, Emily Dickinson. The museum's exhibition I'm Nobody! Who are you? The Life and Poetry of Emily Dickinson, opened on January 20, is the most ambition exhibition on the iconic poet to date. The show will display nearly 100 rarely seen items related to Dickinson's life and work, including manuscripts and letters, along with such visual materials as photographs and hand-cut silhouettes that illuminate the environment that informed Dickinson's writing. Also featured will be close examinations of drafts of 24 of Dickinson's poems.
(Ongoing) The legendary aircraft carrier that's now the Intrepid, Sea, Air & Space Museum served three tours of duty in Vietnam between 1966 and 1969. Learn more about its experiences in the Gulf of Tonkin, launching aircraft for missions over mainland Vietnam, at the exhibit On the Line: Intrepid and the Vietnam War, featuring many artifacts displayed for the very first time.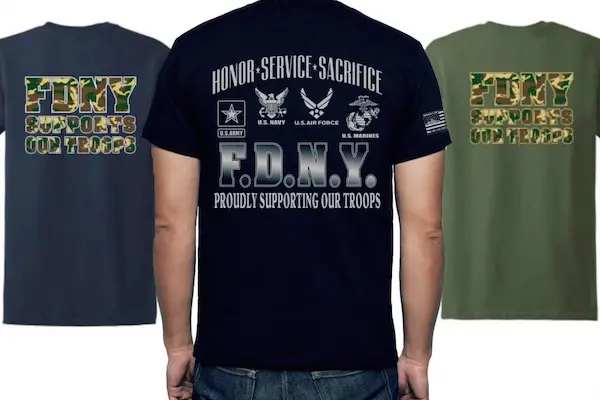 (now-6/30) At the FDNY Fire Zone, visitors meet official members of New York City's Fire Department and learn all about the special equipment and gear they use daily to battle fires and rescue people from danger. Visitors can also take part in the action as they try on gear and climb aboard a real fire truck. The FDNYShop has special discounts for City Guide readers, good through the month of June, with 15% discounts both online and in person. Just use code HERODAD-CG! (Full-priced items; code must be entered prior to checkout. Select items including Job Shirts, Code 3 Models, and sale items are excluded. Cannot be combined with other promotions.)

(5/26-5/27) Harris Stanton at Gotham Comedy Club, with Marion Grodin, Rob Cantrell and Veronica Mosey!
PLUS
(5/24) Comic Strip Live Comedy Club, with Marla Schulz Mike Burton Yannia Pappas Mike Vecchione JJ Ramirez Jon Fisch.
(5/26) An Improv Show at UCB Theater in Chelsea.
(5/26-5/28) Marlon Wayans at Carolines on Broadway.
(5/26) Big Jay Oakerson, Dan Soder, Ari Shaffir, Ron Bennington, Mike DiStefano, and More! at The Stand NYC Comedy Club.
(5/26) Wasabassco's Super! Heroes vs. Villains at Littlefield.

KIDS

(5/27-9/5) NY Water Taxi's The Shark returns! This heart-pounding, white-knuckle 30-minute speedboat adventure captures the excitement and energy of the city as it roars around the harbor in a shower of waves! Take $5 off your next ride with this coupon!
*Must be 40" tall to ride.
PLUS
(5/27) Citibabes Drop Off Pajama Party.
(Ongoing) Blue Man Group at Astor Place Theatre. Best known for their wildly popular theatrical shows, Blue Man Group combines music, comedy, and multimedia theatrics to produce a unique form of entertainment. The hour and forty five minute show is fun for the whole family. The show recently celebrated its 25th anniversary.
(Ongoing) Explore the beautiful interactive exhibit Connected Worlds at the New York Hall of Science in Queens.
For more kids activities, check out our sister site nymetroparents.com!
(New!) Take a ride through time and learn about Downtown New York City's rich heritage with THE DOWNTOWN EXPERIENCE Powered by THE RIDE. Enhanced with virtual reality technology (thanks to Timelooper), experience highlight moments in NYC's history like never before!
PLUS
No trip to New York City is complete without visiting the home of the 27-time World Champion New York Yankees. Game tickets may be scarce, but it's easy to get the full experience with Yankee Stadium Tours, which offers exclusive access to the stadium. The tours also bring fans close to historic baseball artifacts like Babe Ruth's bat, Lou Gehrig's jersey, and rings and trophies. The Yankee Stadium Pregame Tour is a great option for fans who want early access to the stadium with a valid game ticket—fans can enjoy a guided tour through the New York Yankees Museum Presented by Bank of America, private access to legendary Monument Park before it opens to the public, and exclusive access to batting practice in Section 105.
(Ongoing) Day or night, the Manhattan skyline is a sight to behold. Circle Line Sightseeing sails year-round and has cruises of varying interests and lengths, including a 3-hour Best of NYC Cruise, a 2-hour Landmark Cruise, and a Harbor Lights Cruise for a romantic spring evening. Last year, Circle Line added its popular Landmarks & Brooklyn Cruise. Onboard, guests can purchase food and beverages from a variety of BK vendors, including Brooklyn Brewery, Coney Island Brewery, Brooklyn Cupcake, Blue Marble ice cream, Brooklyn Cured, and Junior's Cheesecake. circleline42.com
(Ongoing) Sweets for the sweet! Grab your honey or friend for a cozy ride aboard A Slice of Brooklyn's Chocolate Tour. TripAdvisor's top-rated NYC tour company A Slice of Brooklyn Bus Tours has launched a tour that visits artisanal chocolate sites Jacques Torres Chocolate in DUMBO, The Chocolate Room in Cobble Hill, Raaka in Red Hook, and Li-Lac Chocolates in Industry City, Sunset Park. Offered every Monday, Wednesday, and Friday. Here you can read more about NYC for Chocolate Lovers.
(Ongoing) Read here for more about the Best NYC Hop On Hop Off Bus Tours!
(Ongoing) King Kong has made his way back to New York, the city he once terrorized (at least in the movies!), but this time, it's in wax form. The famed Madame Tussauds New York in Times Square welcomes a wax replica of King Kong's head to its collection, providing visitors not only with a perfect photo op with the notorious gorilla, but an entire KONG: Skull Island experience.
(New) Every year, at 11:59pm on December 31st, people from all over the world are focused on the Times Square New Year's Eve Ball. Millions of voices unite to count down the final seconds of the old year and celebrate the beginning of the new. Now you can get up close and personal with the Times Square New Year's Eve Ball at Ripley's Believe It or Not—Times Square! Press the button yourself and ring in the New Year every day of the year. A home to rare artifacts and thrilling interactive exhibits, Ripley's is for anyone who wants to immerse themselves in the unexpected and the unbelievable. Here is a coupon.
(Ongoing) Grab a date or friend and enjoy the most incredible views of NYC at Top of the Rock.
(Ongoing) Take a one-hour tour of one of the world's most important buildings, the United Nations, now celebrating 71 years. (Tours offered weekdays only.)
Check out When Harry Met Seinfeld with On Location Tours. They've also got tours for Sex in the City and Sopranos fans, Central Park, NYC TV & Movie, and much more!
Explore NYC's Financial District with Wall Street Walks.
NIGHTLIFE
(5/26-5/27) Nick Cave and the Bad Seeds at Brooklyn's restored Kings Theatre.
PLUS
(5/24) The Pixies at Webster Hall.
(5/24) Opus One Wine Dinner at Del Frisco's.

(5/24) After Stonewall at the Museum of the City of New York. Trans people were at the forefront of the 1969 uprising at Greenwich Village's Stonewall Inn, but their stories have not always been central in film representations of LGBT life in the city. T.V. Transvestite (60 minutes, 1982) captures a fierce House of LaBeija Ball thrown at a Harlem Bingo Hall. Considered "lost" and not screened in public for over two decades, the film shows legends Pepper LaBeija, Dorian Corey, and Sugar in the period before voguing and the advent of AIDS. A stirring example of how queer focused and produced film has long flourished in NYC.
(5/24, 5/31) Amateur Night at the Apollo.
(5/24) Flogging Molly at Irving Plaza.
(5/24-5/25) The Lost City of Z film screening at Brooklyn Academy of Music (BAM). With Charlie Hunnam, Robert Pattinson and Sienna Miller.
(5/26) Summer Movies: Top Gun screening at Intrepid Sea, Air, & Space Museum. Doors open 7:30pm.
(5/26) The Smithereens at BB King Blues Club & Grill.
(5/26) Beer & Taco Friday Memorial Weekend Takeover, also at BB King Blues Club & Grill. 11pm.
(5/26) Sue Matsuki: I Got Da Navy Blues (It's Fleet Week) at Don't Tell Mama's.
(5/26-5/29) DanceAfrica 2017 at Brooklyn Academy of Music (BAM). This year's performance, under the leadership of Artistic Director Abdel R. Salaam, is a special curated program that pays tribute to the past, present, and future of the landmark festival and the transformative power of movement. Members of Philadelphia's hip-hop based Illstyle & Peace Productions join with members of New York City's Forces of Nature Dance Theatre and the drummers and dancers of Asase Yaa, performing a joyful collision of traditional and contemporary styles. Then, Wula Drum and Dance Ensemble—a master group of US-based Guinean dancers and musicians—present a spirited showcase of West African culture. Both groups are joined by the BAM/Restoration Dance Youth Ensemble.
Times vary.
(5/27) New York Cosmos vs. San Francisco Deltas at MCU Park. 7pm.
(5/30, 6/2) The 2017 WNBA season is underway and the New York Liberty basketball team is ready to own the court. Show your support for New York's female athletes at the World's Most Famous Arena, Madison Square Garden, for a summer of incredible performances, awesome theme nights, and above all, world class basketball. May 30th the Liberty host the Los Angeles Sparks; June 2nd the Dallas Wings come to town.

(Sundays-Tuesdays, 5pm-10pm) China Grill Pop-Up at Asia de Cuba. Expect to see many familiar faces from the China Grill staff, many of whom have been with the restaurant for its nearly 30-year run. On offer will be a full à la carte menu, plus a special Classics Prix-Fixe, priced at $52 per person, that includes revivals of a few lost favorites.
(Ongoing) Every Sunday at noon and 2pm don't miss Broadway "Boozy" Brunch, with a cabaret show and the option for bottomless bellinis, Bloody Marys, and mimosas. Don't Tell Mama.
Click here for more information on on NYC's Best Jazz Clubs.
SNEAK PEEK, NEXT WEEK
(5/30-6/4) The World Science Festival offers special activities and panels throughout NYC. Perennial favorites return, including the main stage Big Ideas programs, intimate Salons, the Flame Challenge, Cool Jobs, and free outdoor events. This year also celebrates the achievements of Women in Science, and explores the impact of the award-winning teachers on the future of scientific discovery. Participants include Neil deGrasse Tyson, Alan Alda, Kareem Abdul-Jabbar, NASA Astronaut Yvonne Cagle, Michiu Kaku, and many others. Above, performers scheduled for Opening Night, including Renee Fleming, the innovative dance troupe Pilobolus, singer David Draiman from the iconic hard rock band Disturbed, and string trio Time for Three, among others.
PLUS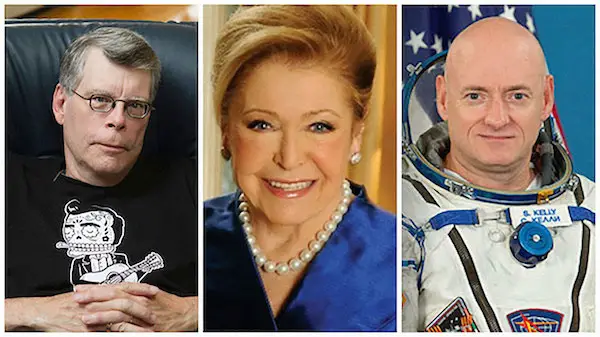 (6/1-6/2) BookExpo returns to Javits Center! Guests for talks will include Stephen King, Alan Alda, James Patterson, Marc Maron, Neil Patrick Harris, NASA's Dr. Scott Kelly, Zac Posen, and more. bookexpoamerica.com
(6/3-6/4) The Washington Square Outdoor Art Exhibit is held right in the heart of Greenwich Village every spring. This eclectic art exhibit was inspired by Jackson Pollock in 1931, when he brought some of his paintings to a sidewalk near the park in hopes of making a few bucks. The event has since grown to become traditional happening in Lower Manhattan with artists requiring a nomination in order to showcase their work. wsoae.org
(6/4) LGBTQ Family Day Celebration at the Museum of City of New York. Celebrate Pride month at the Museum of the City of New York! Join us for a family day of gender non-binary play and celebration. 11am.
_______________________________________________________________________
Like what you see here? Share it with your friends on Facebook! Find out more about what to do in May. We've got June covered, too!
Looking for Free Group Planning Services?
Get free advice on planning your group's trip to New York.
RESTAURANTS

New York City's most famous landmark, the Empire State Build...

THEATER

Kander and Ebb's "musical vaudeville" in which Roxie Hart ga...

SHOPPING

Heaven for designers, artists, and antiques lovers....

SIGHTSEEING

From May through the summer months, Circle Line Downtown off...