This Week in NYC (8/24-8/31)
August 24, 2016 - by CG News Desk
(8/24-8/31) Looking for what to do in New York? We've got the latest on all the goings-on in NYC, from concerts to museum exhibitions to comedy to the best in city sightseeing. Read on for our picks for the best of this week in New York City.
THIS WEEK IN NEW YORK: THE BIG EVENT
(8/31) Chicago 20th Anniversary at Central Park SummerStage: Enjoy a FREE production of the sexy, 20-year Broadway smash at Rumsey Playfield (enter Central Park at Fifth Avenue and 69th Street).
PLUS
(now-8/26) Farmers Market at Rockefeller Plaza.
(now-8/28) Final days! The largest multi-arts festival in North America, FringeNYC celebrates its 20th anniversary with over 200 of the world's crème de la crème of theatre and dance troupes putting on 1,100 performances. Alumni include actors Bradley Cooper and Mindy Kaling. Catch a rising star! Locations across downtown Manhattan, fringenyc.org
THIS WEEK IN NEW YORK: EXHIBITION OF THE WEEK
Photo courtesy of Canada Aviation and Space Museum
Warp speed ahead! In celebration of the 50th anniversary of the beloved series Star Trek, the Intrepid, Sea, Air & Space Museum welcomes the new exhibition Star Trek: The Starfleet Academy Experience. The museum is the first place in the U.S. to host this brand-new, immersive "Trek Tech" experience, which spans a starship-sized 12,000 square feet. Visitors become cadets, joining the Starfleet Academy's Career Day in the 26th century. After "student orientation," cadets visit zones that focus on the Academy's special training in language, medicine, engineering, navigation, science, and command skills. Check out interactive activities and unique technology, including voice recognition to communicate in Klingon, a medical tricorder table, planet projection mapping, holograms, and a target game using the show's iconic phasers. You can get your results and a certificate emailed to you. On your way out, take a selfie in the captain's chair; you can also visit the fully restored Shuttlecraft Galileo, which carried the crew in the original series.
Click here for our Intrepid Coupon to save $5 off Star Trek Starfleet Academy admission!
Click here for our Intrepid Coupon to save $3 now (max 4 persons) off general admission!
PLUS
(now-1/8/17) Who Shot Sports, A Photographic History, 1843-Present at the Brooklyn Museum gathers together approximately 230 works—from daguerreotypes and salted paper prints to digital images—that capture the universal appeal of sports, highlighting unforgettable moments of drama and excitement from around the globe.
(now-9/25) Atmosphere for Enjoyment: Harry Bertoia's Environment for Sound at the Museum of Arts and Design takes a close look at prolific artist and designer Harry Bertoia's sounding sculptures and gongs.
(now-9/5) History is happening in Manhattan this summer at the New-York Historical Society. Following the incredible success of Hamilton on Broadway, the society is launching the Summer of Hamilton, a packed slate of programming devoted to our nation's first Secretary of the Treasury. On display are treasured artifacts from Hamilton's life and career, including his writing desk, life-sized bronze statues of Hamilton and Burr at the moment of their infamous duel, and a monumental case clock given to Hamilton by the Bank of New York. Also on display are nine key documents from Hamilton's life, including a letter to his wife Eliza. To give a better idea of how this history is now being interpreted on stage in Hamilton, video clips from the show are interspersed throughout the exhibition. As part of the Summer of Hamilton celebration at NYHS, enjoy $10 Museum Admission through Labor Day. Offer good for in-person ticket purchases, not available online. This offer may not be combined with other discounts.
(now-9/7) The Guggenheim's newest exhibition is the first comprehensive retrospective in nearly 50 years of the work of pioneering artist and educator László Moholy-Nagy (1895–1946). Moholy-Nagy: Future Present examines the full career of the utopian modernist who believed in the power of art and technology as a vehicle for social transformation and the betterment of humanity. The presentation brings together more than 300 works, some of which have never before been shown publicly in this country.
(now-9/18) Rembrandt's First Masterpiece is on view at the Morgan Library & Museum. Completed when he was just 23 years old, Judas Returning the Thirty Pieces of Silver has long been recognized as Rembrandt's first mature work, which has never before been shown in the U.S. The exhibition includes the original painting, preparation drawings, and early self-portraits.
(now-1/17) The American Museum of Natural History welcomes an exhibit with bite: Crocs: Ancient Predators in a Modern World provides a fascinating look at the world of archosaurs, a group that includes alligators and crocodiles as well as extinct dinosaurs and modern birds.
(now-9/11) Impresssionism: American Gardens on Canvas has opened at the New York Botanical Garden. In the Conservatory, stroll through an American Impressionist garden, a stunning interpretation by Francisca Coelho (NYBG's renowned curator and designer) of the alluring gardens that influenced iconic artists such as Childe Hassam and John Singer Sargent. In the Art Gallery, view a beautiful complementary display of more than 20 paintings and sculptures.
(now-9/18) Through nearly 140 works, Roberto Burle Marx: Brazilian Modernist at the Jewish Museum explores the prolific Brazilian landscape architect's output—including paintings, sculptures, theater designs, textiles, and jewelry—as well as related works by contemporary artists and examples from Burle Marx's varied collections.
(now-1/17) The exciting new exhibit Dinosaurs Among Us, at the American Museum of Natural History, examines how one group of dinosaurs evolved into the birds of today.
(now-9/25) Mo Willems' beloved children's book characters are distinctly New York, from Trixie's very first Brooklyn "Aggle Flaggle Klabble!" to the Mike Nichols and Elaine May inspirations of Elephant and Piggie to the public transportation-obsessed Pigeon. The new exhibition The Art and Whimsy of Mo Willems at the New-York Historical Society brings together original art, sketches, animation cels, and sculptures, all framed by Willems' life in New York and how it influenced his iconic characters. The show is in an immersive, child-friendly space, featuring an imaginative New York cityscape on the gallery walls, two reading areas, and family audio guides narrated by Willems himself.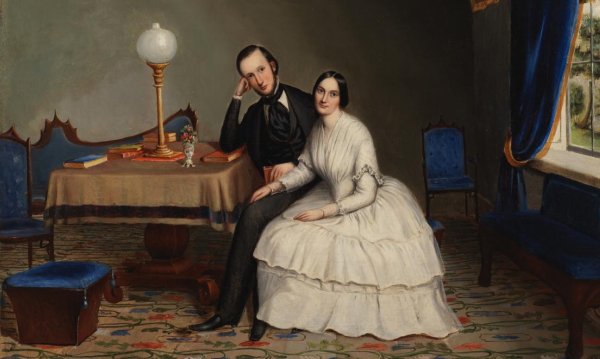 Mr. & Mrs. Charles Henry Augustus Carter ca. 1845 (detail) • Museum of the City of New York, Nicholas Biddle Kittell, 62.234.12
(now-10/11) Picturing Prestige: New York Portraits at the Museum of the City of New York shows off the work of some of the leading American painters circa 1700-1860, as they fixed the likenesses of that era's 1% for all time.
(permanent) New York's latest resident is a 122-foot-long dinosaur so new it has yet to be formally named. Going by "Titanosaur" for now, it has taken up residence at the American Museum of Natural History, in a cast of 84 fossil bones uncovered in Patagonia in 2014. The find included a colossal 8-ft. thigh bone, whose shape and size indicated a new species—and one of the biggest dinosaurs ever found. The titanosaur is so large, in fact, that it doesn't fit in the gallery: a 39-ft.-long neck in a new permanent exhibit extends out towards the elevator banks.
(ongoing) On The Line: Intrepid & The Vietnam War is up at the Intrepid Sea, Air & Space Museum. Intrepid made three tours of duty in Vietnam between 1966-1969.
THIS WEEK IN NEW YORK: COMEDY

(8/26-8/27) MTV personality and film star Bill Bellamy performs at Gotham Comedy Club.
PLUS
(8/24) Stand Up NY Showcase, featuring Emmy-winner Paul Mercurio, Ryan Hamilton, Kate Wolff, and Dustin Chafin, at Stand Up NY.
(8/26) Stand Up NY Showcase, featuring Marina Franklin, Dean Edwards, Aaron Berg, Jeff Leach, and Mike Vecchione, at Stand Up NY.
Get free admission for two to Stand Up NY!
THIS WEEK IN NEW YORK: KIDS
Zara Larsson will sing at Arthur Ashe Kids' Day.
(8/27) Arthur Ashe Kids' Day presents family-friendly fun at the USTA Billie Jean King National Tennis Center in Queens (7 train to Mets-Willets Point Station). This year's talent will include tennis pros Rafael Nadal, Venus William, and Novak Djokovic, plus performers Flo-rida, Zara Larsson, Laura Marano, and more!
PLUS
(8/25-8/26) Catching a train is only the beginning at Grand Central Terminal, a New York landmark that's also great for shopping, dining, and architecture and history buffs. Families and theatre fans can get in on the scene with this year's Summer Send-Off. The annual event features three days of fun, from face painting and crafts to educational programs from the Brooklyn Children's Museum. There's also an interactive School of Rock photo booth and Broadway performers from Wicked, Something Rotten!, and Motown the Musical bringing live music. Get a free pair of Grand Central sunglasses with any $5 purchase from a participating vendor. 11:30am-2:30pm in Vanderbilt Hall.
(now-10/9)Arcade Classics: Video Games from the Museum's Collection at the Museum of the Moving Image in Queens. Check out vintage arcade games including Space Invaders, Asteroids, Tempest, Centipede, Berzerk, and more! Plus now through 8/28 enjoy summer kids matinee screenings of films including Fantastic Mr. Fox, Toy Story,and Zootopia.
(Ongoing) Explore the beautiful interactive exhibit Connected Worlds at the New York Hall of Science in Queens.
THIS WEEK IN NEW YORK: SIGHTSEEING
Grab a date or friend and enjoy the most incredible views of NYC at Top of the Rock.
PLUS
(8/26) The Mylan World TeamTennis Finals presented by Citi at West Side Tennis Club in Forest Hills, Queens.
(8/27) New! Watson Adventures' Hamilton: The Scavenger Hunt at Battery Park.
(ongoing) Read about more great daytrips to Six Flags Great Adventure, The Mills at Jersey Gardens, and more with NJ Transit.
(new) Catch the brand-new Ghostbusters Experience (walk through/immersive) and Ghostbusters Dimension, a Virtual Reality Experience at Madame Tussauds. Get ready to strap on some gear and laser some ghosts against breathtaking, realistic backdrops. The technology puts you right there!
Take a thrilling white-knuckle 30-minute cruise of the Manhattan skyline aboard THE SHARK Speedboat thrill ride with Circle Line Downtown. Take $5 off your ride now.
(ongoing) Take a one-hour tour of one of the world's most important buildings, the United Nations, now celebrating 70 years. (Tours offered weekdays only.)
(ongoing) One of NYC's most iconic sports and music venues, Madison Square Garden, offers a must-see MSG All Access Tour. Take $4 off admission now.
Take a selfie with new arrival James Bond, Taylor Swift, One Direction, Ed Sheeran, and countless other famous celebs at Madame Tussauds New York!
Explore NYC with a magical live interactive experience when you take THE RIDE and The TOUR! Find out about special summer only discounts for early risers!
Check out the new "tour about nothing" When Harry Met Seinfeld with On Location Tours.
The One World Observatory is open. Start by ascending to the top of the tallest building in the Western Hemisphere in less than sixty seconds, in state-of-the-art "Sky Pod Elevators" that feature a floor-to-ceiling LED screen showing the ever-evolving New York skyline. Once reaching the 100th floor, visitors can take in panoramic, uninterrupted views on the main platform. Click here for information about ordering tickets and getting a free collectible pin!
Explore NYC's Financial District with Wall Street Walks.
THIS WEEK IN NEW YORK: NIGHTLIFE & MUSIC
(8/27-8/28) Afropunk Festival 2016: This year's music festival, which takes place at Commodore Barry Park in Fort Greene, Brooklyn, will include George Clinton, Ice Cube, TV on the Radio, Living Colour (pictured), Skunk Anansie, Tyler the Creator, Cee-Lo Green, Flying Lotus, Janelle Monae, and many others.
PLUS
(8/27) Saturday Night Dance Cruise with New York Water Taxi.
(8/27) Toto at Town Hall.
(8/27) Depeche Mode & '80s Party Cruise—Second Edition w/Circle Line Sightseeing Cruises. (*Please note band will not be present.)
(8/27) Work up a sweat on one of the final summer Saturdays of Warm Up 2016 at MoMA PS1 in Long Island City, Queens.
Click here for summer outdoor concerts.
SNEAK PEEK, NEXT WEEK
(8/29-9/11) The U.S. Open gets underway at the USTA Billie Jean King National Tennis Center (7 train to Mets-Willets Point Station).
PLUS
(9/2-9/4) Star Trek: Misson New York—The first ever New York Star Trek Con takes place at Jacob K. Javits Center. The celebrity appearances are nearly endless: Chekov, Kirk, Dr. Crusher, Q, Riker, Troi, Janeway, La Forge, Worf, and many more.
(9/2-9/3) Comedian Theo Von at Gotham Comedy Club.
_______________________________________________________________________
Like what you see here? Share it with your friends on Facebook!
Click here if you're looking for more things to do in August. We've got September covered, too!

Looking for Free Group Planning Services?
Get free advice on planning your group's trip to New York.
RESTAURANTS

A sophisticated, elegant steakhouse with generous portions o...

THEATER

Gaston Leroux's famous period thriller is now one of Broadwa...

SHOPPING

Swiss luxury watch manufacturer for men and women since 1853...

SIGHTSEEING

Located in Times Square in the heart of New York City, Riple...