This Week in NYC
October 28, 2014 - by CG News Desk
It's Halloween week! This year it falls on a Friday, and NYC offers a wide selection of festivities to get you into the spirit, including its renowned Village Halloween Parade. (For additional Halloween event listings, click here.) Great new fall exhibits include the Hubble @ 25 at The Intrepid and the return of the Butterfly Conservatory at AMNH. Check out concerts with Jerry Lee Lewis, Sinead O'Connor, Motley Crue on their final tour and more!
THE BIG EVENT
Get set for NYC's 41st Annual Village Halloween Parade! (10/31)
PLUS: NYC Craft Beer Festival takes place at the Lexington Armory (10/31-11/1)...At the Food Film Fest at various venues, taste what you see on screen (10/29-11/1)
Click here to sign up for our events newsletter.
---
EXHIBITION OF THE WEEK
Perennial exhibit favorite Butterfly Conservatory: Tropical Butterflies Alive in Winter returns to the American Museum of Natural History (11/1).
PLUS: Hubble @ 25 at The Intrepid commemorates the anniversary of the launch of the Hubble Space Telescope. Its extraordinary images of the cosmos have revolutionized astronomy...Robert Gober: Heart Is Not A Metaphor is now open at the Museum of Modern Art ... From Here to Here: Richard McGuire Makes a Book at Morgan Library & Museum (now-11/9)...Mac Conner: A New York City Life, is on view at the Museum of the City of New York...What's Up Doc? The Animation Art of Chuck Jones, is at The Museum of The Moving Image. Check out Playing with Fire: Political Interventions, Dissident Acts, and Other Mischievous Actions at Museo del Barrio ... Nam June Paik: Becoming Robot is at Asia Society and Museum ... . Submerged, A New Interactive Submarine Exhibit at The Intrepid makes the history and function of submarines come alive for children and families ..... Ai Weiwei: According to What? at Brooklyn Museum; ... The Paris of Toulouse-Lautrec: Prints and Posters at the Museum of Modern Art (MoMA) ... Under the Same Sun: Art from Latin America Today at the Guggenheim Museum features contemporary works by 37 artists and collaborative duos from 16 countries. Killer Heels at Brooklyn Museum features 160+ artfully crafted historical and contemporary heels from the seventeenth century through the present. Plus, enjoy Target First Saturday (11/1)
---
COMEDY
The Gotham All Stars (10/28, 11/1) features Vic Henley, Yannis Pappas, Rodney Laney, and Gregg Rogell...
PLUS: NYAACF Presents: Ha-Ha-Halloween Headliners of Arab Comedy at Gotham Comedy Club (10/31-11/1) Artie Lange at Carolines (two shows 11/1)
---
KIDS
Don't miss The Haunted Pumpkin Garden at New York Botanical Garden. Ends 10/31!
PLUS: The Magic Flute comes to the New Victory Theater (11/1-9)...Big Apple Circus: Metamorphosis is back at Lincoln Center...Hot Peas 'n' Butter perform at BAM (11/2) ...Sign up to be a member of S.H.I.E.L.D. at Marvel Avengers S.T.A.T.I.O.N. at Discovery Times Square. The new LEGO Store in the Flatiron District is now open.
---
SIGHTSEEING

NFL fans, tailgate with NFL on the Hudson: Colts at Giants with Circle Line Cruises (11/3)...
PLUS: Yankee Stadium Tours is a must for baseball and Yankees fans!
---
NIGHTLIFE & MUSIC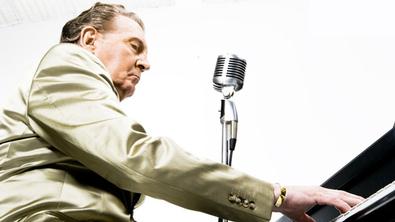 Jerry Lee Lewis has a whole lotta shaking going on in a rare peformance at B.B. King Blues Club (10/30)
PLUS: Sinead O'Connor returns to City Winery (10/28)... Motley Crue w/Alice Cooper bring their final tour to MSG (10/28)...The controversial production, John Adams' The Death of Klinghoffer, comes to the Metropolitan Opera (10/29, 11/1)...Patrick Bruel is at the Beacon Theatre (11/1)...Todd Rundgren performs at B.B. King Blues Club (11/2-3) For those seeking a good scare (ages 14+), check out Blood Manor (through 11/2)
---
SNEAK PEEK, NEXT WEEK
The New York Comedy Festival is in town (11/5-9), with performances at various venues by Amy Schumer, Dane Cook, Bill Cosby, Chris D'Elia, Marc Maron and others.
PLUS: ...Grammy-winner Melissa Etheridge returns with her "This Is Me" Tour at Town Hall (11/5)... Monty Python's John Cleese in Conversation with John Hodgman at BAM (11/5)...
Reader Feedback