Post Feedback | Printer-Friendly | Send Article to a Friend
April 23, 2014 - by CG News Desk
Featured Listings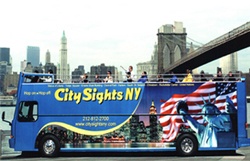 CitySights NY· Our hop-on, hop-off bus tours are operated on a fleet of new...
The Tribeca Film Festival and the 2014 New York International Auto Show continue throughout the week. (Bring the kids to the Tribeca Family Festival on Saturday, April 26.) This weekend, visit the Brooklyn Botanic Garden for its annual Cherry Blossom Festival. Catch great live acts including rock vocalist Sebastian Bach at B.B. King Blues Club & Grill April 24 and comedian George Lopez at The Beacon Theatre April 25! For additional listings, click here.
04/23
2014 Tribeca Film Festival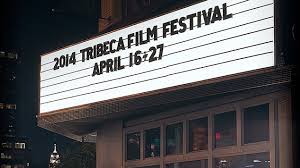 A celebration of film, including the closing Family Festival Day. Schedule of films for 2014 to be announced. Visit website for more information. tribecafilmfestival.org
2014 New York International Auto Show
The most extensive collection of the most technologically advanced vehicles on display anywhere in the world. With more than four floors of displays and nearly 1,000 stunning new 2014/2015 vehicles -- as well as sensational futuristic concept cars -- the 2014 Show is a must-see, fun day out for the whole family. Automakers have lined up dozens of new vehicles to unveil for the first time, along with new fun and informative interactive displays, ride and drives, and eco-experiences that will surprise and amaze visitors to this year's event. 10am-10pm (Sun. until 7pm). Through April 27. Jacob Javits Convention Center, 655 W. 34th St., NY 800-282-3336, autoshowNY.com
Dance Theatre of Harlem 45th Anniversary New York Season
For 45 years Dance Theatre of Harlem has changed the way people see. Join in for a season of 21st-century ballet. New productions and cherished classics. Through April 27. Jazz at Lincoln Center, Broadway 60th street , NY, 212-721-6500, dancetheatreofharlem.org
Cirque du Soleil Amaluna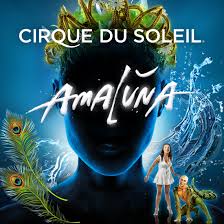 Amaluna invites the audience to a mysterious island governed by Goddesses and guided by the cycles of the moon. Their queen, Prospera, directs her daughter's coming-of-age ceremony in a rite that honors femininity, renewal, rebirth and balance which marks the passing of these insights and values from one generation to the next. In the wake of a storm caused by Prospera, a group of young men lands on the island, triggering an epic, emotional story of love between Prospera's daughter and a brave young suitor. But theirs is a love that will be put to the test. The couple must face numerous demanding trials and overcome daunting setbacks before they can achieve mutual trust, faith and harmony. Through May 18. Citi Field, 126th St and Roosevelt Ave. Flushing, NY, 718-507-8499, cirquedusoleil.com/Amaluna
The Black Fives

This exhibition covers the pioneering history of the African American basketball teams that existed in New York City and elsewhere from the early 1900s through 1950, the year the National Basketball Association became racially integrated. Through July 20. New-York Historical Society, 170 Central Park West, NY, 212-873-3400, nyhistory.org
Antonio Canova: The Seven Last Works
Antonio Canova (1757-1822), the greatest of all Neoclassical sculptors, remains famous above all for the elegant nude mythological subjects that he carved exquisitely in marble. He also worked in a deeply serious, deceptively simple style. This less familiar Canova is revealed in an extraordinary series of full-scale plaster models illustrating episodes from the Old and New Testaments. Such models, used to review his compositions before they were transferred into stone, were a distinctive feature of his sculptural practice. These Biblical scenes were made in connection with a project for thirty-two low reliefs that were to adorn the Tempio Canoviano, the church he built for his home town Possagno, which later became the artist's mausoleum. He completed only seven models before his death. Through April 27. Metropolitan Museum of Art, 1000 Fifth Ave., NY 212-535-7710, metmuseum.org
Pterosaurs: Flight in the Age of Dinosaurs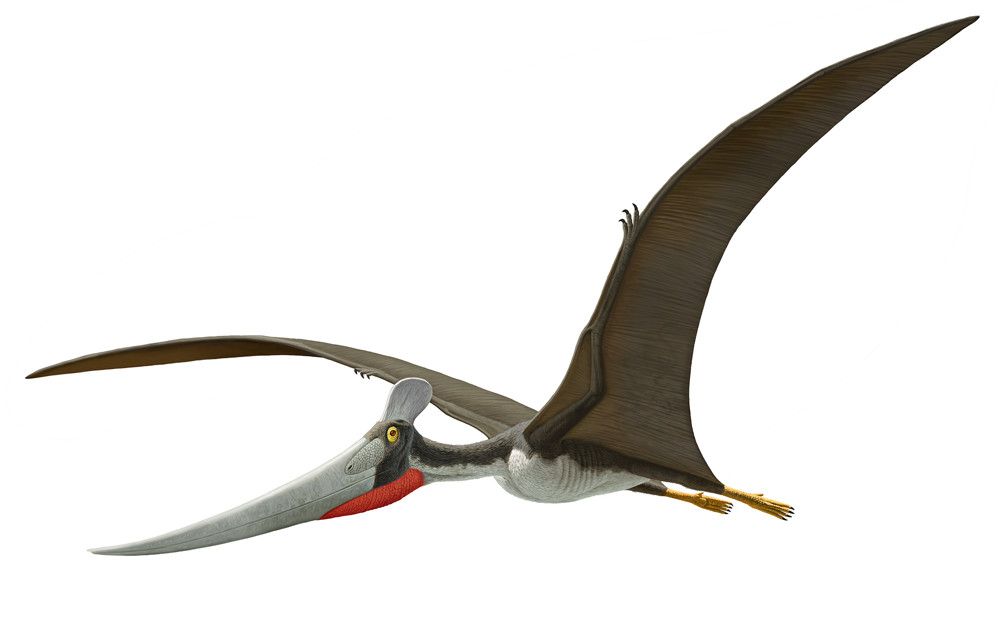 Discover a world where pterosaurs soared overhead in this exciting new exhibition. A diverse group with more than 150 known species ranging from the size of a sparrow to that of a fighter jet, pterosaurs appeared 220 million years ago and survived for more than 150 million years before becoming extinct. What sets them apart from their dinosaur contemporaries is their adaptation for flying, a unique trait visitors will explore through multiple interactive exhibits. Visitors can also investigate pterosaur models, casts, and fossils and find out how these extraordinary ancient vertebrates moved on land and in the air, how they hunted, and what scientists are discovering about them today. Visitors will also glimpse the pterosaurs' ancient world in a dramatic diorama re-creating an inland sea in Brazil where pterosaurs, fishes, crocodiles, and other species co-existed millions of years ago. Through Jan. 5, 2015. American Museum of Natural History, 200 Central Park West, NY, 212-769-5100, amnh.org
Ai Weiwei: According to What?
The first North American survey of the work of provocative Chinese conceptual artist, sculptor, photographer, filmmaker, and activist Ai Weiwei. This will be the first large-scale museum exhibition of Ai's work in New York and the final presentation on the exhibition's tour. The Brooklyn Museum will include several major works not seen in previous venues. Included among the new material is S.A.C.R.E.D., making its first appearance in North America since it debuted to critical acclaim during the Venice Biennale in 2013. Through Aug. 10. Brooklyn Museum, 200 Eastern Parkway, Brooklyn, NY, 718-638-5000, brooklynmuseum.org
Anthony Mann
Final days! Hollywood director Anthony Mann was one of the greatest directors of two genres that seem very disparate; the film noir, featuring nocturnal and claustrophobic dramas, and the Western, with their dramas set against wide-open landscapes. This series featuring eight of Mann's greatest noir and western films is programmed by Max Alvarez and presented in conjunction with the release of his new book The Crime Films of Anthony Mann. Through April 27. Museum of the Moving Image, 36-01 35 Ave., Astoria, NY, 718-777-6888, movingimage.us
Goya and the Altamira Family
This exhibition features Goya's four portraits of members of the Altamira family, including the so-called Boy in Red, one of the Metropolitan Museum's most beloved Old Master paintings. Also on view is a fifth Altamira portrait, by Agustin Esteve. This is the first time these family portraits - now dispersed in public and private collections in Spain and the United States - will be seen together as a group. Through Aug. 3. Metropolitan Museum of Art, 1000 Fifth Ave., NY 212-535-7710, metmuseum.org
11th Annual Games for Change Festival
Three days of inspiring speakers, great games to play, and networking opportunities galore: all to celebrate and promote games that make the world a better place! The Games for Change Festival—New York City's largest gaming event—joins the Tribeca Film Festival this year. Founded in 2004, Games for Change facilitates the creation and distribution of social impact games. Keynote speakers include leading game makers, who are changing the world of games and research leaders who are changing the world with games. Come hear innovative and impactful game makers speak: Jenova Chen (Journey, Flower) Noah Falstein (chief game designer, Google) Mary Flanagan (Tiltfactor Lab) Josh Larson (That Dragon, Cancer) Jane McGonigal (SuperBetter and Author of NYT Best-Seller Reality Is Broken), Paolo Pedercini (Molleindustria) Jesse Schell (CEO, Schell Games) Learn from research leaders who are using games and game thinking to solve some of the world's most intractable problems: Dan Ariely (behavioral economist & best-selling author of Predictably Irrational) Deborah Estrin (pioneer in small data for personal health) Dr. Adam Gazzaley (neuroscientist using games to boost cognitive skill) Dean Karlan (expert in development economics, Yale) Zoran Popovic (creator, Foldit and other games for fun, science and learning) Pontus Westerberg (UN-Habitat, urban design through Minecraft). Through April 24. NYU Skirball Center for the Performing Arts, 566 LaGuardia Pl., NY, 212-352-3101, nyuskirball.org, gamesforchange.org/festival
04/24
Arabella
Swedish soprano Malin Bystrom stars in the title role of Strauss's nostalgic romance that explores the fleeting charms of youth, with Michael Volle. Philippe Auguin conducts. Metropolitan Opera House, Amsterdam Ave. & 64th St., NY 212-362-6000, metoperafamily.org/metopera
Jon Reep
Maybe you remember Jon as the fifth season winner on NBC's "Last Comic Standing" or have seen him on Comedy Central's "Premium Blend" or the half-hour special "Comedy Central Presents: Jon Reep". If it's not from his stand-up performances then you probably know Jon from Dodge's popular ad campaign as the "Hemi guy" where Jon is known to millions as the redheaded hillbilly in the Dodge Ram commercials who leans out of a beat-up car and utters the now famous line: "That thing gotta Hemi?" . Through April 26. Thurs. 8pm / Fri. 8:30pm & 10pm / Sat. 8pm & 10pm. Gotham Comedy Club, 208 W. 23rd St., NY 212-367-9000, gothamcomedyclub.com

Julio Iglesias
Internationally acclaimed singer/songwriter Julio Iglesias performs at Carnegie Hall for the first time in 25 years as part of the 2014 Medal of Excellence Gala, honoring legendary fashion icon and philanthropist Oscar de la Renta. The concert is open to both gala patrons and members of the public. 9pm. Carnegie Hall, 881 7th Ave., NY 212-247-7800, carnegiehall.org
Sebastian Bach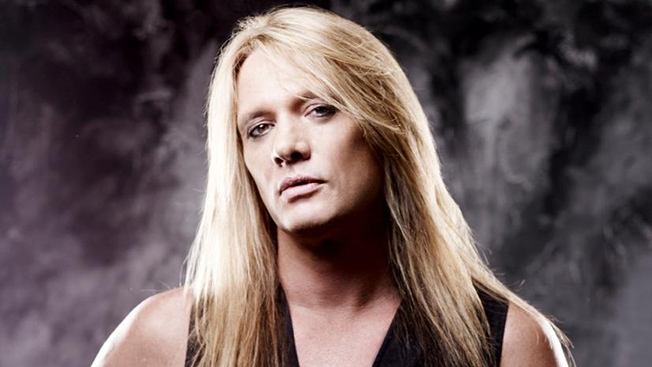 Sebastian Bach has sold in excess of 20 million records worldwide as lead singer with his former band, Skid Row and as a solo artist. Sebastian Bach's most recent solo album, Kicking & Screaming, was met with universal acclaim. Far from just being a multi-platinum recording artist, the singer / songwriter / actor / entertainer has expanded his career over the past decade to include episodic television with a 5-season recurring role on the CW's hit series Gilmore Girls, starring roles on Broadway (Jekyll & Hyde, The Rocky Horror Picture Show) and national touring companies (Jesus Christ Superstar), and has appeared regularly on MTV and VH1. 8pm. B.B. King Blues Club & Grill, 237 W. 42nd St., NY, 212-997-4144, bbkingblues.com
04/25
Antique Garden Furniture Fair: Antiques for the Garden and the Garden Room
This beautiful show has been refreshed to include many new and exciting dealers specializing in sculpture, ornament, and furniture for the garden, and garden-related objects for the home. Bold and refined, contemporary and classic - and more engaging than ever. Benefit Preview Party and Collector's Plant Sale on April 24. Through April 27. New York Botanical Garden, 2900 Southern Boulevard, Bronx NY, 718-817-8700, nybg.org
Food Book Fair 2014
The Food Book Fair returns to Brooklyn's Wythe Hotel for its third year to present three days of food writing, reading, and activism. Each spring, food enthusiasts, publishers, book collectors, chefs, artists, activists, scholars, and writers come together to explore the latest in food innovation and conversation at the Fair. This year, the weekend includes a pop-up bookstore with over 200 hand-selected titles, more than 20 independent food publications, panel discussions and author signings, a pop-up farm for kids, a homebrew brew pub, special dinners, and a foodbook slam. The roster of world-class speakers includes Ava Chin, Laurie David, Tom Mylan, Bryant Terry, and Steve Hindy. Through April 27. Wythe Hotel, 80 Wythe Avenue, Brooklyn NY, 917-780-2830, foodbookfair.com
George Lopez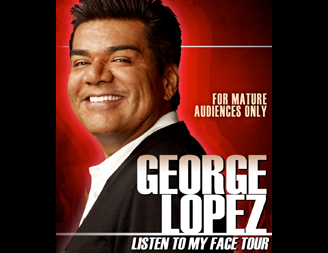 George Lopez brings his "Listen To My Face" tour to NYC. Beacon Theatre, 2124 Broadway
NY, 212-465-6225, beacontheatre.com
04/26
Sakura Matsuri: Cherry Blossom Festival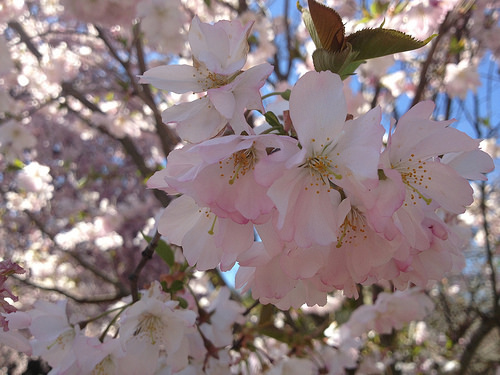 Photo by Ruiyan Xu
Sakura Matsuri, the annual cherry blossom festival at BBG, offers over 60 events and performances that celebrate traditional and contemporary Japanese culture. The festival marks the end of Hanami, the Japanese cultural tradition of enjoying each moment of the cherry blossom season. 10am-6pm. Also April 27. Brooklyn Botanic Garden, 900 Washington Ave., Brooklyn, Crown Heights NY, 718-623-7200, bbg.org
Dream Bigger! Narcolepsy Walkathon 2014
Narcolepsy Network will hold its second annual NYC walk, DREAM BIGGER! Narcolepsy Walkathon 2014. Starting with a pre-walk warm up, walkers will join forces to raise awareness of narcolepsy, a serious sleep disorder, which affects approximately one in every 2,000 people. Walkathon donations and sponsorship will support the work of Narcolepsy Network. The walk starts at Pier 51 at West Street and Horatio Street (which is a few blocks south of 14th Street). The 2.4 mile route takes walkers through Hudson River Park from Pier 51 to Pier 25 and then back to Pier 46 for light post-walk refreshments. Narcolepsy Network is a nationwide nonprofit organization dedicated to increasing early diagnosis of narcolepsy, advocating for and supporting persons with narcolepsy and their families, and promoting critical research for treatment and a cure. In 2013, more than 130 walkers participated in the event, raising more than $6,500. 10:00am. narcolepsynycwalk.org
Natalie Merchant-Family Concert
Celebrated pop artist Natalie Merchant presents a Carnegie Hall Family Concert joined by guitarist Gabriel Gordon, pianist and accordionist Uri Sharlin, and chamber ensemble Decoda, performing works from her recent book-and-music project Leave Your Sleep, which features nursery rhymes and lullabies by 19th- and 20th-century poets set to Merchant's melodies, with projected illustrations by Barbara McClintock. 3pm. Carnegie Hall, 881 7th Ave., NY 212-247-7800, carnegiehall.org
Pet Shop Boys
In concert. 8pm. Terminal 5, 610 W. 56th St., NY 212-582-6600. terminal5nyc.com
Tribeca Film Festival Street Fair
A free all-day street fair featuring food, entertainment, and family activities, including demonstrations on filmmaking, animation, and video gaming as well as live Broadway performances, arts and crafts, storytelling, music, and free screenings. Rain or shine. 10am-6pm. Greenwich Street between Hubert and Chambers Streets, Tribeca, NY tribecafilm.com/family
04/27
A Tribute to Ella Fitzgerald
Dubbed "The First Lady of Song," Ella Fitzgerald was the most popular female jazz singer in America for more than half a century. This special tribute concert, performed by the 17-member Smithsonian Jazz Masterworks Orchestra featuring vocalist Kim Nazarian, will include original arrangements pulled from the Smithsonian and Ella Fitzgerald Charitable Foundation archives, many of which haven't been heard by live audiences for over 40 years. 3pm. Brooklyn Center for the Performing Arts, 2900 Campus Road, NY 718-951-4500, brooklyncenteronline.org
Spring Family Fair
Join the Morgan as they celebrate The Little Prince with activities that include watching an animated short film, composing a large mural made of planets, and trying on fun costumes. The Ben Jam troupe will bring the little prince, the fox, and the rose to life and invite families to follow the mysterious little boy in his magical journey through outer space. 2-5pm. The Morgan Library & Museum, 225 Madison Ave., NY, 212-685-0008, themorgan.org
Jillian Michaels Maximize Your Life
Jillian Michaels, America's leading authority in health, wellness and fitness, brings her critically acclaimed motivational live tour "Maximize Your Life" to New York! Jillian takes the stage in this intimate and uniquely personal live experience that provides you with the tools and motivation to harness your potential, kick-start your goals, and live the exceptional life that you've always wanted, but thought wasn't possible. Tickets start at just $25!. 3pm. Beacon Theatre, 2114 Broadway, NY, 619-297-3742, beacontheatre.com
Arbor Festival
It's a fun-filled day at QBG's Arbor Festival. Come enjoy a variety of activities for all ages including a petting zoo, arts and crafts, live music, facepainting, tours, food and craft vendors, consultations with tree and compost experts, and a beer tent! Craft vendors and artisans- learn more about participating in Arbor Fest here: http://www.queensbotanical.org/programs/arborfest/ArborFestVendors . (NOTE: Event parking rate of $10 in effect; discount parking vouchers are not applicable on event days.) 11am-6pm. Queens Botanical Garden, 43-50 Main Street, Flushing NY, 718-886-3800, queensbotanical.org/programs/arborfest
SNEAK PEEK, NEXT WEEK
04/28
La Cenerentola
A peerless pair of Rossini virtuosos joins forces in La Cenerentola - a vocal tour de force for mezzo-soprano Joyce DiDonato, singing her first Met performances of the Cinderella title role, and the high-flying tenor Juan Diego Florez, as her Prince Charming. Alessandro Corbelli and Luca Pisaroni complete the cast, with Met Principal Conductor Fabio Luisi leading the effervescent score. Also May 2, 6, 10. Metropolitan Opera House, Amsterdam Ave. & 64th St., NY 212-362-6000, metoperafamily.org/metopera
Lez Zeppelin
The world's first she-incarnation and leading purveyor of the music, power and magic of legendary British rock group, Led Zeppelin. They will be performing Led Zeppelin II in its entirety and other Zep classics! 7pm. Highline Ballroom, 431 W. 16th Street, NY, highlineballroom.com
04/29
Limon Dance Company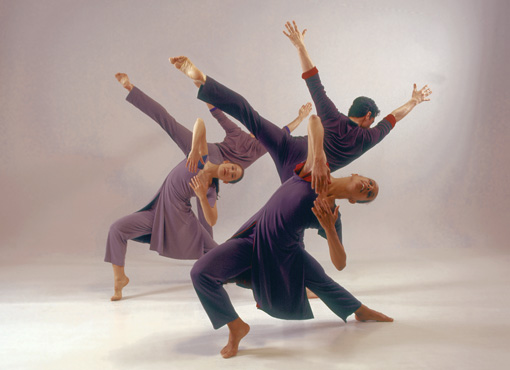 Photo: Beatriz Schiller
Limon Dance Company comes back to The Joyce with two world premieres and two Limon masterworks. For one premiere, Dianne McIntyre, the legendary dancer/choreographer, has created a special solo for Roxane D'Orleans Juste, honoring her 30-year tenure with the company. The other premiere features the exceptionally gifted choreographer Sean Curran, who has collaborated with composers/performers Manhattan Camerata to create a full company work. Paired with these new creations will be Limon's musical gem Mazurkas, and Psalm, a ritual of rhythm and song that showcases the company's virtuosic ensemble dancing. Live music is featured on selected performances. Through May 4. Joyce Theater, 175 Eighth Ave., NY 212-242-0800, joyce.org
David Lynch in Conversation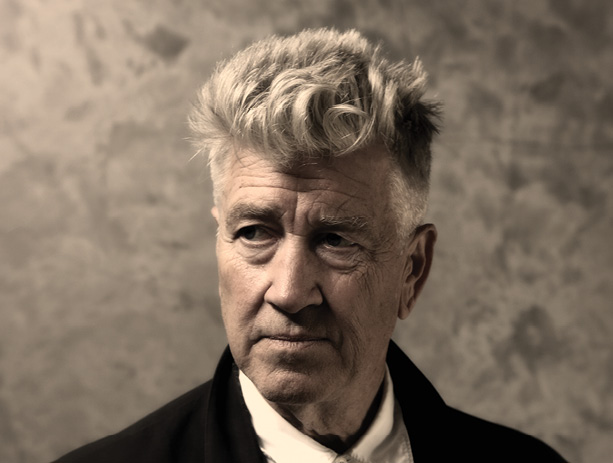 The visionary mastermind behind The Elephant Man, Blue Velvet, Mulholland Drive, and Twin Peaks comes to BAM to discuss his many passions and his creative process. 8pm. Brooklyn Academy of Music, 30 Lafayette Ave, Brooklyn NY, 718-636-4100, bam.org
City Winery 4th Annual International Pairing Series: Spain
City Winery and American Airlines invite you to the International Pairing Series, a dinner showcasing the wines and cuisine of a fascinating region. Each program includes remarks by a leading regional expert, a three-course dinner, and three flights of wine highlighting the traditional styles of the region. Over the course of the remaining four dinners we will 'visit' France, Germany, Spain and Japan. Grand Prize Drawing for International Air Transportation City Winery, 155 Varick St., NY, 212-608-0555, citywinery.com/newyork
ONGOING
Dark Universe
A must see for lovers of all things related to space, is the brand new half-hour sky show at The Hayden Planetarium, Dark Universe, narrated by Neil deGrasse Tyson. Produced by an innovative team that includes astrophysicists and science visualization experts, Dark Universe, starts at the edge of our solar system. After flying through our planetary neighborhood, visualized using the latest scientific data, viewers arrive at California's Mount Wilson Observatory, where Edwin Hubble's discovery that the universe is expanding gave the first hint of the Big Bang. But these revelations have also uncovered intriguing new mysteries. But what is the mysterious dark energy accelerating cosmic expansion? What is the invisible dark matter underlying galaxies that, together with dark energy, account for at least 95 percent of the universe's total energy and mass? In stunningly detailed scenes based on authentic scientific data—including a NASA probe's breathtaking plunge into Jupiter's atmosphere and novel visualizations of unobservable dark matter—Dark Universe explores this new age of cosmic discovery and reveals the mysteries that have been brought to light so far. American Museum of Natural History, Central Park West at 79th St., 212-769-5100; amnh.org
Italian Futurism, 1909-1944: Reconstructing The Universe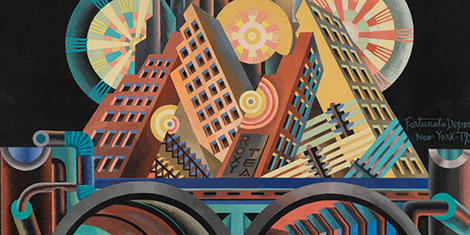 The first comprehensive overview of Italian Futurism to be presented in the United States, this multidisciplinary exhibition examines the historical sweep of the movement from its inception with F. T. Marinetti's Futurist manifesto in 1909 through its demise at the end of World War II. Closed Thurs. Through Sept. 1. Solomon R. Guggenheim Museum, 1071 Fifth Ave., NY, 212-423-3500, guggenheim.org
Gauguin: Metamorphoses
This exhibition focuses on Paul Gauguin's rare and extraordinary prints and transfer drawings, and their relationship to his better-known paintings and his sculptures in wood and ceramic. Comprising approximately 150 works, including some 120 works on paper and a critical selection of some 30 related paintings and sculptures, it is the first exhibition to take an in-depth look at this overall body of work. Through June 8. Museum of Modern Art (MoMA), 11 W. 53rd St., NY, 212-708-9400, moma.org
Masters of Disguise: The World of Camouflage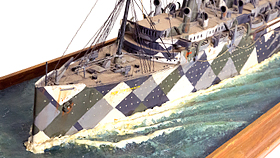 For many animals, the ability to hide in plain sight or look like something entirely different is necessary for survival. "Masters of Disguise: The World of Camouflage" explores the art and science of camouflage in the natural world, as well as its cultural adaptations and how the military has utilized these visual techniques in combat. Using digital imagery, artifacts and interactive elements, visitors will explore color, shade, shapes, and learn how they can fool the eye. Through Aug. 24. Intrepid Sea, Air & Space Museum, Pier 86, W. 46th St. & 12th Ave. NY, 212-245-0072, intrepidmuseum.org
Early American Guitars: The Instruments of C.F. Martin
Christian Frederick Martin, founder of the great American guitar firm C. F. Martin & Co., was the son of a cabinetmaker in Markneukirchen, Saxony. Martin learned to build instruments from the famed Johann Georg Stauffer in Vienna. Due to the restrictive guilds in Markneukirchen, Martin moved to the United States in 1833, settling first in New York City and later moving to Nazareth, Pennsylvania. In the United States, Martin encountered the Spanish-style guitar and incorporated elements from that tradition into his own Viennese style of instrument construction. The result was a new form of the guitar, a style that would become important as a basis for other American makers of the instrument. This exhibition includes approximately thirty-five instruments from the Martin Museum in Nazareth, Pennsylvania, The Metropolitan Museum of Art, and several private collections. Through Dec. 7. Metropolitan Museum of Art, 1000 Fifth Ave., NY 212-535-7710, metmuseum.org
The Flowering of Edo Period Painting: Japanese Masterworks from the Feinberg Collection
Displaying exemplary works from painting schools that arose in Japan in the 17th and 18th centuries, this exhibition allows viewers to discover how Japanese painting evolved from the traditional modes of Chinese and Japanese (Yamato-e) styles that had prevailed through medieval times. More than 90 paintings - including 12 sets of folding screens and a number of hanging scrolls - will be exhibited in two rotations, each consisting of approximately 45 paintings. Rather than focus on the orthodox output of the Tosa and Kano ateliers, which dominated artistic production in the late medieval period, The Flowering of Edo Period Painting will highlight the new, exuberant styles of the Rinpa, Nanga, Maruyama-Shijo, and Ukiyo-e schools, as well as independent painters of the Edo period. Through Sept. 7. Metropolitan Museum of Art, 1000 Fifth Ave., NY 212-535-7710, metmuseum.org
The Power of Poison
For centuries, humans have marveled at the secrets of poisons and sought to harness their toxic powers -- and this exhibition will explore both the biological basics of poison and the ways in which people have confronted its perils and potential. Approaching poison from several different perspectives -- as a dynamic defense system used by animals locked in evolutionary arms races with predators; as a compelling thread that runs through familiar legends, myths, and fables; as a series of mysteries visitors encounter and solve, including what suddenly poisoned Captain James Cook and two naturalists aboard his ship in the autumn of 1774; and as a promising source for powerful medical treatments -- The Power of Poison brings into sharp focus this captivating topic. Through Aug. 10, 2014. American Museum of Natural History, 200 Central Park West, NY, 212-769-5100, amnh.org
The Butterfly Conservatory: Tropical Butterflies Alive in Winter

The Butterfly Conservatory: Tropical Butterflies Alive in Winter!, a perennial favorite visited by millions of children and adults, returns to the American Museum of Natural History. This popular winter attraction invites visitors to mingle with up to 500 iridescent butterflies fluttering among blooming tropical flowers and lush green vegetation inside a free-standing, balmy, 1,200-square-foot enclosure. Through May 26. American Museum of Natural History, 200 Central Park West, NY, 212-769-5100 amnh.org
Space Shuttle Pavilion & The Enterprise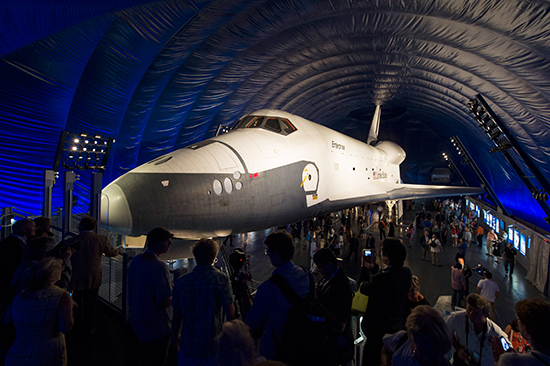 The Intrepid celebrates the Pavilion's reopening, reintroducing New York City to Enterprise, the first space shuttle orbiter, an engineering marvel and shining example of American ingenuity that inspired a generation of dreamers and doers. Intrepid Sea, Air & Space Museum, Pier 86, W. 46th St. and 12th Ave., NY, 212-245-0072, intrepidmuseum.org
Archives:
Related Articles
Most Popular Articles on CGNY