Post Feedback | Printer-Friendly | Send Article to a Friend
December 4, 2013 - by CG News Desk
Rockefeller Center is the heart of New York City's holiday spirit. Visitors from around the globe and residents alike will be watching tonight's annual Christmas Tree Lighting. This weekend, visit the Intrepid Sea, Air & Space Museum for a special Pearl Harbor Ceremony. Enjoy beautiful holiday productions of George Balanchine's The Nutcracker at Lincoln Center, Peter & The Wolf at The Guggenheim Museum, and much more. For additional listings, click here.
12/4
2013 Rockefeller Center Christmas Tree Lighting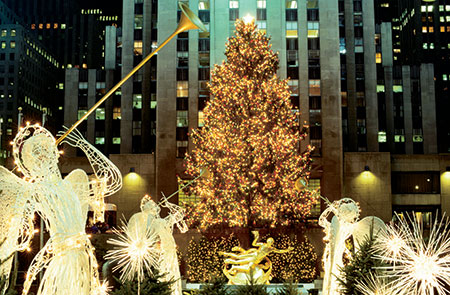 The king of Christmas tree lightings, the 80th Rockefeller Center Tree Lighting will make 30,000 energy efficient LED lights sparkle on Dec. 4, and will be on view until 11pm on Jan. 7. The lighting takes place at sundown amid live and taped performances from Mary J. Blige, Toni Braxton, Mariah Carey, Kelly Clarkson, Kenny "Babyface" Edmonds, Goo Goo Dolls, Ariana Grande, and Jewel. 7-9pm. Rockefeller Center, 30 Rockefeller Plaza, Midtown NY, 212-632-3975, rockefellercenter.com

Holiday Train Show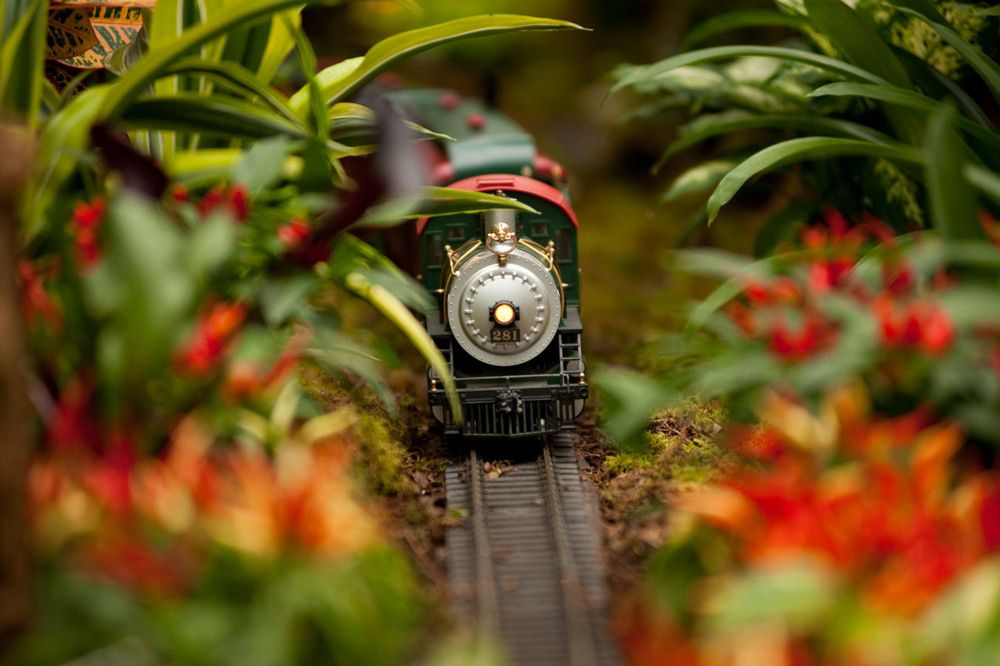 This cherished tradition delights people of all ages. Marvel at the charming model trains and New York City landmark replicas made of plant parts such as nuts, bark, and leaves, stroll the spectacular grounds, and shop for everyone on your list. This year's edition features more trains than ever before, and a new holiday dining experience inspired by the historic streets of New York. Through Jan 12, 2014. New York Botanical Garden, 2900 Southern Boulevard, Bronx NY, 718-817-8700, nybg.org
Radio City Music Hall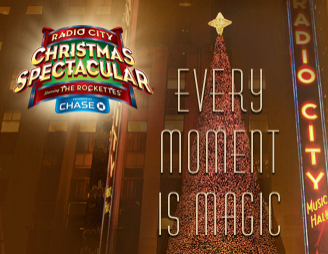 You and your loved ones will be immersed in the warmth and magic of Christmas in a way that only Radio City can deliver as scenery extends beyond the stage transforming the interior of the Music Hall into a magical canvas. Expect to be awed vis a vis digital projections coupled with the world's largest flown indoor LED screen. Fan-favorites including "New York at Christmas," where the Rockettes board a real double-decker bus and the high-energy tap number, "Twelve Days of Christmas." Of course, beloved classics like "The Parade of the Wooden Soldiers" and "The Living Nativity" will also be back. Visit website for playing schedule and to reserve tickets. Through Dec. 30. Radio City Music Hall, 1260 Sixth Ave., NY 866-858-0007, radiocitychristmas.com
Big Apple Circus-Luminocity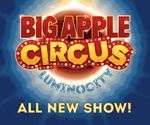 Venture within the hubbub at the heart of Gotham, where the restless tide of humanity rushes through canyons of skyscrapers and shoals of billboards: The dog-walker, whose rowdy pups perform amazing tricks! Businesswomen who arrange to meet, soaring high above on a double trapeze! The rube, a clown-prince among peers, celebrating the mirth of life! Revelry at New Year's Eve, with teeter-board acrobats flying like fireworks! and a chic couple of wire-walkers suspended mid-air for the event! The humble repairman, climbing the ladder of his imagination! The mounted policewoman, directing a cavalcade of steeds! The flimflam man with his quicksilver moves! The food cart vendor, juggling his produce! Construction workers assembling athletic poses of incredible strength! The celebrated Big Apple Circus Band, under the baton of maestro Rob Slowik, provides the lively musical soundtrack, and your cosmopolitan Ringmaster, John Kennedy Kane, will conduct your tour through this luminous cityscape. Run away and join the Big Apple Circus this season for a dazzling, unforgettable spectacle of wonder, merriment and joy! Through Jan. 12, 2014. Damrosch Park, NY 888-541-3750, bigapplecircus.org
Centennial Holiday Light Show
The Holiday Light Show makes its return to Grand Central Terminal for its Centennial year. The show will light up the famous windows on the west side of the Main Concourse above Michael Jordan's The Steakhouse NYC and Cipiani Dolci this holiday season. Daily, 5-11pm. Through Dec. 26. Grand Central Terminal. 89 E. 42nd St., NY 212-532-4900, grandcentralterminal.com
Union Square Holiday Dessert Tour
Learn about Union Square's remarkable history while exploring the holiday market and eating tasty treats. Tickets include at least 6 tastings. Visit website for schedule. Fri.-Sun., 4pm. Through Dec. 22. Sugartooth Tours, 14th St. & Broadway, NY 800-838-3006, sugartoothtours.com
Origami Holiday Tree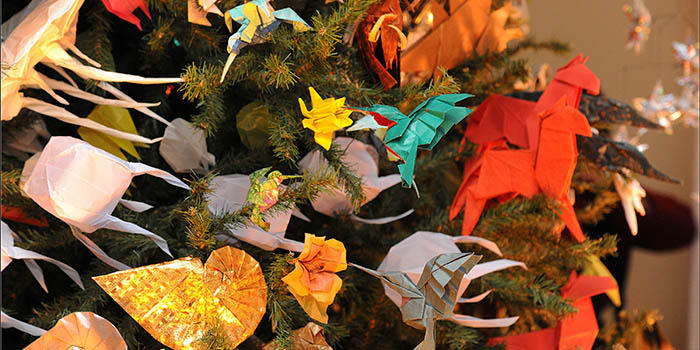 An annual Museum tradition, the delightfully decorated Origami Holiday Tree has marked the start of the holiday season at the Museum for more than 30 years. Volunteers begin folding in July to complete the 500 creations that will be displayed on the tree. During the holiday season, volunteers will be on hand to teach visitors of all ages the art of origami folding. Past themes have included "Fantastic Creatures: Mythic and Real," "Under the Sea," "Pocket Posy," and "Origami Safari." Through Jan. 12, 2014. American Museum of Natural History, 200 Central Park West, NY 212-769-5100, amnh.org
George Balanchine's The Nutcracker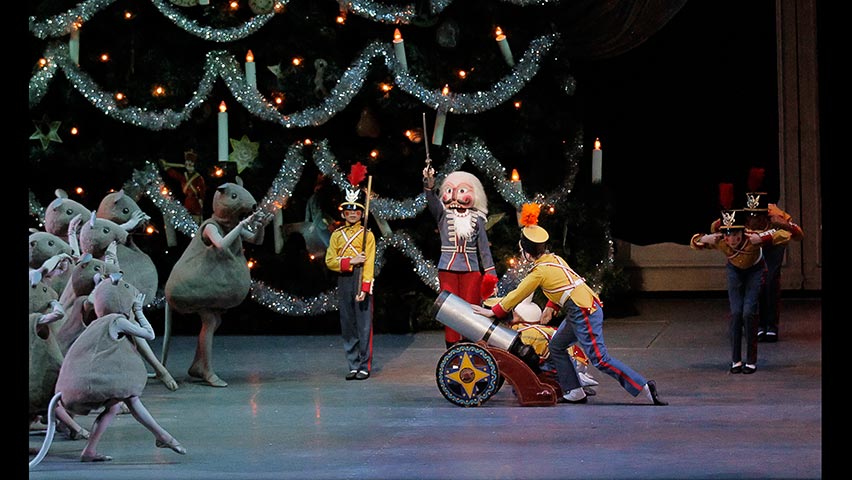 Welcome to the world of George Balanchine's The Nutcracker. This is the production that is the heart of New York City's year-end holiday season. Whether it is a family tradition or a once-in-a-lifetime visit, your experience of this glittering classic ballet will stay with you forever and warm your spirit. From the moment the lights dim, you will be transported to a magical place filled with adorable children, marching toy soldiers, a glowing one-ton Christmas tree that seemingly grows forever, mischievous mice, crystalline waltzing snowflakes, the Land of Sweets and some of the most glorious dancing on earth. Through Jan. 4, 2014. David H. Koch Theater, 20 Lincoln Center, 212-721-6500, nycballet.com
Ripley's Times Square Holiday Giftacular
Find something for the person who truly has everything. From November 29th - December 24th, gift-givers looking to make a lasting impression on their most discerning recipients with exotic tastes can find their holy grail at an untraditional shopping venue: Ripley's Believe It or Not! Times Square. For the first time in history, Ripley's has curated an exclusive selection of rare gifts, available for purchase, from some of the most extraordinary cultures around the globe like 18th century, iron-clad elephant armor to a 19th century Vampire killing kit. Full catalog of gifts (with list prices spanning from less than $500 to more than $2 million) can be viewed at http://www.ripleysnewyork.com/giftacular. Through Dec. 24. Ripley's Believe It Or Not, 234 W. 42nd St, NY, 212-398-3133, ripleysnewyork.com/giftacular
Christmas Lights & Cannoli Tour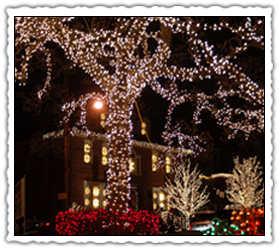 This 3-1/2-hour holiday tour highlights the festive homes of Dyker Heights, the Italian-American section of Brooklyn made famous in the PBS documentary "Dyker Lights" and seen on TLC's "Crazy Christmas Lights". You'll also visit the festive homes in the Bay Ridge section of Brooklyn. Included is a stop for a delicious cannoli and hot chocolate from an authentic, Brooklyn neighborhood pastry shop! The multimedia presentation includes vintage Christmas variety specials like Andy Williams, Frank Sinatra, Bing Crosby and more! 7pm. Departs from Union Square. Through Dec. 31. A Slice of Brooklyn Pizza Tour, NY 212-913-9917, asliceofbrooklyn.com
Charles Dickens' s A Christmas Carol
Every holiday season, the Morgan displays Charles Dickens's original manuscript of A Christmas Carol in Pierpont Morgan's historic Library. Dickens wrote his iconic tale in a six-week flurry of activity, beginning in October 1843 and ending in time for Christmas publication. He had the manuscript bound in red morocco as a gift for his solicitor, Thomas Mitton. The manuscript then passed through several owners before Pierpont Morgan acquired it in the 1890s. Through Jan. 12, 2014. Morgan Library & Museum, 225 Madison Ave., NY, 212-685-0008, themorgan.org
12/5
Eugene Onegin
Conductor: Valery Gergiev Tatiana: Anna Netrebko Olga: Oksana Volkova Lenski: Piotr Beczala Onegin: Mariusz Kwiecien Gremin: Alexei Tanovitsky Valery Gergiev returns to the Met to conduct the opening performances of this production, staged by acclaimed English director Deborah Warner in her Met debut. Mariusz Kwiecien sings his first Met performances as the imperious title character, a much-admired interpretation he has sung in many of the world's leading opera houses, opposite Anna Netrebko as Tatiana, in her third consecutive Met opening night and her first company performances as the naive heroine from Pushkin's classic novel. Piotr Beczala reprises his performance as Onegin's friend turned rival, Lenski. A second cast, conducted by Alexander Vedernikov in his Met debut, features Peter Mattei as Onegin, Marina Poplavskaya as Tatiana, and, in his first Met performances since the 2008-09 season, Rolando Villazin as Lenski; all three singers will be making their company role debuts. Also Dec. 12. Metropolitan Opera House, Amsterdam Ave. & 64th St., NY 212-362-6000, metoperafamily.org
New York Festival of Song: Cubans in Paris
Cuban music took the world by storm in the 1920s and 30s, and found a special welcome in Paris. This program straddles the concert hall, the nightclub, and the theater with music by Caturla, Lecuona, Mauri, Roig and Grenet, and features excerpts from Moises Simons' masterful 1934 operetta Toi C'est Moi. Merkin Concert Hall, 129 W. 67th St., NY, 212-501-3303, kaufmanmusiccenter.org
Holiday Lights Cruises
The moment you step aboard, a musical trio sets the mood for an elegant evening of cosmopolitan delights. After dinner as you cruise the tip of Manhattan, a talented vocalist joins the trio to compliment the spectacular skyline views with a sophisticated variety of familiar standards, light pop and Broadway tunes. 7pm. Through Dec. 8. Chelsea Piers, 23rd St. & the Hudson River, NY 866-483-3866, spiritcruises.com
Junk Food's NFL Tailgate Event
Join NFL Fashion Director Phillip Bloch and NY Giants Punter Steve Weatherford for an evening of fashion, drinks from Ph9 and delicious treats from Fresh&Co! Get a first look in-store of styles inspired by the Kristin Cavallari- Junk Food NFL Runway Collection as presented at this past NY Fashion Week, exclusive to Bloomingdales. In addition, attendees will have the opportunity to pose for photos and obtain autographs with Phillip and Steve while rocking out to the DJ's Tunes. Customers will also receive a Junk Food canvas tote free with every Junk Food purchase during the time of the event! 6pm-8pm. Bloomingdale's, 1000 3rd Ave, NY, 646-863-3923
The Fast Lane and Fleetwood Maxx: Tributes to The Eagles and Fleetwood Mac
The Fast Lane's renditions of Eagles classics have been recognized by those in the industry such as Jack Tempchin, (composer of "Peaceful Easy Feeling" and co-composer of "Already Gone") and received praise throughout North America and Europe. Fleetwood Maxx audiences by recreating intricate three-part Fleetwood Mac vocal harmonies performed by Suzanne "Slevy Nicks" Levy, Lizzie "McVie" Ames, and Paul "Buckingham" Bauman, capturing the essence of the original performers. With the incredible rhythm section of David "Fleetwood" Donen and Scott "McVie" Richter, augmented by the fine guitar work of Fausto "McFleetwood" Bozza, Fleetwood Maxx is truly the ultimate Fleetwood Mac tribute band in the country. 7:30pm. B.B. King Blues Club & Grill, 237 W. 42nd St., NY, 212-997-4144, bbkingblues.com
Holiday Tree Lighting
The Met's holiday tree on the Grand Tier balcony will be lit, with a ceremony featuring musical performances by Met stars and the Met Opera Brass, sing-along carols with members of the Lindemann Young Artist Development Program, and free refreshments and hot drinks. 5pm. Metropolitan Opera House, Amsterdam Ave. & 64th St., NY 212-362-6000, metoperafamily.org/metopera
12/06
Darlene Love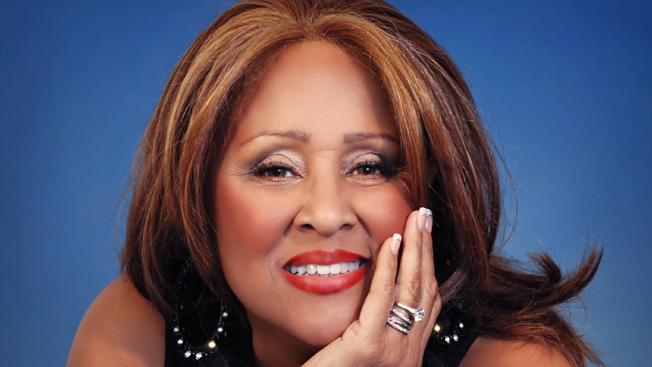 It's no wonder The New York Times raves: "Darlene Love's thunderbolt voice is as embedded in the history of rock and roll as Eric Clapton's guitar or Bob Dylan's lyrics." Through the years, Darlene Love continues to captivate audiences worldwide with her warm, gracious stage presence and sensational performances. 8pm. Also Dec. 20. B.B. King Blues Club & Grill, 237 W. 42nd St., NY, 212-997-4144, bbkingblues.com
Holiday Candlelight Tours
Step into the holiday season of 1830, take a tour by the warm glow of candlelight, and sample traditional confections. On Friday, adults and children of all ages will be entranced by a dramatic reading of "A Visit From St. Nicholas" (aka The Night Before Christmas), first published in 1823. Families can enjoy a scavenger hunt inspired by Moore's poem. On Saturday, linger in the Upper Hall and listen to the PACC Recorder Consort perform holiday and period music. Reservations recommended. 6, 7 & 8pm. Also Dec. 7. Mount Vernon Hotel Museum & Garden, 421 East 61st Street, NY, 212-838-6878, mvhm.org
Madison Square Boys & Girls Club 47th Annual Christmas Tree Ball
This signature event will include both silent and live auctions to benefit programming for the Madison Square Boys & Girls Club. The organization's largest fundraiser of the year, the Christmas Tree Ball gathers more than 400 supporters of Madison to kick off the holiday season and celebrate its Club members. Traditionally, guests enjoy a performance by the Columbus Clubhouse dance team, DiverCity, and hear from a Clubhouse alumnus about how the Club saved his life and put him on the right path. Notable guests at the event will include Robert Brown, VP & CFO of the New York Yankees and Madison Square alumnus; CC Sabathia, player for the New York Yankees; and Byron Pitts, Anchor and Chief National Correspondent at ABC News. Two of the 2013 Youth of the Year will serve as Masters of Ceremonies, showcasing the leadership and public speaking talents that the program teaches. 6pm. Cipriani, Cipriani 42nd Street, NY 212-760-9600 ext. 211
Mother Africa
Rich in rhythm and robust in song, MOTHER AFRICA's acrobats, musicians and dancers light up the stage in a powerful performance of stunning African artistry. Featuring stilt walkers from Tanzania, jugglers from Ethiopia and a renowned contortionist from Kenya, modern circus arts meld with joyful dance and music among a marvel of traditional masks. Exuberant afro-beats radiate from the stage with every strike of the infectious djembe and strum of the mbira, while bazin and kitenge fabrics swirl in a spectacle of color. Through Jan. 5. New Victory Theater, 209 W. 42nd St., NY 646-223-3010, newvictory.org
Susie Essman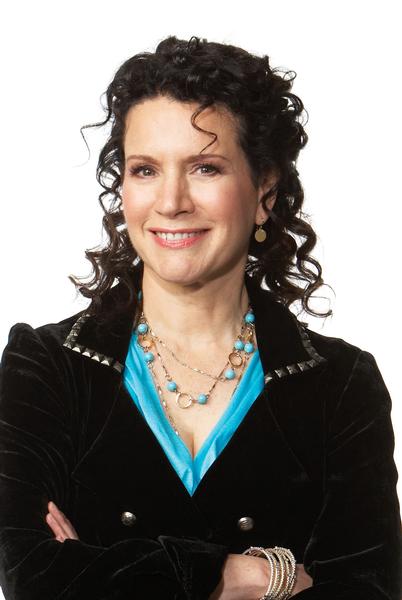 Susie Essman has played the sassy Susie Greene for all seven seasons of the critically-acclaimed HBO comedy series, Curb Your Enthusiasm. Her hilarious bouts of withering sarcasm and uninhibited insults have become her character's trademark. The Los Angeles Times calls Susie, "The most lyrical purveyor of profanity on television. Susie's streetwise vernacular is perfectly suited for her life in Manhattan where she has been a veteran of the world of stand up comedy for twenty-five years. Also Dec. 7. Gotham Comedy Club, 208 W. 23rd St., NY, 212-367-9000, gothamcomedyclub.com
12/07
Pearl Harbor Day Ceremony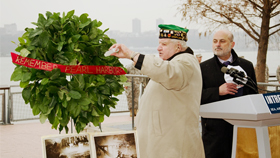 Intrepid honors the 72nd anniversary of the attack on Pearl Harbor. The ceremony, which will take place on Pier 86 under the Concorde, is free and open to the public. In addition to a wreath laying by Pearl Harbor Survivors, there will also be remarks from Major General Margaret W. Boor, Commanding General, 99th RSC. Pier 86, W. 46th St. & 12th Ave., NY 212-245-0072, intrepidmuseum.org
A Prairie Home Companion with Garrison Keillor
The live radio variety show created and hosted by Garrison Keillor returns to New York for its annual month of broadcasts live from The Town Hall stage. A Prairie Home Companion has had plenty of adventure in the past 30-plus years - known for its musical guests, especially folk and traditional musicians, tongue-in-cheek radio drama, and Keillor's signature storytelling segment, News from Lake Wobegon. The Town Hall, 123 W. 43rd St., NY 212-997-1003 the-townhall-nyc.org
Cyndi Lauper & Friends: Home for the Holidays
Cyndi Lauper's True Colors Fund presents a star-studded concert to help raise awareness about lesbian, gay, bisexual and transgendered youth homelessness. Home for the Holidays will feature a night of music from Cyndi Lauper as well as special appearances. 2124 Broadway, NY 212-465-6225, beacontheatrenyc.com
Peter & The Wolf with Isaac Mizrahi
Isaac Mizrahi will narrate Sergei Prokofiev's charming children's classic as George Manahan conducts the Juilliard Ensemble. A special cast directed by Mizrahi perform a new dance choreographed by John Heginbotham, bringing the 30-minute story to life and helping the young and young at heart to hear and learn the various instruments of the orchestra. 2:30 & 4pm. Also Dec. 8, 13-15. Guggenheim Museum, 1071 Fifth Ave., NY, 212-423-3500, guggenheim.org
Ellington at Christmas: Nutcracker Suite
For a twist on a seasonal classic and true holiday joy, nothing beats Duke Ellington's Nutcracker Suite. Ellington and Billy Strayhorn infused the legendary Tchaikovsky score with swinging brass, colorful solos and jumpin' jazz melodies. The second half of the program, Ellington's wonderful Sacred Music, is serious and swinging, reverent and hip. Rarely performed live, this Apollo exclusive features a 16-piece orchestra, narrator/vocalist, the Abyssinian Baptist Church Choir, two lead vocalists, and tap master Savion Glover. 3 & 8pm. Apollo Theater, 253 W. 125th St., NY, 212-531-5305, apollotheater.org
Peter White Christmas
Over the years, Peter White has maintained a reputation as one of the most versatile and prolific acoustic guitarists on the contemporary jazz landscape. Armed with an unparalleled combination of lyricism and energy, he combines elements of jazz, pop and classical guitar to create a sound that is singular and at the same time accessible to a broad audience. 7:30pm & 10pm. B.B. King Blues Club & Grill, 237 W. 42nd St., NY, 212-997-4144, bbkingblues.com
Reverse Santa Returns
Ripley's Believe It or Not! Times Square's 'Reverse Santa' returns for the famed 'Santa sits on YOUR lap' holiday portraits. Bringing some extra help from the North Pole, Ripley's own 'Reverse Santa Claus' will be joined by Mrs. Claus to sit on visitor's laps Saturdays in December, creating out-of-the ordinary family photos. And this year, guests who deliver toys to "Reverse Santa" will earn $10 off admission to the Times Square one-of-a-kind attraction. In partnership with the TODAY Show's Annual Holiday Gift Drive, Guests who bring two or more toys suitable for children ages infant to 18 years old to the museum will receive $10 off admission. For every toy donated at the New York City Odditorium, Ripley's Believe It or Not! Times Square will match it. Accepted items include new and unwrapped toys, books, clothing, electronic games, school supplies, sports equipment, videos and computer games. Reverse Santa pictures will be available each Saturday from 12pm to 7pm, Also Dec. 15, and 22. Discount cannot be combined with any other offer. 12pm-7pm, 234 W. 42nd St., NY, 212-398-3133, ripleysnewyork.com
SNEAK PEEK, NEXT WEEK
12/08
PINK
Pink brings her The Truth About Love tour to Brooklyn. Also Dec. 9.
7:30pm. Barclays Center, 620 Atlantic Ave., Brooklyn NY, 917-618-6700
Holiday Market Shopping Event
At Astoria Market, you're sure to find that special gift you're looking for such as art, jewelry, toys, chocolates, body care, handbags, clothing, stationery, scarves and hats, pottery, and more! Also, don't forget that you can always go downstairs and get a bite to eat along with your favorite beer. Or, go get a beer and sip on it while you shop – it's allowed! By the way, there will also be eggnog, chestnuts, hot apple cider, and other holiday favorites on the menu. Most vendors will be participating on one date only so do swing by on both dates! 12-6pm. Through Dec. 15. Bohemian Hall, 29-19 24th Ave, Astoria NY, 718-274-4925, astoriamarket.com
12/09
What Makes It Great? With Rob Kapilow-Britten: A Ceremony of Carols
In-depth musical explorations of works featuring performances, with Kapilow serving as host and guide. 7:30pm. Lincoln Center for the Performing Arts, Walter Reade Theater, 165 W. 65th St. NY, 212-721-6500 , LCGreatPerformers.org
Front & Center with Cyndi Lauper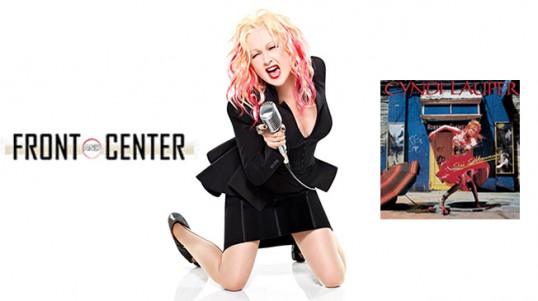 Cyndi Lauper is a Grammy, Emmy and now Tony Award winning artist who after 30 sterling years and global record sales in excess of 50 million albums, has proven that she has the heart and soul to keep her legion of fans compelled by her every creative move. With her first album, She's So Unusual, Lauper won a Grammy Award for Best New Artist and became the first female in history to have four top-five singles from a debut album. Since then, Lauper has released ten additional studio albums, with her most recent, the Grammy nominated Memphis Blues, ruling the Billboard Blues Chart for 14 consecutive weeks to become the best-selling blues album of 2010. Highline Ballroom, 431 W. 16th St., NY 212-414-5994 , highlineballroom.com
Frantic! Free Comedy Show w/Judah Friedlander, Sheng Wang & More!
10pm. The Stand Restaurant & Comedy Club, 239 Third Ave., NY, 212-677-2600
12/10
Anne-Sophie Mutter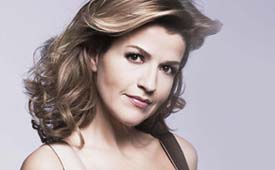 Performing an all-Dvorak program w/New York Philharmonic. With Manfred Honeck, conductor. 7:30pm. Avery Fisher Hall, Broadway & W. 65th St., NY 212-875-5656, nyphil.org
12/11
A Christmas Story-The Musical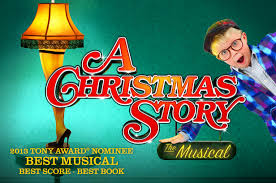 A new musical based on the classic 1983 movie, which earned 3 2013 Tony Award nominations. Through Dec. 29. The Theater at Madison Square Garden, 4 Pennsylvania Plaza, 212-465-4459, theateratmsg.com
The Power of Poison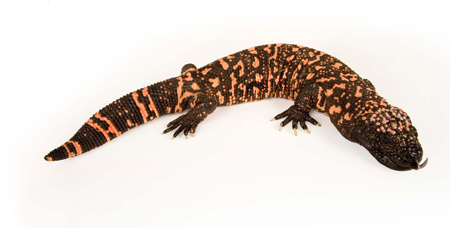 For centuries, humans have marveled at the secrets of poisons and sought to harness their toxic powers -- and this exhibition will explore both the biological basics of poison and the ways in which people have confronted its perils and potential. Approaching poison from several different perspectives -- as a dynamic defense system used by animals locked in evolutionary arms races with predators; as a compelling thread that runs through familiar legends, myths, and fables; as a series of mysteries visitors encounter and solve, including what suddenly poisoned Captain James Cook and two naturalists aboard his ship in the autumn of 1774; and as a promising source for powerful medical treatments -- The Power of Poison brings into sharp focus this captivating topic. Through Aug. 10, 2014. American Museum of Natural History, 200 Central Park West, NY, 212-769-5100, amnh.org
Masterpieces & Curiosities: A Medieval Aquamanile
This first Masterpieces and Curiosities installment centers around a rare Jewish aquamanile, a lion-shaped hand-washing pitcher made of bronze and created in Germany in the twelfth century, surrounded by five additional works to provide further context. Through March 23, 2014. The Jewish Museum, 1109 Fifth Ave., NY, 212-423-3222, thejewishmuseum.org
The Fashion World of Jean Paul Gaultier: From the Sidewalk to the Catwalk
The Brooklyn Museum will be the only East Coast venue for The Fashion World of Jean Paul Gaultier: From the Sidewalk to the Catwalk, the first international exhibition dedicated to the groundbreaking French couturier, organized by the Montreal Museum of Fine Arts. The critically acclaimed touring show, already seen by half a million people, spans the Paris-based designer's 37-year career and includes iconic examples never before exhibited. The Brooklyn presentation will include new material not shown in the previous venues, including ensembles from his recent runway shows. Through Feb. 23, 2014. Brooklyn Museum, 200 Eastern Parkway, Prospect Heights NY, 718-638-5000, brooklynmuseum.org
The Butterfly Conservatory: Tropical Butterflies Alive in Winter

The Butterfly Conservatory: Tropical Butterflies Alive in Winter!, a perennial favorite visited by millions of children and adults, returns to the American Museum of Natural History. This popular winter attraction invites visitors to mingle with up to 500 iridescent butterflies fluttering among blooming tropical flowers and lush green vegetation inside a free-standing, balmy, 1,200-square-foot enclosure. Through May 26, 2014. American Museum of Natural History, 200 Central Park West, NY, 212-769-5100 amnh.org
I Have Seen the Future: Norman Bel Geddes Designs America
The first major exploration of the theater and industrial designer who The New York Times dubbed "the Leonardo da Vinci of the 20th century." A visionary who was equally comfortable in the realms of fact and fiction, Bel Geddes (1893-1958) played a significant role in the 1920s and '30s, shaping not only modern America but also the nation's image of itself as innovator and leader into the future. Bel Geddes most famously expressed his dynamic vision of this American future -- streamlined, technocratic, and optimistic -- with his unforgettable Futurama exhibition at the 1939-40 New York World's Fair. Bringing together some 200 never-before-seen drawings, models, photographs and films of theater sets and costumes, housing projects and appliances, airplanes and automobiles, the exhibition underscores that Bel Geddes sought nothing less the transformation of American society through design. Through Feb. 10, 2014. Museum of the City of New York, 1220 Fifth Ave., NY 212-534-1672, mcny.org
Christopher Wool
At the heart of Christopher Wool's creative project, which spans three decades of rigorous and highly focused practice, is the question of how a picture can be conceived, realized, and experienced today. Engaging the complexities of painting as a medium, as well as the anxious rhythms of the urban environment and a wide range of cultural references, his agile, largely monochrome works propose an open-ended series of responses to this central problem. This retrospective will fill the museum's Frank Lloyd Wright-designed rotunda and an adjacent gallery with a rich selection of paintings, photographs, and works on paper, forming the most comprehensive examination to date of Wool's influential career. The exhibition is organized by Katherine Brinson, Associate Curator, and will be accompanied by a fully illustrated catalogue. Closed Thurs. Through Jan. 22, 2014. Solomon R. Guggenheim Museum, 1071 Fifth Ave., NY, 212-423-3500, guggenheim.org
Edgar Allan Poe: Terror of the Soul
The works of Edgar Allan Poe have frightened and thrilled readers for more than one hundred-fifty years. Terror of the Soul -- inspired by the preface to Tales of the Grotesque and Arabesque -- explores Poe's poetry, fiction, and literary criticism, with a key thematic emphasis examining his profound influence on later writers. The exhibition will feature nearly one hundred items, drawn primarily from the Morgan's holdings and The Henry W. and Albert A. Berg Collection of English and American Literature at The New York Public Library, two of the most important collections of Poe material in the United States. In addition, a number of exceptional private collection loans will also be on view. Through Jan. 14, 2014. Morgan Library & Museum, 225 Madison Ave., NY, 212-685-0008, themorgan.org
Vermeer, Rembrandt, and Hals: Masterpieces of Dutch Painting from the Mauritshuis
The Frick Collection will be the final venue of an American tour of paintings from the Royal Picture Gallery Mauritshuis, The Hague. This prestigious Dutch museum, which has not lent a large body of works from its holdings in nearly thirty years, is undergoing an extensive two-year renovation that makes this opportunity possible. Tues.-Sat., 10am-6pm; Sun., 11am-5pm. Through Jan. 19, 2014. Frick Collection, 1 E. 70th St., NY, 212-288-0700, frick.org
The Armory Show At 100
Works by Duchamp, Matisse, Picasso, Cézanne, Gauguin, and Van Gogh will be on display in The Armory Show at 100: Modern Art and Revolution, which revisits the famous 1913 New York Armory Show on its 100th anniversary. In 1913, the International Exhibition of Modern Art came to New York. Organized by a small group of American artists and presented at the Lexington Avenue Armory (and thus nicknamed the Armory Show), it introduced the American public to European avant-garde painting and sculpture. The public sensation and the polemical critical responses to the show represented a watershed in the history of American art, This exhibition is an exploration of how the Armory Show inspired seismic shifts in American culture, politics, and society. Through Feb. 23, 2014. New-York Historical Society, 170 Central Park West, NY, 212-873-3400, nyhistory.org
Robert Indiana: Beyond Love
Robert Indiana (b. Robert Clark, 1928) first emerged on the wave of Pop Art that engulfed the art world in the early 1960s. Bold and visually dazzling, his work embraced the vocabulary of highway signs and roadside entertainments that were commonplace in post war America. Presciently, he used words to explore themes of American identity, racial injustice, and the illusion and disillusion of love. The appearance in 1966 of what became his signature image, LOVE, and its subsequent proliferation on unauthorized products, eclipsed the public's understanding of the emotional poignancy and symbolic complexity of his art. This retrospective will reveal an artist whose work, far from being unabashedly optimistic and affirmative, addresses the most fundamental issues facing humanity -- love, death, sin, and forgiveness -- giving new meaning to our understanding of the ambiguities of the American Dream and the plight of the individual in a pluralistic society. Through Jan. 5, 2014. Whitney Museum of Art, 945 Madison Ave., NY, 212-570-3600, whitney.org
New Photography 2013
Presenting recent works by eight international artists who have expanded the field of photography as a medium of experimentation and intellectual inquiry. Their porous practices -- grounded in photographic artist's books, sculpture, photomontage, performance, and science -- creatively reassess the themes and processes of making pictures today. Artists include Adam Broomberg and Oliver Chanarin, Brendan Fowler, Annette Kelm, Lisa Oppenheim, Anna Ostoya, Josephine Pryde, and Eileen Quinlan. Through Jan. 6, 2014. Museum of Modern Art (MoMA), 11 W. 53rd St., NY, 212-708-9400, moma.org
Space Shuttle Pavilion & The Enterprise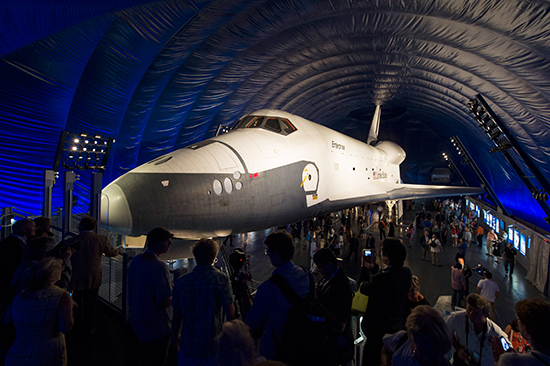 The Intrepid celebrates the Pavilion's reopening, reintroducing New York City to Enterprise, the first space shuttle orbiter, an engineering marvel and shining example of American ingenuity that inspired a generation of dreamers and doers. Intrepid Sea, Air & Space Museum, Pier 86, W. 46th St. and 12th Ave., NY, 212-245-0072, intrepidmuseum.org
American Modern: Hopper To O'Keefe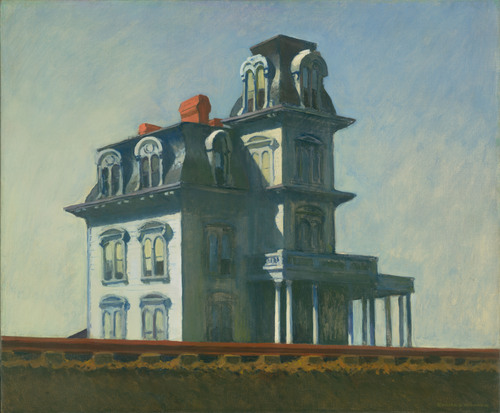 Edward Hopper's House By The Railroad
Drawn from MoMA's collection, American Modern takes a fresh look at the Museum's holdings of American art made between 1915 and 1950, and considers the cultural preoccupations of a rapidly changing American society in the first half of the 20th century. Including paintings, drawings, prints, photographs, sculptures, and films, American Modern brings together some of the Museum's most celebrated masterworks, contextualizing them across mediums and amid lesser-seen but revelatory works by artists who expressed compelling emotional and visual tendencies of the time. The selection of works depicts subjects as diverse as urban and rural landscapes, scenes of industry, still-life compositions, and portraiture, and is organized thematically, with visual connections trumping strict chronology. Artists represented include George Bellows, Stuart Davis, Edward Hopper, Georgia O'Keeffe, Charles Sheeler, Alfred Stieglitz, and Andrew Wyeth, among many others. Far from an encyclopedic view of American art of the period, the exhibition is a focused look at the strengths and surprises of MoMA's collection in an area that has played a major role in the institution's history. Through Jan. 26, 2014. Museum of Modern Art (MoMA), 11 W. 53rd St., Midtown NY, 212-708-9400, moma.org
Shipwreck! Pirates & Treasure
SHIPWRECK! Pirates & Treasure will capture your imagination and take you on an incredible journey through thousands of years of maritime history. Experience hurricane-force winds, pick up treasure with a robotic arm, and explore the mysteries of the deep. This exhibit features over 500 authentic artifacts, including gold and silver treasures, as well as the incredible science and technology used to work thousands of feet below the ocean's surface. Through Jan. 5, 2014. Discovery Times Square, 226 W. 44th St., NY 866-987-9692, discoverytsx.com/exhibitions/shipwreck
Frogs: A Chorus of Colors
Back by popular demand, this delightful exhibition introduces visitors to the colorful and richly diverse world of frogs. More than 150 live frogs, from the tiny phantasmal dart-poison frog (which is less than an inch long) to the enormous African bullfrog (which can be as big as 8 inches in diameter), are shown in re-created habitats, complete with rock ledges, live plants, and waterfalls. Featuring approximately 25 species from such countries as Argentina, Bolivia, Borneo, Brazil, China, Indonesia, Madagascar, Malaysia, Paraguay, Russia, Sumatra, the United States, and Uruguay, the exhibition explores the evolution and biology of these amphibians, their importance to ecosystems, and the threats they face in the world's changing environments. Interactive stations throughout the exhibition invite visitors to activate recorded frog calls, view videos of frogs in action, and test their knowledge about these fascinating amphibians. Through Jan. 5, 2014. American Museum of Natural History, 200 Central Park West, NY, 212-769-5100, amnh.org
Whales: Giants of the Deep
A new exhibition that transports visitors to the vibrant underwater world of the mightiest animals on Earth. Whales explores the latest research about these marine mammals as well as the central role they have played for thousands of years in human cultures. From the traditions of New Zealand's Maori whale riders and the Kwakwaka'wakw peoples of the Pacific Northwest to the international whaling industry and the rise of laws protecting whales from commercial hunting, the exhibition traces the close connections humans and whales have shared for centuries. Through Jan. 5, 2014. American Museum of Natural History, 200 Central Park West, 212-769-5100, amnh.org
Archives:
Related Articles
Most Popular Articles on CGNY