Post Feedback | Printer-Friendly | Send Article to a Friend
April 16, 2014 - by CG News Desk
Featured Listings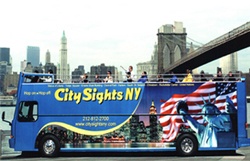 CitySights NY· Our hop-on, hop-off bus tours are operated on a fleet of new...
The 2014 Tribeca Film Festival begins today! Also, Easter is this Sunday. Celebrate with family and friends by stopping at the Easter Parade on Fifth Avenue, by St. Patrick's Cathedral. For tips on Easter dining, read our story here. It's your last chance to see The Orchid Show: Key West Contemporary, closing April 21! For additional listings, click here.
04/16
2014 Tribeca Film Festival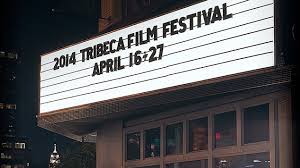 A celebration of film, including the closing Family Festival Day. Schedule of films for 2014 to be announced. Visit website for more information. Tribeca Family Day, April 26. Festival end date, April 27. tribecafilmfestival.org
Taste the Museum! Beer from Around the World
Grab your passport and go on a guided after-hours culinary journey through select cultural halls of the Museum. This walking food tour will be complete with tales and tastings of beers from around the world, learning about the beverages earliest history, fermentation techniques, and more! $40. 7pm. American Museum of Natural History, 200 Central Park West, NY 212-769-5100, amnh.org
Jim Breuer
After his renowned four year run on Saturday Night Live and starring role in the cult classic movie "Half Baked" alongside Dave Chappelle, Jim Breuer was propelled into superstardom. With many accolades including Comedy Central's "100 Greatest Stand-Ups of All Time," Breuer is currently one of the top touring comedians in the country. Through April 19. Gotham Comedy Club, 208 W. 23rd St., NY, 212-367-9000, gothamcomedyclub.com
Christian Finnegan The Gorgeous Mosaic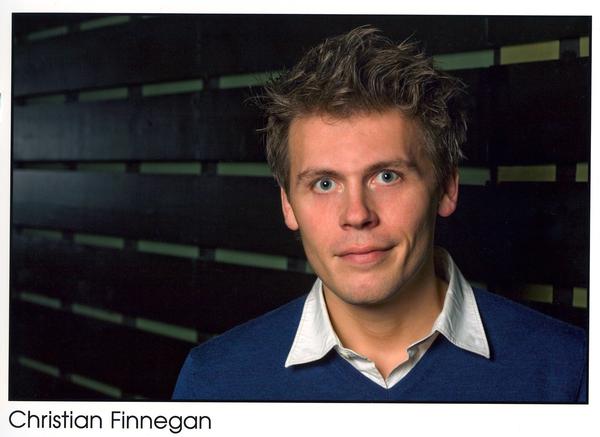 Comedian Christian Finnegan (VH1, Comedy Central, TBS, etc.) presents The Gorgeous Mosaic, featuring an hour of New York City-related stories and stand up comedy. Finnegan has lived in New York City for nearly twenty-three years. The question is…why? From rat-infested apartments to bicycle confrontations to overly-intimate delivery guys, Christian has endured every conceivable form of urban indignity. And yet, he remains pathologically devoted to this damn town. A mixture of standup and storytelling. Through April 19. The People's Improv Theater, 123 E 24th St., NY, 212-563-7488, thepit-nyc.com
Cirque du Soleil Amaluna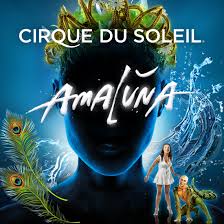 Amaluna invites the audience to a mysterious island governed by Goddesses and guided by the cycles of the moon. Their queen, Prospera, directs her daughter's coming-of-age ceremony in a rite that honors femininity, renewal, rebirth and balance which marks the passing of these insights and values from one generation to the next. In the wake of a storm caused by Prospera, a group of young men lands on the island, triggering an epic, emotional story of love between Prospera's daughter and a brave young suitor. But theirs is a love that will be put to the test. The couple must face numerous demanding trials and overcome daunting setbacks before they can achieve mutual trust, faith and harmony. Through May 18. Citi Field, 126th St and Roosevelt Ave. Flushing, NY, 718-507-8499, cirquedusoleil.com/Amaluna
The Black Fives

This exhibition covers the pioneering history of the African American basketball teams that existed in New York City and elsewhere from the early 1900s through 1950, the year the National Basketball Association became racially integrated. Through July 20. New-York Historical Society, 170 Central Park West, NY, 212-873-3400, nyhistory.org
The Orchid Show: Key West Contemporary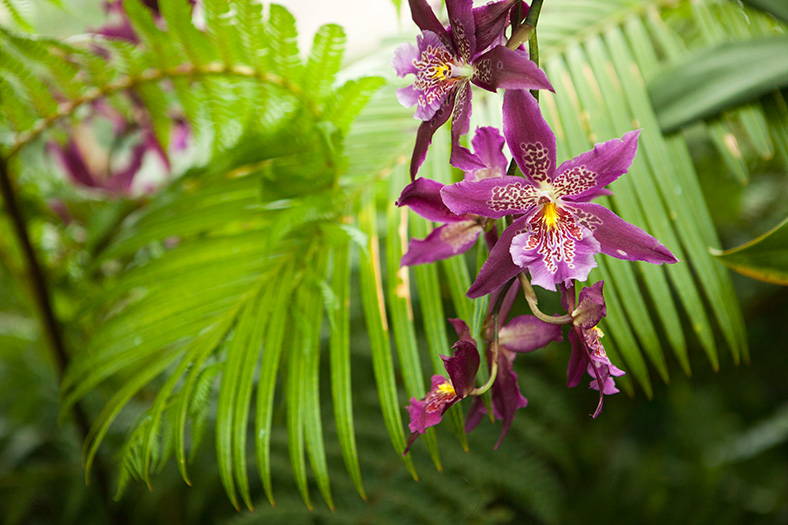 Final days! A mosaic of classic and exotic orchids greets visitors in the Enid A. Haupt Conservatory - a living design inspiration taking its cues from a modernist Key West estate garden. Throughout the exhibition, varied events and activities capture the artistic and cultural appeal of the Keys through live weekend music, a curated poetry walk, our much-loved Orchid Evenings, and more. Through April 21. New York Botanical Garden, 2900 Southern Boulevard, Bronx NY, 718-817-8700, nybg.org
Antonio Canova: The Seven Last Works
Antonio Canova (1757-1822), the greatest of all Neoclassical sculptors, remains famous above all for the elegant nude mythological subjects that he carved exquisitely in marble. He also worked in a deeply serious, deceptively simple style. This less familiar Canova is revealed in an extraordinary series of full-scale plaster models illustrating episodes from the Old and New Testaments. Such models, used to review his compositions before they were transferred into stone, were a distinctive feature of his sculptural practice. These Biblical scenes were made in connection with a project for thirty-two low reliefs that were to adorn the Tempio Canoviano, the church he built for his home town Possagno, which later became the artist's mausoleum. He completed only seven models before his death. Through April 27. Metropolitan Museum of Art, 1000 Fifth Ave., NY 212-535-7710, metmuseum.org
Gauguin: Metamorphoses
This exhibition focuses on Paul Gauguin's rare and extraordinary prints and transfer drawings, and their relationship to his better-known paintings and his sculptures in wood and ceramic. Comprising approximately 150 works, including some 120 works on paper and a critical selection of some 30 related paintings and sculptures, it is the first exhibition to take an in-depth look at this overall body of work. Through June 8. Museum of Modern Art (MoMA), 11 W. 53rd St., NY, 212-708-9400, moma.org
Bello Mania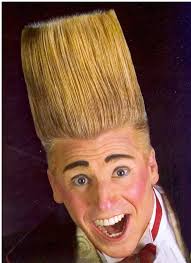 Final days! Nock Nock. Who's there? Back by popular demand, it's Demetrius Alexandro Claudio Amadeus Bello Nock, the gravity-defying dude with the foot-high hair. Returning to the New Vic stage (and his 44-foot sway pole) in BELLO MANIA, "America's Best Clown" (TIME Magazine) delivers brand new wacky antics and favorite daredevil tricks. Whether you're coming back for more or seeing it for the first time, 2013 Drama Desk nominee BELLO MANIA is bound to be the HIGHlight of your spring break. Through April 20. New Victory Theater, 209 W. 42nd St., NY, 646-223-3010, newvictory.org
Pterosaurs: Flight in the Age of Dinosaurs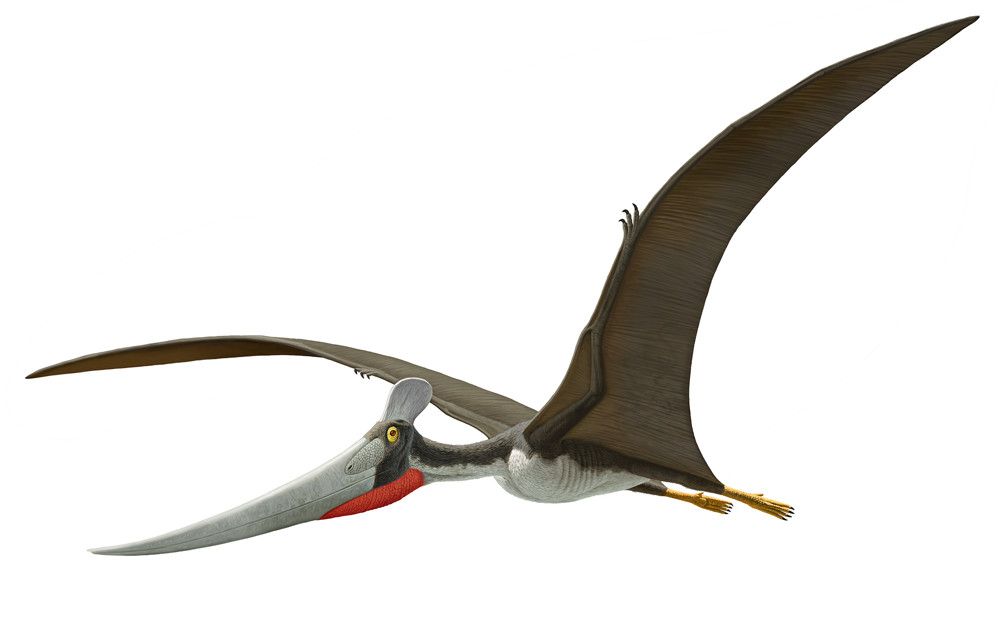 Discover a world where pterosaurs soared overhead in this exciting new exhibition. A diverse group with more than 150 known species ranging from the size of a sparrow to that of a fighter jet, pterosaurs appeared 220 million years ago and survived for more than 150 million years before becoming extinct. What sets them apart from their dinosaur contemporaries is their adaptation for flying, a unique trait visitors will explore through multiple interactive exhibits. Visitors can also investigate pterosaur models, casts, and fossils and find out how these extraordinary ancient vertebrates moved on land and in the air, how they hunted, and what scientists are discovering about them today. Visitors will also glimpse the pterosaurs' ancient world in a dramatic diorama re-creating an inland sea in Brazil where pterosaurs, fishes, crocodiles, and other species co-existed millions of years ago. Through Jan. 5, 2015. American Museum of Natural History, 200 Central Park West, NY, 212-769-5100, amnh.org
04/17
Disney Junior Live On Tour: Pirate and Princess Adventure
A never-before-seen live show featuring favorite characters from Disney Junior's hit series, Sofia the First and Jake and the Never Land Pirates. Through April 21. The Theater at Madison Square Garden, 4 Pennsylvania Plaza, NY 212-465-4459, theatermsg.com
04/18
2014 New York International Auto Show
The most extensive collection of the most technologically advanced vehicles on display anywhere in the world. With more than four floors of displays and nearly 1,000 stunning new 2014/2015 vehicles -- as well as sensational futuristic concept cars -- the 2014 Show is a must-see, fun day out for the whole family. Automakers have lined up dozens of new vehicles to unveil for the first time, along with new fun and informative interactive displays, ride and drives, and eco-experiences that will surprise and amaze visitors to this year's event. 10am-10pm (Sun. until 7pm). Through April 27. Jacob Javits Convention Center, 655 W. 34th St., NY 800-282-3336, autoshowNY.com
Ai Weiwei: According to What?
The first North American survey of the work of provocative Chinese conceptual artist, sculptor, photographer, filmmaker, and activist Ai Weiwei. This will be the first large-scale museum exhibition of Ai's work in New York and the final presentation on the exhibition's tour. The Brooklyn Museum will include several major works not seen in previous venues. Included among the new material is S.A.C.R.E.D., making its first appearance in North America since it debuted to critical acclaim during the Venice Biennale in 2013. Through Aug. 10. Brooklyn Museum, 200 Eastern Parkway, Brooklyn, NY, 718-638-5000, brooklynmuseum.org
Cirque Fridays
Aerialists, dancers, live entertainment. Electronic violinist, drummers & more. 21 +. 11pm. Every Friday. Highline Ballroom, 431 W. 16th St., NY 212-414-5994, highlineballroom.com
Wasabassco Burlesque
Wasabassco's sexiest and most innovative performers take to the stage in one of the most illustrious spaces in the city for a night of tease, spectacle, and couple friendly risqué fun. Starring a monthly rotation of performers and special guests including Evelyn Vinyl, Medianoche, Gal Friday, Go-Go Harder, Hazel Honeysuckle, Kita St. Cyr, Madame Rosebud, Marlo Marquise, Mischief Molly, Mr. Gorgeous, Nasty Canasta, Natasha King, Peekaboo Pointe, Penny Wren, Poison Ivory, Sapphire Jones, Stormy Leather, Doc Wasabassco and many more. 11pm. City Winery, 155 Varick St., NY 212-608-0555, citywinery.com/newyork
Orchid Evenings
View The Orchid Show with a cocktail in hand. Music and unforgettable beauty make for one of New York City's most romantic date destinations. Your ticket includes a complimentary cocktail and special dinner offers at our restaurant partners on Little Italy's Arthur Avenue and beyond. Also April 19* (final date.) 6:30pm-9pm. New York Botanical Garden, 2900 Southern Boulevard, The Bronx NY, 718-817-8700, nybg.org
04/19
Madama Butterfly
Anthony Minghella's breathtakingly beautiful and powerfully dramatic production returns, with Amanda Echalaz making her Met debut as Cio-Cio-San. Rising tenor Bryan Hymel sings Pinkerton. Philippe Auguin, Marco Armiliato, and Fabio Luisi share conducting duties. Also May 1, 5, 9. Metropolitan Opera House, Amsterdam Ave. & 64th St. , NY 212-362-6000, metoperafamily.org/metopera
Anthony Mann
Hollywood director Anthony Mann was one of the greatest directors of two genres that seem very disparate; the film noir, featuring nocturnal and claustrophobic dramas, and the Western, with their dramas set against wide-open landscapes. This series featuring eight of Mann's greatest noir and western films is programmed by Max Alvarez and presented in conjunction with the release of his new book The Crime Films of Anthony Mann. Through April 27. Museum of the Moving Image, 36-01 35 Ave., Astoria, NY, 718-777-6888, movingimage.us
Spring Egg-Stravaganza
Pre-registration required for either of the 2 sessions: 12 noon to 1:30 and 2 to 3:30pm Fee: $5 per child. Join us for two sessions (12 noon to 1:30 and 2 to 3:30) of "egg-xellent" fun for the family! Children can take part in an egg scavenger hunt and old-fashioned games -- plus Flora, QBG's mascot, will be making appearances so don't forget the camera. Pre-registration required. (NOTE: Event parking rate of $10 in effect; discount parking vouchers are not applicable on event days.) 12:00 pm - 3:30pm. Queens Botanical Garden, 43-50 Main Street, NY, 718-886-3800, queensbotanical.org/Eggstravaganza
Strawberry Fields Beatles Brunch
NYC's Longest Running Beatles Show features former members of Broadway's BEATLEMANIA. Doors: 11am - Show: 12pm Ticket includes All-You-Can-Eat-Buffet, Show, Tax and Tip $40 adv, $42.50 door STRAWBERRY FIELDS is a look-a-like, sound-a-like Beatles tribute, dedicated to bringing you as close to a real Beatles concert as you can get. They take you on a Magical Mystery Tour beginning in 1964 complete with mop top hair, black suits with thin ties & the 1st four albums of music. Next stop, 1967, features the psychedelic era of "Sergeant Pepper Lonely Hearts Club Band" album with all the costumes & jackets on the album cover. The last stop includes: "White Album", "Abbey Road" & "Let It Be". Every Saturday. B.B. King Blues Club & Grill, 237 W. 42nd St., NY 212-997-4144, bbkingblues.com
Ronnie Spector's Beyond the Beehive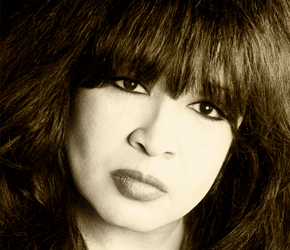 'Beyond the Beehive' tells Ronnie's unique journey in picture, video and song, from Spanish Harlem to the Peppermint Lounge to Beverly Hills, from hit records to hit men, to eventually being inducted into the Rock and Roll Hall of Fame in 2007. Beyond The Beehive tells the story of how Ronnie Spector transformed herself from victim to the ultimate Rock and Roll survivor. 8pm. City Winery, 155 Varick St., NY, 212-608-0555, citywinery.com/newyork
04/20
NYC Easter Parade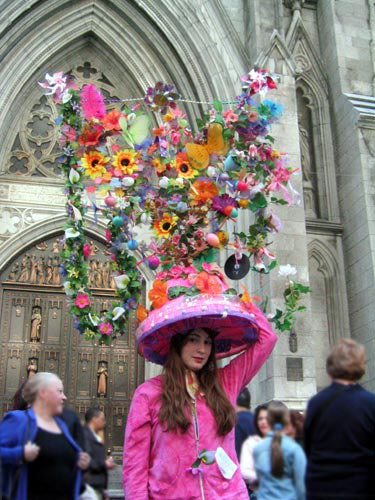 Each year on Easter the best of the bonnets are showcased along Fifth Avenue as New Yorkers celebrate the holiday by roaming the streets in their most festive spring gear. The parade marches north on Fifth Avenue, starting at 49th Street, but the best place to watch is from the area around St. Patrick's Cathedral. 10am-4pm. St. Patrick's Cathedral, Fifth Avenue, Between 49th and 57th streets, Midtown NY
SNEAK PEEK, NEXT WEEK
04/21
Jonny Lang
Sixteen years ago, at the age of 16, Jonny Lang found incredible success with the release of his major label debut album Lie To Me. Fame does not seem to have impacted him from being the same country farm boy from Fargo, ND who got his start in the local clubs of Minneapolis. He survived the passage of youth to adulthood, fell in love, began a family, and in the process passed through the life lessons we all endure. He has a keen sense of what he aims to achieve creatively, what music means to him, and is focused on the impact that his songs bring to the lives of those that encounter his repertoire. For Lang, with the release of Fight For My Soul, he is entering a chapter wherein he has found his true voice. Also April 22. B.B. King Blues Club & Grill, 237 W. 42nd St., NY, 212-997-4144, bbkingblues.com
04/22
Goya and the Altamira Family
This exhibition features Goya's four portraits of members of the Altamira family, including the so-called Boy in Red, one of the Metropolitan Museum's most beloved Old Master paintings. Also on view is a fifth Altamira portrait, by Agustin Esteve. This is the first time these family portraits - now dispersed in public and private collections in Spain and the United States - will be seen together as a group. Through Aug. 3. Metropolitan Museum of Art, 1000 Fifth Ave., NY 212-535-7710, metmuseum.org
11th Annual Games for Change Festival
Three days of inspiring speakers, great games to play, and networking opportunities galore: all to celebrate and promote games that make the world a better place! The Games for Change Festival—New York City's largest gaming event—joins the Tribeca Film Festival this year. Founded in 2004, Games for Change facilitates the creation and distribution of social impact games. Our world-renowned keynote speakers include leading game makers, who are changing the world of games and research leaders who are changing the world with games. Come hear innovative and impactful game makers speak: Jenova Chen (Journey, Flower) Noah Falstein (chief game designer, Google) Mary Flanagan (Tiltfactor Lab) Josh Larson (That Dragon, Cancer) Jane McGonigal (SuperBetter and Author of NYT Best-Seller Reality Is Broken), Paolo Pedercini (Molleindustria) Jesse Schell (CEO, Schell Games) Learn from research leaders who are using games and game thinking to solve some of the world's most intractable problems: Dan Ariely (behavioral economist & best-selling author of Predictably Irrational) Deborah Estrin (pioneer in small data for personal health) Dr. Adam Gazzaley (neuroscientist using games to boost cognitive skill) Dean Karlan (expert in development economics, Yale) Zoran Popovic (creator, Foldit and other games for fun, science and learning) Pontus Westerberg (UN-Habitat, urban design through Minecraft). Through April 24. NYU Skirball Center for the Performing Arts, 566 LaGuardia Pl., NY, 212-352-3101, nyuskirball.org, gamesforchange.org/festival
04/24
Julio Iglesias
Internationally acclaimed singer/songwriter Julio Iglesias performs at Carnegie Hall for the first time in 25 years as part of the 2014 Medal of Excellence Gala, honoring legendary fashion icon and philanthropist Oscar de la Renta. The concert is open to both gala patrons and members of the public. 9pm. Carnegie Hall, 881 7th Ave., NY 212-247-7800, carnegiehall.org
Sebastian Bach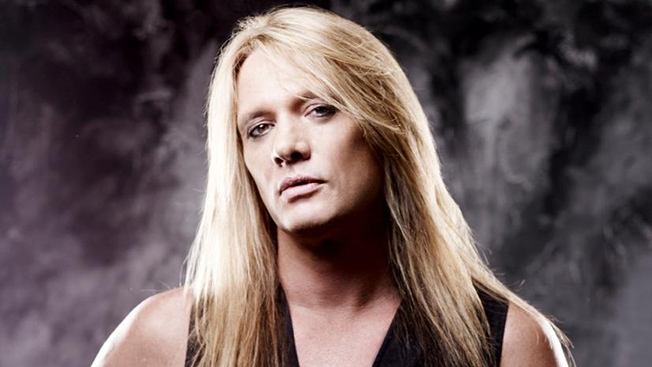 Sebastian Bach has sold in excess of 20 million records worldwide as lead singer with his former band, Skid Row and as a solo artist. Sebastian Bach's most recent solo album, Kicking & Screaming, was met with universal acclaim. Far from just being a multi-platinum recording artist, the singer / songwriter / actor / entertainer has expanded his career over the past decade to include episodic television with a 5-season recurring role on the CW's hit series "Gilmore Girls", starring roles on Broadway ("Jekyll & Hyde", "The Rocky Horror Picture Show") and national touring companies ("Jesus Christ Superstar"), and has appeared regularly on MTV and VH1. 8pm. B.B. King Blues Club & Grill, 237 W. 42nd St., NY, 212-997-4144, bbkingblues.com
ONGOING
Dark Universe
A must see for lovers of all things related to space, is the brand new half-hour sky show at The Hayden Planetarium, Dark Universe, narrated by Neil deGrasse Tyson. Produced by an innovative team that includes astrophysicists and science visualization experts, Dark Universe, starts at the edge of our solar system. After flying through our planetary neighborhood, visualized using the latest scientific data, viewers arrive at California's Mount Wilson Observatory, where Edwin Hubble's discovery that the universe is expanding gave the first hint of the Big Bang. But these revelations have also uncovered intriguing new mysteries. But what is the mysterious dark energy accelerating cosmic expansion? What is the invisible dark matter underlying galaxies that, together with dark energy, account for at least 95 percent of the universe's total energy and mass? In stunningly detailed scenes based on authentic scientific data—including a NASA probe's breathtaking plunge into Jupiter's atmosphere and novel visualizations of unobservable dark matter—Dark Universe explores this new age of cosmic discovery and reveals the mysteries that have been brought to light so far. American Museum of Natural History, Central Park West at 79th St., 212-769-5100; amnh.org
Italian Futurism, 1909-1944: Reconstructing The Universe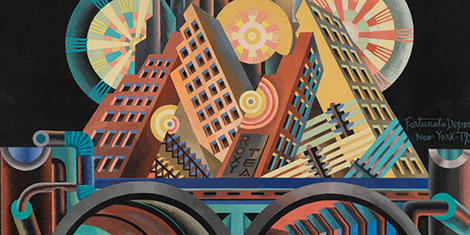 The first comprehensive overview of Italian Futurism to be presented in the United States, this multidisciplinary exhibition examines the historical sweep of the movement from its inception with F. T. Marinetti's Futurist manifesto in 1909 through its demise at the end of World War II. Closed Thurs. Through Sept. 1. Solomon R. Guggenheim Museum, 1071 Fifth Ave., NY, 212-423-3500, guggenheim.org
Masters of Disguise: The World of Camouflage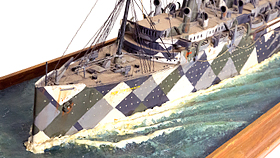 For many animals, the ability to hide in plain sight or look like something entirely different is necessary for survival. "Masters of Disguise: The World of Camouflage" explores the art and science of camouflage in the natural world, as well as its cultural adaptations and how the military has utilized these visual techniques in combat. Using digital imagery, artifacts and interactive elements, visitors will explore color, shade, shapes, and learn how they can fool the eye. Through Aug. 24. Intrepid Sea, Air & Space Museum, Pier 86, W. 46th St. & 12th Ave. NY, 212-245-0072, intrepidmuseum.org
Early American Guitars: The Instruments of C.F. Martin
Christian Frederick Martin, founder of the great American guitar firm C. F. Martin & Co., was the son of a cabinetmaker in Markneukirchen, Saxony. Martin learned to build instruments from the famed Johann Georg Stauffer in Vienna. Due to the restrictive guilds in Markneukirchen, Martin moved to the United States in 1833, settling first in New York City and later moving to Nazareth, Pennsylvania. In the United States, Martin encountered the Spanish-style guitar and incorporated elements from that tradition into his own Viennese style of instrument construction. The result was a new form of the guitar, a style that would become important as a basis for other American makers of the instrument. This exhibition includes approximately thirty-five instruments from the Martin Museum in Nazareth, Pennsylvania, The Metropolitan Museum of Art, and several private collections. Through Dec. 7. Metropolitan Museum of Art, 1000 Fifth Ave., NY 212-535-7710, metmuseum.org
The Flowering of Edo Period Painting: Japanese Masterworks from the Feinberg Collection
Displaying exemplary works from painting schools that arose in Japan in the 17th and 18th centuries, this exhibition allows viewers to discover how Japanese painting evolved from the traditional modes of Chinese and Japanese (Yamato-e) styles that had prevailed through medieval times. More than 90 paintings - including 12 sets of folding screens and a number of hanging scrolls - will be exhibited in two rotations, each consisting of approximately 45 paintings. Rather than focus on the orthodox output of the Tosa and Kano ateliers, which dominated artistic production in the late medieval period, The Flowering of Edo Period Painting will highlight the new, exuberant styles of the Rinpa, Nanga, Maruyama-Shijo, and Ukiyo-e schools, as well as independent painters of the Edo period. Through Sept. 7. Metropolitan Museum of Art, 1000 Fifth Ave., NY 212-535-7710, metmuseum.org
The Power of Poison
For centuries, humans have marveled at the secrets of poisons and sought to harness their toxic powers -- and this exhibition will explore both the biological basics of poison and the ways in which people have confronted its perils and potential. Approaching poison from several different perspectives -- as a dynamic defense system used by animals locked in evolutionary arms races with predators; as a compelling thread that runs through familiar legends, myths, and fables; as a series of mysteries visitors encounter and solve, including what suddenly poisoned Captain James Cook and two naturalists aboard his ship in the autumn of 1774; and as a promising source for powerful medical treatments -- The Power of Poison brings into sharp focus this captivating topic. Through Aug. 10, 2014. American Museum of Natural History, 200 Central Park West, NY, 212-769-5100, amnh.org
The Butterfly Conservatory: Tropical Butterflies Alive in Winter

The Butterfly Conservatory: Tropical Butterflies Alive in Winter!, a perennial favorite visited by millions of children and adults, returns to the American Museum of Natural History. This popular winter attraction invites visitors to mingle with up to 500 iridescent butterflies fluttering among blooming tropical flowers and lush green vegetation inside a free-standing, balmy, 1,200-square-foot enclosure. Through May 26. American Museum of Natural History, 200 Central Park West, NY, 212-769-5100 amnh.org
Space Shuttle Pavilion & The Enterprise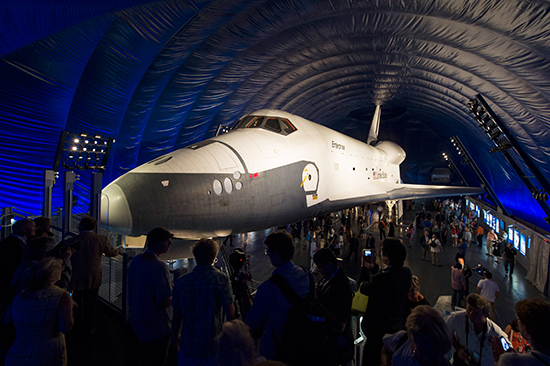 The Intrepid celebrates the Pavilion's reopening, reintroducing New York City to Enterprise, the first space shuttle orbiter, an engineering marvel and shining example of American ingenuity that inspired a generation of dreamers and doers. Intrepid Sea, Air & Space Museum, Pier 86, W. 46th St. and 12th Ave., NY, 212-245-0072, intrepidmuseum.org
Archives:
Related Articles
Most Popular Articles on CGNY