NYC museums have something for everyone, whether your interest is art, history, or New York City itself. From niche spaces dedicated to very specific interests (Himalayan art, the moving image) all the way up to world famous institutions like the Metropolitan Museum of Art and the Guggenheim, museums in NYC show off their cultural bona fides seven days a week.
Poe Cottage: Edgar & Virginia Poe Death Exhibit
Built in 1812, the Poe Cottage in the Bronx is the final home of the famed writer Edgar Allan Poe. Poe rented the cottage for $100 a year starting in 1846; it's now listed on the National Register of Historic Places,
Poe moved there with his wife Virginia to help curb her tuberculosis. (Sadly, she died about a year after they moved into the cottage.) While living there, Poe wrote The Cask of Amontillado, Annabel Lee, and other short stories and poems.
The last remaining structure from the 19th century village of Fordham, the house was restored with furnishings appropriate to the 1840s, including a desk, rope bed, and wicker rocking chair that may have belonged to the family, displayed in rooms including a parlor, bedchamber, and kitchen. The cottage was moved to its current location across the street in Poe Park in 1913.
Visitors can learn more about Poe and his wife in the recently opened Edgar & Virginia Poe Death Exhibit, on view through September 2023. The exhibit, which traveled from Poe Baltimore at Westminster Hall, includes an interactive art installation, a recreation of Poe's funeral, and explanations of the conspiracies that dogged his legacy. It also offers a look at how Poe's clothing may offer clues to his death, a few years after his wife passed away in 1847. The exhibit also includes information on Virginia Poe, and how her influence helped shape Poe's writing, even after she died.
In keeping with Poe's gothic and often morbid aesthetic, visitors can also gaze at mourning jewelry and art made from human hair. A mobile app and a guide are included to answer your (probably many) questions.
640 Grand Concourse, the Bronx, bronxhistoricalcottage.org
The International Center of Photography | Face to Face: Portraits of Artist by Tacita Dean, Brigitte Lacombe and Catherine Opie
Catherine Opie, Jerome Caja, 1993. © Catherine Opie, Courtesy Regen Projects, Los Angeles and Lehmann Maupin, New York, Hong Kong and Seoul and Thomas Dane Gallery, London and Naples.
Face to Face: Portraits of Artist by Tacita Dean, Brigitte Lacombe and Catherine Opie offers audiences a chance to see a rare melding of portraiture of and by artists.
The exhibition includes more than 50 portraits by Dean, Lacombe, and Opie, portraying well-known figures in the arts, from Maya Angelou to Martin Scorsese, John Waters to Joan Didion, to David Hockney and more. Each photographer brings a unique viewpoint to their subjects: the exhibit includes a short film by Dean, a filmmaker, of Hockney in his L.A. studio, giving viewers a rare glimpse into the artist's working process.
French photographer Lacombe, known for her magazine portraits of well, everybody, including Meryl Streep, correspondent Christiane Amanpour, and artist Richard Serra, among countless others, offers a wealth of surprising details—the quirk of an eyebrow, the tilt of a head.
Opie, known for her early photos of the LGBTQ community, shares her mesmerizing portraits of artists and designers, from Kara Walker to Rick Owens.
The portraits are as diverse as the subjects themselves, a combination of intimate and distant, a glimpse into artists at work, in contemplation, playful and fierce, posed and unguarded.
These are portraits, but also windows that take the viewer deeper into the world of subjects used to being in the public eye—but here, frozen in time in a shared moment with the viewer—a rare opportunity indeed.
January 27th-May 12th, 2023. 79 Essex St., icp.org
Kara Walker: Harper's Pictorial History of the Civil War (Annotated)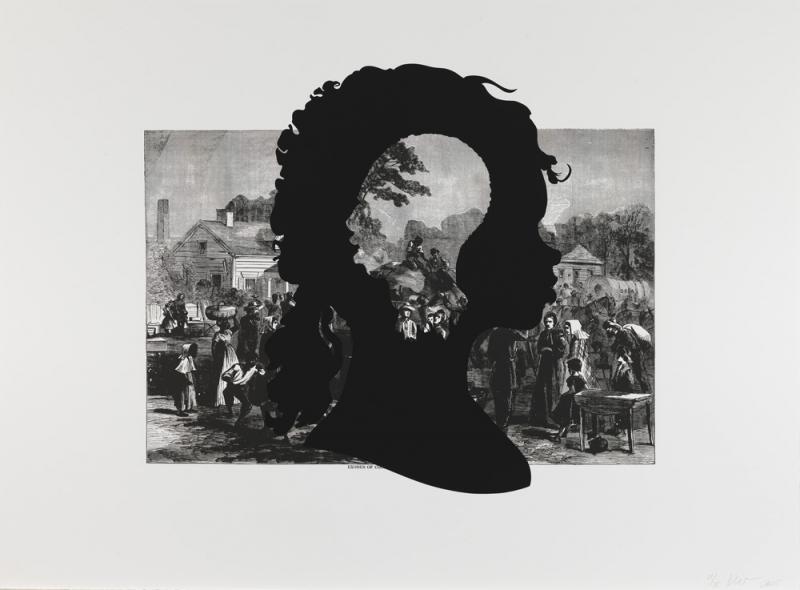 Kara Walker (b. 1969). Exodus of Confederates from Atlanta, from the portfolio Harper's Pictorial History of the Civil War (Annotated), 2005. Offset lithograph and screenprint on paper. Smithsonian American Art Museum, Museum purchase through the Luisita L. and Franz H. Denghausen Endowment. © 2005 Kara Walker.
Known for her evocative, silhouette-like images that offer a powerful commentary on race, slavery, and the antebellum South, African American artist Kara Walker will have an exhibit at the New-York Historical Society starting February 24th, 2023.
The exhibit highlights 15 prints that are based on the two-volume anthology Harper's Pictorial History of the Civil War (Annotated), published in 1866. Walker created the prints by selecting and then enlarging specific illustrations, and then overlaying them with oversize stenciled figures. The result offers a commentary on the omission of African Americans from the Harper's narrative; the stencils visually interrupt the scenes, offering new versions that call up past narratives left out of Harper's. In doing so, the images confront viewers with their power and encourage visitors to confront the legacy of stereotypes and caricatures that still linger today.
The use of silhouettes, often viewed as delicate mementoes that recall a souvenir from one's travels or an imagined, genteel past, are more powerful for their rebuke of this narrative. The exhibit will be given context with additional images, objects, and documents from the museum's own collection; the exhibit travels from the Smithsonian American Art Museum.
Walker's work, powerful and haunting, offers both probing commentary and a rich viewing experience that asks viewers to reexamine both the past—and present—in context of the images. February 24th, 2023-June 11th, 2023. 
New-York Historical Society, 170 Central Park W., nyhistory.org
Now Open | Thierry Mugler: Couturissime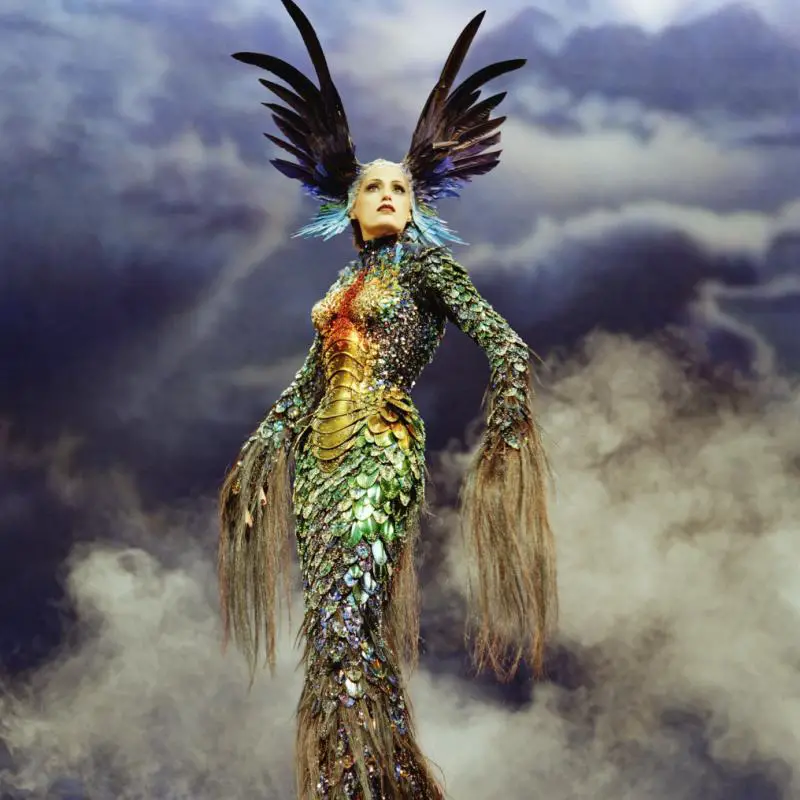 Thierry Mugler: Couturissime. Alan Strutt (British, born 1967). Yasmin Le Bon, Palladium, London, 1997. Evening Standard, October 1997. Haute couture Fall/Winter 1997–98 collection ("La Chimère"). © Alan Strutt.
Known for its stellar permanent collection as well as its well-received roster of special exhibits, the Brooklyn Museum has also become associated with noteworthy fashion exhibitions, such as Thierry Mugler: Couturissime, which opened in November and will be on view through early May.
The first retrospective to explore the works of the cutting-edge designer, the exhibit highlights more than 100 outfits that include haute couture and custom accessories; stage costumes and photographs; as well as a section on fragrance, with an emphasis on Mugler's famous scent Angel, which became part of a new type of fragrance called gourmand, a nod to its "edible" components, such as caramel and honey.
Mugler was especially known for his use of unusual materials, from Plexiglass to actual glass to latex and chrome, as well as his architectural, theatrical, avant-garde designs, many influenced by 1940s-era fashion. The museum's eye-catching installations are also a nod to Mugler's elaborate fashion shows, which often had themes like "vampire devil," and were held in huge arena-like spaces.
The exhibit allows viewers the chance to see his creations in concert with each other, as well as to absorb how truly influential his work was. From advertising campaigns for his perfume to futuristic evening gowns, the show is just that—a show that immerses the visitor in both the spectacle and the details, the distinctive silhouettes, and the lavish materials.
Well-known for designing outfits for celebrities, his looks continue to be worn by personalities ranging from Beyonce to Cardi B. to Kim Kardashian. Looking to own one of his creations? You can, if only in a small way—Angel perfume, created in 1992, continues to be one of the best-selling fragrances in the world. 
The Brooklyn Museum, 200 Eastern Parkway, Brooklyn, NY, brooklynmuseum.org
Coming to NYC: The Sassoons
Henry Jones Thaddeus. Rachel [Sassoon] Beer, 1887. Oil on canvas; 52 × 37 in. (132.1 × 94 cm). Private collection. Formerly in Siegfried Sassoon collection.
Following four generations of the Jewish Sassoon family around the globe, the exhibition The Sassoons opens at The Jewish Museum this spring. The Sassoon family was instrumental in art collecting as well as civic engagement and architectural patronage.
More than 140 works collected from the early 19th century though World War II populate the exhibit, which brings together paintings, illuminated manuscripts, rare Judaica, and rich decorative arts—some from family members themselves, others borrowed from both public and private collections. Not to be missed: Jewish ceremonial art; beautifully decorated Hebrew manuscripts from as early as the 12th century; and delicate Chinese ivory carvings. Paintings from the western canon encompass works by Thomas Gainsborough, John Constable, and Jean-Baptiste-Camille Corot. Gorgeous portraits of family members by John Singer Sargent are also included.
The exhibit traces the path of four generations of the Sassoon family though their collecting history, touching on varied themes from colonialism to discrimination: diaspora to war. In doing so, the exhibit not only charts the history of the family and their interests and passions, but also the major issues that shaped the world at the time the works were collected--and continue to do so today.
Note: A robust selection of adult and family programs will accompany the exhibit, from drawing workshops to tours of the exhibition.
March 3rd-August 13th, 2023, 1109 Fifth Ave., thejewishmuseum.org
Now Open! The Museum of Broadway

Photo: Monique Carboni.
The interactive, experiential Museum of Broadway near Times Square leads guests on a journey through a visual history of Broadway, highlighting groundbreaking moments by showcasing spectacular costumes, props, renderings, rare photos, videos, and more. Along the way, visitors get the stories of some of the pivotal shows that transformed the landscape of Broadway. Exhibits and immersive experiences feature The Phantom of the Opera, The Lion King, HAIR, The Ziegfeld Follies, Show Boat, Oklahoma!, The Wiz, and Rent, among many more. Overall, the museum highlights more than 500 individual productions from the 1700s through the present. 145 W. 45th St., themuseumofbroadway.com
Museum of the Week: Merchant's House Museum

Merchants House Parlor by Denis Vlasov. Photo courtesy Merchant's House Museum.
Nestled among taller buildings in a bustling neighborhood near NYU, the Merchant's House Museum seems like a visitor from another era—which, in fact, it is. The first building designated as a landmark in Manhattan, the museum is the former home of the Tredwells, the wealthy family that lived there from 1833-1935. With more than 3,000 of the family's possessions on view, the house includes household goods, decorative items, clothing, books, and furniture, including 12 chairs attributed to Duncan Phyfe, the famous furniture maker.
While clearly a museum, the house also feels lived in, as if a family member might appear at any moment to greet you. You can wander through the building at your own pace (and that pace might be slow, because the staircase is steep).  Enjoy the displays on every floor, and take time to look particularly at the kitchen and the clothing, both of which sport incredible details. In the summer, a beautiful garden out back beckons.
And the museum has been in the public eye for another reason—it's known as the most haunted building in New York. (Their website even has a section called "Ghosts.") Strange sounds and sights have been noted in the house since the 1930s, when it opened to the public as a museum. Candlelight ghost tours and a monthly virtual show now capitalize on the phenomenon.
Come for the period details, stay for the paranormal—the museum has it all. 
29 E. 4th St., merchantshouse.org
The Metropolitan Museum of Art

Photo by Robert Bye on Unsplash.
With more than two million works of art covering more than 5,000 years of history from across the world, the Met is a must-see for anyone visiting New York. You can't catch everything in a day—or even a week, possibly not a month—so don't try. Rather, whether you're a planner or a wanderer, aim for a mix of the two.
Start on the first floor with a trip to the Egyptian galleries, one of the museum's most popular stops. Be sure to visit the Temple of Dendur, housed in its own gallery. Check out the Arms and Armor collection, also on the first floor. The American Wing courtyard beckons right outside, so admire the sculpture and the Tiffany works of art.
From there, the massive second floor awaits. A stop in European Paintings is a must—many visitors, in fact, head right to the Impressionist galleries. The Asian galleries are vast and incredible, so either choose a section or let your feet wander where they may.
Finish off your visit with a trip to the Greek and Roman galleries back on the first floor; check out the smaller side galleries. And plan for a return visit!
1000 Fifth Ave., metmuseum.org
The Met Cloisters

Annunciation Triptych (Merode Altarpiece). Workshop of Robert Campin (Netherlandish, ca. 1375–1444 Tournai).
The uptown branch of the Met may be located in Fort Tryon Park, at the tip of Upper Manhattan, but you'll feel like you're miles away—and maybe have stepped back in time hundreds of years. The Cloisters, the only museum in the United States dedicated to the art of the Middle Ages, includes sections of five medieval cloisters, and showcases metalwork, sculpture, paintings, and textiles—including the famed Unicorn Tapestries.
In the warmer months, the medieval gardens yield a fascinating glimpse into how plants were used in the Middle Ages; they've been a part of the museum since 1938. Don't miss the plants in the herb garden, in particular, which are grouped by use—from medicine to magic.
The Met Cloisters, 99 Margaret Corbin Drive, Fort Tryon Park, metmuseum.org
The American Museum of Natural History

Photo: D. Finnin, courtesy American Museum of Natural History.
Many people head to the AMNH for the dinosaur exhibits in the Fossil Halls--and they're not wrong; they're extraordinary, and those galleries are the home of many a family on weekends. But the museum also offers several other not-to-be missed exhibits, from the Hayden Planetarium in the Rose Center for Earth and Space to the new Earth and Planetary Sciences Halls, which feature rare gems minerals and meteorite, including one that weighs 34 tons. The revitalized Northwest Coast Hall highlights new exhibits developed in concert with Indigenous communities and includes 1,000 objects from 10 Native Nations of the Pacific Northwest. And coming next year: The Richard Gilder Center for Science Education and Innovation, which will include galleries, classrooms, an immersive experience about nature's hidden realms, and the Susan and Peter J. Solomon family Insectarium, home to the largest leafcutter ant colony in the United States.
200 Central Park West, amnh.org
Museum of Modern Art

Photograph by Jonathan Muzikar, courtesy MoMA.
Boasting one of the finest collections of modern art in the world, the Museum of Modern Art offers viewers a collection with approximately 200,000 sculptures, drawings, paintings, design objects, and more. Works of art from MoMA's collection are shown in rotating exhibits, so visitors can often expect to see things they haven't seen before. The museum's vast holdings include Brancusi, Picasso, Matisse, Mondrian, and Monet.
A rich offering of special exhibitions is also always on view, including "Meret Oppenheim: My Exhibition" (through March 4th, 2023), in which viewers can see the artist's famous fur-lined teacup, among other works.
And don't forget to check out MoMa PS1, in Queens, which focuses on new artists and experimental practices, as well as community collaborations and partnerships.
11 West 53rd St., moma.org
Solomon R. Guggenheim Museum

With its famous Frank Lloyd Wright-designed inverted ziggurat-shaped building visible from blocks away, The Guggenheim has held an iconic presence in New York since 1959. (Wright was actually commissioned to build it in 1943, but various delays meant it wasn't built until 16 years later.) And just being inside the building, no matter how many times you've previously experienced it, is always a thrill. The spiral ramp and unique layout are visually enthralling and unlike any other museum experience. The museum, now one of several across the world, offers exhibits that highlight both the museum's own collection as well as objects from other museums. Check out the ongoing Thannhauser Collection, which includes works by Degas, Manet, van Gogh, and more than 30 by Picasso.
1071 Fifth Ave., guggenheim.org
The Jewish Museum
Photo by Linda Pierce.
One of the oldest Jewish museums in the world (and the first of its kind in the United States), the Jewish Museum offers exhibitions that illuminate Jewish culture for a wide audience. Its collection of nearly 30,000 works of art includes ceremonial objects, books, and media that span 4,000 years. "Scenes from the Collection" offers a rotating exhibit of selected works presented in scenes arranged by theme, using different filters to understand the art. Scenes have included "Coney Island," "Personas" (Portraits) and "Signs and Symbols," which focuses on astrological signs. Don't forget to look at the building itself as you wander through the galleries—designed in French Gothic Chateau-style, it's an extra treat to enjoy as you view the art. 
1109 Fifth Ave., thejewishmuseum.org
The International Center of Photography
Photo by Alex Fradkin.
Founded in 1974 by famed photographer Cornell Capa, ICP's museum is considered the preeminent institution in this country dedicated to photography and visual culture. Capa's original mission was to support "concerned photography"—images that would both educate and enact change. Exhibitions have included a visual history of hip-hop, images of the Lower East side, and documentary projects, as well as early daguerreotypes and multimedia installations. The museum's permanent collection includes more than 200,000 prints and images. ICP is also known for its photography school, from a teen academy to classes for professional photographers, and its library, which contains more than 20,000 books, artist files, and periodicals, open the general public. 
79 Essex St., icp.org
New Museum
The only museum in the city dedicated to contemporary art, the New Museum was founded in 1977 to showcase the work of underrepresented artists. It's also the home of such initiatives as NEW Inc., an incubator for developing ideas at the intersection of art, technology, and design.
Rather than having a permanent collection, the museum exhibits art from galleries, museums, and collectors around the world. Exhibitions cover everything from large-scale paintings to videos to installations examining the phenomenon of vibration and how different rhythms and frequencies affect group dynamics. A robust program of screenings, artists in conversation, book launches, and more round out the experience. The New Museum also offers a strong selection of programs for younger audiences, including an after-school program focusing on workshops, art making, and discussion.
235 Bowery, newmuseum.org
Whitney Museum of American Art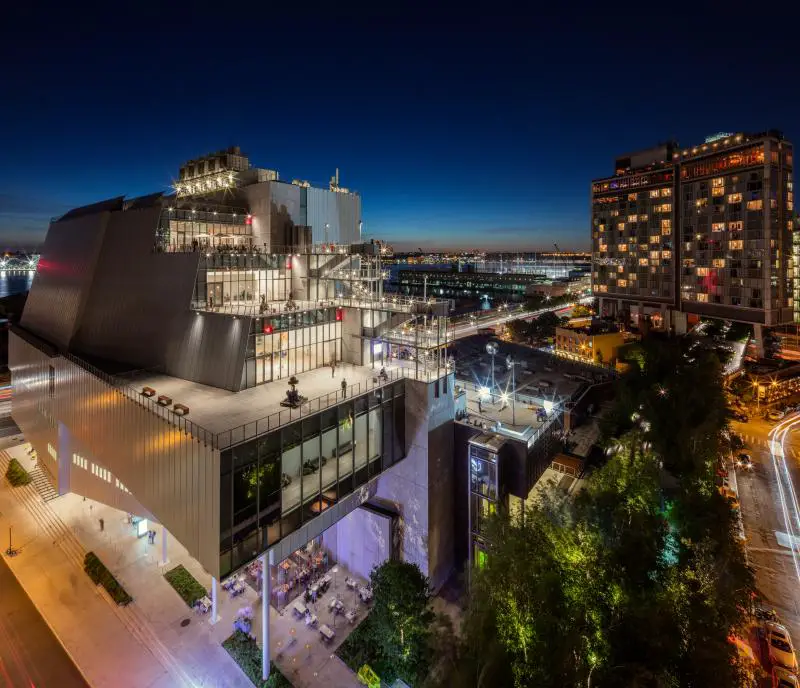 Photograph by Ben Gancsos ©2016.
With more than 25,000 works of art created by more than 3,700 American artists spanning the 20th and 21st centuries, the Whitney offers a multi-tiered approach to exploring the works of the collection, dedicated particularly to living artists. It's well known for the Biennial, the longest running survey of American art, instituted in 1932. Its focus, as the name implies, is a look at art in all media held every two years.
Started by Gertrude Whitney in 1930 (fun fact—she offered her collection of more than 1,500 works of art by living artists to the Met, but they declined) the museum was the first to present a work of a video artist (Nam June Paik); it was also the venue where artists from Cindy Sherman to Jasper Johns were showcased in their first comprehensive museum survey.
While the museum includes work in all media, its strongest holdings are works on paper. It also has particularly fine holdings of artists including Alexander Calder, Brice Marden, and Georgia O'Keeffe.
99 Gansevoort St., whitney.org
The Frick Collection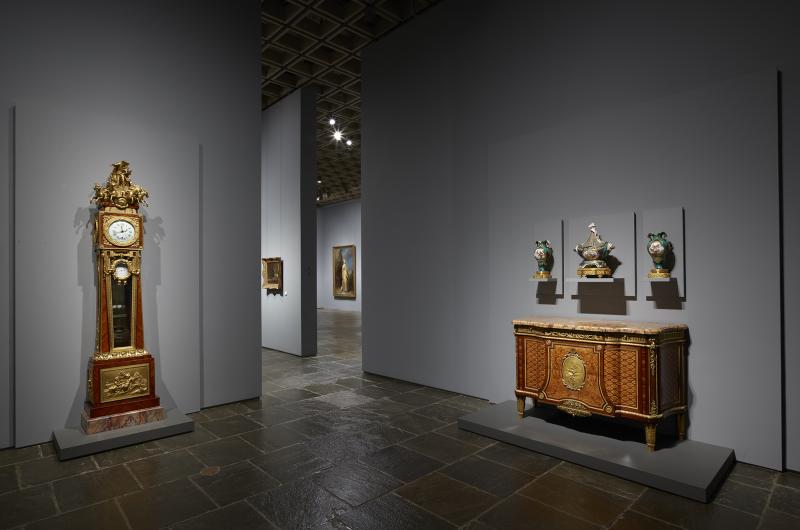 Gallery view by Joseph Coscia Jr.
With works of art from the Renaissance through the early 20th century, the Frick is known particularly for its focus on European sculpture and decorative arts, as well as Old Master paintings. While their historical buildings are closed for renovation, a selection of works can be seen at their temporary home on Madison Avenue. It's a chance to see the works of art in juxtaposition to the structure and design of a Marcel Breuer-designed building, offering a new perspective.
Works on display include those by Goya, Titian, Rembrandt, Whistler, and many others. Not to be missed: the museum's eight portraits by Van Dyck displayed in one gallery for the first time. Also on display: "The Eveillard Gift," which showcases works of art on paper by such renowned artists as Degas, Fragonard, Sargent, and Caillebotte.
945 Madison Ave., frick.org
Cooper-Hewitt, Smithsonian Design Museum
Cooper Hewitt, Smithsonian Design Museum, Great Hall. Photo by James Rudnick © 2014 Cooper Hewitt, Smithsonian Design Museum.
The design branch of the Smithsonian Museum, Cooper-Hewitt is the only museum in the United States entirely dedicated to contemporary and historical design. It's also home to more than 215,000 objects that span more than 30 centuries.
Rotating exhibitions showcase their own collections as well as objects on loan; increasingly, the exhibits also confront contemporary issues, from the role of design during a crisis to the prevalence of facial detection technology.
The collection includes an incredible array of design-centered objects, from miniature silver forks from the 1940s to molded polyurethane chairs that look like spinning tops. Plus 1800s' bandboxes, used for storing men's collar bands, to wallpaper for children's rooms and pre-Columbian textiles. Exhibitions have included "Design and Healing: Creative Responses to Epidemics," "Face Values: Exploring Artificial Intelligence," and "Botanical Lessons."    
2 East 91st St., cooperhewitt.org
New-York Historical Society

The Gallery of Tiffany Lamps shows 100 illuminated examples within a dramatically lit, jewel-like space at the New-York Historical Society.
Visiting the "Holiday Express: Toys and Trains from the Jerni Collection" at the New-York Historical Society is an annual holiday treat for many city dwellers (through February 26th, 2023); the exhibit features models from the turn of the 19th century to World War II and is a thrill for both adults and kids.
But the city's first museum offers much more—it explores New York and its inhabitants throughout its collections and programs, which include paintings, sculpture, and artifacts, from the colonial era to the present day. The museum is especially known for its collection of Tiffany lamps, Audubon's "Birds of America" series, and Hudson River School paintings
The DiMenna Children's History Museum offers young visors a glimpse into New York's past though the stories of young city dwellers who lived in New York from the late 17th to the 20th century; programs for kids include story time and workshops.
And a meal at Storico, the museum's well-reviewed Italian restaurant, will be just the thing to cap off an afternoon there.
170 Central Park West, nyhistory.org
Museum of the City of New York

MCNY exterior, Filip Wolak.
The Museum of the City of New York interprets, celebrates, and documents New York—past, present, and future.
Many of the museum's nearly 750,000 objects make appearances in its special exhibitions, which have focused on topics including "Food in New York;" and "City of Faith," plus ongoing exhibits like "Starlight," a hanging light installation, and "Activist New York," which looks at social activism from the 17th century right up to today.
The Prints & Photographs collection includes more than 400,000 prints and negatives from the mid 19th century to the present, including the work of such luminaries as Jacob Riis, who photographed the lower east side in the late nineteenth century. The linchpin of the Prints collection is the J. Clarence Davies Collection of 12,000 views of New York from the 17th-19th centuries, starting with the earliest view of New Amsterdam, shown in 1625-26.
The permanent collection also includes architectural drawings, furniture, theater memorabilia, textiles, and more. And if it's on view, don't miss the famed Stettheimer Dollhouse, an extraordinary work with details like miniatures by famous artists.
1220 Fifth Ave., mcny.org
Rubin Museum
Focused on the ideas, culture and art of the Himalayas, the subject of their permanent collection galleries, the Rubin Museum introduces visitors to an in-depth look at art from that region. The museum's 10-year Mandala Lab installation, for example, guides viewers through five experiences that encourage participants to embark on an inner journey centered on self-awareness as well as awareness of others. Many exhibits are up for an extended period, such as "Gateway to Himalayan Art," which introduces viewers to forms, meanings, and traditions of Himalayan art in the museum's collections.
K2 Friday nights feature free admission, plus cocktails music, exhibition tours, and more. Sundays bring free art-making workshops for families.
And plenty of programs are designed to help visitors destress, from mediation to writing exercises. (And who couldn't use a little of that these days?)
150 W. 17th St., rubinmuseum.org
The Tenement Museum

The Tenement Museum tells the story of the working-class tenement residents who moved to New York from other parts of the United States and other parts of the world; in other words, the immigrants who added to the story of New York. The museum offers visitors a chance to—temporarily—become immersed in the world of these families through their living quarters, from kitchens to hallways. The museum is housed in an actual tenement building—the personal belongs found in the building became the foundation for the museum. Guided tours offer a rich glimpse into the world of these stories seen through time, and the intersection of the themes of identity, architecture, and urban development, among others.
In addition to museum tours, walking tours of the neighborhood are also available, adding to the depth of understanding of the neighborhood.
103 Orchard St., tenement.org
El Museo del Barrio
Showcasing the art of Latino, Caribbean, and Latin American cultures, El Museo del Barrio's collection includes more than 8,000 objects than span 800 years of art; it encompasses works of art from pre-Columbian Taino artifacts to 20th-century drawings, paintings, sculpture, and documentary films. Many of their programs are bilingual, including the Coqui Club, a bilingual toddler program.
Exhibitions have included "En Foco: The New York Puerto Rican experience 1973-74;" and "Reynier Leyva Novo: Methuselah," a digital artwork that looks at the migration of a single monarch butterfly. Their permanent collection is divided into six thematic categories, including Urban Experiences; Expanded Graphics; African and Indigenous Heritages; Craft Intersection; Women Artists; and Representing Latinx.
1230 Fifth Ave., elmuseo.org
The Morgan Library & Museum

Once the personal library of financier J. Pierpont Morgan (his son transformed the building and its holdings into a public institution) the Morgan Library & Museum now offers a showcase for both the exquisite building, an Italian Renaissance-style palazzo, as well as its holdings of rare books, including historical manuscripts, early printed books, and some of the earliest forms of writing. Don't miss the Gutenberg Bible, dating to the mid-15th century.
The museum hosts ongoing special exhibitions, but the not-to-be-missed venue and the heart of the building is the library itself, especially the East Room, also known as Mr. Morgan's Library. With its three stories of books and a 16th-century tapestry depicting one of the seven illuminated manuscripts, it's easy to spend all your time in there, simply gaping at the astounding room. (It's often been referred to as the most beautiful room in New York.)
The museum now includes a performance hall, reading room and a central court, connecting the buildings--and the people--to the art, as it's somewhat reminiscent of an Italian piazza.
225 Madison Ave., themorgan.org
Brooklyn Museum

With a strong permanent collection as well as an incredible array of special exhibitions, the Brooklyn Museum is the city's second largest museum and contains one and a half million works of art. It's housed in a beaux Art building by the firm of McKim, Mead & White (who also designed part of the Morgan Library). Founded in 1989, it was initially designed be the largest art museum in the world; even if it's not, it's still spectacular. The museum is particularly strong in Egyptian and American art; don't miss the Steinberg Family Sculpture Garden, which features salvaged architectural elements from throughout New York.
Special exhibits are wide-ranging and have included "Climate in Crisis: Environmental Change in the Indigenous Americas," and "Death to the Living, Long Live Trash."
Also notable: "The Dinner Party" by Judy Chicago, a massive table set with 39 place settings, each of which represents an important woman from history.
200 Eastern Parkway, brooklynmuseum.org
Queens Museum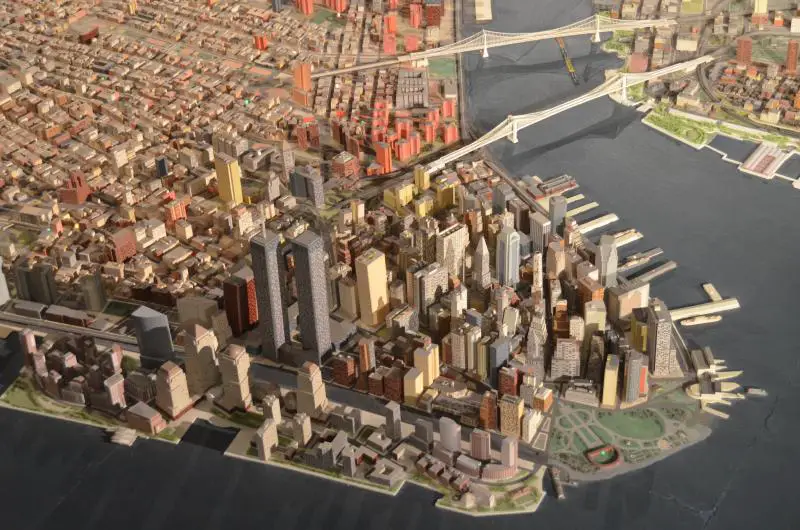 Chris Devers/Flickr.
One of the most interesting things about the Queens Museum is where it's located: on the grounds of the1939-40 and 1964-65 World's Fairs, in a building that housed the United Nations from 1946-1950 and was also the city's official pavilion during the two World's Fairs.
In keeping with their location, it's not surprising that the museum's mission is to provide arts and education programming for the people of New York, and specifically, Queens. Their permanent collection includes The Neustadt Collection of Tiffany Glass, on long-term view; it includes floral and geometric lamps as well as landscape and figural windows. Also on long-term view: Their Worlds' Fair Collection. More than 900 objects are on display in their Visible Storage Unit, from plates to miniature models.
Its centerpiece is the Panorama of the City of New York (above), an incredible mini metropolis complete with each of the 895,000 buildings constructed prior to 1992.
New York City Building, Flushing Meadows, Corona Park, queensmuseum.org
Museum of the Moving Image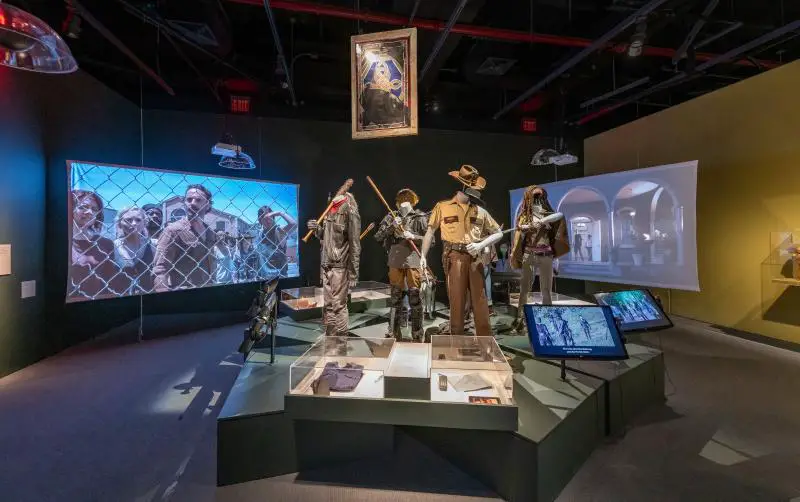 The centerpiece of the Living with The Walking Dead exhibition features the costumes of key characters Rick, Morgan, Negan, Carol, Daryl, Maggie, Michonne, Father Gabriel, and Jadis. Image: Thanassi Karageorgiou/Museum of the Moving Image.
The only museum in the country dedicated to all forms of the moving image, the Museum of the Moving Image offers insights into all facets of the medium, from programs of classic films to discussions with luminaries in the world of film and TV.
The museum offers options for everyone from the pop-culture fanatic to the serious student of film history. Exhibits have included a study of The Walking Dead TV show, a retrospective of the work of Japanese documentary filmmaker Noriaki Tsuchimoto, and an interactive exhibit on stop-motion animation.
"Behind the Screen," the museum's core exhibit, offers artifacts centered around creating, promoting, and exhibiting TV, movies, and digital media; these include licensed merchandise, fan magazines, costumes, video and computer games, and even movie theater furnishings. Over 1,400 objects are currently on display.
The museum also offers great programs for kids, teens, and families, and have included game labs for teens and an exploration of the work of Jim Henson.
36-01 35 Ave., Astoria, Queens, movingimage.us
Neue Galerie
Celebrating works of art created in Austria and Germany; the Neue Galerie focuses on important movements of the 20th century. For the former, there's an emphasis on the works of Max Beckmann, Ernst Ludwig Kirchner, and Emil Nolde; as well as artists of then Bauhaus; the relationship between the fine and decorative arts in Vienna around 1900 is the focus of the latter.
The museum celebrates its 20th anniversary with "The Ronald S. Lauder Collection," featuring approximately 500 works of art from collection of the museum's founder.
And while you're there, a visit to Café Sabarsky is highly recommended; if you want to skip the man course and head right to dessert, we won't tell.
1048 Fifth Ave., neuegalerie.org
Bronx Museum of the Arts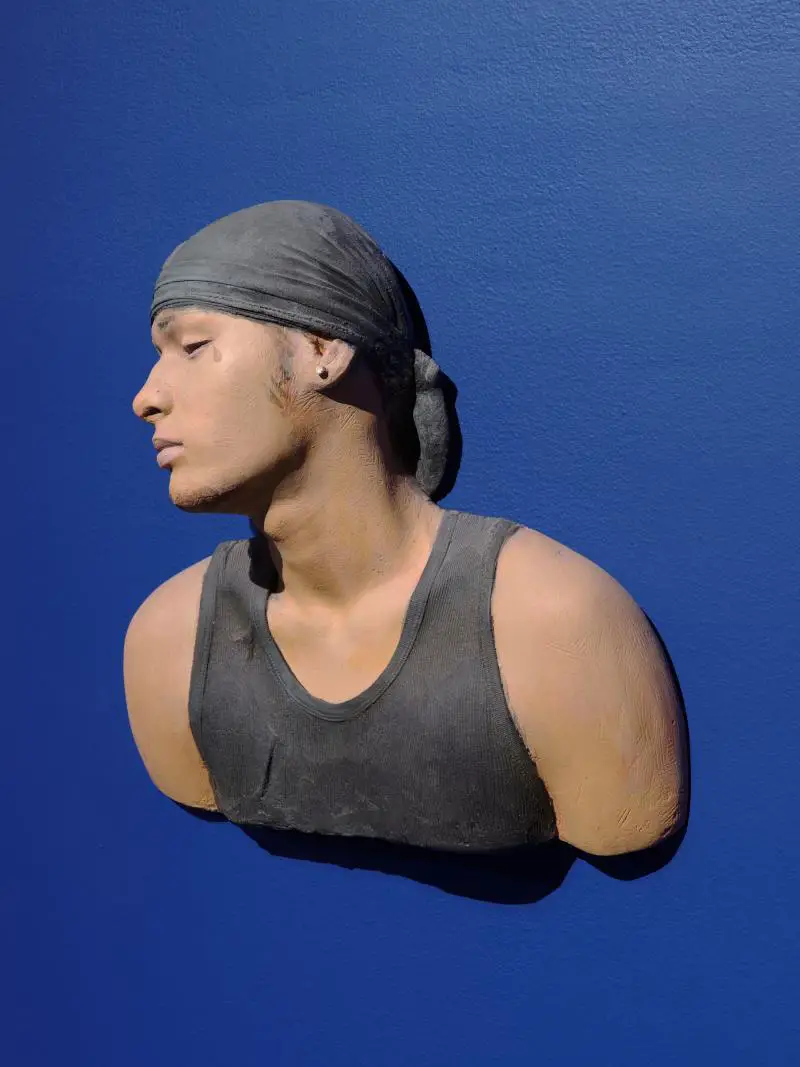 John Ahearn, Scorpio, 2008. Acrylic on plaster, 20 x 20 x 8 inches. Courtesy of Martha Cooper, New York.
A contemporary art museum, the Bronx Museum of the Arts aims to connect its audiences the urban experience through both its permanent collections and special exhibitions as well as its education programming. The exhibits generally revolve around the Bronx itself, with an emphasis on social justice, such as in "Abigail Deville: Bronx Heavens," which focuses on found materials as a way to connect with real and imagined ancestral histories. Also currently on display is "Swagger and Tenderness: The South Bronx Portraits by John Ahearn and Rigoberto Torres" (above; through April 30th, 2023), with vibrant portraits of South Bronx locals.
The museum's imaginative roster of programming runs the gamut from salsa lessons and a salsa party to family days and conversations with artists. Teen and afterschool programs focus on older students, including Teen Council, a paid internship program.       
An added bonus? Admission is always free.
1040 Grand Concourse, bronxmuseum.org
Museum of Arts and Design
Looking for an afternoon surrounded by intriguing design objects? Get Mad. Or rather MAD—the Museum of Arts and Design, which is filled with innovation in craft art and design. Among MAD's most creative offerings are the Artist Studios. Through the program, visitors can engage with artists working onsite by asking questions and observing their process.
Exhibits include "Queer Maximalism x Machine Dazzle," the first solo exhibition of Matthew Flower (Machine Dazzle), which displays his creations for theater as well as photography and video. Don't miss the permanent exhibit "Seeing is Believing" by Judith Schaechter. Commissioned for the museum when it opened in its new building in 2008, two hundred geometric images create a dazzling riff on a medical rose window.
2 Columbus Circle, madmuseum.org
American Folk Art Museum
Focusing on the self-taught artist, the American Folk Art Museum highlights individuals whose artistic experience has been personal rather than the result of formal artistic training. Folk art itself can cover a wide range of objects and interpretations, but is often utilitarian (a quilt, a weathervane), and reflects the life and identity of a community.
The museum's collection includes more than 8,000 works of art from almost every continent, and ranges from quilts to bookplates to portraits. The airy, light-filled space often hosts a few exhibits at a time, many drawn from their own collections. Because it's a relatively small space, and the museum generally features only a few exhibits at a time, you can easily see everything in offer in one visit.
The museum is the sole venue for the exhibition "Morris Hirshfield Discovered," the most extensive assortment of his work ever displayed.
2 Lincoln Sq., Columbus Avenue at West 66th Street, folkartmuseum.org
Fotografiska

Billing itself as "a museum experience for the modern work," Fotografiska offers rotating photography exhibits in immersive spaces. With five floors of exhibit space, the museum showcases its work in a landmark building built in 1894.
Founded in Stockholm in 2010, the museum now boasts six locations around the world, with an eye towards creating impact and change through its exhibits. Photographers whose works have been featured in New York include fashion photographer and music video director David LaChapelle, interdisciplinary artist Kia LaBeija, and three winners of the Leica Women Foto Project Initiative.
A wide array of events, from discussions over dinner to live music and performances, offers visitors a way to explore the exhibits in more depth.
281 Park Avenue S., fotografiska.com
The National September 11 Memorial & Museum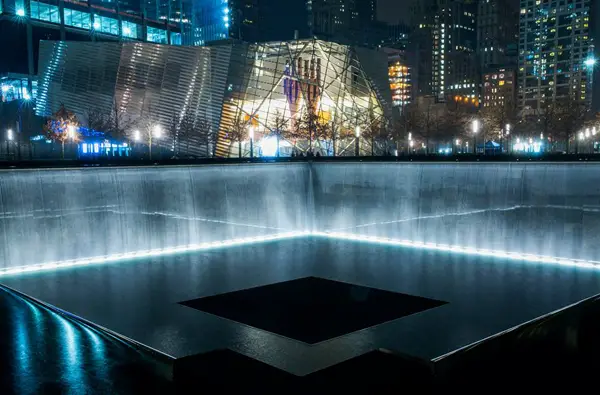 The National September 11 Memorial & Museum features two core exhibitions at the foundation of the former World Trade Center complex. A memorial exhibition—In Memoriam—pays tribute to the 2,983 men, women and children killed on 9/11 and in the 1993 WTC bombing. A historical exhibition tells the story of what happened on 9/11 at the three attack sites in the U.S. and around the world. It also explores what led up to the terror strikes, the immediate aftermath, and the ways 9/11 continues to shape our world. On the plaza outside you'll encounter two reflecting pools, featuring North America's largest man-made waterfalls. 180 Greenwich St., 911memorial.org
New York Transit Museum
You may already spend more time in the subway than you'd like, but we're going to suggest one more trip down the subway stairs.
Except this time, you're won't be leaving the station.
The New York Transit Museum—naturally—lies down a flight of subway steps in Brooklyn. Founded in 1976, the museum tells the story of mass transportation in the city, from the engineering marvels that designed the subway system to the workers who helped build it.
Housed in an actual 1936 subway station, the museum offers a rotating exhibit of 20 vintage subway and elevated cars that date back to 1907. The best part? Visitors can board the cars, spin their way through a procession of turnstiles (especially popular with kids), and sit at the wheel of a city bus (also popular with the under-12 set). It's fascinating to trace the evolution of both the subway and latest technology as you explore the various cars.
The museum also offers changing exhibits that focus on the history—and future—of mass transit. These exhibits often include photographs, ephemera, and objects such as fare boxes, parking meters, fire hydrants, and traffic lights. The permanent collection (worth exploring) includes Steel, Stone, and Backbone: Building New York's Subways, which looks at the construction methods that were needed to build the city's first subway system at the turn of the 20th century; as well as Moving the Millions, which highlights the subway's evolution.
This subway ride is worth it; no endless waits on the platform required. 99 Schermerhorn St,, nytransitmuseum.org      
Eldridge Street Synagogue

Photo by Rick Naramore.
Step inside the landmark Eldridge Street Synagogue and step back in time, as you learn about the Jewish immigrants who found religious freedom in their new country, the opulent sacred space they built in 1887, and the 20th-century restoration that saved this decaying masterpiece. You can experience the magic on a docent-led or self-guided tour. 12 Eldridge St., eldridgestreet.org
Intrepid Sea, Air & Space Museum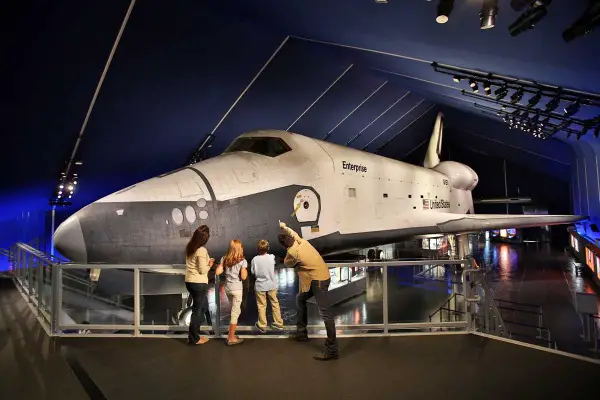 Enterprise photo by Svetlana Jovanovic.
The Intrepid Sea, Air & Space Museum is again welcoming visitors to this National Historic Landmark, which served tours of duty in World War II and the Vietnam War. You can explore the entire historic aircraft collection on the aircraft carrier's flight deck and in the hangar deck. The Intrepid Museum also includes the Space Shuttle Pavilion, home to Enterprise, the world's first space shuttle, which paved the way for America's successful space shuttle program. All this year, the museum is celebrating its remarkable journey from its 1982 founding to becoming part of the fabric of New York City and a world-class cultural institution. The commemoration will feature new exhibits, a preview of future restoration of historic spaces, and special virtual and in-person  programming. While celebrating its past and present, the Museum will also take an aspirational look forward at its future. Pier 86, West 46th St. and the Hudson, intrepidmuseum.org
National Museum of the American Indian
National Museum of the American Indian George Gustav Heye Center in New York City. Photo by David Sundberg (2016).
Sitting at the foot of the Wiechquaekeck Trail, an old Algonquin trade route (you might know it better as Broadway), the Smithsonian's National Museum of the American Indian is where the many nations of America come together in the historic Alexander Hamilton U.S. Custom House. 1 Bowling Green, americanindian.si.edu
AKC Museum of the Dog
Dog days: In a city where canines seem to be prancing down every street corner, napping by every outdoor table, and running after Frisbees in every park, it's no surprise that there's an entire museum dedicated to them.
The permanent collection at the AKC Museum of the Dog includes a treasure trove of dog-related art and artifacts, from watercolors and prints to bronzes and ceramics. (Some of the world's s finest porcelain makers, from Royal Doulton to Meissen, are included.) Plus, you'll find objects like trophies and collars.
Almost all dog breeds are represented here—although may not always be on display—but the museum has especially strong holdings in depictions of German Shepherds, Bulldogs (those two are currently in in the top five most popular dogs in the country), Mastiffs, and Great Danes.
Interactive exhibits are a fun addition here—the core exhibit is "Meet the Breeds," which allows visitors to focus on specific breeds and learn all about their personalities, jobs, and history. Fun feature: visitors can also find where these breeds are represented in the collection. You can discover which dog breed you resemble (and vice versa) and learn how to train a working dog, then test your skills with a virtual dog onscreen.
Puppy love, indeed.
101 Park Ave., museumofthedog.org
The Museum of Jewish Heritage–A Living Memorial to the Holocaust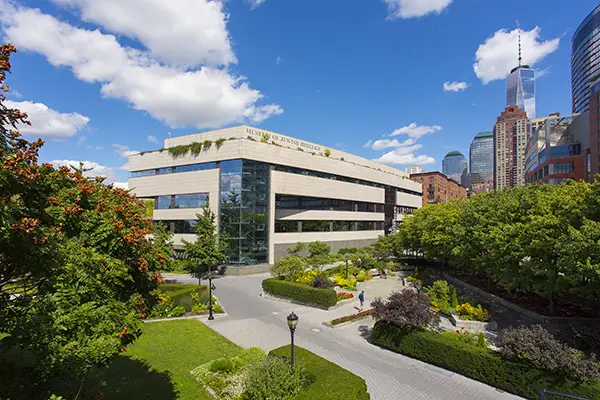 The Museum of Jewish Heritage–A Living Memorial to the Holocaust is New York's contribution to the global responsibility to never forget. The third largest Holocaust museum in the world, the museum anchors the southernmost tip of Manhattan and completes the cultural and educational landscape it shares with the Statue of Liberty and Ellis Island. 36 Battery Pl., mjhnyc.org
The Museum at FIT
Billing itself as "the most fashionable museum in New York City," the Museum at FIT has more than 50,000 pieces of clothing and accessories dating from the 18th century to the present in its permanent collection; the museum focuses especially on current avant-garde looks. One of the few museums to focus exclusively on fashion, The Museum at FIT was founded in 1969 and moved to its current location on West 27th Street in 1974. The museum is known particularly for its special exhibitions, which have included Gothic: Dark Glamour, the first exhibit dedicated to the gothic style of dress (2009) and the more recent Dior + Balenciaga: The Kings of Couture and Their Legacies (it closed this past fall), which examined two of the world's most influential couturiers.
The museum itself encompasses three galleries: the lower level, dedicated to special exhibitions; The Fashion and Textile History Gallery, which offers rotating exhibits (it changes every six months) from the museum's permanent collection; and Gallery FIT, which showcases student and faculty exhibitions.
Through May 14, 2023, you can catch Designing Women: Fashion Creators and Their Interiors, which looks at the intersection of fashion and interior design.
Also not to miss: Fresh, Fly, and Fabulous: Fifty Years of Hip Hop Style, opening February 8, 2023, focusing on hip hop styles and influence, from its beginnings in New York to its reach across the world.
Whether you have a passion for fashion or are more interested in the role fashion has played—and continues to play—in the cultural landscape, the Museum at FIT offers a way to enjoy and experience both.
227 W. 27th St., fitnyc.ed
Poster House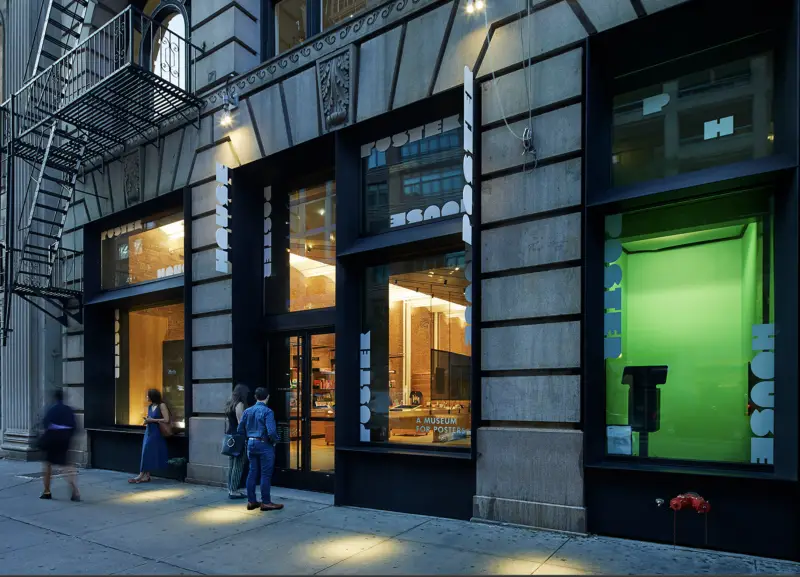 Whether you grew up in the suburbs or a city, liked soft rock or heavy metal, wanted to be a teacher or an artist, you probably had a poster on your wall. Therein lies the appeal of Poster House: pretty much everybody, at one time or another, has owned a poster.
The first poster museum in the United States, Poster House explores the impact that posters have had on society and culture, examining them as both historical documents and graphic communication. Used in just about every corner of society, from advertising to public awareness, posters also impact just about everyone at every age.
The museum opened in 2019, looking to fill a niche in accessible design. They now have a permanent collection, rotating special exhibitions, and ongoing events, from lectures to hands-on workshops for kids.
Current exhibitions include With My Little Eye: Warnings for the Homefront, which examines propaganda posters created during the second World War (on view through April 16th); as well as Schoolgirls at War: French Propaganda posters from World War I (also through April 16th). The latter explores the program in which the French government asked French schoolgirls to create posters about voluntary rationing; 16 posters were printed, all created by girls between the ages of 13 and 16. The posters were a huge success and were credited with renewing patriotism in the French population. Seen in concert with each other, the two exhibits present a fascinating look at a little-known aspect of the two World Wars.
Poster House offers the opportunity to explore the use of posters in the context of a museum setting and in juxtaposition to other posters. It offers audiences the chance to explore how vast the impact of this medium has been—and continues to be.
And if you still feel that a wall isn't complete without a poster hanging on it, never fear: the shop offers a wide range of products—including, of course, posters.
119 W. 23rd St., posterhouse.org
Spyscape
If you've ever wanted to be a spy (and let's face it, who hasn't?), this one's for you: Spyscape offers a mix of cool interactive experiences and background info on the real world of spies.
Try your hand (or, more accurately, your feet) at escaping a crisscrossed network of light beams. Test your detecting skills in the new Batman experience—with some help from other iconic DC characters. Will the evil empire take over? Not with your skill and derring do.
Visitors can also learn about encryption by discovering the real cryptologists who helped crack the German Enigma Machine (a kind of cipher) during World War II. Don't miss the actual code books and code-breaking devices.
In "Deception," you'll encounter the FBI agent who sold secrets to the Russians for more than 20 years, and encounter state-of-the-art lie-detection machines.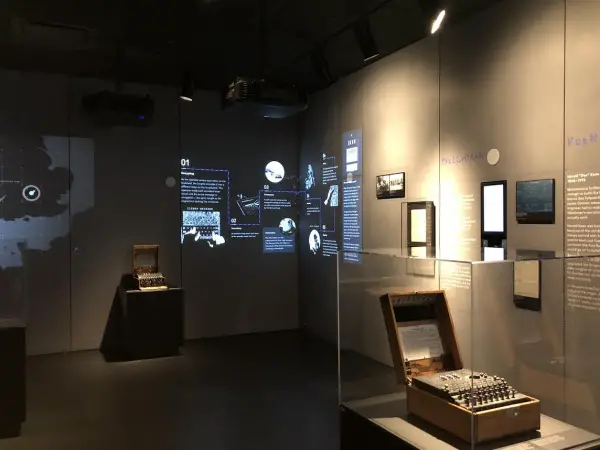 Other areas include "Surveillance," which shows how corporations and governments use data surveillance (extremely sobering, to say the least) and information on how female journalists were able to free 2,000 slaves using their spy know-how.
Don't miss "Hacking," which explains a teen was able to break into the CIA; or "Cyber -Warfare," which examines such real-world issues as Phishing.
And if you've ever pictured yourself accompanying James Bond on one of his missions—or just enjoy the movies—"Special Ops" introduces you to the original Q, who inspired the suave spy.
Don't bypass the interactive experiences, especially if you have kids with you: the challenges were designed by a former Head of Training at MI6.
And if you're looking for bragging rights about how well you did—as you should—make sure to get your profile after you complete all the challenges, which put your skills to the test.
Because who knows? One day that talent for code breaking may come in handy. Don't you want to be ready?
928 Eighth Ave., spyscape.com
MoMA PS1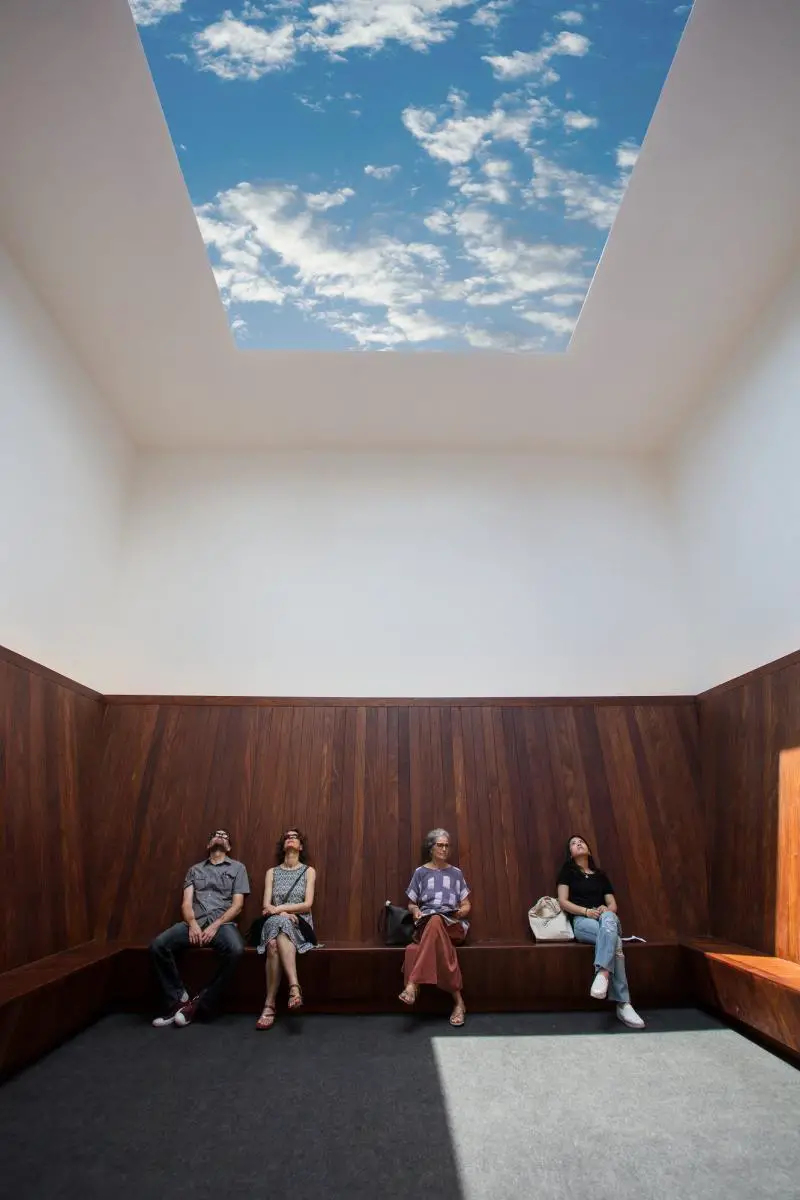 MoMA PS1 long-term installation Meeting by James Turrell. 1980–86/2016. Light and space. The Museum of Modern Art, New York. Gift of Mark and Lauren Booth in honor of the 40th anniversary of MoMA PS1. Photo: Pablo Enriquez.
MoMA PS1, the  "younger sibling" of MoMA (the Museum of Modern Art), offers a deep dive into the ways creativity can inspire and enable artists. Its focus is artist-centered, and offers audiences new ways to experience and engage with new works of art.
Though April 23rd, 2023, visitors can experience Jumana Manna: Break, Take, Erase Tally, the artist's first major museum exhibit in the United States. Charting the artist's interdisciplinary approach, the exhibit encompasses 20 works—including films and sculpture—that look at the often-paradoxical practices in law, science, and agriculture. How do land-based practices like farming relate to colonial policies, and even climate change? The exhibit uses a variety of narrative approaches to answer this question.
Other exhibits include Umar Rashid: Ancien regime Change 4, 5, and 6 (though March 13th, 2023); it incorporates history and myth to examine how political and cultural power is created—and how it might be undone. Textiles, drawings, paintings, and a multimedia sculpture created specifically for the exhibit include 30 works that represent the final chapter in Rashid's ongoing Ancien Regime Change series, which looks at the colonial regimes of the 18th century. The new works in this exhibit hark back to the history of New York.
The museum also offers a strong roster of artist talks, screenings, workshops, and performances that complement the exhibits and expand on the goal of bringing to life artists' visions.
22-25 Jackson Ave., Long Island City, momaps1.org
The Noguchi Museum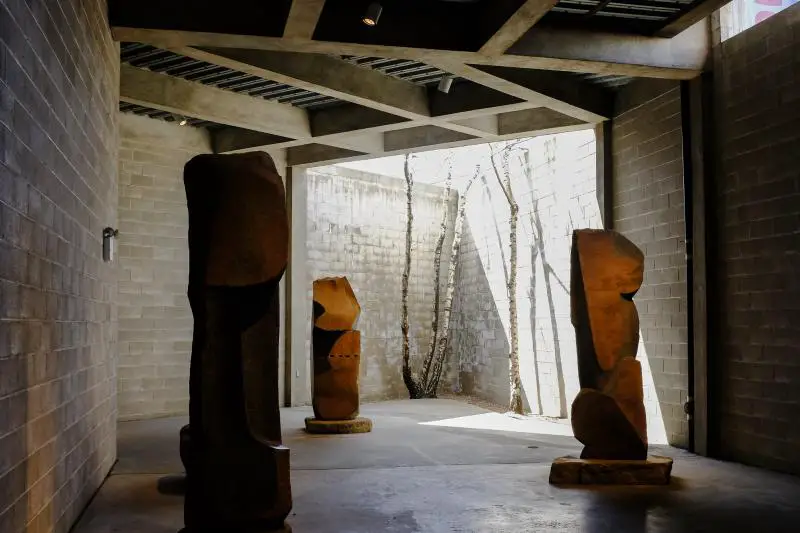 Billie Grace Ward/Flickr
Known for his large-scale works incorporating materials from bronze to stainless steel to marble, Isamu Noguchi is also recognized for being the first living artist to establish a museum that showcased his own work. While often known for his sculpture, the artist also created furniture, landscapes, and even set designs. His travels around the world introduced him to forms and materials from countries including Mexico and China, all of which he incorporated into his work. Unlike many artists, Noguchi has not been associated with one particular school or movement, which imbues his works with a sense of both freedom and mystery.
Housed in a repurposed 1920s industrial building across the street from what was the artist's studio, The Noguchi Museum holds the largest collection of Noguchi's works in the world. In keeping with the artist's philosophy about art being experiential, one notable feature of the installations is that the works are often shown with no physical barriers—and no written interpretation. The goal? To allow visitors to create their own interpretation and connection with the art.
The permanent installations were installed by Noguchi himself; the museum also offers rotating temporary exhibits that explore various theme in the artist's work. These exhibits often include not just sculpture, but also models, drawings, and even some of Noguchi's personal possessions. Currently on view through September: Noguchi Subscapes, which focuses on the artist's interest in the hidden and unseen through the display of approximately 40 works of art, mostly drawn from the museum's collection.
In nice weather, visitors shouldn't miss the outdoor sculpture garden, both an oasis as well as a further opportunity to interact with the works of art. The garden, like the other installations, offers visitors the chance to both observe and interact, with the experience creating an added layer of richness to the visit.
9-01 33rd Rd., Queens, NY, noguchi.org
The City Reliquary
With a focus on New York City artifacts, the quirky City Reliquary aims to connect visitors to the city's present—and past.
The museum started as a window display in the home of City Reliquary's founder in 2002; it included Statue of Liberty figurines as well as a set of dentures found in Dead Horse Bay; viewers could listen to a recording that guided them through the display.
Four years later, the museum moved to a permanent home just a few blocks away, complete with a ribbon cutting by the Brooklyn Borough president.
Today, The City Reliquary offers both a permanent collection and rotating exhibits that showcase both city stories and community collections. The former includes fascinating bits of New York history, from fragments of landmark buildings to subway tokens and paint samples from the L train platform. The rotating exhibits have included one on the evolution of Wonder Woman in context with the women who both contributed to her evolution and were also instrumental in breaking down barriers for women in the city (Wonder Women: NYC's Heroes of Heterodoxy).
The community collections give New York collectors a chance to showcase their holdings, whatever they may be. Displays have included everything (and we do mean everything) from objects that share a name with their collection (Glen Eden) to artifacts that represent daily life in the city.    
The museum also offers a series of events that include "Bike Fetish Day" and "Collector's Night," as well as screenings, contests, and festivals.
Quirky, eccentric, and wide-ranging, the exhibits at the City Reliquary offer an up-close-and-personal look at the small details and carefully selected mementoes that reveal the people and passions that make up the city—one Statue of Liberty figurine at a time.
370 Metropolitan Ave., cityreliquary.org
Bartow-Pell Mansion Museum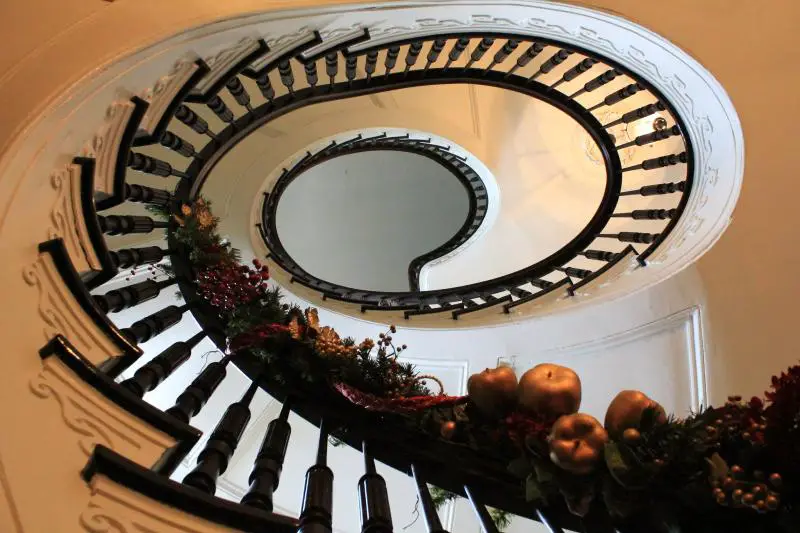 Francisco Daum/Flickr
One of New York's great joys is discovering the small, the hidden, the path less trodden. Add to that list the Bartow-Pell Mansion Museum, a historic house museum in the Bronx.
Formerly a mansion owned by Robert Bartow—a descendant of Thomas Pell, who originally purchased the land on which the mansion stands—the building became a museum in 1946. It now includes the house and grounds, encompassing a formal terrace; herb and perennial gardens; a fountain; a Children's Organic Garden; a family memorial plot; and an 1840s stone carriage house. All are owned by the City of New York, and the mansion is a national and New York City landmark. It's also the last mid-19th century country-estate home in the Pelham Bay area.
Located in Pelham Bay Park (which is more than three times the size of Central Park), the elegant house boasts a late Federal-style facade and Greek Revival period rooms. You can explore the exquisitely furnished interiors and stroll the gardens; you'll feel like you've time travelled, or perhaps stepped into the pages of a particularly vivid 19th century novel. Fun fact: Mayor Fiorella LaGuardia used the mansion as a summer office in the 1930s.
Be sure to look at the details: the game table, the pocket doors, and the desk of Aaron Burr, who married Theodosia, a distant Bartow relative.
Our favorite: the Orangerie—the sun-filled room with huge windows, an unusual feature in an American home.
Ongoing events make the experience here even more memorable, from seasonal Candlelight Tree Tours in the evenings during the holiday season, to concerts, tea parties, arts and crafts, lectures, and more.
No need to time travel or even actually travel—you can be the inhabitant of a 19th century mansion only a subway ride away—if only for an afternoon.
895 Shore Rd., The Bronx, bartowpellmansionmuseum.org
NYC Museums News
Coming Soon to The Guggenheim: Sarah Sze: Timelapse
Work in progress by Sarah Sze, 2022. © Sarah Sze. Photo: Courtesy Sarah Sze Studio.
It's about time: This spring, the Guggenheim Museum will transform its building into a series of site-specific installations by renowned artist Sarah Sze. Spaces including the building's exterior, the sixth level of the rotunda, and the even the adjacent tower level gallery will all be used. The exhibit will take advantage of the building's incredible design to offer a meditation on how perception of time and space are affected by the constant bombardment of both virtual and real objects and images. The exhibition will start outside the building, where images will be projected on the façade; one projection will mirror in real time the cycle of the moon throughout the course of the exhibit. Video, sculpture, drawing, and even sound will all play a role inside the building.
The museum will also showcase two works from its collection, on view in New York for the first time: Sze's first work of art to incorporate video, Untitled (Media Lab, Casino Luxembourg) 1998, which meshes found art and video; and Timekeeper, a multimedia installation with an artist's desk at its center. Opens March 31st, 2023. 1071 Fifth Ave., guggenheim.org
Reopened

The New York Hall of Science (NYSCI) has hosted its grand reopening. Fresh renovations are everywhere, including on the mini golf course and the Design Lab (above), which lets visitors design and build while solving creative problems.
A Major Ruscha Event at MoMA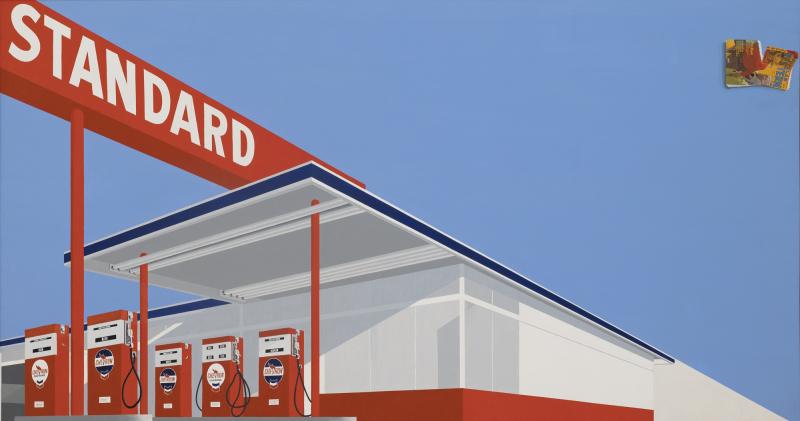 Ed Ruscha. Standard Station, Ten-Cent Western Being Torn in Half. 1964. Oil on canvas, 65 × 121 1/2" (165.1 × 308.6 cm). Private Collection, Fort Worth. © Edward Ruscha, photo © Evie Marie Bishop, courtesy of the Modern Art Museum of Fort Worth.
The Museum of Modern Art has announced ED RUSCHA / NOW THEN, the most comprehensive presentation of the artist's work, and his first solo exhibition at MoMA, will be coming next year. The show will run from September 10th, 2023, through January 6th, 2024. Spanning 65 years, the exhibition will feature over 250 works, produced from 1958 to the present, in mediums including painting, drawing, prints, film, photography, artist's books, and installation.
New Museum Exhibits in NYC
Edward Hopper's New York at the Whitney Museum of American Art

Edward Hopper, Manhattan Bridge Loop, 1928. Oil on canvas, 35 × 60 in. (88.9 × 152.4 cm). Addison Gallery of American Art, Phillips Academy, Andover, MA. © 2022 Heirs of Josephine N. Hopper/Licensed by Artists Rights Society (ARS), New York. Image courtesy Art Resource, NY.
Known for paintings of quiet, moody places that can evoke a feeling of unease and loneliness, Edward Hopper often focused on New York, the city where he lived for almost 60 years. The exhibit Edward Hopper's America focuses not on a world of skyscrapers and crowded streets, but on the largely uncrowded areas, the hidden nooks and crannies, and the paradoxes of confrontation between old and new, public and private.
The exhibit includes Hopper's very earliest impressions of the city, shown through sketches, illustrations, and prints, as well as materials from the Sanborn Hopper Archive, recently acquired by the museum and including ephemera, photographs, correspondence, and journals that offer depth into the artist's life in the city. His later paintings are here as well, a testament to his unique perspective on the urban experience and the melancholy and isolation that can exist even in a crowded metropolis.
As much about Hopper as it is about New York, the exhibition is a must-see for anyone who loves Hopper's work, or who wants to know more about his art and relationship with New York—or perhaps even their own relationship to the ever-changing city. Through March 5th, 2023.
99 Gansevoort St., whitney.org
A New Museum Downtown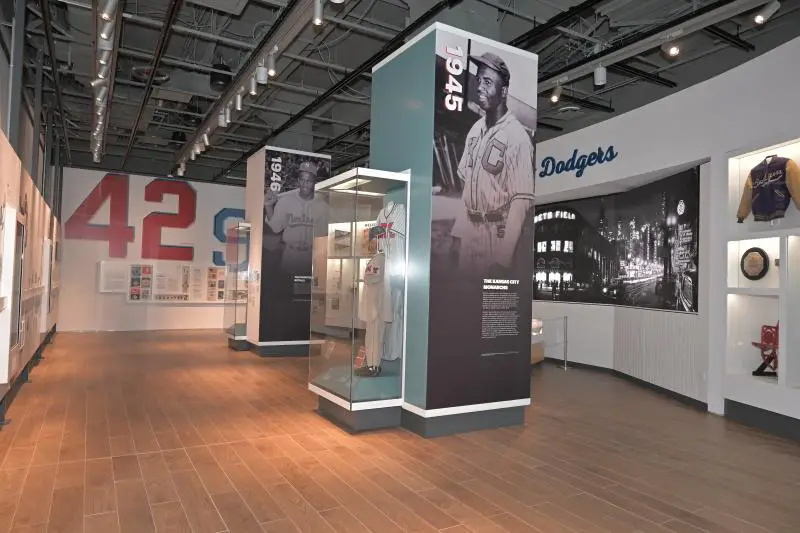 Jackie Robinson will be forever immortal for breaking baseball's color line, and for an all-star career that included bringing a world championship to Brooklyn in 1955. Now open, the Jackie Robinson Museum (JRM) tells the story of his life and legacy through pictures, artifacts, and multilayered storytelling.
Opening Date for the Richard Gilder Center for Science, Education, and Innovation Announced!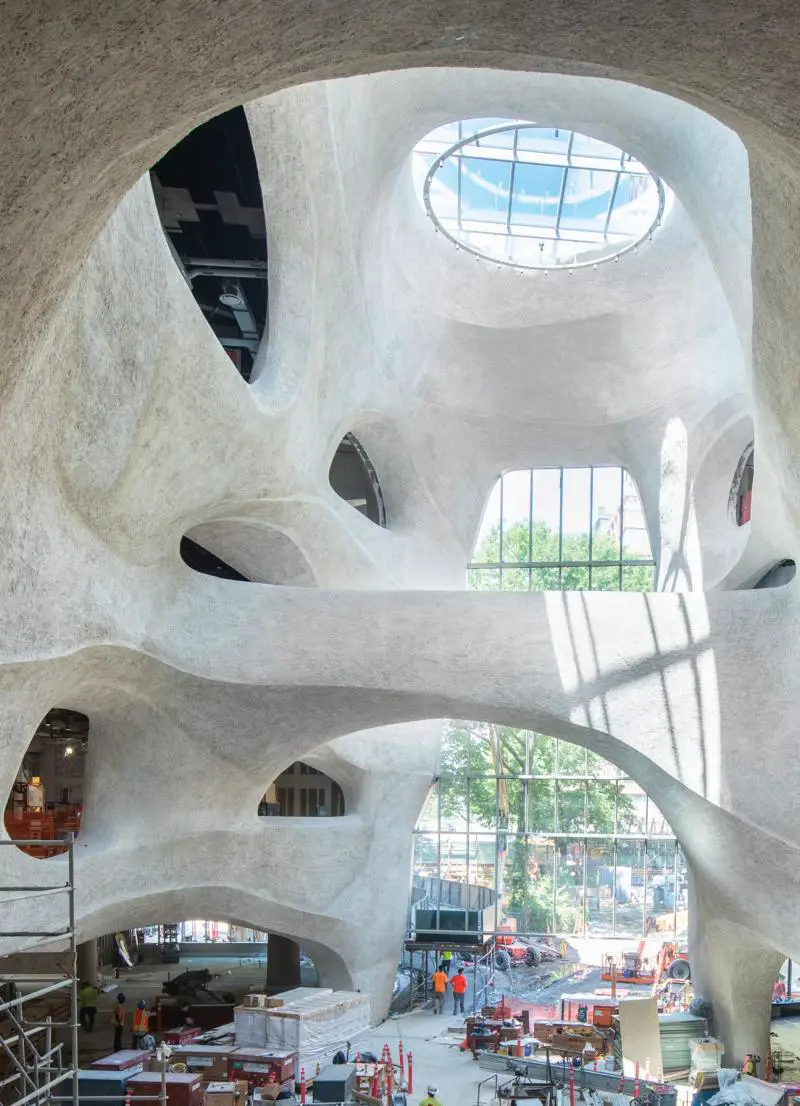 The American Museum of Natural History's Richard Gilder Center for Science, Education, and Innovation will open to the public on Friday, February 17, 2023. Denis Finnin/ ©AMNH.
The American Museum of Natural History has announced that the Richard Gilder Center for Science, Education, and Innovation will open to the public on Friday, February 17th, 2023. This massive new center is inspired by natural Earth processes and will link many of the museum's buildings, creating a continuous campus across four city blocks. Visitors cn expect an immersive theater, an insectarium dedicated to the most diverse group of creatures on the planet, a permanent butterfly vivarium, a publicly accessible library, state-of-the classrooms, and more.
Theaster Gates: Young Lords and Their Traces
Opened November 10, 2022 at the New Museum is the first American museum survey exhibition devoted to Theaster Gates, encompassing the full range of the artist's practice. This landmark exhibition will be accompanied by a presentation of newly commissioned works by Vivian Caccuri and Miles Greenberg exploring the relationship between bodies and sound waves. "Theaster Gates: Young Lords and Their Traces" spans three floors of the museum, featuring artworks produced over the past 20 years and site-specific environments created especially for this presentation. Combining an intimate, poetic sensibility and a sense of civic commitment, Gates's work reimagines art as a form of social sculpture that can open up new horizons even in the most surprising contemporary settings. Through February 5th, 2023.
Now Open! Deconstructing Power: W.E.B. Du Bois at the 1900 World's Fair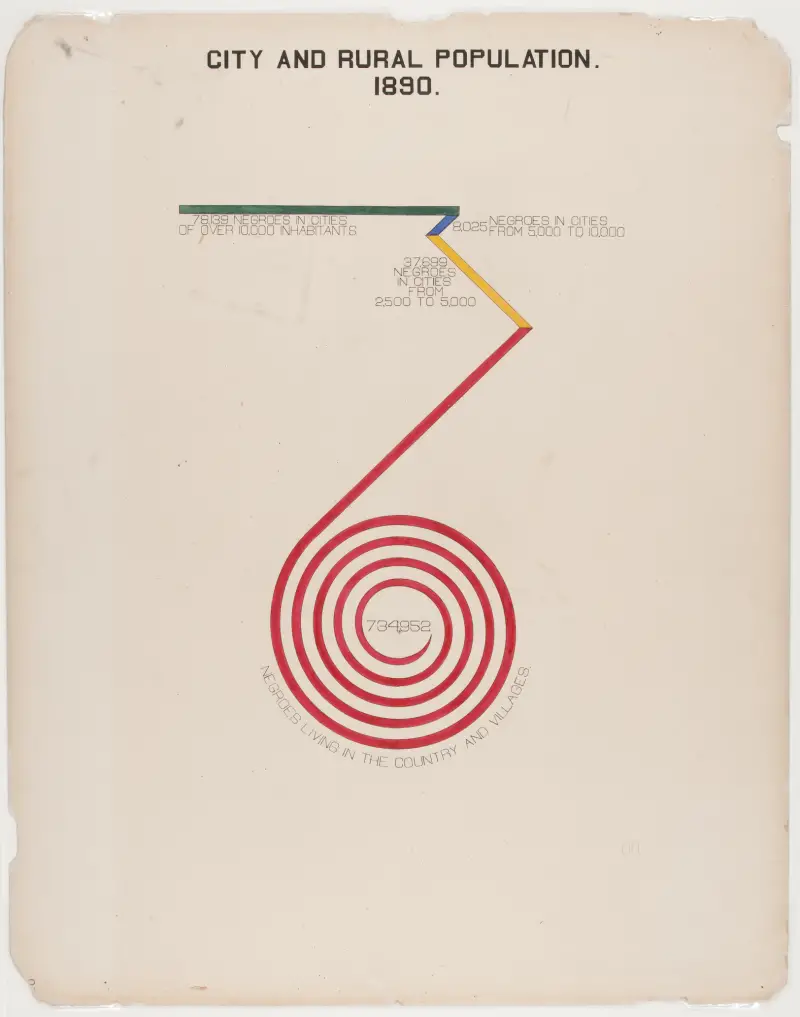 Data Visualization, "City and rural population. 1890.", 1900; Designed by W. E. B. Du Bois (American, 1868–1963) and students of Atlanta University (Atlanta, Georgia, USA); Ink and watercolor on board; 71 × 56 cm (27 15/16 × 22 1/16 in.); Library of Congress Prints and Photographs Division
The exhibit Deconstructing Power: W.E.B. Du Bois at the 1900 World's Fair at Cooper-Hewitt showcases two facets of the World's Fair that took place in Paris at the turn of the century.
Decorative arts from Cooper-Hewitt's own collection are placed in context with 20 data visualizations that W.E.B. Du Bois created for the fair, with the aim of exploring how design can be an agent that both reveals and hides the dynamics of equity and power.
At the World's Fair, Du Bois and his students from Atlanta University designed 63 hand-drawn diagrams that illustrated the strides Black Americans had taken despite the racism they faced both in the United States and abroad.  Created on presentation cardboard and only meant to be shown in a temporary exhibition, the works, on loan from the Library of Congress, will be rotated during the current exhibit because of their fragility. The "visualizations" include such works as "Land Owned by Negroes in Georgia, U.S.A, 1870-1900," and "City and Rural Population, 1890."
In contrast, the works of decorative arts on view include sumptuous pieces by Sevres and Tiffany, among others. In juxtaposition, the works on view explore the fascinating questions of just who and what define a nation—and why.
Deconstructing Power: W.E.B. Du Bois at the 1900 World's Fair, through May 29th, 2023, 2 East 91st St., cooperhewitt.org
For NYC exhibitions going on right now, check out our updated exhibit article. 
Here are our picks for interactive museums in New York, including pop ups.