Museum exhibits in NYC cover a lot of ground, from art to history to the story of the New York City itself. Here are our picks for the must-see exhibitions on view now in museums all across New York.
On View Now at the Museum of the City of New York: Food in New York
Mary Mattingly, Biosphere, 2015. Courtesy of Mary Mattingly, the Bronx Museum of the Arts, and the Museo Nacional de Bellas Artes de la Habana. 
If there's one thing New Yorkers love, it's food. Eating it, discovering it, talking about it, You Tubing about it, writing about it…New Yorkers just really love everything having to do with food. So, Food in New York: Bigger Than the Plate at the Museum of the City of New York will hit the sweet spot for many New Yorkers; it examines the city's food and food systems, with underlying themes of sustainability and access to food, among others.
The exhibit started at the Victoria and Albert Museum in London and has been adapted to New Yorkers' eating habits and the city's food systems. It also examines how artists and designers can help develop solutions to local and global food challenges; more than 20 artists were given the task of coming up with ways to meet these challenges. The exhibit itself challenges viewers to think about the web of connections and processes that are needed and utilized before every restaurant meal, every ice pop from an ice cream truck or every bag of chips from a corner store make their way into your hands—and mouth.
Once in the exhibit, check out Biosphere, by Mary Mattingly (above); it grows native plants in saltwater, right in the museum. Also explore Maira Kalman and Rick Meyerowitz's Sub Culinary Map, which takes a New York City subway map and illustrates it with food names; and a photo of bodega shelves by Pablo Delano. The exhibit also includes works form the museum's own collection, such as the recently restored Diorama of the Fly Market, which shows a food market that ran from 1699 the 1800s in the city.
Hungry for more? Here's a fun activity alert: post your favorite snack, dish, restaurant, or meal with the hashtag #FoodinNYC to be featured in screen in the museum's gallery. Through September 30th.
1220 Fifth Ave., 212- 534-1672, mcny.org
On View Now at MoMA | Georgia O'Keeffe: To See Takes Time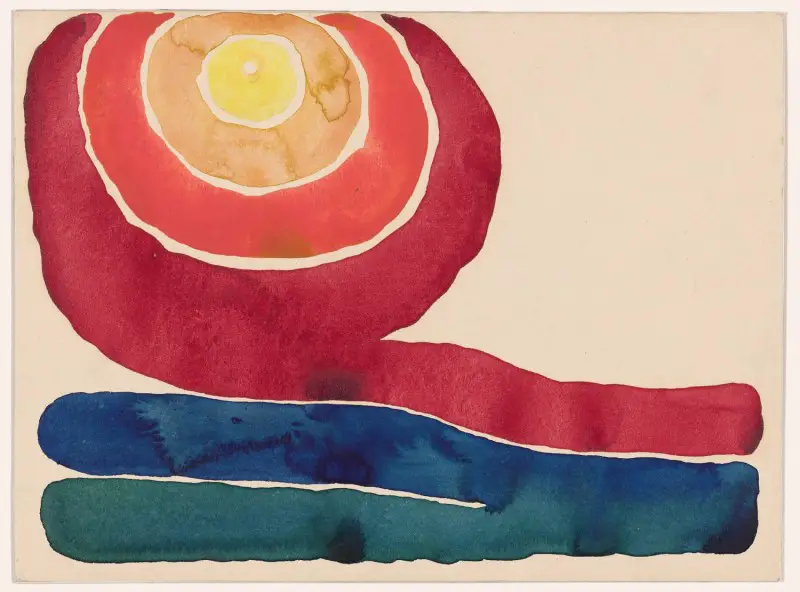 Georgia O'Keeffe. Evening Star No.III, 1917. Watercolor on paper mounted on board. 8 7/8 x 11 7/8″ (22.7 x 30.4 cm). The Museum of Modern Art, New York. Mr. and Mrs. Donald B. Straus Fund, 1958. © 2022 Georgia O'Keeffe Museum / Artists Rights Society (ARS), New York.
Taking its name from a quote from Georgia O'Keeffe herself, the exhibition To See Takes Time at MoMA this spring focuses on the artist's lesser-known work—as well as her process. The works on view include smaller drawings in a collection of works on paper from charcoal to watercolor, pencil to pastel, along with some of O'Keeffe's paintings.
Best known for her monumental flower paintings and her Southwestern landscapes, O'Keeffe experimented with revisiting and reworking the same subjects and motifs during her entire career. Her output between the years of 1915 and 1918 was extraordinary, and included nudes and organic landscapes, as well as "specials"—her term for abstract charcoals.
The exhibit offers viewers a rare opportunity to trace O'Keeffe's progression as an artist and to understand her process more fully. Her aerial views, for example, mostly done in the 1950s, capture the changing perspective seen from an airplane in flight, and will be new to many visitors. Some of her works on paper led to large-scaled paintings; these will be installed to each other.
The smaller works may well be revelatory to admirers of O'Keeffe's' large-scale, lush flowers and images evocative of the Southwest. The exhibit displays more than 120 works created over four decades, including several from the museum's own collection. The works on display provide context to the artist's work, as well as showing viewers how she developed her motifs over the span of her career, taking her observations and refining them into the realm of the abstract.
The exhibit is a must for fans of her work—as well as those wanting to learn more about the artist, often called "The Mother of American Modernisms," and her indelible place in American art. Through August 12th.
11 W. 53rd St., 212-708-9400, moma.org
On View Now at MoMA | The Encounter: Barbara Chase-Riboud/Alberto Giacometti
In 1962, American-born Barbara Chase-Riboud visited the studio of Swiss sculptor Alberto Giacometti in his Montparnasse studio. Both were expatriates who lived in Paris, and the visit would forge a connection between them that infused their art and their approach to the creative process. Their last meeting took place in Milan, a few years before Giacometti's death.
Both artists repeatedly focused on the human form in their sculptures, Giacometti with clay, first molding by hand and then casting in plaster; Chase-Riboud (also a poet and novelist; her memoir was published in 2022) utilizing the lost-wax process for her bronze artwork, which she combined with knotted and braided fiber, wool, and silk.
 Included in the exhibition are five plaster sculptures from Giacometti's Femmes de Venise, made for the 1956 Venice Biennial; these works are in the United States for the first time. Also featured: early bronze sculptures, including the early figurative piece The Couple. Works from Chase-Riboud's 70-year career are also featured, including the well-known All That Rises Must Converge (1973), a towering, mesmerizing sculpture of bronze, silk, and silk fiber. Other works include The Cape (1973); Zanzibar (1974); and Standing Black Woman of Venice (1969-2020).
Seen in context, the exhibit demonstrates not just the repeated use of the human figure, but also other shared connections, such as the artists' dual fascination with ancient Egyptian art and architecture. Both artists, in fact, turned to the past to inform their work. The exhibit has fewer than 30 works, each one commanding on its own, but even more so in concert with the other work. The result is not just an exhibit, but a dance, a conversation.
As Chase-Riboud put it, "…Sculpture as a created object in space should enrich, not reflect, and should be beautiful. Beauty is its function." Through October 9th.
11 W. 53rd St., 212-708-9400, moma.org
A Major Ruscha Event at MoMA in Fall, 2023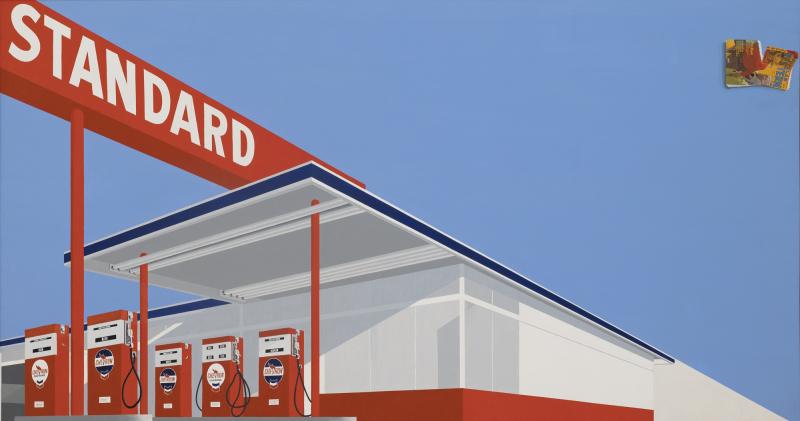 Ed Ruscha. Standard Station, Ten-Cent Western Being Torn in Half. 1964. Oil on canvas, 65 × 121 1/2" (165.1 × 308.6 cm). Private Collection, Fort Worth. © Edward Ruscha, photo © Evie Marie Bishop, courtesy of the Modern Art Museum of Fort Worth.
The Museum of Modern Art has announced ED RUSCHA / NOW THEN, the most comprehensive presentation of the artist's work, and his first solo exhibition at MoMA, will be coming next month. The show will run from September 10th, 2023, through January 6th, 2024. Spanning 65 years, the exhibition will feature over 250 works, produced from 1958 to the present, in mediums including painting, drawing, prints, film, photography, artist's books, and installation.
11 W. 53rd St., 212-708-9400, moma.org
Now on View at The Guggenheim: Sarah Sze: Timelapse
Work in progress by Sarah Sze, 2022. © Sarah Sze. Photo: Courtesy Sarah Sze Studio.
The Guggenheim Museum has transformed its building into a series of site-specific installations by renowned artist Sarah Sze. Spaces including the building's exterior, the sixth level of the rotunda, and the even the adjacent tower level gallery. The exhibit takes advantage of the building's incredible design to offer a meditation on how perception of time and space are affected by the constant bombardment of both virtual and real objects and images. The exhibition starts outside the building, where images are projected on the façade; one projection mirrors in real time the cycle of the moon throughout the course of the exhibit. Video, sculpture, drawing, and even sound all play a role inside the building.
The museum also showcases two works from its collection, on view in New York for the first time: Sze's first work of art to incorporate video, Untitled (Media Lab, Casino Luxembourg) 1998, which meshes found art and video; and Timekeeper, a multimedia installation with an artist's desk at its center. Through September 5th.
1071 Fifth Ave., 212-423-3500, guggenheim.org
On View Now at the Jewish Museum: The Sassoons
Henry Jones Thaddeus. Rachel [Sassoon] Beer, 1887. Oil on canvas; 52 × 37 in. (132.1 × 94 cm). Private collection. Formerly in Siegfried Sassoon collection.
Following four generations of the Jewish Sassoon family around the globe, the exhibition The Sassoons is now open at The Jewish Museum.
The Sassoon family was instrumental in art collecting as well as civic engagement and architectural patronage. More than 140 works collected from the early 19th century though World War II populate the exhibit, which brings together paintings, illuminated manuscripts, rare Judaica, and rich decorative arts—some from family members themselves, others borrowed from both public and private collections. Not to be missed: Jewish ceremonial art; beautifully decorated Hebrew manuscripts from as early as the 12th century; and delicate Chinese ivory carvings. Paintings from the western canon encompass works by Thomas Gainsborough, John Constable, and Jean-Baptiste-Camille Corot. Gorgeous portraits of family members by John Singer Sargent are also included.
The exhibit traces the path of four generations of the Sassoon family though their collecting history, touching on varied themes from colonialism to discrimination: diaspora to war. In doing so, the exhibit not only charts the history of the family and their interests and passions, but also the major issues that shaped the world at the time the works were collected—and continue to do so today.
Note: a robust selection of adult and family programs will accompany the exhibit, from drawing workshops to tours of the exhibition. Through August 13th.
1109 Fifth Ave., 212-423-3200, thejewishmuseum.org
On View Now at The Jewish Museum | After "The Wild": Contemporary Art from the Barnett and Annalee Newman Foundation Collection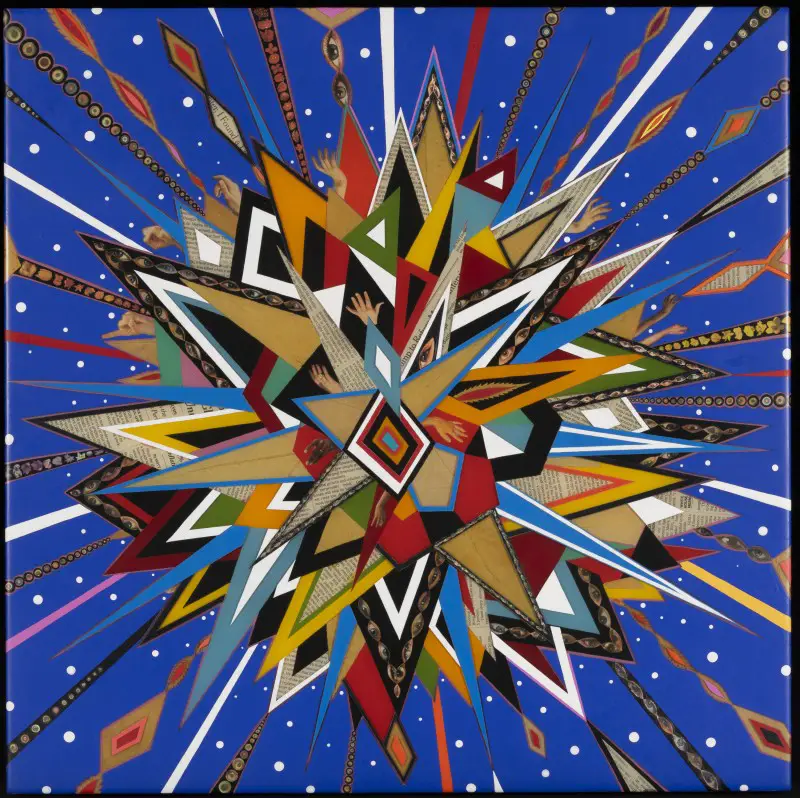 Fred Tomaselli, Study for June 2, 2018, 2018, Mixed media on panel, 24 × 24 × 1 5/16 in. (61 × 61 × 3.3 cm), The Jewish Museum, NY, Gift of The Barnett and Annalee Newman Foundation. © Fred Tomaselli.
The works in After "The Wild": Contemporary Art from the Barnett and Annalee Newman Foundation Collection are part of a larger gift given to the Jewish Museum in 2018; all were created by recipients of The Barnett and Annalee Newman Foundation Award.
The foundation was created by Annalee Newman after Barnett Newman, her husband, passed away. (They met when they were both working as substitute teachers in New York.) Barnett Newman, known primarily as an abstract expressionist artist, was also a mentor to younger artists; the recipients of the awards were chosen in part because, while they are diverse in style, age, background, and training, they share both Newman's sense of purpose as well as his boundless drive and spirit of exploration.
The title of the exhibit was Inspired by Newman's 1950 painting "The Wild," which shows an orange "zip" (his term for a thin vertical line) against slender bands of black. Its purpose, in Newman's view, was to see if something "modest" could hold its own against something larger and more imposing. (The work itself is eight feet tall and 1 ½ inches wide.) Newman became known, in fact, for paintings characterized by fields of color separated by these thin vertical lines.
Newman was known during much of his lifetime as an influence on artists such as Frank Stella and Donald Judd; it wasn't until the end of his life that he became known as an artist in his own right.
Featured artists in the exhibition include Larry Bell, Luca Buvoli, Frank Owen, Elizabeth Turk, and Jack Youngerman. The exhibition offers a chance to see Newman as artist, influencer, mentor, and originator, and to realize that traces of his work can be seen in a flash of color, a slash of a line, or the swath of space in a painting in other artists' work. It's a great opportunity to trace his lineage through diverse artists, and to agree with what he stated: "A painter is a choreographer of space." Through October 1st.
1109 Fifth Ave., 212-423-3200, thejewishmuseum.org
On View Now at the American Museum of Natural History | Extinct and Endangered: Insects in Peril
The endangered butterfly Gonepteryx maderensis, also called the Madeiran brimstone, feeds on just one type of tree as a caterpillar. © Levon Biss.
When you visit the American Museum of Natural History, you may never get out of the dinosaur exhibit, or maybe the Planetarium. And that's understandable, but you also shouldn't miss the special exhibitions. Case in point: Extinct and Endangered: Insects in Peril, which uses large-format photographs to demonstrate 40 important but imperiled insect species.
The specimens are taken from the museum's own research collection; some of the photos are as large as 4.5 x 8 feet. (The museum's collections include 34 million artifacts, of which almost 20 million are arthropods—insects, crustaceans, and arachnids from around the world.)
Photographer Levon Biss used his macrophotography to show how these insects are in decline, and how much they are needed to keep our ecosystems healthy. Every photo in the exhibit was created from up to 10,000 individual images using lenses that can capture microscopic details; each photo took up to three weeks to create. The juxtaposition between the tiny size of the insects and the enormous photographs is striking, and they are often rendered strangely beautiful. As the British photographer notes: "We shouldn't ignore them just because they're hard to see."
The exhibit includes insects both familiar and, at least to us, unfamiliar (as well as having great names): the Blue Calamintha Bee; the San Joaquin Valley Flower-Loving Fly; the Nine Spotted Lady Beetle; the Hawaiian Hammerheaded Fruit Fly. Some of the specimens were so fragile that they had to be brought by museum staff to the photographer's studio; others are so rare that government permission was required to ship them to England.
While the photos can be viewed as impressive in their own right, visitors will hopefully come away realizing the insects' importance to the world's ecosystem—and that though they're small, their importance is outsized.
200 Central Park West, 212-769-5100, amnh.org
Met Museum on View | The Roof Garden Commission: Lauren Halsey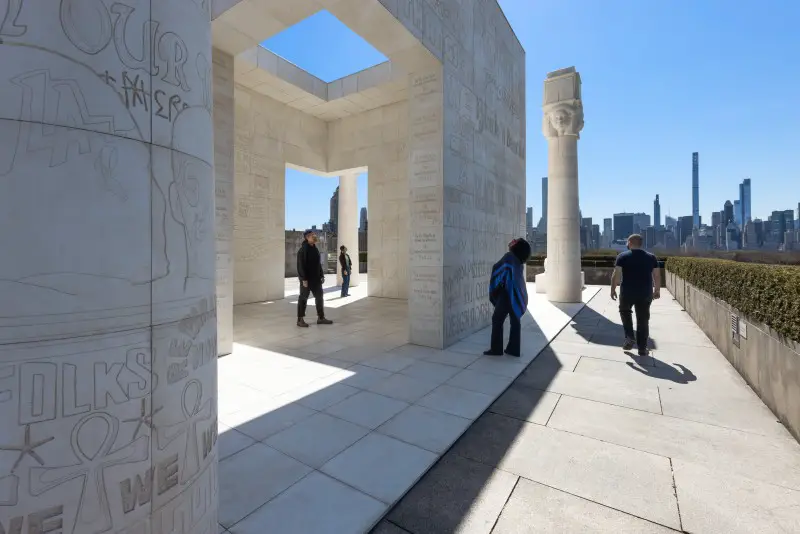 Lauren Halsey (American, b. 1987) Installation view of The Roof Garden Commission: Lauren Halsey, the eastside of south central los angeles hieroglyph prototype architecture (I), 2022 © Lauren Halsey. Courtesy of the artist; David Kordansky Gallery, Los Angeles/New York  Image credit: The Metropolitan Museum of Art, Photo by Hyla Skopitz.
One of the most eagerly anticipated exhibits each year is the site-specific roof garden installation at the Metropolitan Museum that debuts each spring.
This year, the exhibit will be created by Lauren Halsey, an artist known for her use of architecture to show the reality of urban neighborhoods in places like South Central Los Angeles. Her work has appeared at The Studio Museum in Harlem as well as The Museum of Contemporary Art (MoCA) in L.A. Halsey is the 10th recipient of the Roof Garden commission. (Her installation at the Met was delayed a year because of logistical issues.)
The Met's exhibition, in fact, will consist of an architectural structure inspired by the South Central Los Angeles neighborhood where Halsey grew up. Visitors will be encouraged to explore and interact with the exhibit; its influences will be as varied as 1960s' Utopian architecture; ancient Egyptian symbolism; and visual expression like tagging, in service of looking at how people make public places their own.
The installation will include 750 concrete tiles; a four-walled structure will rise 22 feet in the air and be visible from Central Park (not to mention the upper floors of many Fifth Avenue buildings). One of the glories of the Roof Garden installations is always to see them in concert with the park and surrounding buildings. Halsey's work will be perched on a 2,500-square-foot floor surrounded by tiles with a Greek key symbol. Four sphinxes with the faces of loved ones and family members will guard the structure, while four columns will also be topped with portraits of friends and family members; they are inspired by the temple of Hathor in Dendera, Egypt.
Halsey's installation will ponder the meaning of social activism and civic spaces, as well as ideas of community engagement seen through the lens of architecture. It's an installation that bears close looking—as well as a literal and figurative step back. Through October 22nd.
The Metropolitan Museum of Art, The Iris and B. Gerald Cantor Roof Garden, 200 Central Park West, 212-769-5100, amnh.org
Now on View at the Whitney | Josh Kline: Project for a New American Century 
Known for creating immersive installations that incorporate video, design, sculpture, and photography, artist Josh Kline is now receiving the first museum survey of his work in the United States. (His work has previously been displayed in the New Museum triennial, along the High Line, and in several Whitney exhibitions, including the 2019 Whiney Biennial.)
Kline's work is known for questioning how new technologies change people's lives in the 21st century. He's also known for using the very technologies—including image manipulation, 3-D printing, digitization, and commercial and political advertising, among others—he examines through his art. His most well-known videos utilize early deep-fake software to ponder the meaning of truth in a world where truth is not always at the forefront of politics and culture. Kline also examines how social and political issues ranging from climate change to the weakening of democracy deeply affect the labor force in this country; much of the exhibit is focused on work and class.
Climate change, in fact, is heavily represented in the exhibit, which spans the last decade of the artist's career, and also includes new installations. New "science fiction" works will speculate on the effects of climate change and the essential workers who will be the ones to deal with the impact.
More than an exhibition, the work offers a warning about the potentially hazardous future humans face—as well as an appeal to take notice, and to take action. Josh Kline: Project for a New American Century will be on view at the Whitney Museum of American Art  through August 13th.
99 Gansevoort St., 212-570-3600, whitney.org
Now on View at the Whitney | Inheritance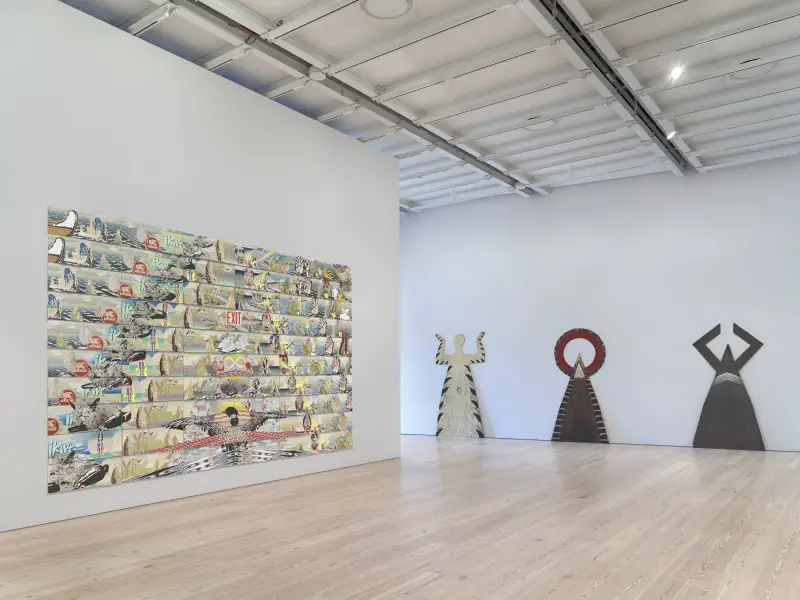 Installation view of Inheritance (Whitney Museum of American Art, New York, June 28, 2023–February, 2024.). From left to right: Andrea Carlson, Red Exit, 2020; Mary Beth Edelson, Shell Venus, 1974-75; Mary Beth Edelson, Red Sophia, 1974-75; Mary Beth Edelson, Louise, 1974-75. Photograph by Ron Amstutz.
What is an inheritance? The exhibit of the same name at the Whitney Museum explores the many different meanings of the word, drawing its inspiration from the 2020 film by Ephraim Asili.
Forty-three artists including Asili, Kara Walker, Sherrie Levine, and Kambui Olujimi are represented in the exhibit, which includes approximately 60 rarely seen works as well as new holdings. Sculptures, video, paintings, media installations, and photos from the 1970s forward look at the idea of legacy—though familial, historical, and even aesthetic lines. Works include Mary Kelly's film Antepartum (1973) and Sadie Barnette's installation Family Tree II (2022.)
The exhibit opens with works of art examining the cycle from birth to death. Various kinds of lineage are explored by theme in the galleries, including how artists take art history and reframe it in their work. Other kinds of inheritance include historical inheritance and even inheritance from ancestral memories. The topics covered are broad and ambitious: Covid, African religious traditions, the human lifespan, and sources of artistic inspiration. The topics, of colonialism and African enslavement are also explored through such artwork as Kevin Beasley's slab sculpture The Road (2019) and United States of Attica, a 1971 lithograph by Faith Ringgold.
The exhibition is moving and sprawling, covering a multitude of questions about inheritance—and its own legacy.
The real questions the exhibition poses: How did we get here? And equally as important….where are we going? Through February, 2024.
99 Gansevoort St., 212-570-3600, whitney.org
On View Now at the Cooper Hewitt: A Dark, A Light, A Bright: The Designs of Dorothy Liebes
Dorothy Liebes Studio, New York City, as photographed for House Beautiful, October 1966; Dorothy Liebes Papers, Archives of American Art, Smithsonian Institution.
One of the most influential designers of the 20th century, Dorothy Liebes is credited with introducing both handcrafted items as well as dazzling pops of color to the modern interior. Her aesthetic was so popular, in fact, that it has its own name and sub-genre: the "Liebes Look" came to mean eye-popping color, rich textures, and sometimes a glimpse of metallics. Her collaborations with architects including Frank Lloyd Wright and designers such as Pauline Trigere helped to implement an American aesthetic, visible in everything from industrial design to home interiors to film. Liebes' work graced the United Nations Delegates' Dining Room as well as Shangri La, the Honolulu home of Doris Duke, the heiress and philanthropist. An important part of Liebes' work was that her fabrics were affordable, meaning they were more accessible to more people, and thus had a wide reach.
The exhibit examines not only the designer's output, but also the details of her career as well as the full impact of her contributions overall. It features more than 125 works, including textiles, samples, fashion, furniture, photos, and documents.
"A Dark, A Light" includes five discrete sections ranging from "The Modern Interior," which features Liebes' handwoven fabrics, to "The Liebes Look," which showcases her facility for creating dramatic public spaces—on a budget. These include the First-Class Observation Room on the SS United States as well as American Airlines flagship 747. Hotel interiors such as the Persian Room at the Plaza Hotel and the Marco Polo Club at the Waldorf Astoria are also refenced. The final section, "The Idea Factory," pulls samples from the museum's permanent collection to showcase the designer's willingness to experiment with new color combinations and materials.
And in case you want to try Liebes' technique yourself, the title of the exhibition refers to her "recipe" for creating a color scene, whether in fashion or at home: "A dark, a light, a bright." Through February 4th, 2024.
2 E. 91st St., 212-849-8400, cooperhewitt.org
Now on View at the Morgan | Into the Woods: French Drawings and Photographs from the Karen B. Cohen Gift
Paul Huet (1803–1869), Study for "Forest of Fontainebleau: Hunters," ca. 1866. Black chalk and brown and gray wash on gray green wove paper, heightened with gouache, 11 1/4 x 18 in. (285 x 440 mm). Gift of Karen B. Cohen, 2022.339.
The very phrase "Into the woods," conjures up visions of dark forests and ancient trees, a primeval setting where nature rules. The exhibition Into the Woods: French Drawings and Photographs from the Karen B. Cohen Gift features both drawings and photos from renowned collector Karen B. Cohen's holdings, as well as works of art pulled from the museum's own collection.
Featuring more than 50 works of art on paper by 19-century French artists, the exhibit explores the rural landscape and the role artists played in examining the relationship between people and nature.
The relationship of artists themselves with nature was radically redefined with the invention of portable equipment and the burgeoning role of the railway. Artistic renderings of nature grew to encompass new media, from charcoal to photography. And the subject matter itself shifted, with a new emphasis on the rural working classes—including women—and a move away from the romanticization of nature.
The exhibit includes photography by Karl Bodner, the Swiss French lithographer, as well as charcoal studies by Paul Heut, including the moody study for Forest of Fontainebleau: Hunters, which uses black chalk and brown and grey wash to create a wild sandscape of trees with gnarled branches, dwarfing the hunters the ride beneath them.
The new emphasis on nature also had an unexpected benefit: an appreciation for it that caused artists to not merely enjoy the outdoors, but to campaign for its preservation—in 1861, part of the Fontainebleau Forest was designated a nature preserve.
The stuff of both fairy tales and stark reality, the human relationship to nature has captivated human imagination, and been the basis of stories and artwork throughout time. The exhibit offers a fascinating look at how this relationship shifted, emphasizing its new role—with a bit of the fairy tale occasionally peeking out. Through October 22nd.
225 Madison Ave., 212-685-0008, themorgan.org
Now on View at the Morgan | Bridget Riley Drawings: From the Artist's Studio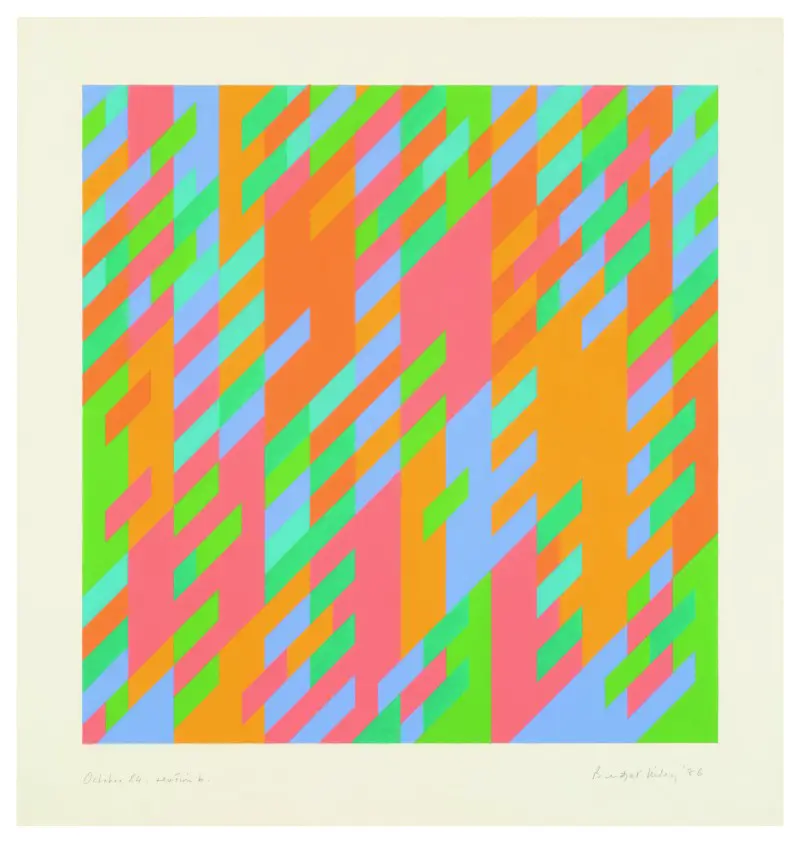 Bridget Riley (b. 1931), October 24 revision B, 1986. Collection of the artist. © Bridget Riley 2023. All rights reserved.
One of the most renowned abstract artists of her generation, British artist Bridget Riley is now the subject of an exhibit at the Morgan Library & Museum—the first dedicated just to her drawings in more than 50 years. It provides an unparalleled experience to understand her art and her process; the opportunity to get a glimpse into her studio practice.
More than 75 studies from the artist's collection are on view; all were created between the 1940s and the 2000s. Here's the chance to see the figurative and landscape drawings made during her student years, looking to nature and the human form; the black and white studies for her best-known work during the 1960s, when she was associated with the Op Art movement (a style of art that uses optical illusions); and the vivid color compositions from the 1960s onward. The tools? Paper, ink, pencil, gouache, all in service of exploration and creation with works on paper. Riley is best known for her striking geometric creations; in the late 1960s, her focus shifted from using shades of white, black, and grey to utilizing often eye-popping color in her trademark waves and lines. Imbued with life, they seem to shift and dance before the viewer's eyes, taking on new forms and expressions. Images literally seem to move, or vibrate, and often seem to contain hidden images within the work of art.
Viewers can glimpse influences of Pointillism and other art movements in Riley's work, but what is also apparent is how she took the medium and made it her own—and how, at 92, she shows no signs of slowing down. Through October 8th.
225 Madison Ave., 212-685-0008, themorgan.org
On View Now at The Brooklyn Museum | Monet to Morisot: The Real and Imagined in European Art
Spring brings with it a wealth of new museum exhibitions—as well as an opportunity to catch up on some you may have missed. Case in point, Monet to Morisot: The Real and Imagined in European Art, on view at The Brooklyn Museum through the end of November.
Featuring approximately 90 early 19th and 20th century works from the museum's own collection, the exhibit focuses on artists born in Europe or its colonies, during an era of enormous changes in society, including artists' subjects and techniques. During that time, artists moved away from more "traditional" representation to focus more on scenes from everyday life.
Works by Claude Monet, Henri Matisse, Berthe Morisot, Pablo Picasso, Gustave Courbet and more are on view in the exhibition, and visitors are encouraged to consider such questions as: What is real and what is imagined in works that reflect views of gender, class, labor, and other categories? Who produces these frames of reference?
Interestingly, the works are not presented chronologically, which offers an opportunity for viewers to look at them with a fresh eye, and to ponder such as issues as the distinct views of such topics as gender and class that are offered.
These particular works of art have not been on view together for eight years and present an opportunity to think about the stories the works tell, and to make connections both among these works of art themselves as well as other works in the museum's collection. They force the viewer to re-examine the notion of the traditional European canon that is, itself, both imagined and real.
Aside from their philosophical underpinnings, the works offer a chance to revel in the lush, color-drenched colors of some glorious paintings, to revisit old favorites and perhaps discover some new ones, and to leave with both a sense of wonder—and discovery. Through November 19th.
200 Eastern Parkway, 718-638-5000, brooklynmuseum.org
Now Showing at the Queens Museum: Tracey Rose: Shooting Down Babylon; Aliza Nisenbaum: Queens, Lido y Querido
Installation view, Tracey Rose: Shooting Down Babylon, Queens Museum (April 23, 2023 - September 10, 2023). Photo courtesy Queens Museum, credit Hai Zhang.  
This summer, the Queens Museum offers two exhibits, running through September 10th, that look unflinchingly at themes ranging from racism to stories of humanity.
Tracey Rose: Shooting Down Babylon includes a range of media, from film to photography, sculpture to painting, from the 1990s to the present; the exhibit travelled to New York from the Zeitz Museum of Contemporary Art Africa. Early works by Rose often explored narrow identity tropes, while later art often focuses on violence and, even more recently, healing. At the heart of the exhibit is an emphasis on both the body—often the artist's own body—and performativity—the power of language to effect change in the world. The South African-born artist confronts themes of colonialism as well as racism, forcing viewers to confront and examine issues—and truths—that may be uncomfortable and unsettling.
Sound also plays an important role in the exhibit, as in Babylon X, the video installation that addresses the lasting legacy of colonialism and its ongoing impact on society.
Also on view through September 10th is Aliza Nisenbaum: Queens, Lido y Querido. Full of vibrant colors that leap from the canvas, Nisenbaum's work depicts human stories, individually or in groups, but always infused with humanity. This exhibit focuses on the artist's relationship with people at the Museum as well as the surrounding neighborhood. (The exhibition's title comes from the song "Mexico, Lindo y Querido"—"Mexico, Beautiful and Beloved.") The works focus on the artist's relationship to the sitters and their environments, with particular attention paid to what people value. Nisenbaum's involvement with the Queens Museum began when she volunteered for a project designed to engage the area's largely Spanish-speaking community. A class that she taught led to a series of portraits of the students and their families.
The exhibit includes a portrait of Delta Airline and Port Authority employees, commissioned for the new Terminal C at LaGuardia Airport, as well as portraits of museum staff members and the artist's students.
Together, the exhibits form portrayals of struggle and healing; societal issues and intimate portraits, with the overarching message of art's role to record, to observe, to facilitate engagement—and to engage with the world and the people in it. Both exhibitions are on view through September 10th.
New York City Building, Flushing Meadows, Corona Park, 718-592-9700, queensmuseum.org
New York Public Library (NYPL) Stephen Schwarzman Building | The First Folio at 400: The Polonsky Exhibition
Celebrating its 400th anniversary this year, Shakespeare's First Folio contains 36 of the Bard's plays. Long considered one of the most important books in English literature, the First Folio was first compiled John Heminge and Richard Condell, friends of Shakespeare's as well as actors. In all likelihood, the plays were reproduced from earlier editions, versions of production scripts, and Shakespeare's own drafts. Plays including Macbeth and The Tempest would probably have been lost without the First Folio.
In honor of the 400th anniversary, all six of the library's copies are on display though October 1st, 2023. (One copy has been on view since September 2021.) It's thought that between 700 and 750 copies of the First Folio were printed in the early 17th century; only 235 remain, all printed on high-quality paper, and each one unique due to the printing process. The Library's Folios include copies from the founding collections donated by William Astor, James Lenox, and Samuel J. Tilden. Small differences, such as an extra title page in a Lenox copy, can be noted. It's an extraordinary and strangely moving experience to gaze upon the works of the world's most famous English playwright in this format, right there in front of you.
In addition to the plays themselves, the Folios feature a portrait of Shakespeare by Martin Droeshout the Younger, as well as a poem by Ben Johnson, long considered the Bard's rival. A list of the 26 actors who performed in the plays in the Lord Chamberlain's Men, which became the King's Men theatre company, is also present; it includes Shakespeare as well as Richard Burbage, the actor who originated many leading tragic roles. The table of contents shows, for the first time, how the plays were categorized by genre.
The exhibition also includes a 17th-century etching of London that shows the venues where Shakespeare's plays were performed, as well as the venues where the books were printed and sold.
Manuscripts, artwork, letters, and more, spanning 4,000 years—from the introduction of the written word through the present time—are also showcased.
All are worthy of attention, but with the complete Folio collection only on view until October 1st, the play's the thing.
476 Fifth Ave., 917-275-6975, nypl.org/spotlight/treasures
Now on View at MoMA PS1: Daniel Lind-Ramos, El Viejo Griot—Una historia de todos nosotros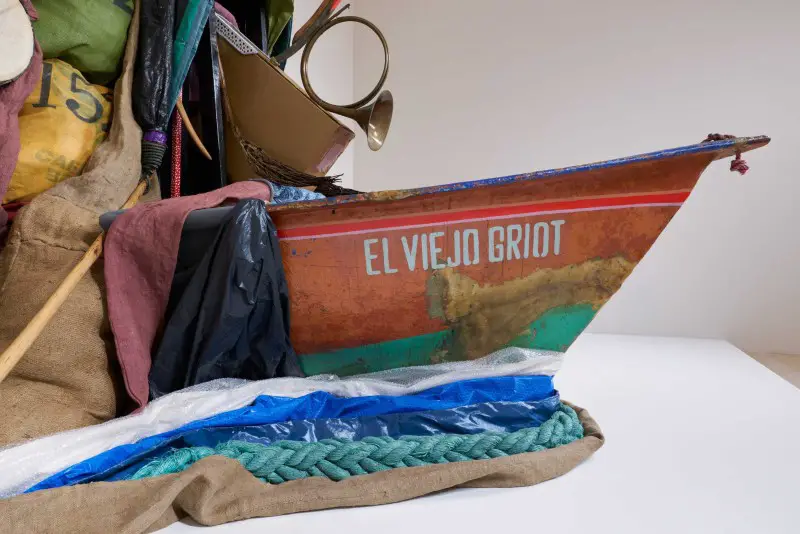 Daniel Lind-Ramos. El Viejo Griot (The Elder Storyteller) (detail). 2022–2023. Photo by Steven Paneccasio.
Puerto Rican artist Daniel Lind-Ramos uses found objects as well as those that were given to him to create video installations as well as enormous sculptures. Inspired by his birthplace of Loiza, Puerto Rico, Lind-Ramos draws on his hometown's culture, especially that surrounding fishing, cooking, and agriculture (as well as masquerade). Themes related to the pandemic, Hurricane Maria (2017), and the toll the environment has taken are also explored.
The title of the exhibition, which translates to "The Elder Storyteller—A Story of All of Us," is taken from a character in the town's annual Fiestas de Santiago Apostol, which is responsible for interpreting the town's past and present.
Many of the works directly refer to elements of the storm—such as wind and lightning—but also reference how communities worked together after it had passed.
The works on view are often multidimensional and tactile, incorporating different materials, shapes, and colors. They represent the largest exhibition to date of the artist's work, combining objects spanning the personal, communal, and regional, used for decoration as well as work. These vibrant offerings include more than 10 large-scale works, including some never shown, and some made within the last year; they incorporate both manmade and organic materials. Two video works are also included in the exhibition.
Linger at the work that greets visitors as they enter the exhibit: El Viejo Griot (2022-23). The bow and oars of a small boat sail towards the viewer, over a sea made of FEMA tarps. It's both intimate and global in its meaning; powerful and strangely familiar all at once. The sacks bear important dates, from 1511 for the Taino Rebellion against the Spanish to 1797 for the Battle of San Juan. Conga drums, buckets, and even a bugle are aboard the vessel; the mix of the regal and the more whimsical is striking in both its simplicity and universality—much like the exhibit itself. Through September 4th.
22-25 Jackson Ave., Long Island City, 718-784-2086, momaps1.org
The Drawing Center | A Greater Beauty: The Drawings of Kahlil Gibran and
Naudline Pierre: This Is Not All There Is
Kahlil Gibran, The Divine World, 1923. Charcoal, 11x8½ inches (28x21.6cm). Collection of the Gibran Khalil Gibran Museum, courtesy of the Gibran National Committee.
Coinciding with the 100th anniversary of Kahlil Gibran's The Prophet, The Drawing Center is showcasing the poet's work with A Greater Beauty: The Drawings of Kahlil Gibran, through September 3rd. The Prophet comprises 26 prose poems on topics ranging from love to freedom, good and evil, religion and death. It was originally published in 1923 and translated into more than 100 languages; it has never been out of print. Gibran's writing was renowned for breaking with the strict conventions of Arabic poetry and prose; his works incorporated elements of Jungian psychology, Christianity, Buddhism, and Islam—and was a revelation to Arab-speaking populations.
The exhibition will offer a selection of his drawings and sketches, alongside notebooks, correspondence, magazine illustrations, first editions, manuscript pages, and essays. Together, they serve as a window into both his working process and his aesthetic. 
Naudline Pierre, Don't Be Afraid, 2022. Acrylic, ink, and chalk pastel on paper, 15 x 11 inches (38.1 x 27.9 cm).Courtesy of the artist © Naudline Pierre and James Cohan, New York. Photograph by Paul Takeuchi.
Opening at the same time—Naudline Pierre: This Is Not All There Is. Depicting rich, factional worlds from a self-created mythology, the exhibit focuses on layered wash drawings and lush paintings. Pierre, whose father was a Haitian minster, creates works that incorporate religious iconography from altarpieces to ecclesiastical architecture. Winged creatures and fiery beings take form within backgrounds that evoke worlds undersea and, in the heavens, with layers and explosions of color and depth.
The two exhibits form a fascinating counterpart, touching on themes ranging from love to conflict, loss to redemption, fueled by two different world views, but connected by a passion for bringing these ideas to brilliant, exhilarating life. Through September 3rd.
35 Wooster St., 212-219-2166, drawingcenter.org
American Folk Art Museum Current Exhibition
Carl Klewicke (1835–1913), Original Design Quilt, Corning, New York c. 1907. Pieced silk, faille, taffeta, and satin, 60 x 72 1/2 in. American Folk Art Museum, New York, Museum purchase, 2012.1.1.
Through 35 quilts and related works of art, What That Quilt Knows About Me explores the personal, emotional power of quilting. See some unexpected life stories through work spanning the 19th through 21st centuries. Through October 29th.
2 Lincoln Sq., Columbus Avenue at West 66th Street, 212-595-9533, folkartmuseum.org
On View at the Rubin Museum of Art: Death Is Not the End

The Last Judgment; Follower of Hieronymus Bosch, Netherlandish, ca. 1450–1516; late 16th century; oil on panel, 29 7/8 × 37 3/4 in. (75.9 × 95.9 cm); Philadelphia Museum of Art; John G. Johnson Collection; 1917, Cat. 386
The art of Tibetan Buddhism and Christianity are used as a lens through which to examine the ideas of death and the afterlife in "Death Is Not the End," now open at the Rubin Museum.
The exhibit features oil paintings, bone ornaments, prints, sculptures, ritual objects, and more, for a total of 58 objects spanning 12 centuries. "Death Is not the End" includes works from the museum's own collection as well as loans from institutions including the Metropolitan Museum of Art, the Museum of Fine Arts, Boston, and The Morgan Library & Museum.
The exhibit is organized around three themes: The Human Condition, a look at a shared understanding of our mortality; States In-Between, the concepts of limbo, purgatory, and bardo (the state of existence between two lives on earth); and (After)life, which examine a resurrection, heaven, and transformation.
Objects from the museum's own collection include the 19th century Tibetan Wheel of Life painting, which illustrates themes like the inevitability of death and rebirth, and Lords of the Charnel Ground, a painted terracotta sculpture of dancing skeletons.
Taken as a whole, the works of art invite viewers to consider the idea of humans' longing to exist even after death, and the coming to terms with the finite human lifespan. The exhibit is part of the museum's yearlong focus on "Life After," which considers moments of change that take us into the unknown.
The powerful exhibit examines themes that are both uncomfortable and universal, encouraging viewers to deal with ideas that can be both frightening, fascinating, and, most of all, human. Through January 14th.  
150 W. 17th St., 212-620-5000, rubinmuseum.org
Check out our comprehensive museum roundup here. We've got the lowdown on pop museums and immersive experiences here.