This Week in NYC (8/15-8/22)
August 15, 2018 - by City Guide News Desk
(8/15-8/22) Looking for what to do in New York? We've got the latest on all the goings-on in NYC, from concerts to museum exhibitions to comedy to the best in city sightseeing. Read on for our picks for the best of this week in New York City.
THE BIG EVENT
(8/18) The Blues BBQ Festival at Pier 97 will feature tasty goodness from Mighty Quinn's, Dinosaur Bar-B-Cue, Pig Beach, and more. There's also live entertainment, with The Slam Allen Band, Danielle Nicole, Welch Ledbetter Collection, and more!
PLUS
(Now-8/17) It's the final days of Restaurant Week! That means $26 two-course lunches, $42 three-course dinners! Check out the Best of Summer Restaurant Week NYC.
(Now-8/25) Harlem Week continues. Music, food, fashion, talks, and more.
EXHIBITION OF THE WEEK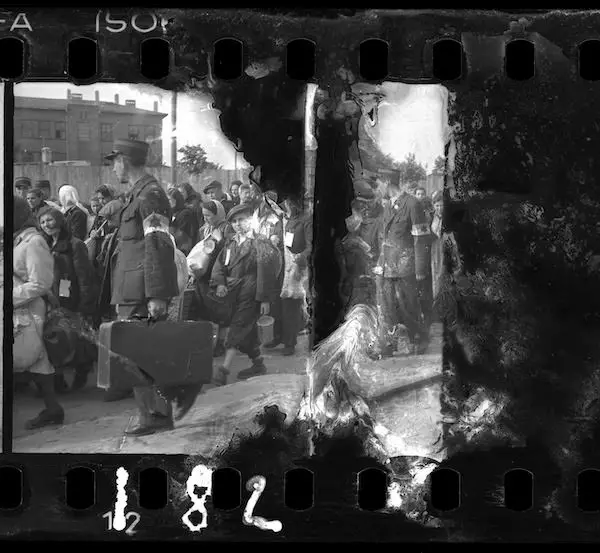 (Closes 8/19!) Recovered like buried treasure after the Second World War, the photographs of Henryk Ross survive to tell the hidden story of the Lodz Ghetto. Two hundred of these photographs are on view now at the Museum of Jewish Heritage — A Living Memorial to the Holocaust. The exhibition is called Memory Unearthed: The Lodz Ghetto Photographs of Henryk Ross, and it closes on Sunday. Photographer Henryk Ross lived in the Lodz Ghetto in Poland from 1940 to 1944. Enlisted to help the Jewish Council's Department of Statistics, Ross photographed the ghetto, documenting its productivity and taking pictures for identification cards. Off-duty, Ross also took photographs in secret during his time in Lodz. These images, around 3,000 of them in total, depict the wide variety of people persisting through harsh conditions.
PLUS
(Now-9/16) Magic and New York have a long history together. Famed NYC shops carried all the tricks during "The Golden Age of Magic" (1853-1932), and no less a legend than Harry Houdini grew up here (he made his home in Harlem later in life). Delve into the world of illusion at Summer of Magic: Treasures from the David Copperfield Collection at the New-York Historical Society, which features a recreation of an antique magic shop, shelves complete with magic sets, decks of cards, linking rings, and a disappearing bird cage. (The magic will continue in October when Harry Potter: A History of Magic, comes to NYHS! Read more here! Get tickets now!)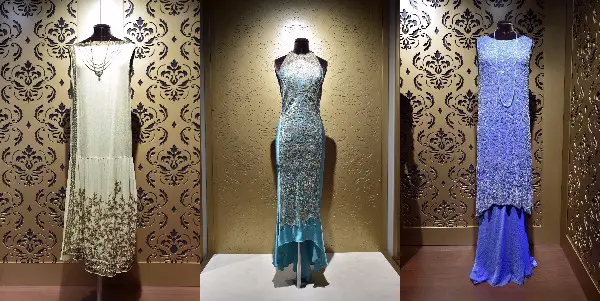 (Now-9/3) Final weeks! Downton Abbey: The Exhibition, based on the beloved television show Downton Abbey. Be transported to post-Edwardian England, where the characters and the iconic house come to life. You'll be immersed in the fascinating social history, culture, and some of the most memorable moments and sets from the show's six-season run, including Mrs. Patmore's kitchen and the servants' quarters.
(NEW!) Sports in America provided a unique form of solace after the seismic losses of the terrorist attacks of September 11th, 2001. Comeback Season: Sports After 9/11, a special exhibition at the National September 11 Memorial & Museum, delves into uplifting moments at games in the aftermath of the attacks. Explore the stories of Mike Piazza's home run during a New York Mets home game, President George W. Bush's first pitch at a World Series game at Yankee Stadium, and the New York City Marathon on November 4th, 2001. Video, artifacts, and moving images help provide context for a nation coming back together.
(Now-9/12) An Incredible Giacometti Retrospective Comes to the Guggenheim Museum. Swiss artist Alberto Giacometti (1901-1966), a Modernist sculptor, was a master of perspective. His elongated human figures, spindly miniatures, and ghostly paintings and drawings invite the viewer to lean in close and evaluate the work on its own terms rather than those of the viewer herself. The exhibit features more than 175 works by the artist.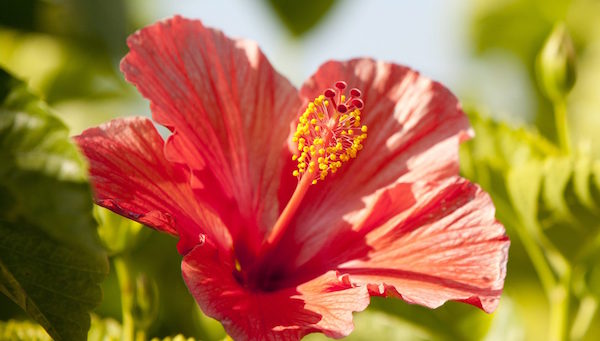 (Now-10/28) In 1939, the pioneering American Modernist Georgia O'Keeffe (1887–1986) went to Hawaii on commission for a Hawaiian Pineapple Company promotional campaign. What she created provides the inspiration for the landmark new exhibition Georgia O'Keeffe: Visions of Hawai'i at The New York Botanical Garden. A stunning display in the LuEsther T. Mertz Library Art Gallery includes 17 of O'Keeffe's Hawaii paintings, not seen together in New York since their debut in 1940. The historic Enid A. Haupt Conservatory explores the remarkable beauty and variety of Hawaiian flora, as well as its complex botanical and cultural history. The garden (just a 20-minute Metro-North ride from Grand Central Terminal) also features a living collection of more than one million plants.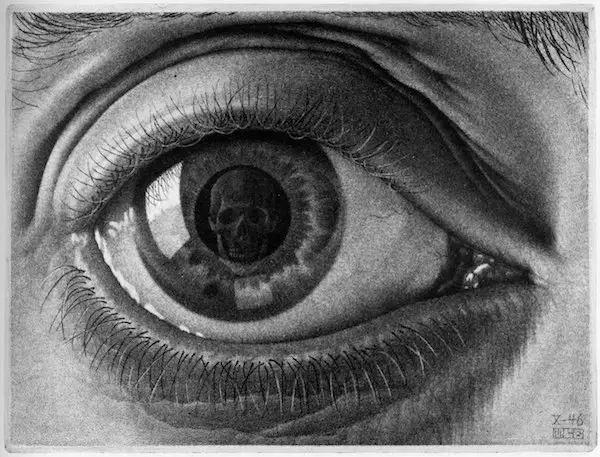 Escher's Eye depicts an eye with a skull imprinted onto its pupil.
(Now-2/3/19) Even over a century after his birth, Dutch artist M.C. Escher (1898-1972) continues to astound. Catch more than 200 of Escher's mind-bending works at Escher: The Exhibition & Experience in Brooklyn's Industry City. Exploring the intersection of art, mathematics, science, and poetry, the exhibition will feature interactive immersive experiences that bring the artist's optical illusions to life. eschernyc.com
COMEDY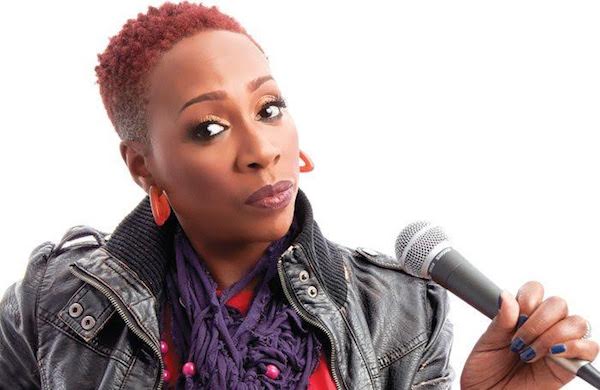 (8/17-8/18) British comedienne Gina Yashere performs at Gotham Comedy Club.
PLUS
(8/16) Gilbert Gottfried: The Documentary Gilbert at Carolines.
(8/17) DZ & Friends, starring WWE Superstar Dolph Ziggler at Carolines.
(8/17-8/19) Lavell Crawford from Better Call Saul at Carolines.
(Ongoing) Catch the latest and funniest on the comic strip at the LOL Times Square Comedy Club. Use promo code CITYGUIDE for 50% off tickets!
Click here for more comedy shows in NYC this weekend.
KIDS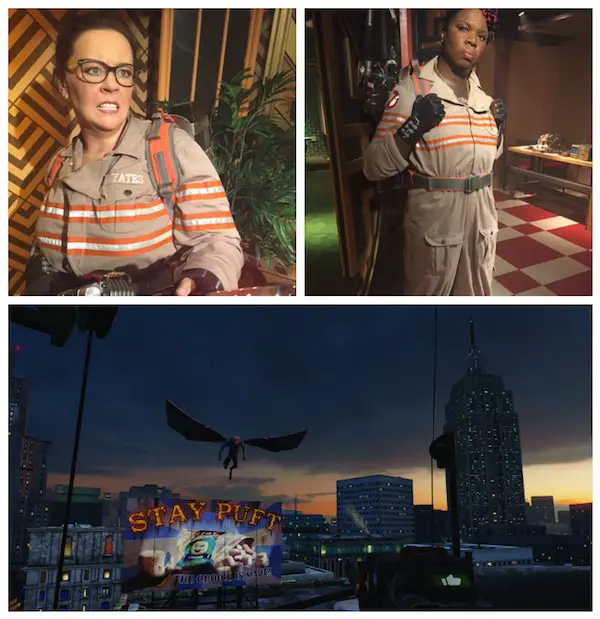 Upper images, Ghostbusters Experience at Madame Tussauds New York. Lower image, a scene from Ghostbusters: Dimension, provided by THE VOID.

(Limited time!) Kids will want to check out The Void's Ghostbusters Dimension Virtual Reality Experience, available for a limited time at Madame Tussauds! Read more about the experience here.
PLUS
(Through 11/15) Now at Penn Plaza, check out Candytopia, a candy popup brimming with lots of sweet treats, a candy art gallery, and more. $34 adults, $26 kids 4-12. candytopia.com
(8/18-8/19) Family Bowl at Brooklyn Bowl. Noon-5pm. No cover. Every weekend.
(Now-October) Get a taste of what it's like to walk on the moon, FREE, with Samsung's 837 Gear VR in the Meatpacking District. Must be 13+ and make a reservation. 837gearvr.com
(Now-8/26) Summer Kid Matinees at the Museum of the Moving Image, including Yellow Submarine, The Muppet Show, and The Greatest Showman. 11am.
(Now-9/30) Big City Fishing Sundays on Pier 25 in Hudson River Park.
Adults and kids aged 5+ learn how to fish while engaging with trained environmental educators about river science topics. The park provides the rods, reels, and instruction. 11am.
(New) The Smash Dash game at Ripley's Believe It or Not! Times Square will keep kids on their toes! Keep your reflexes sharp, in this all-new race against time. Here is a coupon!
(Ongoing) Kids of all ages will want to check out the brand new Gulliver's Gate, a $40 million extravaganza that allows visitors to travel the globe without leaving Times Square. Latin America, Asia, the Middle East, Russia, and Europe are all here in incredibly detailed miniature. And don't let that word "miniature" fool you—Gulliver's Gate feels like it covers acres, stretching a full city block with the wonders of the world.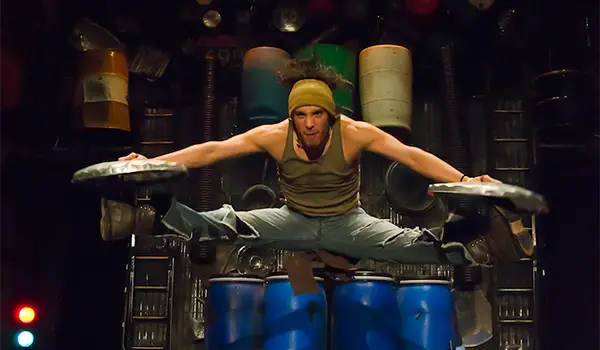 (Ongoing) Exhilarating Family Fun at Stomp NYC. Special discount packages available!
Click here for more things to do with kids this weekend.
For more kids activities, check out our sister site nymetroparents.com!
SIGHTSEEING
(8/16-8/19) On August 16, 1943, the U.S. aircraft carrier Intrepid was commissioned and sent into World War II for combat in the Pacific. It was later used during the Cold War and the Vietnam War. Since that time, Intrepid has retired from duty and become the Intrepid Sea, Air & Space Museum. In honor of its 75th anniversary, the museum welcomes former crew members, their families, and the public for a celebration of courage. There will be talks, demos, and behind-the-scenes tours. Every afternoon over the weekend, kids will have the opportunity for hands-on discovery with crafts, a planetarium show, and a showcase of jobs aboard the Intrepid. The Commissioning Anniversary events kick off at 11am on August 16th with a special Commissioning Ceremony.
PLUS
(Ongoing) Feel the need for speed? Take a ride aboard THE BEAST and experience the NYC skyline at 45mph!
(8/17) Sip 'n Sea: beach-themed Friday nights at National Geographic Encounter: Ocean Odyssey in Times Square. If you can't make it to the beach, join Encounter for "Sip 'n Sea," a fun seaside-themed wine night. From 4pm to 9pm every Friday throughout the summer, your ticket to Encounter will include a glass of wine or non-alcoholic beverage. Use our coupon to take $5 off admission!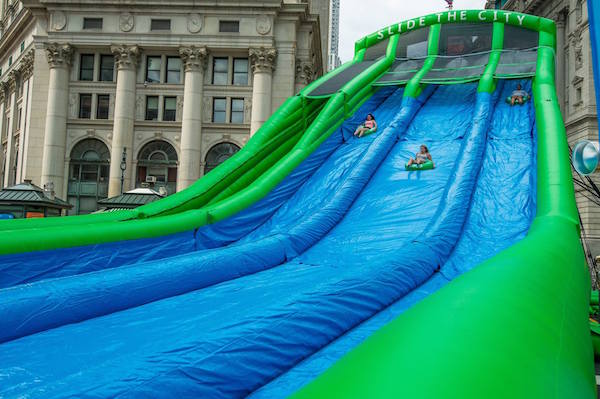 (8/18) Citi Summer Streets returns to make a splash with traffic-free stretches of Broadway opened up across the city. Get an early start: Citi Summer Streets runs from 7am-1pm. It's the last one of the summer!
(Ongoing) Check out NYC's hottest new museum, exploring the world of espionage, SPYSCAPE!
Bring a loved one to take in the breathtaking view at Top of the Rock.
Zip up 100 stories in 60 seconds and see New York City atop One World Observatory. Use this coupon and save: 20% off!
Explore New York City from the best vantage points with Helicopter Flight Services Tours. Choose from four different itineraries.
(NEW!) This summer, a new escape room has been added to the long list of can't-miss attractions at Ripley's Believe It or Not! Times Square. Ripley's Relic leads adventurers underground as they solve a series of puzzles together. When each one is decoded, kids will find a truly amazing object, the mysterious Ripley's Relic itself. Unlike other escape rooms, this adventure moves from one mysterious environment to the next, laid out by professional set designers who bring a Hollywood flair. A live guide is on hand to help facilitate the experience. Here's a coupon for discount Ripley's admission!
MUSIC & NIGHTLIFE
Photo: Bachrach Photograph
(8/17) Rufus Wainwright performs at the Capitol Theatre in Port Chester.
PLUS
(8/15) Pain, Sip, Eat! FREE Mac 'n' Cheese Bar at Canvas, Corks, n Forks.
(8/16) Thursday is #NationalRumDay! Check out the Best Places to Find Rum in NYC.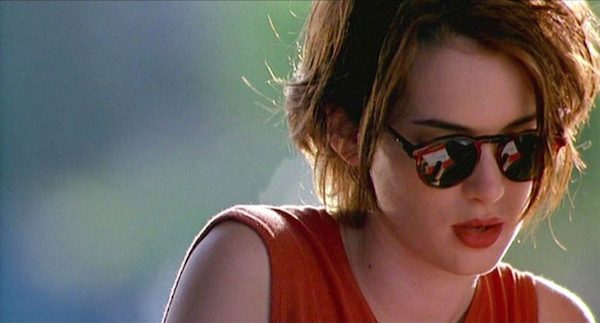 (8/17-9/1) Utterly Winona, a film festival celebrating actress Winona Ryder, is running at Quad Cinema. Check out classics including Beetlejuice, Night on Earth, Mermaids, Heathers, Edward Scissorhands, Reality Bites, Girl, Interrupted, and more. quadcinema.com
(8/17) Cake and Ben Folds perform at Forest Hills Stadium in Queens.
(8/17) Frank Sinatra 3rd Annual Fan Page Dinner at Patsy's! With special guest Bill Boggs!
(8/17) For more than 70 years, Circle Line has been showing guests the best sights of NYC. In addition to a full lineup of sightseeing cruises, this summer you can get out on the water with Rockin' the River Music Cruises, floating open-air concerts. Friday, August 17th, will feature Willie Nile with James Maddock, both of whom have performed with Bruce Springsteen

(8/15-8/17) Asahi Super Dry Experience at PS Kitchen. Calling all beer fans! From Wednesday, August 15 to Friday, August 17 head to Midtown West's P.S. Kitchen when Asahi will take over the restaurant for a three-day ASAHI SUPER DRY EXPERIENCE. The open to the public pop-up bar will provide guests with the ultimate interactive tasting experience of ASAHI SUPER DRY and the lifestyle it embraces.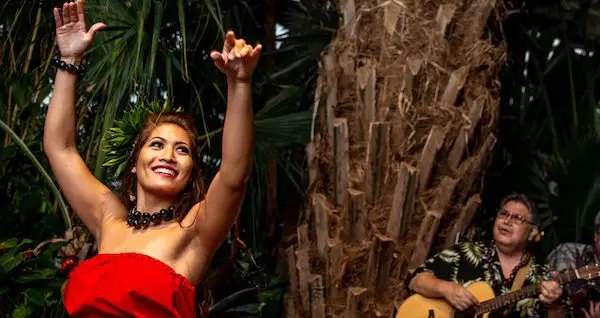 (8/18) The incredible artistry of Modernist pioneer Georgia O'Keeffe is on display this summer at The New York Botanical Garden, just a quick trip from Grand Central in the Bronx. Select Saturday evenings celebrate the rich cultural artistry of the Hawaiian Islands with an after-hours viewing of Georgia O'Keeffe: Visions of Hawai'i and interactive hula lessons, live music, lei-making demonstrations, and Aloha Nights's signature cocktail; the Passiflora Punch.
(Now-8/20) The Mostly Mozart Festival concludes at Lincoln Center.
(Now-October) Calling all rosé fans for a pop-up "Rosé Mansion" in the city! Get tickets here.
Click here for more nightlife this weekend.
Cheers! Check out the Best Rooftop Bars in NYC.
For information on LGBTQ nightlife, visit our brother site metrosource.com!
SNEAK PEEK, NEXT WEEK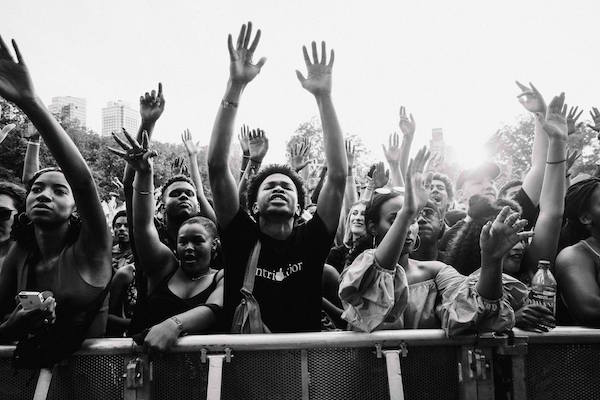 (8/25-8/26) Afropunk Festival at Commodore Barry Park, Brooklyn, with Janelle Monae, Erykah Badu, Lolawolf, Blackpantera, and many others.
PLUS
(8/21) Michael McDonald at Pier 17.
(8/21-8/22) Jeff Lynne's ELO at Madison Square Garden.
(8/23) Billy Joel at Madison Square Garden.
(8/24) Buster Poindexter at City Winery.
(8/24) Percussionist Sheila E. at Sonny Hall.
(8/25) Gladys Knight and the O'Jays at Pier 17.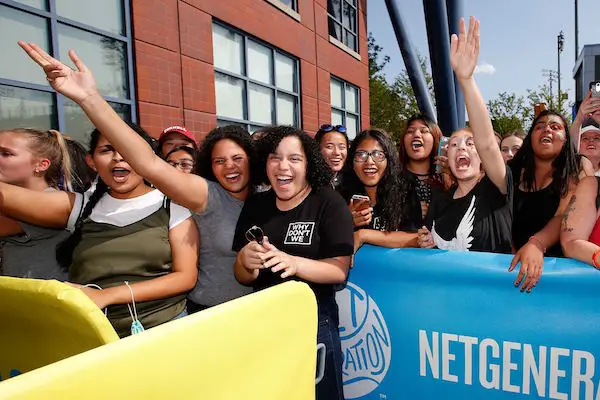 (8/25) The 2018 Arthur Ashe Kids' Day takes place on the Saturday ahead of the US Open. There are games, activities like face painting and juggling workshops, live performances, and the chance to watch the pros practice at the new Louis Armstrong Stadium. Tennis stars Rafael Nadal, Novak Djokovic, and Angelique Kerber will make appearances as well. Tix here. arthurashekidsday.com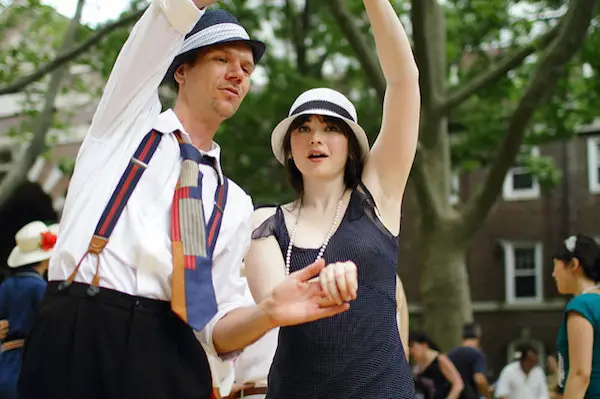 (8/25-8/26) The Jazz Age Lawn Party takes place on Governors Island. Just a short ferry ride from Brooklyn or Lower Manhattan will bring you to festivities the whole family can enjoy. The weekend celebrates the 1920s with dancing lessons and a Charleston dance contest, a motorcar exhibition, a pie contest, and more! jazzagelawnparty.com
---
Like what you see here? Share it with your friends on Facebook! Find out more about what to do in August here. We've got September covered, too!
Looking for Free Group Planning Services?
Get free advice on planning your group's trip to New York.
RESTAURANTS

Brings together the character of Hell's Kitchen past with th...

THEATER

In a heartbeat, 38 planes with 6,579 passengers were strand...

SHOPPING

The sweetest experience in Times Square!...

SIGHTSEEING

A state-of-the-art Coney Island amusement park that's home t...