(3/1-3/7) Looking for what to do in NYC during corona? There's more to do in the city now than there's been in months, including the reopening of many of the city's cultural destinations. This detailed map of restaurants shows 11,000 venues now serving; included in that number are more than 5,000 places where you can eat outside (many with plenty of warmth to get you through cold nights). Governor Cuomo has greenlighted New York City restaurants to reopen for indoor dining, expanded as of this Friday to a 35% capacity. Read on for more in-person reopenings and other things to do in NYC this week!
A NEW IMMERSIVE ART EXPERIENCE
Head to the historic boiler room of Chelsea Market to experience the immersive art space ARTECHOUSE. The 2021 exhibition season kicked off on Monday, March 1st with Geometric Properties. Patterns get a cinematic touch as math artist Julius Horsthuis presents a new reality. Commissioned for ARTECHOUSE NYC, Geometric Properties is the first solo exhibition of Horsthuis's work in New York City. His previous work has been featured in the Academy Award winning Manchester by the Sea (2016) and VFX-breakthrough film Koning van Katoren (2012). The installation is open to all ages and will be on view until September 6th. ARTECHOUSE NYC is open with limited capacity and protocols in place to ensure the safety and health of visitors.
WHAT TO DO IN NYC DURING COVID
Despite the coronavirus, there's still plenty to do—safely—in the city. Stay in the loop with:
THE QUEENS DRIVE-IN
After a sold-out run in the fall, the New York Hall of Science in Flushing Meadows Corona Park will once again be hosting movies on the very big screen. This weekend is the opener and it's sold out already, but plenty of tickets remain for coming attractions like The Shining, The Road Warrior, Dune, The Big Lebowski, and double features like Escape from New York + RoboCop and North by Northwest + From Russia with Love. Concessions from Queens Night Market vendors are happening as well. Gas up for some vintage entertainment!
ORCHIDS IN THE BRONX
A New York rite of spring is The Orchid Show at The New York Botanical Garden. Alas, COVID had other plans this year, but you can still enjoy bursts of color in the Bronx. Through Easter Sunday, select galleries at the Enid A. Haupt Conservatory are hosting a Spotlight on Orchids. The flowers are set off against aroids, ferns, and bromeliads, siting the orchids as they appear in nature. (Stop by the NYBG gift shop to take home an orchid of your own.)
#FREEBRITNEY
Fantasy-inspired FiDi pub The Cauldron NYC celebrates the Britney Spears legacy with #FreeBritney Drag Bingo Nights. Every Thursday through March 25th, the house's reigning drag queen Holly Box-Springs will oversee tunes, prizes, and free "Toxic" mezcal and strawberry liqueur shots to welcome new arrivals. Socially distanced tables are available both indoors and outdoors in heated. ventilated snow globes with individual speakers.
KAWS: WHAT PARTY
KAWS (American, born 1974). WHAT PARTY, 2020. Bronze, paint. © KAWS. (Photo: Michael Biondo.)
Brooklyn-based artist KAWS receives his first ever career survey, looking at his overlaps of fine art, street art, commerce, and pop culture. KAWS: WHAT PARTY highlights a range of output, including drawings, paintings, bronzes, furniture, and monumental wooden sculptures of the beloved COMPANION character. Work never before publicly displayed is also on view, and throughout the exhibition visitors can directly engage with KAWS's work through Acute Art, an augmented reality app.
A FREE COFFEE POP UP
To celebrate Visit Costa Rica's Who Is Essential to You campaign, which launched late last year as a way for travelers to honor the people in their lives who made a difference this past year, Visit Costa Rica is hosting a socially distanced coffee pop-up at The High Line on Friday. From 8am-4pm on the corner of 30th Street and 10th Avenue, the Visit Costa Rica team will be handing out complimentary freshly brewed Costa Rican coffee, answering questions about Costa Rica travel, and offering booking discounts for trips booked by the end of April. Masks are required, and hand sanitizing stations and NYC safety protocols will be enforced.
MOVIE THEATERS ARE BACK
It's been longer than we could have imagined, but we are getting closer to being "on the other side." Movie theaters are opening on Friday, but to maximize safety there are several restrictions in place. Capacity will be limited to 25% (50 people max) and masks, social distancing, and assigned seating will all be in effect. Among the returning venues is Brooklyn's Nitehawk Cinema. Both Williamsburg and Park Slope locations will be showing first-run movies again starting tomorrow. In addition to the required COVID precautions, Nitehawk closes on Mondays for deep cleanings.
Showcase Cinemas, a world leader in the motion picture exhibition industry, announced that it will re-open three New York City theaters on Friday, March 5th, under the company's "Be Showcase Safe" health and safety program. The theaters are Linden Boulevard Multiplex Cinemas (2784 Linden Boulevard, Brooklyn), College Point Multiplex Cinemas (2855 Ulmer Street, Whitestone), and Jamaica Multiplex Cinemas (15902 Jamaica Ave., Jamaica). "Winter Hours" will be in effect, with openings 4-8pm Thursdays, 1-10pm Fridays/Saturdays, and Sundays 1-8pm. Showcase Cinemas will also be offering private screenings and concession value packages for family and friends. Starting at only $99, customers can book their own auditorium for up to 20 guests and choose from a catalogue of Bring Backs films to screen. Starting at just $199, customers can book their own auditorium for new films such as "Tom & Jerry," "Nomadland," and "Chaos Walking."
A NEW SPACE IN THE BK
Husband and wife-run North Bed-Stuy newcomer Winona's is launching a new addition today. The Backroom at Winona's, which can be found at the end of a long hallway behind a mirrored door, has been there since 1910. Amid high ceilings, skylights, greenery, and an open kitchen, guests can enjoy modern takes on the natural wine/bar European restaurant-cafe scene. The menu is market-driven, but you can expect highlights like a tortilla Espanola, Scotch eggs, and lamb meatballs with a harissa tomato sauce.
ROOFTOP COMEDY
Bushwick's The Tiny Cupboard is reprising its live comedy shows Friday and Saturday this weekend. Safety is job one here, so expect limited admission, loads of social distancing, and no food or drink. (All Night Skate down the block is recommended for your pre-gaming.) "Dress like you're going skiing" is the advice and note that these shows do sell out.
CITY SKATE POP UP CONCERTS

The Ice Theatre of New York celebrates dance on ice at Bank of America Winter Village in Bryant Park. As part of the City Skate Pop Up Concerts, shows are held in Bryant Park on Tuesdays and Thursdays in March.
LUNAR NEW YEAR PERFORMANCES
Head downtown to Brookfield Place to get into the spirit of the Year of the Ox. In partnership with the New York Chinese Cultural Center, Brookfield is hosting FPL Studio: Lunar New Year shows through Sunday, March 14th. Shows are Fridays at 5pm (featuring dance) and Sundays at 1pm (featuring music); you can register on the Monday before each performance at 10am. Plexiglass barriers or face coverings will separate performers from the audience.
¡WINTER IN THE TROPICS!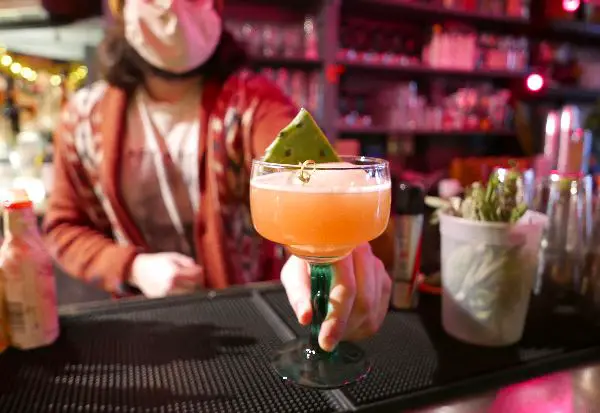 Photo: The Garret Bars.
Nolita has your next breezy getaway waiting in the form of a ¡Winter in the Tropics! pop up. Inviting you to a destination "south of stress," the pop up offers Latin-Caribbean-inspired frozen cocktails, beachy tunes, tacos, nachos, and other fresh Mexican fare. There are 52 heated outdoor seats, including the Hacienda Sunroom, on top of five heated Mezcal Cabanas for groups of 4 to 8. Tropical decor sets the scene, with cocktails to match.
SIP & SLAY MIXOLOGY EXPERIENCE
Catering and staffing company Open Bar Hospitality is nodding to Women's History Month this March. Celebrating women who are determined to create their own path and chase their dreams, they'll be toasting with a "Women Who Sip & Slay" mixology box. The at-home kit comes with ingredients to make two signature cocktails—a guava cosmo and a jalapeno Margarita—plus a few related goodies from other women-owned companies. You can join the experience this Friday from 5-6pm, as well as on March 16th or 28th.
A RAMEN POP UP
Good Ramen To Eat brings the Upper West Side a night market experience with just the nourishment a cold evening is calling for. This "tachigui-style" pop up is fully heated, with socially distant high top tables. (Delivery and take out are available as well.) In addition to fresh-made noodles and soup you can dip into cocktails like the Tokyo Drift with lemongrass mizu shochu, Midori, triple sec, and lime.
VOYEUR: THE WINDOWS OF TOULOUSE-LAUTREC
If you're craving live performance with a dose of city sophistication, look to Greenwich Village and Voyeur: The Windows of Toulouse-Lautrec. This immersive show, hosted at The Duplex, serves as a theatrical walking tour, where you join a limited capacity audience interacting with a cityscape transformed into the bohemian world of 1899 Paris. The shows continue through March 31st. (A drink upgrade is just $10.)
THE RETURN OF GAGE & TOLLNER
Gage & Tollner dates back to 1879, with a landmarked interior that's a Brooklyn legend. While the pandemic will hold back the relaunch of the restaurant a little while longer, new take out and delivery programs have just begun. Two new home meal kits offer enough to serve a full family, with gourmet takes on a Braised Heritage Pork or Dry-Aged Ribeye Dinner. The Sunken Harbor Club, the tropical cocktail bar upstairs, is also offering globally inspired cocktails to go, with Asian comfort foods to match. (Pictured: The Long Nine with rum, sherry, amaro, lime, coconut cream, and a dash of crème de cacao.)
CHELSEA MARKET ACTIVATIONS
Chelsea Market is launching new activations for the weeks ahead. On Chelsea Market's 16th Street heated outdoor dining area, select Saturdays from 11am-2pm will see a series of Build NYC interactive stations, with playful challenges for New Yorkers of all ages. The Chelsea Symphony will perform outside this Sunday, and Tuesday afternoon Homework Hubs launch at the end of March.
GOYA AT THE MET
Spanish artist Francisco Goya (1746–1828) was one of the most remarkable figures of his time. You can learn more at the newly opened Met show Goya's Graphic Imagination, which explores the artist's skills as a draftsman and printmaker. The 100 works on display further show off the way Goya thought about politics, superstition, and intellectual oppression. Image: Seated Giant.
HOCKNEY IN NORMANDY
One of the most important artists of modern times, David Hockney is showing new work in NYC. The Richard Gray Gallery on the Upper East Side is the host, with both virtual and in-person viewing options. (For the latter, you can make an appointment to visit Monday through Friday, 11am-4pm, from Monday, February 22nd through Friday, March 19th.) Hockney in Normandy shows new prints and iPad paintings created by Hockney at his studio in France. Image: In Front of House Looking West, 2019.
ESCAPE TO CAPRI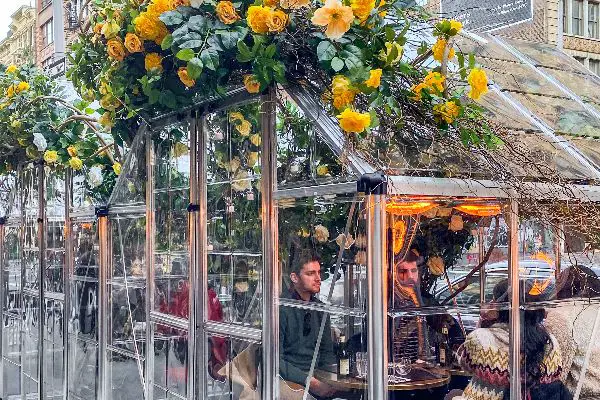 You can dine on authentic, refined Italian cuisine at Soho's Sola Pasta Bar. For a romantic night out (or intimate gathering), they've just launched new Soho Cottages. Safe, private dining awaits, as the cottages are equipped with heat, firefly lamps, and over-the-top floral displays created by the studio Floratorium. Probably the closest you'll come to a Capri escape until you get that vaccination...
FREE SKATING CONTINUES
Photo: Angelito Jusay.
The Bank of America Winter Village at Bryant Park, which has the city's only free-admission skating rink, stays open in midtown through March 28th. In addition to the rink, you'll find options like The Lodge Deck, with heated outdoor seating and a full-service cocktail bar; the Curling Café, where you compete at iceless curling (visitors can rent curling lanes and accompanying tent packages for either 1-4 or 5-8 guests on Wednesdays-Fridays 3:30-9pm, with extended weekend time slots Saturdays and Sundays from 1:30-9:00pm); and the Igloos, where can reserve your very own heated Cozy Igloo with family and friends while enjoying hot chocolate, salted caramel hot apple cider, mulled wine, or charcuterie boards. The Shops have been extended as well, with a European-inspired open-air market connecting you with artisans from around the world.
A NEW MAMAN
There's nothing like greenery to break up winter (and that's to say nothing of South of France vibes) as they're sharing at the newest location of Maman, Maman King. The ninth location of the café, restaurant, and event space has dropped a garden oasis in Hudson Square. Home of the Nutty Chocolate Chip Cookie (one of Oprah's Favorite Things), Maman King also serves farm-fresh salads, quiches, sandwiches, soups, pastries, and desserts. Happy hour cocktails are available in the bar area, including location-exclusive temptations like takes on hot spiced apple cider, Irish coffee, and spiked hot chocolate.
LIVE BEATS
If you're looking for a getaway without running up the mileage, head out to Brooklyn's Industry City for a range of possibilities. On top of drinks, bites, shopping, and ice skating, you can also groove to live music. Look for live Latin music from Cuarteto Guataca (above) at Sahadi's outdoor seating in Courtyard 3/4, in addition to sets of live bossa nova and jazz.
VALE RINK IS BACK

For the second consecutive season, you can skate 23 stories high with skyline views all the way. The William Vale in Williamsburg, Brooklyn has brought back its Vale Rink, with limited capacities to ensure safe social distancing. Hours are 2-10pm Wednesday through Friday and noon-10pm on Saturdays and Sundays. Pricing is $20 for adults and $12 for kids 12 and under, and includes skate rental, lockers, and 50 minutes on the ice. Er, Glice. The rink is sustainable and makes use of Glice, a synthetic that requires no power or water to make (and doesn't feel cold or wet should you tumble onto it).
WINTER MEANDERS
Photo by Michael Stewart.
To broaden your visual horizons, plan a visit to the Brooklyn Botanic Garden, still compelling even in its winter dormancy. To add an audio layer to your experience, check out Meander. This site-specific sound walk guides listeners on a meditative stroll through the natural landscape. Created by Joseph White and HERE Arts Residency Program artist Gelsey Bell (the composers who brought you Cairns—included on the New York Times "Best Theater of 2020" list), Meander encourages immersion in the details of nature. The walk starts at the Visitor Center and ends at the Water Garden, but you're welcome to try out the program at home or elsewhere.
MRS. MAISEL'S MARVELOUS TOUR OF NEW YORK CITY
On Location Tours, the city's premiere TV and movie location tour company, has added 1950s New York City to its stable. And you can enjoy it from a prime seat inside a 1957 Studebaker—the very one used in all three seasons of the show. Mrs. Maisel's Marvelous Tour of NYC is ongoing on Thursdays and Saturdays (it's not cheap, but you'll have a highly personal experience—tours are limited to 2 or 3 guests). An energetic guide shows off locations used in the series and shares secrets about how the crew disguised modern-day NYC to pass for 60 years ago.
WATERFRONT WINTER WONDERLAND
Via Facebook.
Find waterfront views without freezing your tail off at Watermark in the Seaport District. Make a reservation for a fully weather-controlled private dining experience and you can relax in glasshouse comfort. Stay seasonal with the cheese fondue and s'mores options, and check out the classic movies showing on the new jumbo projector. Brunches, dinners, and craft cocktails are all on the agenda.
FLEA NEW YORK
Holiday shopping may be in the rear-view mirror, but you can still find great browsing (and deals) at Chelsea Flea all winter long. Antique and vintage wares are available for a dose of history to accompany your style. The flea is open 8am-4pm on West 25th.
ARTISTS & FLEAS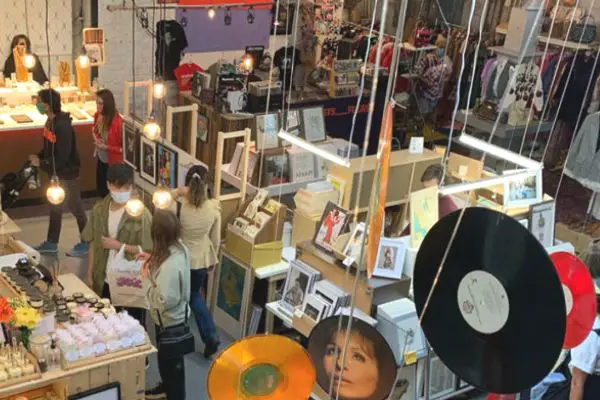 Shop local this weekend when Artists & Fleas returns to Williamsburg. This flagship Brooklyn scene connects makers and browsers, bringing in more than 45 sellers every weekend. Get a first look at the latest trends in fashion, vintage, art, and design.
LIVE MUSIC ACCOMPANIMENTS
Enhance your experience of the galleries at the Museum of Arts and Design with live music activating the spaces on select Thursdays and Saturdays. Meant to be enjoyed informally as visitors explore the art on view, performances from an international roster of celebrated instrumentalists take place in accordance with the museum's safe social-distancing practices. Curated by Laura Metcalf and Rupert Boyd of Boyd Meets Girl, the roster includes international soloists, Grammy winners, and members of the New York Philharmonic, the Met Opera, and the Hamilton orchestra. Performances take place Thursdays 6–8pm and Saturdays 2–4pm and are free with museum admission.
Matthew Lipman, international viola soloist, Chamber Music Society of Lincoln Center
Sat, Mar 6, 2–4 pm
Kristin Lee, international violin soloist, Chamber Music Society of Lincoln Center
Sat, Mar 13, 2–4 pm
Rupert Boyd, guitar soloist and artistic director of Music at MAD
Sat, Mar 20, 2–4 pm
EATELY TAKES YOU "INTO THE WOODS"

The Flatiron's favorite seasonal scene launched its winter iteration on Monday. SERRA by Birreria, on the heated rooftop of Eataly NYC Flatiron, transports you to a woodland-themed zone of coziness. Menu highlights include a Norwich Meadow Sweet Dumpling Squash with fontina Val D'Aosta DOP and local mushrooms and polenta with a housemade wild boar ragù. Woodsy vibes can be found in the drink menu too, as in the tableside-smoked cocktail above.
MODERN ART IN POSTER FORM
If you're craving New York culture you can check out a double layer of it at Poster House. The only poster museum in the U.S., this Chelsea newcomer has a mini-exhibition focused on philanthropist Vera List and the creation of a poster program advertising the new Lincoln Center complex in 1962. Contemporary art stars from Andy Warhol to Roy Lichtenstein, Ben Shahn, and Robert Indiana joined in. New exhibitions include Austrian designer Julius Klinger (1876–1942), one of the leading graphic artists of the modern age. Julius Klinger: Posters for a Modern Age spans three decades, with more than 80 Klinger's posters, illustrations, and advertisements, plus additional context from the work of contemporaries like Gustav Klimt. Also opening Thursday is Freak Power, a visual telling of Hunter S. Thompson's plan to become Sheriff and transform Aspen, Colorado.
BODY PRINTS
Image: David Hammons, Pray for America, 1974. Screenprint and pigment on paper.
The Drawing Center in SoHo launches two new exhibitions on Friday. In addition to Ebecho Muslimova: Scenes in the Sublevel, the center will be mounting the first museum show dedicated to artist David Hammons's pivotal early works on paper. David Hammons: Body Prints, 1968–1979 brings together monoprints and collages where the artist used the body to create a new visual language. Through May 23rd.
HOLIDAY EXPRESS RETURNS


The annual holiday tradition Holiday Express: Toys and Trains from the Jerni Collection is back to celebrate the golden age of toys and transportation. Now through April 11th at the New-York Historical Society, you can explore trains and stations that date from the turn of the 19th century to the WWII era, showcasing evolutions in design. New for this year are several items not seen for years, including the rare, elaborately detailed Märklin Grand Station (1904–08). Precautions are taking place for the pandemic, including the closure of the crawl-space viewing bubble this year.
THE RINK AT BROOKFIELD PLACE
You can once again skate along the Hudson at The Rink at Brookfield Place. Get some fresh air and enjoy skyline views of both NYC and NJ. This is just one of a series of seasonal attractions at the downtown venue.

For more activities for parents and families, check out our sister site nymetroparents.com!
NEW FOOD HALL JACX&CO NOW OPEN
Long Island City makes its case as a destination all its own, adding to its park expanses and stunning views the new food hall JACX&CO. Located on the plaza level of The JACX, a creative office campus, it opened Wednesday. For now you can enjoy it for indoor dining (at 25% capacity), pick-up, and delivery, with a full service bar and outdoor dining coming next. Opening eateries include Beebe's, Crif Dogs, FIELDTRIP, Ghaya, Lotus + Cleaver, Taim, Al Volo, Kissaki, and Méxology (pictured above).
KOREAN CHIPS AND ICE CREAM—AT HOME
East Village standout Oiji is establishing a new category of NYC dining: "Refined Authentic Korean." For the first time, you can enjoy the experience at home, including the restaurant's most famous dish—honey butter chips and vanilla ice cream. Now available as a meal kit through Mise, the combo is chef and owner Brian Kim's elevated take on a Korean snack food favorite (it's constantly sold out in stores in Korea). Oiji is also offering several other special dishes as meal kits through Mise like their ssam platter, lobster noodle, and mushroom salad. This is a great way to enjoy a fine dining meal safely, with a fun home date night or family activity as part of the deal.
THE GREENS ARE BACK AT PIER 17

The Greens return to The Rooftop at Pier 17 to put the social back in social distancing. Starting today, you can book your own cozy cabin, with thorough cleaning and built-in air purifiers. A brand-new seasonal menu provides the bites, with favorites like cheese fondue, buttermilk fried chicken, and chipotle beef stew. The signature cocktail program is orchestrated by the newly crowned "World's Best Bar," Dante, which has been serving New Yorkers for over a century. Floor-to-ceiling views, heat, classic winter cabin décor, and a virtual fireplace are all included.
THE SECRET SIDE OF ELLIS ISLAND

hodgepodge brigade/Flickr
Get a behind-the-scenes look at the unrestored Ellis Island Immigrant Hospital Complex. This gateway to America for millions of people is accessible again via Statue Cruises—the only ride to Ellis Island and the Statue of Liberty. (If you opt for the Hard Hat Tour Ticket and its 90-minute guided tour of the hidden part of Ellis Island you'll get round-trip ferry service and audio Tours of Liberty and Ellis Islands.) The art exhibition "Unframed—Ellis Island," by renowned French artist JR, is on display throughout the hospital complex. Tours run on Saturdays and Sundays.
ASIA SOCIETY'S FIRST TRIENNIAL

Sun Xun. "July Coming Soon" (detail), 2019. Ink and color on silk. 24-page folding album. Courtesy of the artist and ShanghART Gallery. Photograph: Alex Wang (ShanghART Gallery).
The inaugural Asia Society Triennial, a first-of-its-kind installation, is now open. In addition to the art on display at the Upper East Side's Asia Society and Museum, other venues and multi-media performances are included in the mix. You'll find work by more than 40 artists representing 20 countries sharing work that reflects Asian nations and the Asian diasporas. We Do Not Dream Alone is slated to run in two parts through June 27, 2021. Entry to the Triennial is by timed tickets.
ONE WORLD OBSERVATORY
At 1,776 feet, One World Trade is the tallest building in the Western Hemisphere; with over 44,000 tons of steel and a unique concrete core, it's the strongest building in the world. After a COVID-19 hiatus, the top of One World is once again welcoming guests to explore the One World Observatory. With new safety protocols in place, you'll enjoy stunning views of Manhattan, the boroughs, the rivers, and all the way out to Jersey with plenty of acreage to yourself. While you're there, take advantage of hand-crafted cocktails, small batch wines, local brews, and a brand-new Illycaffè & Gelateria.
For more to do with kids, visit our sister site New York Metro Parents!
MANHATTAN'S ONLY PRODUCTION BREWERY OPENS

Photo: Torch & Crown Brewing Company.
SoHo is newly home to the city's first legit brewery in who knows how many decades. Torch & Crown Brewing Company's long-awaited brewery and restaurant has opened up in a massive, tri-level space outfitted with state-of-the-art brewing equipment, subterranean fermenters, and a gleaming full-service kitchen. The menu is kicking off with 10 brews, New York wines and ciders, an all-New York spirits cocktail menu, and a very shareable mix of large and small plate savories.
BEAT THE BOMB IMMERSIVE VIDEO GAME EXPERIENCE

Beat The Bomb, an immersive video game experience based in Dumbo, Brooklyn is opening up with new experiences and safety measures. The ultimate social distancing activity, Beat The Bomb is perfect for families, small groups, learning pods and quaranteams who are looking for a new kind of challenge—kind of like an escape room. The hour-long experience features a series of four games broken out into different rooms, allowing for a unique flow that separates groups for better distancing. The goal: earn time on the bomb clock by beating levels. Then disarm the paint bomb before time runs out… or GET BLASTED! (PPE has always been a part of the experience, but it's really coming in handy now.) beatthebomb.com
WHAT TO DO IN NYC DURING COVID
Despite the coronavirus, there's still plenty to do in the city. Stay in the loop with:
SELF-GUIDED TOURING DOWNTOWN
Head down to the Financial District for a winter walk enriched by history. The 9/11 Memorial & Museum has just launched a new app that uses map-based technology to guide you around the pools, Survivor Tree, and 9/11 Memorial Glade. The 9/11 Memorial Audio Guide centers on a 40-minute tour narrated by Anthoula Katsimatides, a New Yorker whose brother, John, was killed on 9/11. Images are included to help bring the stories and history of the design to life; the app is available from the App Store.
VIRTUAL TOURS OF THE UNITED NATIONS

Ahead of an in-person reopening, UN Visitors Services is presenting virtual tours and briefings, hosted by the UN's legendary multilingual tour guides. Online visitors can learn about the organization's roles and can get insider angles on famous spaces like the General Assembly Hall and Security Council. Tours are available for groups or "UN Kids." visit.un.org
OUTDOOR ART AT THE UN

A new outdoor exhibit, #TheWorldWeWant, is now available to view outside United Nations Headquarters. The exhibit is a special collection of photos curated from more than 50,000 images from over 130 countries, as a way to hear directly from the peoples of the world about their priorities for the future. The photos featured are from #TheWorldWeWant, a global photo contest hosted and organized by the mobile app Agora in support of the 75th anniversary of the United Nations. This outdoor exhibit, found along First Avenue between 46th St and 47th St, is free and open to all and will be on display through the end of the year. un.org/en/exhibits/page/un75
YANKEE STADIUM VIRTUAL TOURS

Yankees Stadium holds many stories inside its walls. Experience the historic team's history from your own grandstands with Yankee Stadium Tours' new virtual visits. The Yankees are holding tours twice a week, every Tuesday at noon and every Thursday at 2pm, for about half an hour each. You can reserve a spot here, and prepare to learn more about New York. The tour features iconic sites like Monument Park, essentially the Yankees' Hall of Fame, honoring the franchise's greatest players, managers, and coaches. You can also get a peek at the New York Yankees Museum, which features historic jerseys, baseballs, and more detailing the Yankees history. Book now, as tours are quickly reaching capacity.
BUT STILL, IT TURNS
Photo by Curran Hatleberg.
The International Center of Photography (ICP) is reopened and as of today has a new exhibition to show off. But Still, It Turns: Recent Photography from the World, guest curated by photographer Paul Graham, brings together 9 contemporary photographers working in a lyrical documentary mode, drawing on life as it is "in all its ambiguity and wonder."
HAVE A QUESTION ABOUT THE CITY?

City Guide brings you "Everything to Do NYC," a community of people helping each other get everything we can from the city. Looking for a restaurant? Ask ETD. Want to share a great find? Let us know about it. It's your go-to group for how to get everything you can from everything in New York. facebook.com/groups/everythingtodonyc
REOPENED!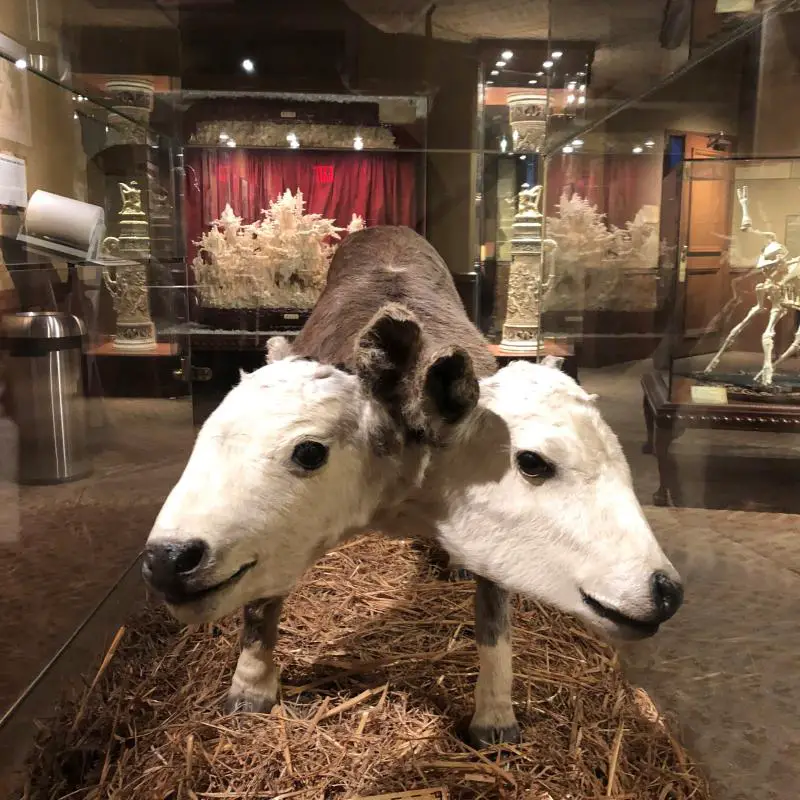 Ripley's Believe It or Not! Times Square invites guests of all ages to experience the unbelievable mysteries of our world. Home to rare artifacts and thrilling interactive exhibits, this one-of-a-kind attraction is perfect for those who want to immerse themselves in the unusual, the unexpected, and the unbelievable. Hours have just been updated to 7 days a week, 11am-6pm (the last ticket is sold one hour prior to closing). For a safe experience, new initiatives include enhanced cleaning and disinfecting schedules; hand sanitizer stations throughout the attraction; limited capacity; face coverings required for all guests and staff; new signage; and temperature checks for staff. In addition, interactive exhibits will remain closed until it's safe for them to open. ripleysnewyork.com

Top of the Rock, a stunning perch atop Rockefeller Center, offers wholly unobstructed views of the city's most iconic landmarks, including the Statue of Liberty, the Empire State Building, the Chrysler Building, the rivers, and all of Central Park (its size can only truly be appreciated when seen from above). The Grand Viewing Deck on the 69th floor offers unparalleled views of the city and the 70th Floor is an open-air perch with completely unobstructed views—no glass or anything. Top of the Rock reopened to the pubic on Thursday, August 6th. Social distancing is easier here: Top of the Rock has more open-air viewing space than any other observation deck in New York City. New hours for the Observation Deck are daily 1-9pm; guests will enter from West 50th Street, between Fifth and Sixth Aves., and proceed with timed tickets to the glass stairs upon entry. Visitors without a pre-purchased ticket will be directed to the box office. Capacity will be limited, masks are required, and hand sanitizer is available throughout the attraction. topoftherocknyc.com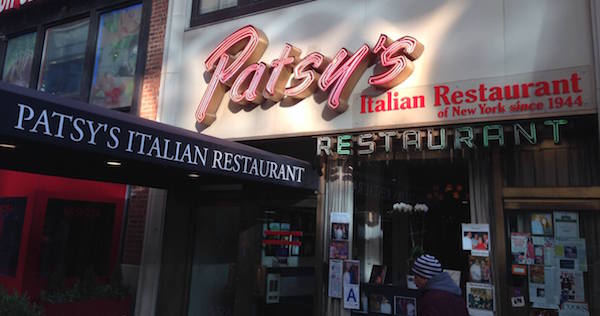 New York restaurants come and go, but Patsy's Italian Restaurant is forever. The famed eatery—which only has one location, right in the heart of Midtown Manhattan—turns 77 this year and is only getting better. After being on pause for several months, takeout and outdoor dining have returned. Expect classic favorites of home-style Sicilian cuisine like rigatoni Sorrentino, linguine with clam sauce, veal rollatine Marsala, and chicken Contadina. Hours will be 4-9pm Wednesday-Sundays; customers can make reservations by calling 212-247-3491 or emailing patsysnyc@gmail.com. patsys.com
Andreas Komodromos/Flickr
The west side's beloved elevated park, The High Line, is open albeit with capacity at the park greatly reduced. Free timed-entry tickets are opened every two weeks on Mondays. A limited number of walk-up passes will also be available at the entrance, but advance planning is recommended. Traffic will only flow in one direction, starting at Gansevoort Street. All visitors must enter at the southern end of the High Line, at Gansevoort Street and Washington Street, and move northwards. In this first reopening phase, the High Line will be open only to 23rd Street. Citywide safety protocols will also apply here, including the requirement of wearing a mask or face covering and maintaining 6-foot social distancing. thehighline.org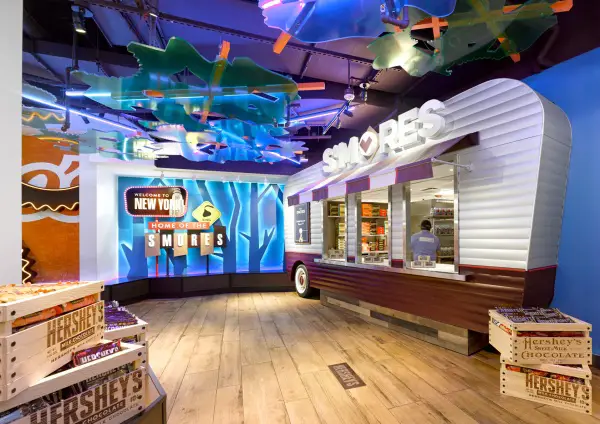 Hershey's Chocolate World is the place to go in NYC when your sweet tooth starts kicking in. Located in the heart of Times Square, the newly reopened store features chocolate experiences for everyone to enjoy. At Hershey's Kitchens Bakery indulge in a chocolate-filled brownie or peanut butter blossom cookie. Relax with a refreshing Hershey's chocolate spritzer or warm up with a Hershey's melted hot chocolate. If you can't make it to the Hershey chocolate factory tour in Hershey, Pennsylvania, Hershey's Chocolate World in Times Square is the next best stop. Hours are now 11am-7pm. hersheys.com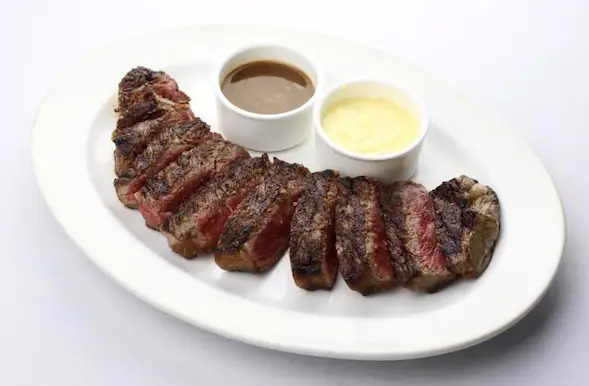 Benjamin Prime combines modern elegance with traditional steakhouse classics, while also showcasing signature standouts from highly regarded sister property Benjamin Steakhouse. After perfecting both steakhouse and seafood concepts in their arsenal, Benjamin Restaurant Group is highlighting the grill at Prime, serving up USDA prime dry aged steaks and succulent seafood in unique ways. As of Wednesday, July 8th they are open again for outdoor dining! Hours are 11:30am-10pm on the weeknights and 4-10pm on Saturdays. Don't miss the return of the Power Lunch Menu, weekdays from 11:30am-4pm; Just $39 covers an appetizer like crab cake or lobster bisque, followed by entrees like a USDA Prime junior New York sirloin, and desserts like a classic New York cheesecake.
benjaminsteakhouse.com/prime
Havana Central's all-day menu boasts the best in Cuban cooking. Dig into classic dishes like Cuban sandwiches, empanadas, jerk-seasoned chicken wings, "ropa vieja" beef stew, mango salmon, and vegetarian paella. You can once again enjoy it in person, as outdoor dining comes to Times Square (tables available on a first-come, first-served basis). You can also dive into this great cuisine with pick up and contactless delivery. Cuban family meals, grocery boxes (fruit, chicken, and vegetables, order by 5pm Wednesday for pickup after 1pm on Friday), and Caribbean cocktails to go are all also available—12oz and 32oz mojitos are highlights (tropical flavors optional). Note that Havana Central has expanded its delivery zone: covering 16th to 79th Sts., both east side and west. havanacentral.alohaorderonline.com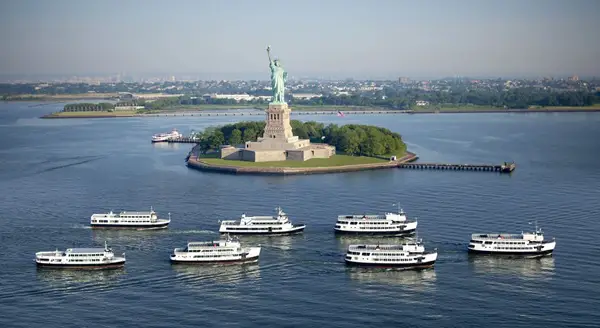 Statue Cruises is once again out and about in New York Harbor. Tickets may be purchased in advance (strongly encouraged) from the Statue Cruises website or at Gangway 5 in Battery Park. Statue Cruises is encouraging social distancing to the greatest extent possible, reducing the capacity on board vessels by 50%, requiring all employees and guests to wear face masks at all times, ensuring thorough deep cleaning of vessels throughout each day, requiring daily temperature checks of all Statue Cruises personnel, utilizing contactless payment systems, providing sanitizer stations on both vessels and the islands, and much more. With the season of giving here, Statue Cruises is giving back to first responders and the frontlines. Statue Cruises has launched First Responder Fridays where firefighters, police officers, EMTs, doctors, nurses, and hospital workers will be able to visit the Statue of Liberty and Ellis Island on Fridays through February for free. statuecruises.com
A NEW DOWNTOWN DISCOUNT
For the first time ever, Hornblower Group, One World Observatory, and the 9/11 Memorial & Museum have launched the Official Downtown Experience combo ticket package. Make a day of it downtown and get one reserve admission ticket for Statue Cruises, the only ferry serving the Statue of Liberty and Ellis Island; a flex admission to the 9/11 Memorial & Museum; and a flex ticket to One World Observatory. The $74.99 price reflects a 20% savings. Available now.
IT'S ALL HAPPENING AT THE ZOOS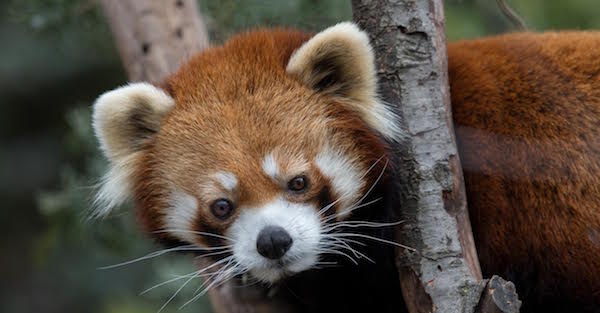 Photo: Julie Larsen Maher © WCS
COVID couldn't stop New York's zoos—the Central Park Zoo, Prospect Park Zoo, Queens Zoo, and the most famous of all, the Bronx Zoo. (Famous for a good reason—there are 8,000 animals there, spread across a habitat that includes 265 acres of hardwood forest). Guest health and safety are the top priority, with social distancing, limited capacity, one-way paths through the park, and touchless interactions. Open exhibits at the Bronx Zoo include the African Plains, African Wild Dogs, American Bison, Baboon Reserve, Big Bears, Birds of Prey, Children's Zoo, Himalayan Highlands, Sea Lion Pool, Tiger Mountain, and the Wild Asia Monorail. Visit the Bronx Zoo's Know Before You Go section to learn more. You'll need to get your ticket in advance (no tickets will be sold at the gates). A touchless entry will let you in, but you must have a face covering, and follow spacing markers to ensure social distancing. bronxzoo.com
TALKS, LECTURES, AND EVENTS
Thought Gallery has hundreds of livestream talks, lectures, performances, and more. Check out sessions with celebs, live concerts, and opportunities to learn the latest on everything from science to philosophy to social justice.
VIRTUAL ESCAPE ROOM
Missing escape room adventures? NYC fave The Escape Game has some great play-at-home editions including Unlocked: The Heist—Vol. 1: Chasing Hahn, which includes all the pieces of the original mission kit, ready for play in quarantine. They've also just launched a new series, The Escape Game Remote Adventures. These are escape games you play with your friends, family, and co-workers on Zoom from anywhere in the world. Players progress through the room using an online clue bank, a live Game Guide, and a 360-degree view of the room. theescapegame.com/remote-adventures
Keep up with the best of NYC—newsletter just launched!
NEW YORK'S ACTIVITY AUTHORITY
Get editors' curated recommendations and have more fun:
COMING ATTRACTIONS
If you're looking to get the family out and moving, join the Brooklyn Bridge Park Conservancy next Wednesday afternoon for their first-ever socially distanced, family-friendly dance party. Cobblestone Catering will provide free hot cocoa and popcorn while supplies last and Party Like Brooklyn, Baby will spin lively tracks. The party takes place on the northwest section of Pier 6 near the picnic tables. Although pre-registration is full for both sessions, there is a waitlist, and a limited number of walkups will be accepted (it's a free event.)
For chapter 5 of the Waroeng Pop-Up series, dig into a feast celebrating seafood. The story begins in Jimbaran, a small fishing village on the southern coast of Bali. The men go out to sea in the evening and the women prep sauces and seasonings. When diners arrive, they select from live seafood and it's immediately prepared by stir frying or grilling over coconut husks. For chapter 5 of this Lower East Side pop-up series, get a taste of classic Jimbaran dishes such as grilled fish with Indonesian aromatics, grilled prawns with Balinese-style sambal, black pepper squid, and chili clams (above). The feast takes place Saturday, March 20th, available from 11am-10pm, at The Market Line on the Lower East Side. Tickets for two are $125-$140 and available for in-person, to-go, or delivery to Brooklyn, Queens, or Manhattan ($15 extra); wine pairing is available as well.
---
EVERYTHING TO DO NYC

Want free advice on what to do and see in New York? Join our Facebook Group Everything to Do NYC, a place for people to ask questions and get tips on how to make the most of the city.