Looking for what to do in NYC today, or this week, or this weekend? There's tons of things to do in New York, like festivals, pop ups, photo ops, and more. We've got the full roundup of New York activities here.
SPONSORED BY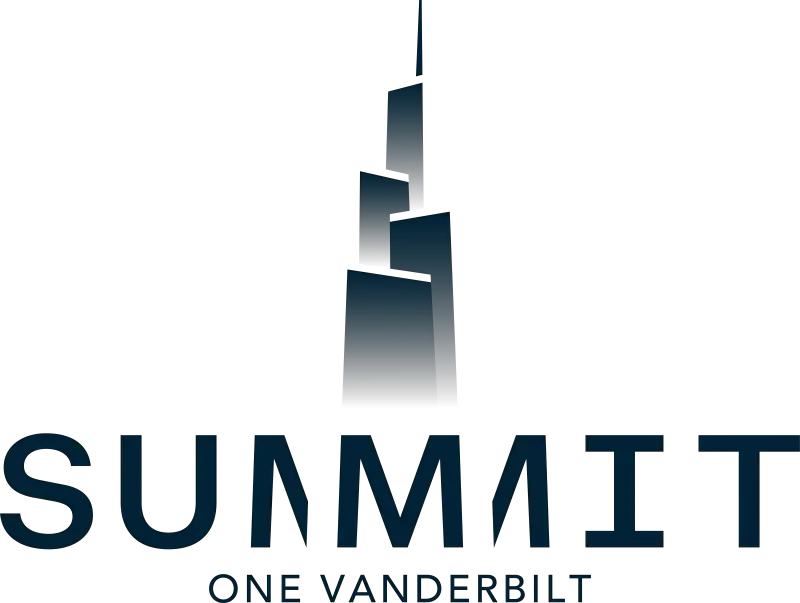 ​A multisensory experience in the New York sky.
THINGS TO DO IN NYC THIS WEEKEND
BUS FESTIVAL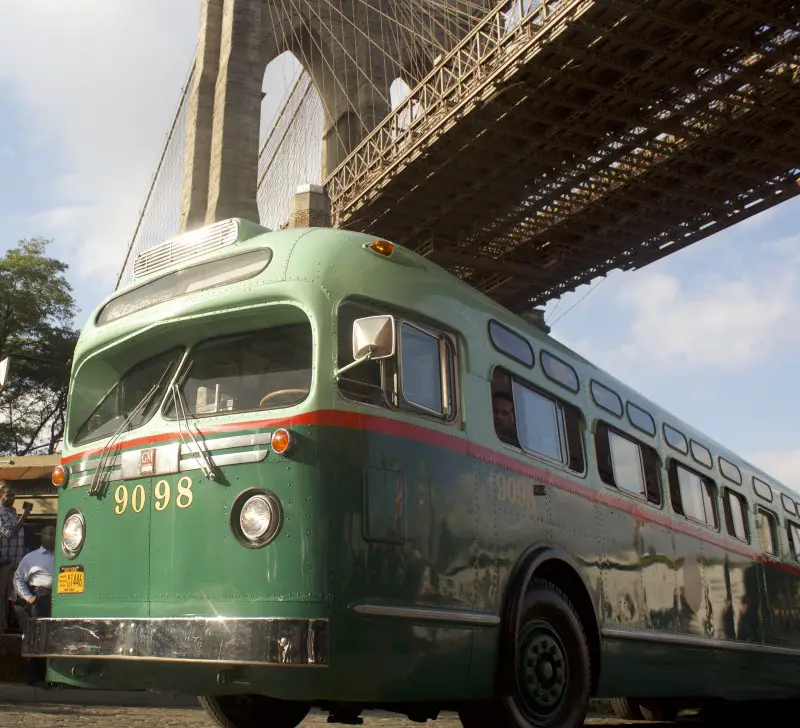 Bus 9098 with Brooklyn Bridge in the background, New York Transit Museum.
NYC's 5,725 buses make up the largest municipal fleet in the country, running 24/7 and providing nearly 600 million rides a year. You can learn more about the evolution of the system at the 2023 Bus Festival in Brooklyn on Saturday. Step aboard and explore vintage buses, meet drivers, go on a scavenger hunt, and check out the New York Transit Museum Store pop-up shop for great souvenirs. The festival is free and comes with epic views of Manhattan from the waterfront.
MUSEUM OF THE WEEK
Naomi Campbell, 1992, 50 x 50 cm. ©Terry O'Neill/Iconic Images.
"No one was able to get as close to the stars as Terry O'Neill," says Johan Vikner, Director of Global Exhibitions at Fotografiska. The new show Terry O'Neill: Stars proves it, presenting the late artist's largest-ever U.S. exhibition and first New York museum solo show, bursting with more than 100 images. There are intimate looks at a who's who of pop culture between 1963 and 2013, ranging from sports heroes to supermodels to rock stars. O'Neill's creativity is everywhere as he captures the essences of Audrey Hepburn, David Bowie, Elton John, Faye Dunaway, and many more. Opens Friday.
SPRING FLING
The 2023 Spring Fling Festival in Bella Abzug Park in Hell's Kitchen hits its big festival weekend this Saturday and Sunday. There will be arts, culture, food and music throughout the day, and the chance to shop local at an arts market filled with artists, makers, artisans, and vendors.
NEW IMMERSIVE
Credit: ARTECHOUSE.
Head to the historic boiler room of Chelsea Market to experience the immersive space ARTECHOUSE, NYC's original home for digital art. You've never seen art like this before, as room-sized digital projections merge with sound design to create a cinematic experience. You can ignite your imagination at the new show Beyond the Light, which opens up the unseen depths of our universe. Working in collaboration with NASA scientists, ARTECHOUSE brings frontier-pushing data to life through experiential storytelling. Going beyond a tour of familiar imagery, this art experience uses the latest technologies, including AI-aided visual production, an original musical score created from galactic data, and stunning imagery and findings from the James Webb Space Telescope. Beautiful, educational, and interactive, Beyond the Light is perfect for the whole family. Use code City6 for $6 off admission!
THE PALEY CENTER FOR MEDIA FREE ADMISSION WEEKEND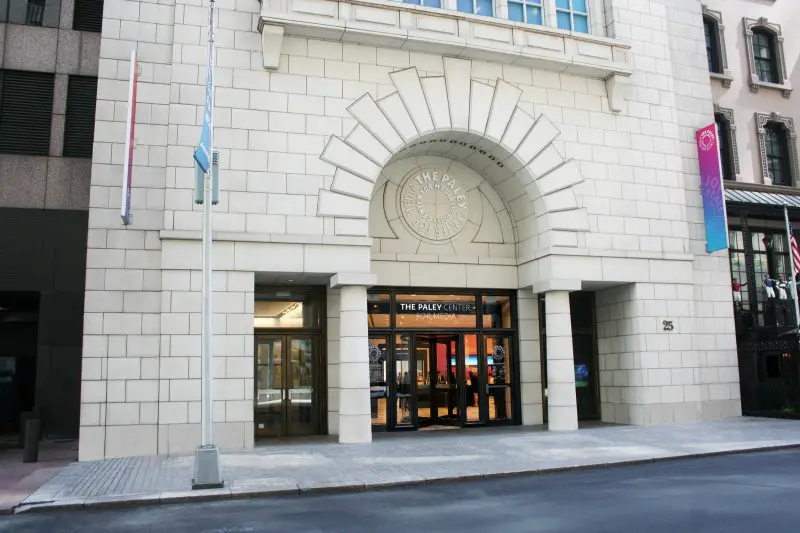 This Saturday and Sunday, The Paley Museum will open its doors for free with activities around media, sports, entertainment, and video games. Paley's state-of-the-art PaleyGX Gaming & VR Studio will host a PaleyGX Tournament featuring Fortnite, on top of the weekend's Minecraft Build Challenge, a celebration of Apple TV+'s The Snoopy Show with special screenings and photo ops, and an immersive exhibit salute to the 25th anniversary of Will & Grace, a centerpiece of Paley's Pride celebration. Also featured are special screenings from the Paley Archive, including the extraordinary races of thoroughbred Secretariat, on the 50th anniversary of his amazing Triple Crown victory, and a curated selection of classic NBA games. For all the details, go to paleycenter.org.
TAPAS WEEK
Image courtesy of Pil Pil.
NYC explores a treasured Spanish tradition as US Tapas Week returns, this Saturday through June 18th. A dozen city Spanish restaurants are offering prix-fixe tasting menus full of big flavor served in little plates.
THE NEW YORK RUM FESTIVAL
The New York Rum Festival returns for its sixth successful year on Saturday. The Metropolitan Pavilion (125 W. 18th St.) in Chelsea does the hosting, with more than 35 vendors and 150 rum expressions to sample. Explore the world of rum with a wide range of spirits from around the globe, including rare and exotic varieties, as well as learn about the latest industry trends. This one-of-a-kind tasting event showcases rums from Cane Rock, Lemon Hart & Sons, Chinola, Diplomatico, and many more. Guests can select from three tasting session times starting at 2pm, 3pm, and 4pm. 
AN OASIS RETURNS

Coastal outpost Portside has reopened on the Waterfront Plaza at Brookfield Place. After a few days cooped up, it's time to get back out there with specialty cocktails and bites, plus brand-new programming. Look for Sips Ahoy tasting stations next Wednesday, June 14th, and a family-friendly Yacht Rock party on Saturday, June 17th.
CALLING ALL SWIFTIES....
"I Bet You Think About Me" video still: courtesy of TAS Rights Management.
Calling all Swifties! The Museum of Arts and Design has launched a new career-spanning look at the 12-time Grammy winner. Taylor Swift: Storyteller shows off concert and music video fashion, along with props, jewelry, and ephemera. Projections of music videos round out the experience, which uses timed tickets to limit crowding.
...AND POTTERHEADS
Calling all Potterheads! The sprawling new interactive experience Harry Potter: The Exhibition is now open near Herald Square. Journey through the iconic moments, characters, settings, and beasts of the Wizarding World. Brew potions in the Potions Classroom, predict the future in Divination, pot a mandrake in the Herbology Greenhouse (it smells amazing), and use your digital wand to defeat a boggart in Defense Against the Dark Arts. Afterwards, check out the shop for Butterbeer, wands, jackets, and a large selection of Potter merchandise.
ALIVE AFTER 5 RETURNS
Happy hour rides from City Cruises have returned. A DJ provides the soundtrack for two-hour cruises out of the Seaport. Sunsets and skylines await.
LIVE IN TIMES SQUARE
For more than 30 years, The Times Square Alliance has been promoting Times Square and the creativity, energy, and edge the neighborhood is known for. With the weather warmed up, TSQ LIVE programming has returned (above), with free shows right in the heart of Times Square. Look for DJ sets, live music presented by Jazz at Lincoln Center, dance shows, and much more, on the corners of Broadway and 43rd and Broadway and 46th. The performances run select Tuesdays through Fridays.
NOW OPEN IN TIMES SQUARE!
Customer with MINISO's mascots Penpen and Dundun.
Global lifestyle retailer MINISO has launched a new flagship at 5 Times Square. Specializing in licensed collections, from Sanrio to We Bare Bears, the store is known for its avid fans. The new locations presents 2,500 products across 10 dedicated product zones. Besides licensed collections, the zones include blind box collectibles, toys, plushies, fragrances, accessories, makeup tools, snacks, electronics, gifts, and stationery. 
NEW INFINITY ROOM
Archival image of a Kusama Infinity Room by Stig Nygaard/Flickr.
The David Zwirner gallery has opened I Spend Each Day Embracing Flowers, an exhibition by Japanese artist Yayoi Kusama with new paintings, new sculptures in her signature motifs of pumpkins and flowers, and a new Infinity Mirror Room. The exhibition runs until July 21st. (There are no reservations, so expect a line; weekday mornings are the best time for less crowds.)
TROPICAL OASIS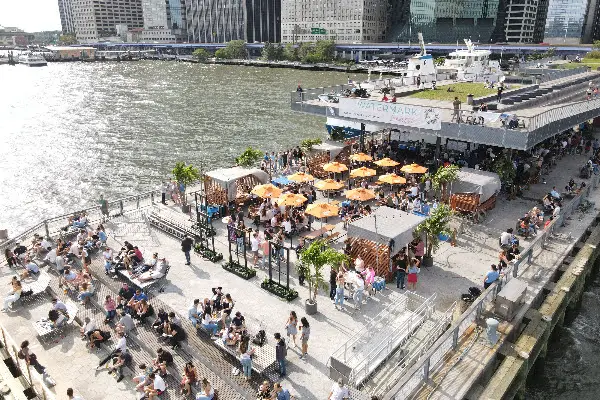 The Seaport's waterfront oasis Watermark Beach is now open for the season. The massive deck boasts a new outdoor bar, new cabanas, and a curated cocktail program. Both walk-ins and reservations are welcome—the latter can be made here.
WHALE WATCHING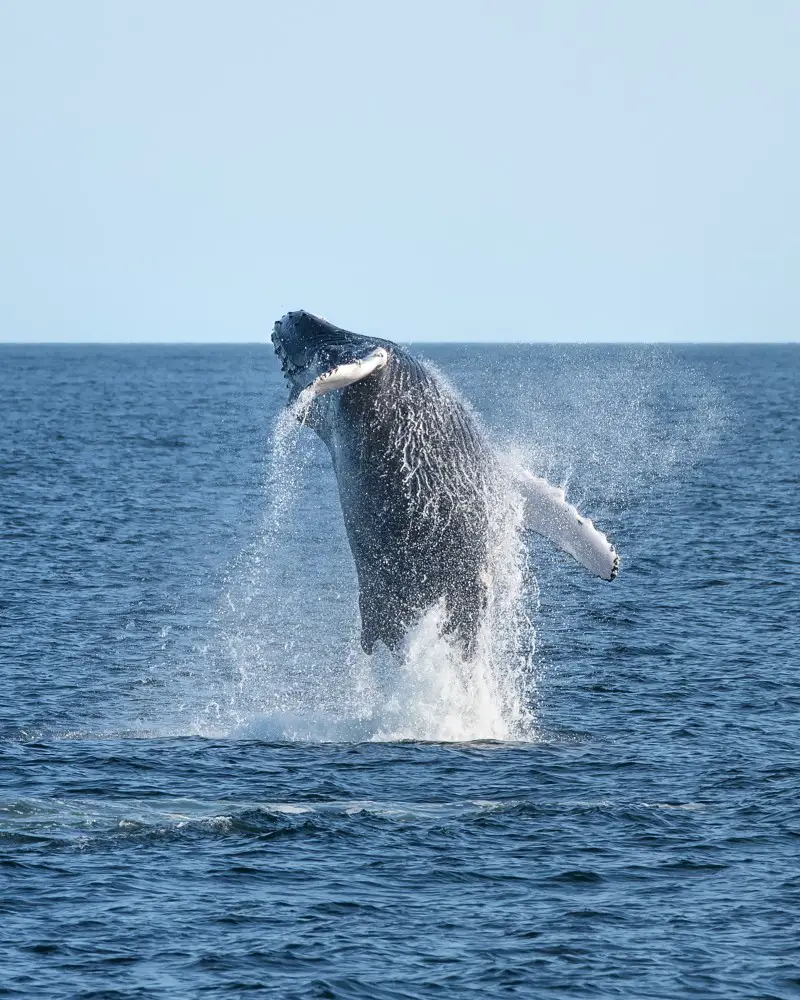 As New York waterways get healthy, bottlenose dolphins, seals, sea turtles, and even whales are paying visits to the city. You can check out all of the maritime action on Seastreak, which has encountered charismatic humpback whales on 85% of its nature trips. Whale Watching tours leave directly from Manhattan on Saturdays for a quick ride to the whale watching grounds. This is a comfortable ride with climate controlled cabins, an open-air top deck, 360° panoramic windows, and a full-service cash bar (the city views are every bit as spectacular as the wildlife). The vessels were designed with both stability and speed in mind, so you can expect a smooth ride. You can also hop aboard for local getaways to destinations like Sandy Hook Beach, Nantucket, Newport, and Martha's Vineyard.
BK BACKYARD BAR
Williamsburg's TailGate Outdoor Sports Bar (TailGate Brooklyn) has relaunched as Bk Backyard Bar, featuring the borough's newest volleyball court, Volo Beach at Bk Backyard Bar.
LOBSTER CRUISES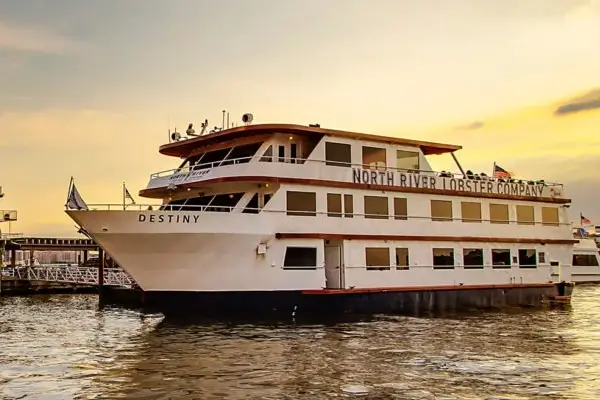 Another sign of the season: the North River Lobster Company is once again plying the Hudson. Classics like the Maine Lobster Roll are back, joined by newcomers like shrimp rolls and clam dips & chips.
SKATES ARE BACK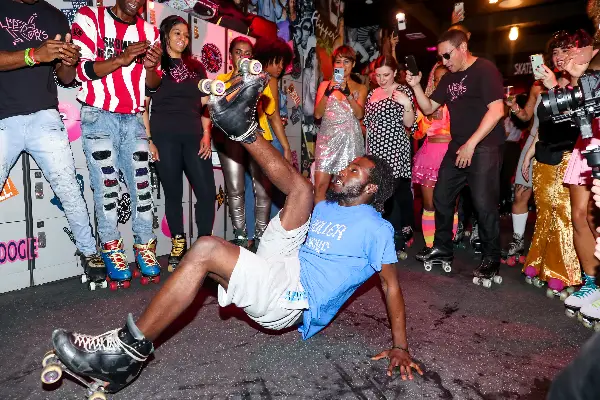 Photo credit: Flipper's Roller Boogie Palace/Niel Rasmus @nielrasmus.

Skate without ice. Flipper's Roller Boogie Palace returns for a second year at The Rink at Rockefeller Center on Friday. They'll be rolling until October.
NEW IMMERSIVE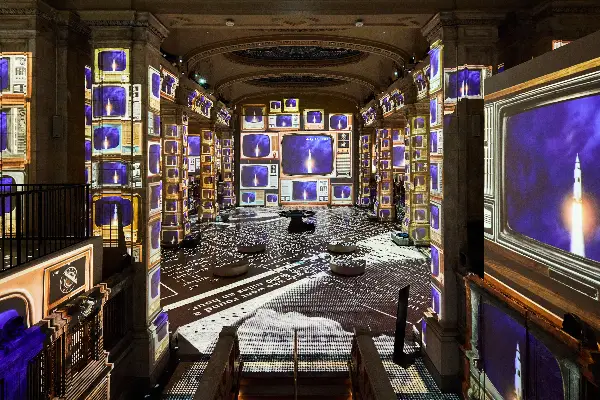 Soaring art space Hall des Lumières will fill its historic interior with visions of the future. Launched for a limited time, Destination Cosmos: The Immersive Space Experience takes visitors on a voyage across the universe. Starting at Cape Canaveral, the exhibition will have you diving into the heart of Jupiter, cruising across the rings of Saturn, gliding over Martian canyons alongside rovers, and exploring the immensity of the cosmos. A curated soundtrack complements stunning images from NASA.
NOW OPEN! THE MET ROOFTOP

Lauren Halsey (American, b. 1987) Installation view of The Roof Garden Commission: Lauren Halsey, the eastside of south central los angeles hieroglyph prototype architecture (I), 2022 © Lauren Halsey. Courtesy of the artist; David Kordansky Gallery, Los Angeles/New York  Image credit: The Metropolitan Museum of Art, Photo by Hyla Skopitz.
The Iris and B. Gerald Cantor Roof Garden atop the Met has launched this year's installation. Lauren Halsey, an artist known for her use of architecture to show the reality of urban neighborhoods in places like South Central Los Angeles, has done the honors this year. Expect a memorable mix of 1960s Utopian architecture, ancient Egyptian symbolism, and public visual expressions like tagging.
NEW FOOD HALL AND PARK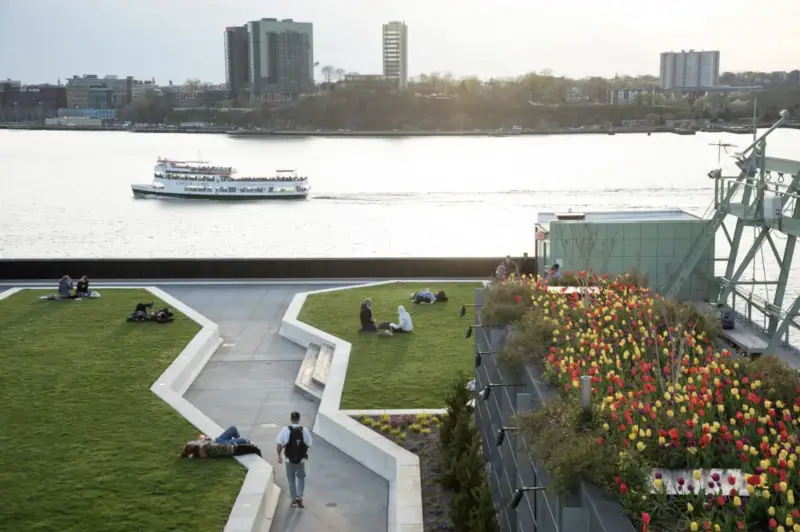 Market 57, a celebration of the city's local, independent food culture, is now open. Led by The James Beard Foundation, the Hudson River Park food hall brings everything from lobster rolls to dim sum to homestyle Indian cuisine. Up top you'll find a 2-acre rooftop park, with picnic opportunities and epic sunsets.
FOR YOUR BUCKET LIST
Be the first in the city to see the new day dawning at the Empire State Building. Launching on Saturday, the Starbucks Reserve Sunrise Experience series will get you early bird access to the 86th Floor Observatory. Your ticket includes Starbucks Reserve Empire State Building Microblend Coffee and artisanal pastries to go with.
MUSEUM OF ILLUSIONS
The Museum of Illusions will leave you in awe as you explore realms of eye-fooling tricks and Instagram-worthy installations. Kids and adults alike find wonder aplenty as they test their abilities to conquer illusions. You (or your prankster friend) can become a head on a platter, plus there's an Anti-Gravity Room, an Infinity Room (a hall of mirrors for the 21st century), and a room where you'll walk on walls. Open daily in Chelsea—until midnight Fridays through Sundays!
SUMMIT ONE VANDERBILT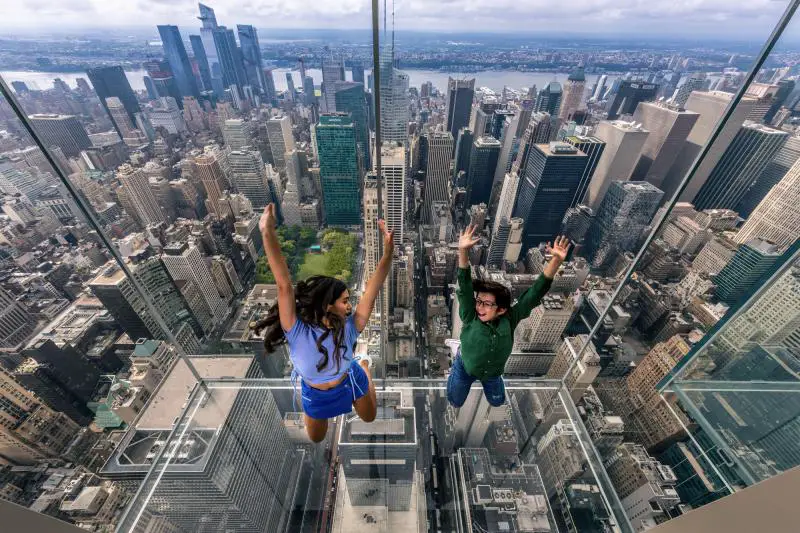 SUMMIT One Vanderbilt blends elements of art, technology, architecture, and thrill to take the concept of "observation deck" to entirely new heights. With three floors of immersive space that will challenge, inspire, and thrill, guests can awaken their senses and surrender to new perceptions of what is possible. Consisting of 30,375 square feet of mirrors and sweeping 360-degree views of Manhattan, SUMMIT offers one of the most Instagrammable experiences in the world. Beyond the photo-op, guests are encouraged to interact with the experience through floating orbs in the "Affinity" room, cloud portraits in the "Unity" room, and a trip on the world's largest external glass elevator, "Ascent."
FOLK ART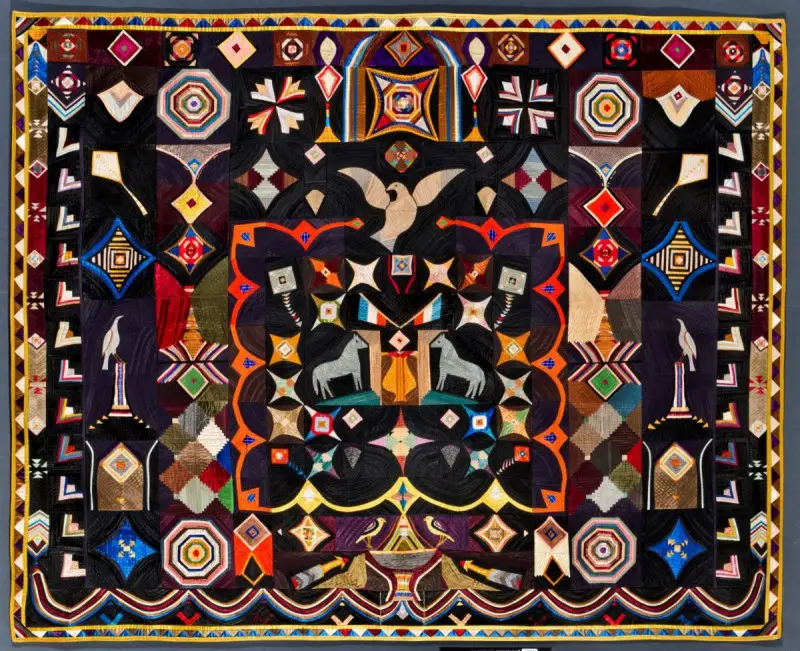 Carl Klewicke (1835–1913), Original Design Quilt, Corning, New York c. 1907. Pieced silk, faille, taffeta, and satin, 60 x 72 1/2 in. American Folk Art Museum, New York, Museum purchase, 2012.1.1.
Through 35 quilts and related works of art, What That Quilt Knows About Me explores the personal, emotional power of quilting. See some unexpected life stories through work spanning the 19th through 21st centuries. Now open at the American Folk Art Museum.
SMALL IS BEAUTIFUL
Photo: © Slinkachu, Fever.

Think small. After successful runs in Europe, the Small is Beautiful: Miniature Art Exhibition has arrived in NoHo. Gain a fresh appreciation for detail as you explore 130 miniature works of art at this pop up experience. Great for kids, or adults looking to reconnect with childhood fascinations with small-scale universes.
NYC FLEA MARKET DAY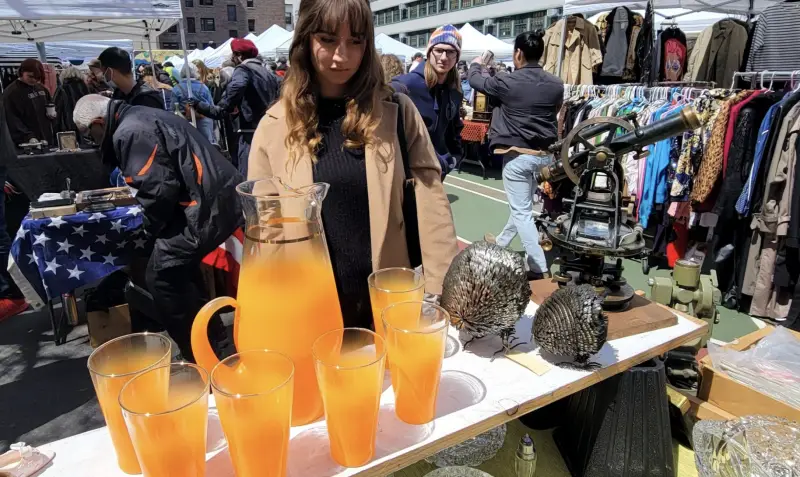 Every Sunday on the Upper West Side you can check out Grand Bazaar NYC, the city's largest curated market—and most distinctive. This week you'll also find NYC Flea Market Day. Shop art, one-of-a-kind handmade crafts and fashion, furniture, vintage fashion and accessories, and rare antiques and collectibles. Come hungry! There are great artisanal bites as well. There are 200 some vendors in all, both indoors and out. It's for a good cause, too, as the bazaar's profits go to supporting local schools. 10am-5pm.
CULTURAL THINGS TO DO IN NYC

Wangechi Mutu, In Two Canoe, 2022. Bronze, 180 × 68 × 72 in (457.2 × 172.7 × 182.9 cm). Courtesy the artist and Gladstone Gallery. 
Downtown shows off the city's more cutting edge side, with a broad range of institutions. Along the Bowery you'll encounter the only museum in the city dedicated to contemporary art, the New Museum, which was founded in 1977 to showcase the work of underrepresented artists. Currently on view is a full-building immersion in Wangechi Mutu: Intertwined, with painting, collage, drawing, sculpture, and film by the Kenyan-born American artist. 
Deeper on the Lower East Side is the Tenement Museum, a time capsule of immigrant life in the early boom years of New York City. The museum can be accessed through tours of restored apartments, reflecting a variety of eras and cultures.
In the Financial District, the National September 11 Memorial & Museum features two core exhibitions at the foundation of the former World Trade Center complex downtown. A memorial exhibition—In Memoriam—pays tribute to the 2,983 men, women and children killed on 9/11 and in the 1993 WTC bombing. On the plaza outside you'll encounter two reflecting pools, featuring North America's largest man-made waterfalls.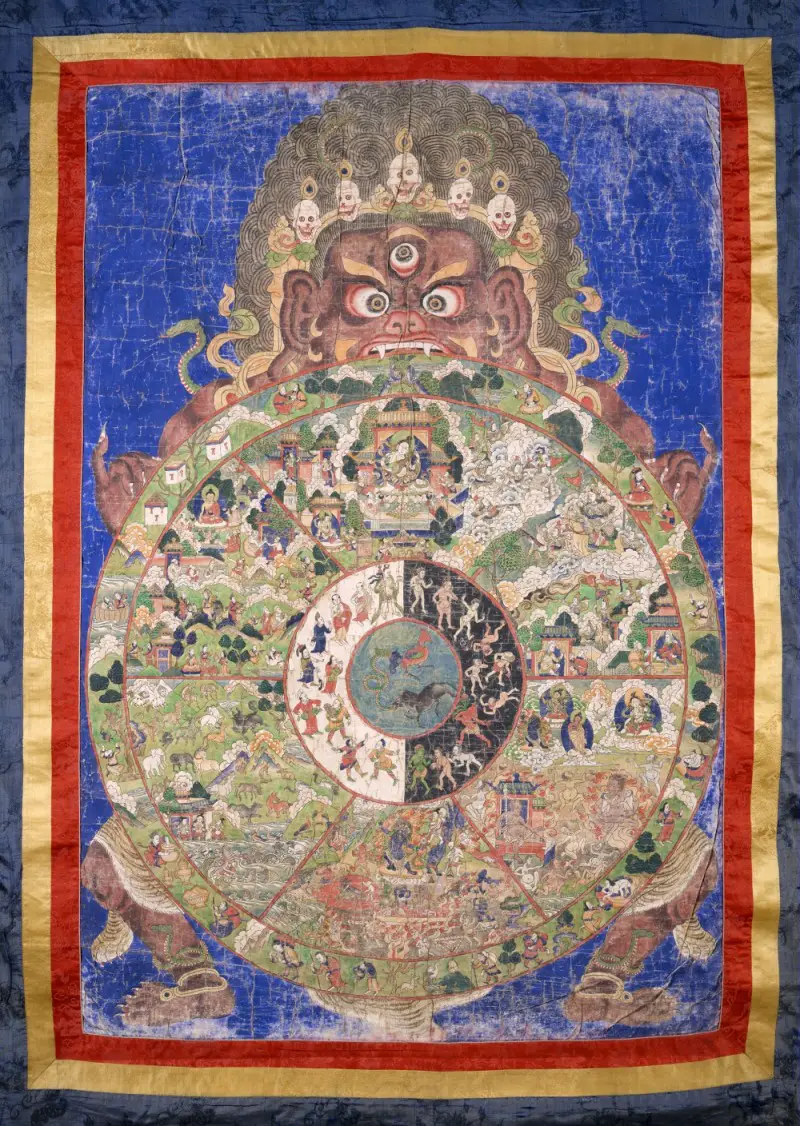 Wheel of Life; Tibet or Mongolia; 19th century; pigments on cloth; Rubin Museum of Art; gift of Shelley and Donald Rubin; C2006.66.131 (HAR 78).
Chelsea is home to the Rubin Museum of Art, dedicated to the art and culture of the Himalayas. You can get an overview of the Rubin's collection in current exhibition Gateway to Himalayan Art, which introduces visitors to the main forms, concepts, meanings, and traditions of Himalayan art. The latest exhibit at the Rubin Museum of Art brings together the art of Christianity and Tibetan Buddhism. Get a look at visions of the afterlife through "Death Is Not the End," which includes oil paintings, bone ornaments, prints, sculptures, and ritual objects spanning 12 centuries.
Near Grand Central stands The Morgan Library & Museum, a showcase for both its holdings of rare books and manuscripts and its exquisite Italian Renaissance-style palazzo setting. The Morgan Garden is back for the season. One of the most elegant outdoor spaces in Manhattan, access is available Fridays through Sundays into the fall (it's also open for Free Friday Nights). 
The nearby AKC Museum of the Dog holds a treasure trove of canine art and artifacts, from watercolors and prints to bronzes and ceramics. 
The Upper East Side is home to some of the most famous institutions in the world. The Frick Collection is known for its focus on European sculpture and decorative arts, as well as Old Master paintings. While its permanent location is closed for renovation,  a selection can be seen at Frick Madison, where the holdings benefit from the fresh perspective provided by a very modernist, mid-1960s temporary home.
Evening Star No. III, 1917
Georgia O'Keeffe: To See Takes Time at MoMA shows a different side of the artist's output, focusing on the works on paper she made in series. More than 100 artworks are on display, with charcoal, watercolor, pastel, and graphite explorations, joined in several cases by paintings they inspired.
Celebrating works of art created in Austria and Germany, the Neue Galerie focuses on important movements of the 20th century. Inside an immaculate Beaux-Arts mansion you'll find decorative objects and famous paintings by the likes of Gustav Klimt, Paul Klee, and Egon Schiele.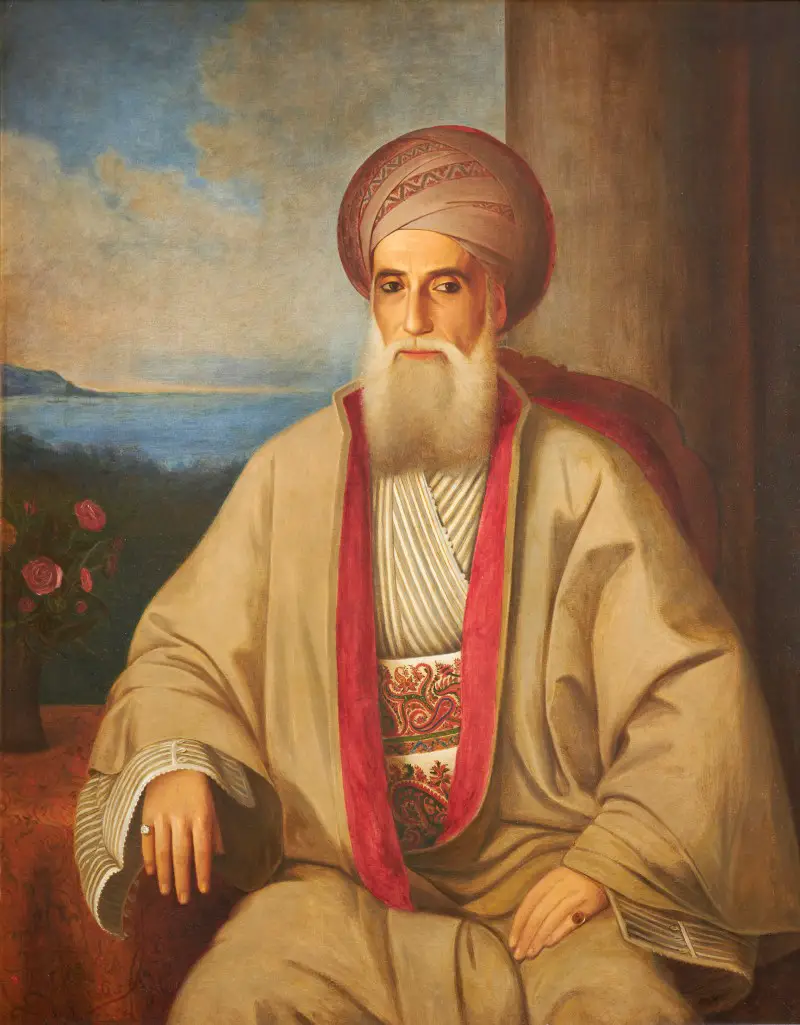 Attributed to William Melville. David Sassoon, mid-nineteenth century. Oil on canvas; 41 ½ × 33 in. (105.4 × 83.8 cm). Private collection.
Also on uptown's Museum Mile is The Jewish Museum, founded in 1904 to enhance appreciation of Jewish culture and history. On view now is The Sassoons, which follows four generations of the Jewish Sassoon family around the globe. More than 140 works collected from the early 19th century though World War II populate the exhibit, not only charting the history of the family but also the major issues of the times.
Further uptown is The Museum of the City of New York, which interprets, celebrates, and documents New York—past, present, and future. The latest show here is New York Now: Home, A Photography Triennial, with images on the concept of home representing perspectives as diverse as the city itself.
Across town on the Upper West Side is the city's oldest museum, the New-York Historical Society. Kara Walker: Harper's Pictorial History of the Civil War (Annotated), on view now, highlights the artist's powerful silhouette-like imagery and prompts a reconsidering of American legacies.
More on NYC museums and current exhibitions can be found here.
IMMERSIVE THINGS TO DO IN NYC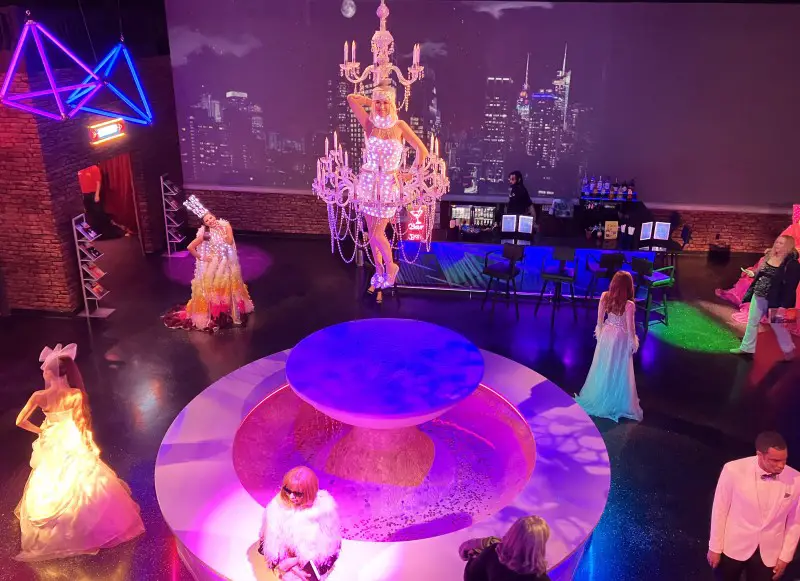 New York City is famous for its gala culture. For the first time ever, you can immerse yourself in the scene right in Times Square. The Madame Tussauds flagship holds 19 celebrity figures, including new and never-before-seen wax figures of Ariana Grande and P. Diddy, at the Glow Gala.

(If your tastes are darker, don't miss Madame Tussauds's Warner Bros. Icons of Horror, displaying chillingly lifelike wax figures within four fully immersive scenes. Celebrate legends, including Pennywise and Regan from The Exorcist. If you dare.)

Photo: Monique Carboni.
The city's newest destination is The Museum of Broadway . This interactive, experiential museum leads guests on a journey through a visual history of Broadway, with costumes, props, photos, and videos. The Phantom of the Opera, The Lion King, HAIR, and Rent are among the hundreds of highlighted productions, running from the 1700s up to today.

Immerse yourself in one of the greatest stories of the 20th century just a few blocks from the Titanic's intended destination at Pier 59 in Chelsea. Titanic. The Exhibition brings visitors back to 1912 through the stories of passengers, illuminated by photographs, letters, and keepsakes. You'll also get to walk through a recreation of the ship's interior, from a humble third-class cabin to a first-class suite. Extended through June 18th.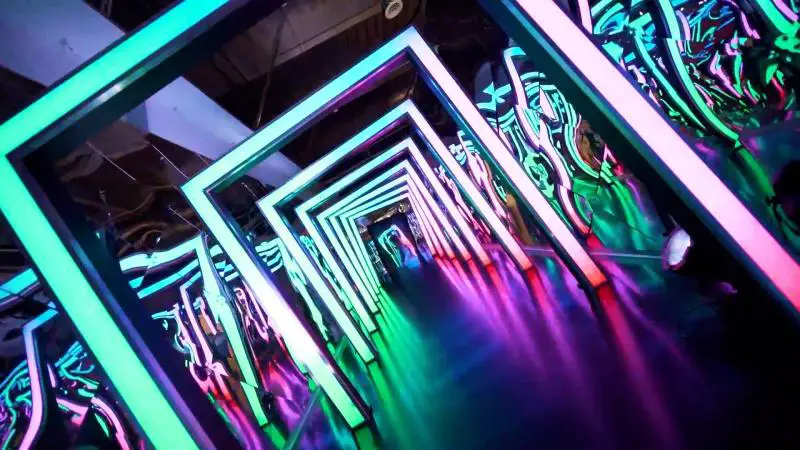 If you've ever wanted a tour of Willy Wonka's chocolate factory, you'll get a taste at Candytopia (without the imminent peril). Dive into a ball pit of marshmallows, view portraits made of candy, and take killer pics with candy-inspired scenes.
For an adventure with shades themselves, the SoHo art space Color Factory delivers a colorful interactive adventure. A sweet Manhattan stop is The Museum of Ice Cream. Check out the three-story slide that ends in a pool of sprinkles and walk through a hall of ice cream scoops. There's branded ice cream to taste and MOIC merch to take to the folks back home.
THINGS TO DO IN NYC: LIVE PERFORMANCES
LIVE BEATS & MORE DOWNTOWN
Downtown has one destination for eclectic, compelling music. The programming at the East Village's Drom runs from jazz, rock, electronic, soul, and funk to international music. Sunday sees a free midday performance from the kids at School of Rock. Monday belongs to the Mingus Big Band, performing two sets in celebration of legendary composer/bassist Charles Mingus. Tuesday brings the high-energy Silver Arrow Band for a no-cover show.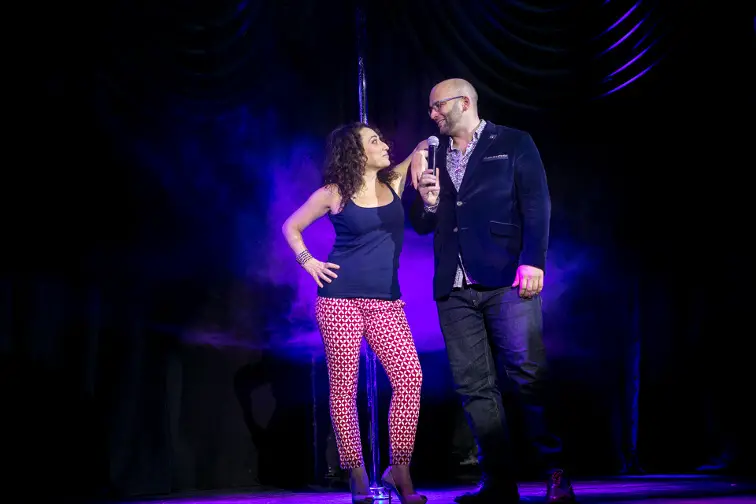 JoAnna Ross and Dan Goodman, photo by Paul Park.
Drom is also your local choice for comedy and pole dancing. Schtick A Pole In It has for the past 9 years been NYC's best (and only) comedy and pole dancing show. Comics tell jokes and pole dancers pole dance. Laugh lines alternate with death-defying tricks. If you don't see shows like this, why are you even paying NYC rents? The show has just expanded to four dates a month as part of an open-ended run. Tickets and more information are here. 
LIVE JAZZ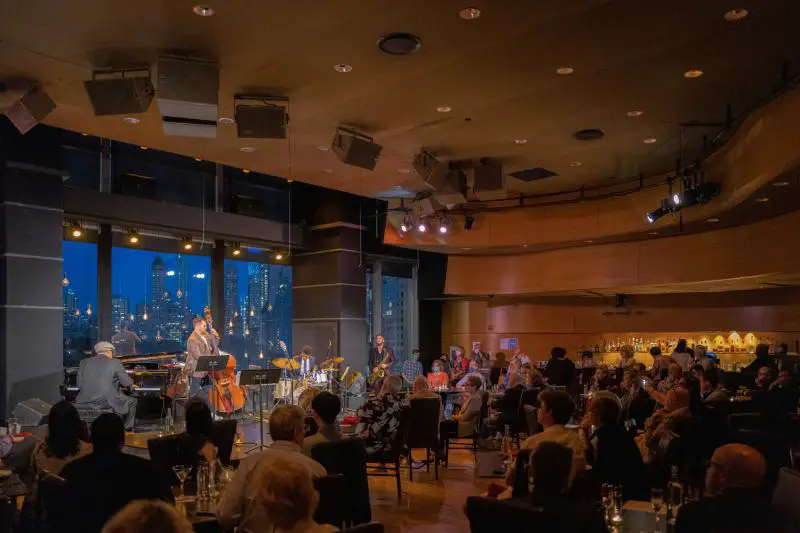 Photo by Lawrence Sumulong.
For world-class musical experiences, head to Jazz at Lincoln Center's intimate Dizzy's Club. You'll find a warm ambiance, a tasty seasonal menu, and panoramic views of the Manhattan skyline. There are shows nightly, in addition to Late Night Sessions Thursdays through Saturdays, starting at 11:15pm. On Friday and Saturday, Caribbean Cross-Generations brings vocals and a 7-piece band in a fusion of Black American musical traditions and Caribbean traditions. On June 11th, Songbook Sunday features two shows dedicated to founding jazz architect Thomas Wright "Fats" Waller. Tuesday sees The Edward Simon Trio with special guests celebrating the legacy of Latin American women songwriters. Dizzy's space was expressly designed for superior live jazz experiences—you'll hear the difference at every show.
LIVE MUSIC AND FINE WINE AT CITY WINERY

Adam Pass/City Winery.
City Winery New York City at Hudson River Park brings together great bites, wine to match, and views to remember. Enjoy brunch, lunch, or dinner in City Winery's restaurant and wine bar, where the food is meant to be paired with a great glass of wine. They're open daily, with two stages hosting a stellar array of music and comedy.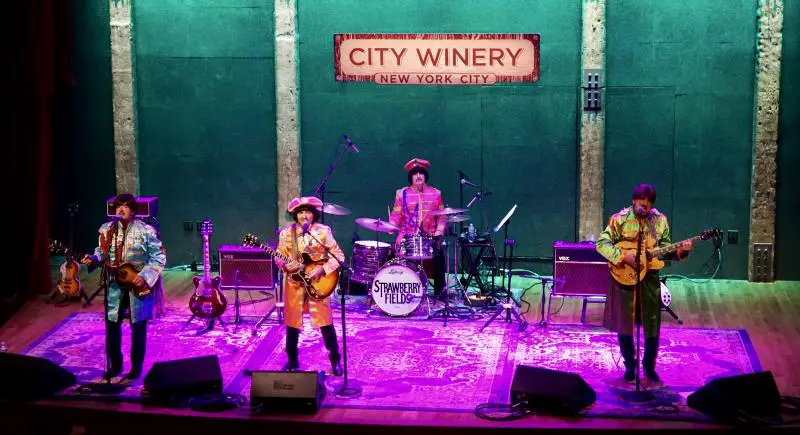 Strawberry Fields. 12pm in The Loft; Ultimate Beatles brunch concert (buffet brunch included in ticket price; free admission to children under 12)
https://citywinery.com/newyork/Online/article/new-york-strawberry-fields-lp-2023 
Strawberry Fields is the closest you can get to seeing the Beatles perform live! Close your eyes, you won't believe your ears! These four acclaimed musicians deliver a unique theatrical experience. They take audiences of  all ages on a chronological journey through the Beatles timeless catalog. The use of costumes, vintage instrumentation and amplification delivers a truly authentic audio and visual experience.
The Best Available comedy showcase | 6.8 ($25 advance / $30 day of show)
7:30pm in The Loft featuring Yamaneika Saunders, Che Durena & more
https://citywinery.com/newyork/Online/article/NYLFT-The-Best-Available-6-8-23-730pm 
Greg Alprin's The Best Available presents a new live comedy experience. Featuring Tim Dillon, Yamaneika Saunders, Gus Constentellis, Josh Adam Meyers, Che Durena, Jahan Djo & More! Lineup Subject To Change
Tim Woodson & The Heirs of Harmony gospel brunch | 6.10 ($20)
12pm in Main Venue; brunch menu available to purchase separately
https://citywinery.com/NewYork/Online/article/NYC-Tim-Woodson-6-10-23-12pm 
The two-time Stellar Award Nominated group Tim Woodson and The Heirs of Harmony and good soulful music are synonymous after continuously singing together since 1992. Tim Woodson, formerly of the three-time Grammy Award-winning group, The Mighty Clouds of Joy, reorganized the group in honor of his late father Luke Woodson, who was a founding member of the group dating back to the 1950s. The heart-wrenching, soul-stirring vocals of this multi-talented singing group are like fine-tuned instruments that pique emotions and uplift the spirit.
Ivan Julian & The Magnificent 6 with Rogers & Butler | 6.10 ($25 - $28)
7:30pm in The Loft
https://citywinery.com/newyork/Online/article/NYLF-Ivan-Julian-With-Rogers-and-Butler-6-10-23-730pm 
NYC punk rock meets UK psych rock at this concert by pioneers of both genres.
Over the Rhine | 6.10 ($28 - $40)
8pm in Main Venue 
https://citywinery.com/newyork/Online/article/NYC-Over-The-Rhine-6-10-23-8pm 
Over the Rhine is the supremely talented musical couple comprised of Karin Bergquist and Linford Detweiler. The musical and romantic partners are touring in support of their latest (and 15th!) studio release, Love & Revelation. Enjoy an evening of performance featuring these new songs as well as more from their over 30 years of musical collaboration.
Fire & Fury: Studfinders | 6.10 ($25 advance / $30 day of show)
10:30pm in The Loft
https://citywinery.com/NewYork/Online/article/NYLFT-Fire-and-Fury-Burlesque-6-10-23-1030pm 
A burlesque celebration of Daddies Day!  Don't touch the thermostat, because we're bringing you NYC's most in demand burlesque performers for a decidedly masculine edition of our show.  Eight acts of burlesque, magic, and variety from our featured male performers, along with some of the ladies that exude a certain big energy.
Janie Barnett & Friends: Re-Imagining Cole Porter brunch concert | 6.11 ($20)
1pm in The Loft
https://citywinery.com/newyork/Online/article/NYLFT-Janie-Barnett-6-11-23-1pm 
New York singer-songwriter and chanteuse Janie Barnett brings her all-star ensemble back to City Winery to re-interpret the Cole Porter repertoire. Salty, sultry and steamy songs of love and longing, thrown into an Urban Americana soup. The fiddle, the dobro, the velvety mandolin, the ritzy accordion, always the funky upright piano. 
Eric Andersen | 6.11 ($20 - $30)
7:30pm in The Loft
https://citywinery.com/NewYork/Online/article/NYLFT-Eric-Andersen-6-11-23-730pm 
ERIC ANDERSEN'S voice, songs, guitar and piano playing created a career that has spanned over 45 years. He has recorded 25 albums of original songs, and his songs have been recorded and performed by world renown artists such as Ricky Nelson, Judy Collins, Sandy Denny, Fairport Convention, The Kingston Trio, Peter Paul and Mary, Linda Ronstadt, Johnny Cash, The Grateful Dead, Linda Thompson, Mary Chapin Carpenter, and more around the globe.
JC Hopkins Micro Orchestra & guests celebration of Leonard Cohen Sweet Relief benefit | 6.12 ($32 - $57)
8pm in Main Venue featuring Victoria Williams, Teddy Thompson, Binky Griptite, Sasha Dobson & more
https://citywinery.com/newyork/Online/article/NYC-JC-Hopkins-6-12-23-8pm 
Grammy nominated band leader JC Hopkins will lead a micro orchestra, composed of eclectic instrumentation through an evening in celebration of the songs of the great Leonard Cohen The night will feature a variety of exceptional vocalists interpreting L Cohen's  amazing body of work and will benefit Sweet Relief Musicians Fund. Featured performers include Victoria Williams, Teddy Thompson, Binky Griptite, Jon Regen, Synead Nichols, Sasha Dobson and other special guests tba. 
Brian Falduto: The NY Pride Show | 6.12 ($25 - $30)
7:30pm in The Loft featuring Will Leet & Hanukah Lewinsky
https://citywinery.com/newyork/Online/article/NYLFT-Brian-Falduto-6-12-23-730pm 
Selected as "one of the 20 most influential, outspoken, and optimistic individuals on the planet" by PrideLife Magazine, Brian Falduto came into prominence after playing the role of Billy, nicknamed Fancy Pants by Jack Black in the cult classic film School of Rock. Now as an adult, he's transformed into a bonafide gay country artist destined for superstardom.
Song Suffragettes NYC: Alexa Dark, Ariana and the Rose, and more | 6.13 ($25 advance / $30 day of show)
7:30pm in The Loft
https://citywinery.com/NewYork/Online/article/NYLFT-Song-Suffragettes-6-13-23-730pm 
An evening of music from five of NYC's up and coming female-identifying singer-songwriters
Improv Asylum presents Whose Wine Is It Anyway? | 6.14 ($25 - $65)
7:30pm in The Loft
https://citywinery.com/NewYork/Online/article/NYLFT-Whose-Wine-Is-It-Anyway-6-14-23-730pm 
Get ready to uncork the laughter with the most deliciously funny night of wine and improv comedy show in the country! Featuring some of the most hilarious improvisers in the country, Whose Wine Is It Anyway? will take you on a wild ride as the performers sip and swirl their way through a selection of hilarious scenes, all inspired by audience suggestions, amid the wonderful world of wine.
Leo Kottke | 6.14 ($35 - $55)
8pm in Main Venue
https://citywinery.com/newyork/online/article/NYC-Leo-Kottle-6-14-23-8pm 
An evening with the acoustic guitar legend.
LIVE FROM THE LOUNGE
Great Jones Distilling Co. is Manhattan's first whiskey distillery in a century. Their NoHo location celebrates whiskey past and present along with the culture of Prohibition-era New York. Every Saturday top local musicians perform in the Art Deco cocktail lounge. There are two shows, starting at 7pm and 9pm. Light bites, cocktails, wine, and beer are all available. If you opt for a meal at the distillery's New American restaurant The Grid you can get a 20% discount as well.
EVEN MORE THINGS TO DO IN NYC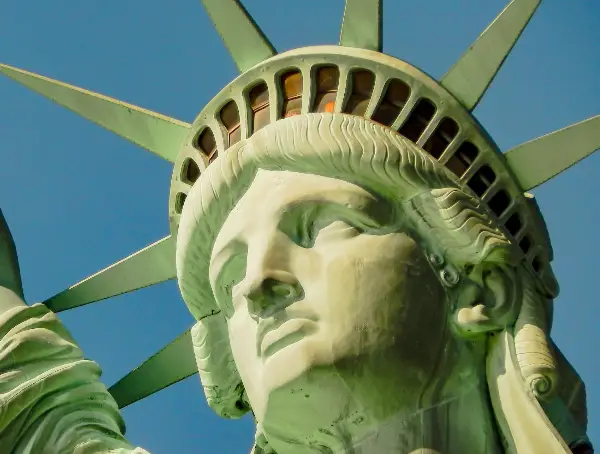 Photo by Sarah Brown on Unsplash.
After a long Covid pause, the crown of Lady Liberty is once again open to visitors. This icon requires a 162-step climb (there is no elevator) but will reward you with an entirely unique perspective on the city. Along a double-helix spiral staircase you'll see the intricate structure that keeps the statue standing, capped by 25 windows overlooking New York Harbor.
THE TIN BUILDING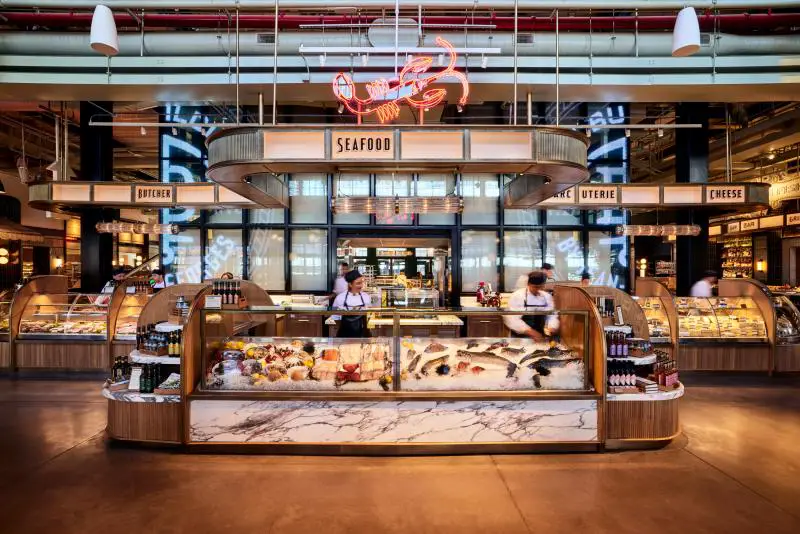 Downtown along the East River, two centuries of New York City come together at The Seaport. This district blends quaint cobblestone streets with contemporary shopping and dining. There are also incredible perspectives on the Brooklyn Bridge and the water. The South Street Seaport Museum is also here, telling the story of "Where New York Begins" through art, artifacts, and a fleet of historic vessels. Don't miss the area's latest addition, the Tin Building by Jean-Georges. Legendary chef Jean-Georges Vongerichten has filled a historic two-story space with retail, restaurants, and  an impeccably stocked central market with locally sourced seafood, meats, cheeses, seasonal produce, chef-grade pantry staples, and rare ingredients. The latest here is weekend brunch. Among the highlights: lobster Benedicts at Fulton Fish Co.; baked eggs at The Frenchman's Dough; brioche French toast at T. Brasserie; and a farm egg dosa at the artisanal Seeds & Weeds. In keeping with brunch traditions, Bloody Marys and other craft cocktails are available as well.
URBAN OASIS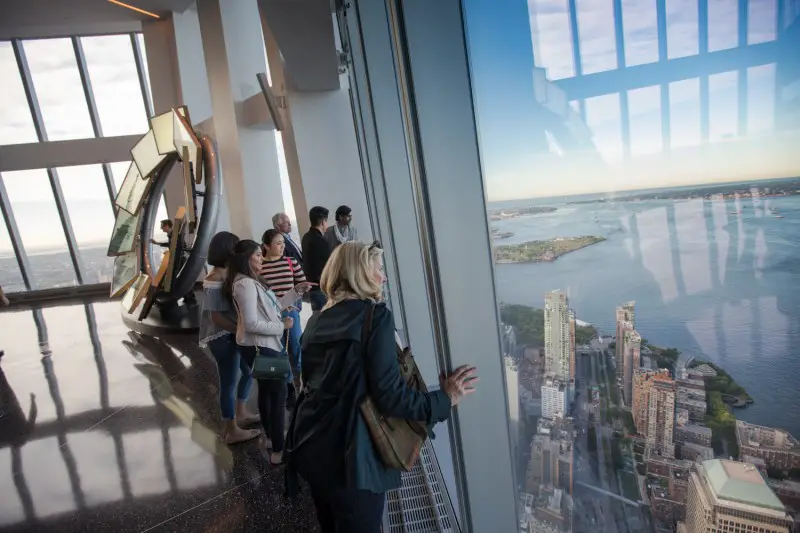 Honoring Earth Day, One World Observatory has launched a new activation. The Urban Oasis at One World Observatory runs through the end of May and brings a luscious green landscape to the space. Learn about sustainability and take advantage of a photo moment with local plants and plays of light set against panoramic views. Themed cocktails and refreshments are available as well.
AN INSTAGRAM SMASH IN NOHO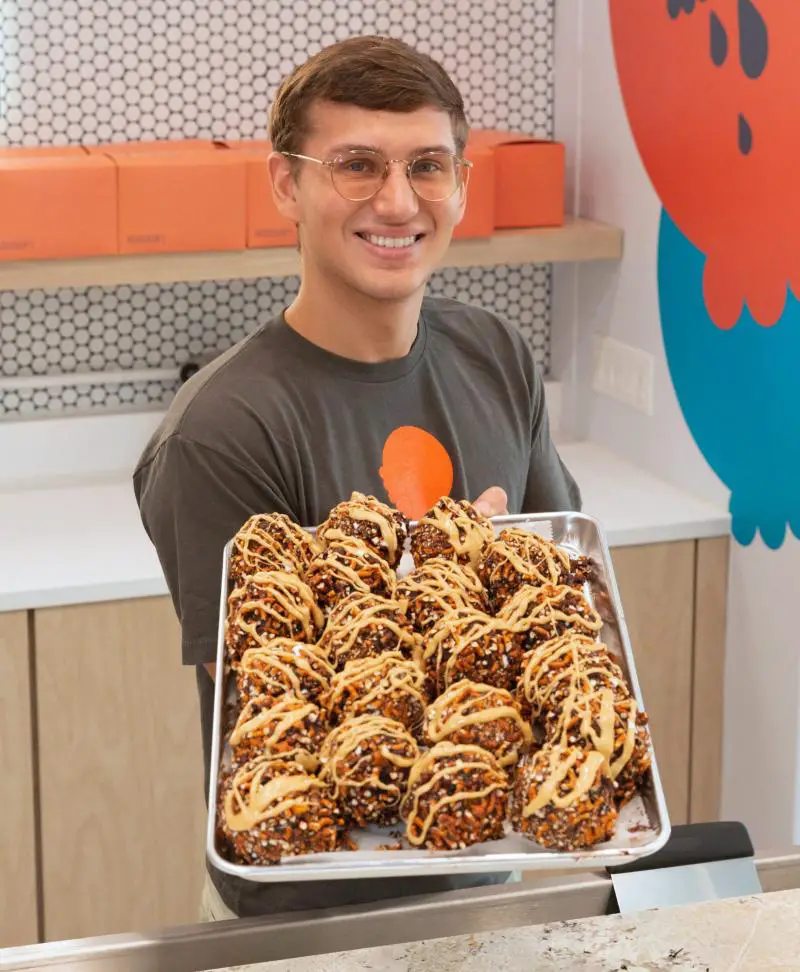 Top ice cream creator Dylan Lemay is throwing and catching artisan ice cream balls at his newly opened store, CATCH'N Ice Cream in NoHo. Stop in to catch your next favorite flavor of ice cream. Open daily from noon to late—don't miss the Behind the Counter experience, where you can make your own ice cream ball, coat it in chocolate, and roll it in your favorite toppings!
A NEW INDO CHINESE MENU!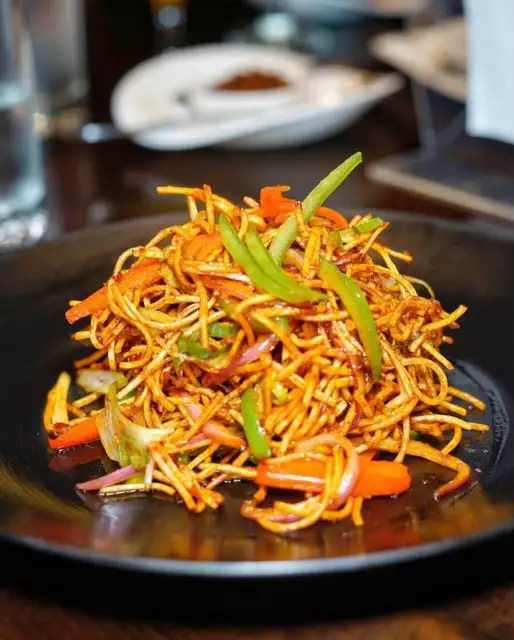 Utsav Indian Cuisine has been serving NYC fresh and flavorful Indian cuisine for more than twenty years. A recently introduced Indo Chinese menu brings new flavors to Times Square/the Theater District for the first time. You'll find fried rice, noodles, appetizers like chili prawn dry and chicken lollipops, and entrees like fish with hot garlic sauce and lamb with chili soya sauce. (Chefs are trained in the Calcutta style of Chinese food, where the cuisine has its home in India.)
RETURN OF A LEGEND
Photo: Deonté Lee/BFA.com
NYC's favorite discounter Century 21 has reopened the doors to its Cortlandt Street flagship. Expect a curated selection of style amid a new and improved shopping experience.
HAVANA IN TIMES SQUARE HAPPY HOUR SPECIAL
Havana Central has introduced 1/2 price empanadas during Happy Hour at the bar! Diners must purchase a drink, 3 empanadas max per drink purchase.  Available in the bar only, Monday-Friday from 4-7pm. Choose from a variety of homemade savory pockets including beef, chicken, cheese, shrimp, and ropa vieja! Havana Central also features Happy Hour drink specials including $7 classic mojitos, classic margaritas, and red sangria, in addition to other specials.
#STANDWITHUKRAINE

Ukrainian Museum Facebook.
In the East Village, long a home of Ukrainian immigrants (and their food and culture), you'll find the largest museum in the U.S. committed to the rich heritage of Ukraine. The Ukrainian Museum's state-of-the-art home holds a folk art collection (one of the most important collections outside of Ukraine), a fine arts collection (including works by the well-known primitif artist Nikifor), and an extensive archive.
MIDTOWN ADVENTURES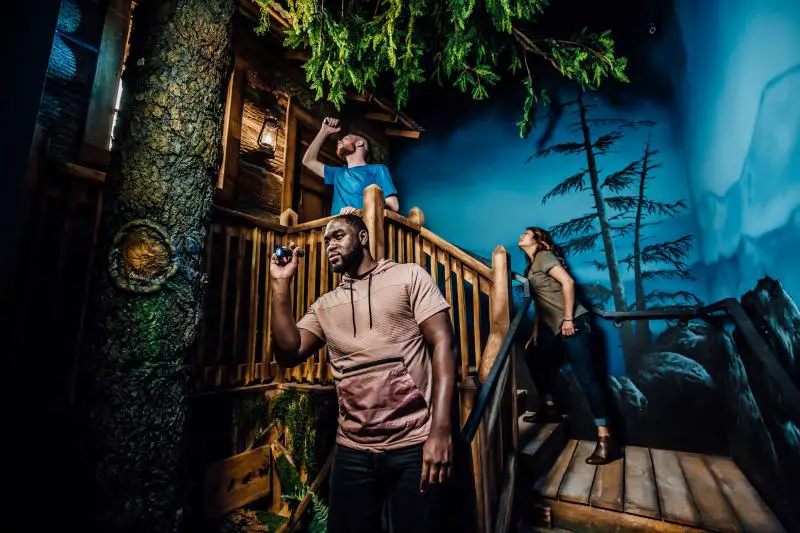 Be the hero of your very own adventure at The Escape Game in Midtown East. You and your team will find clues and solve puzzles on your way to completing a mission. Have fun, use your brain, and work together as you follow clues to escape the room in 60 minutes. At The Escape Game's convenient location near Grand Central you can choose from five different rooms: The Heist, Prison Break, Gold Rush, Playground, and Special Ops: Mysterious Market. Begin with a quick video to brief you on your mission and cover some basic guidelines, and then after that it's up to you (a Game Guide is available at all times throughout the adventure).
SEAPORT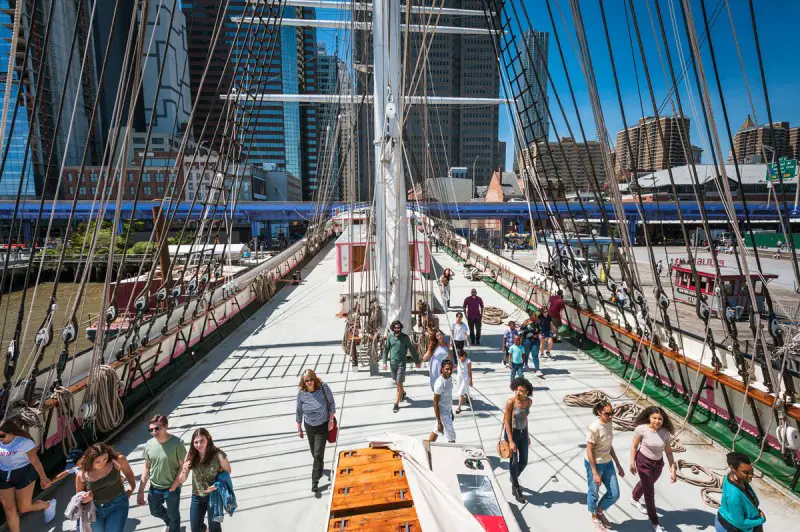 The South Street Seaport Museum just got even more accessible. Updated hours have gone into effect and admission is now pay-what-you-wish. In addition to entry to gallery spaces, historic ship tours are also included, highlighted by the 1885 Tall Ship Wavertree (above) and the 1908 Lightship Ambrose.
BOARDWALK EMPIRE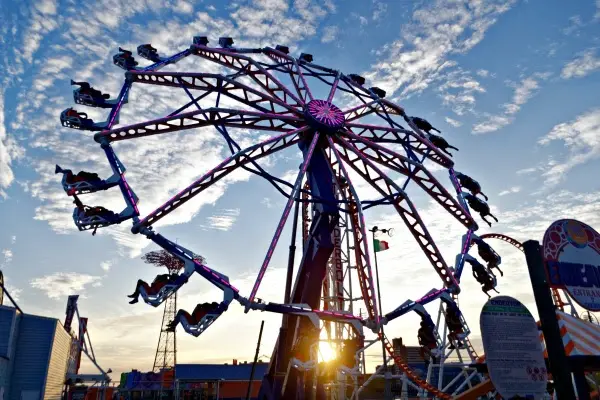 New York knows it's made it through the winter when Luna Park reopens for the season. Summer 2023 is unofficially underway, with a mix of returning icons like the Cyclone and the Thunderbolt, plus newcomers like Tony's Express roller coaster and Leti's Treasure log flume.
FOOD FEST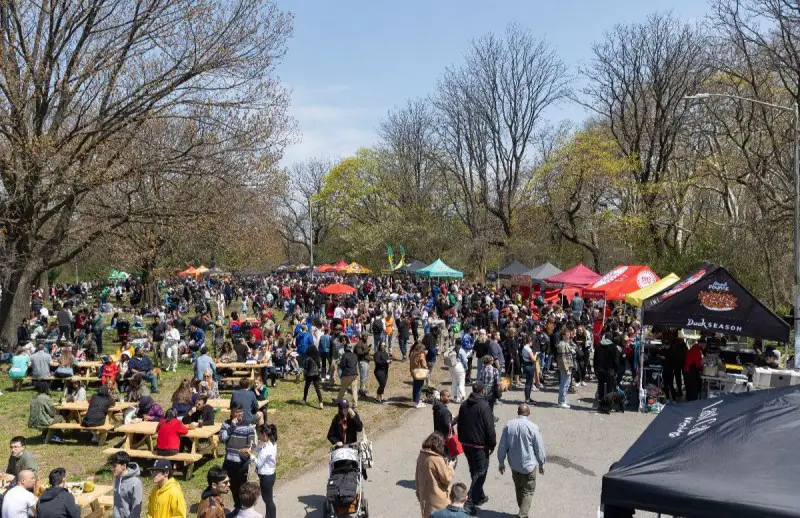 Smorgasburg is the largest weekly open-air food market in the country and it's back for the season. Fridays see vendors at the Oculus Plaza, Saturdays at Marsha P. Johnson State Park in Williamsburg, and Sundays in Prospect Park. Look for two dozen new vendors this season with a lineup that includes Lebanese-Portuguese, Trinidadian, Filipino, Iranian, Malaysian, and vegan ice cream.
WHAT TO DO IN NYC
Stay in the loop with:
The week's best activities delivered to your email box with our free newsletter

Everything to Do NYC Facebook Group, which has real-time tips and advice from New York City experts

The city's latest openings and happenings on City Guide's Instagram
AN INTERACTIVE MUSEUM TOUR FOR THEATER FANS

Fable & Lark: Storied Adventures, which specializes in interactive museum tours inspired by great stories, is releasing its first post-pandemic tour, Staged: The Museum Tour for People who Love Theater. Staged looks at the development of theater through the lens of artwork in the Metropolitan Museum of Art, from early Greek statues of actors to depictions of stories that inspired Broadway musicals. Interspersed with activities and questions about theater, the tour takes participants across the museum and across cultures to see the ways artists have worked the theme of theater into their creations for thousands of years. Participants should bring their T (theater) game, and maybe even be prepared to do a little acting, because, after all, all the world's a stage. Sundays at 11am.
Looking for all the latest notes and updates on Broadway and Off Broadway? Check out our comprehensive These Are Off Broadway Shows in NYC 2023: Everything You Need to Know
THE SECRET SIDE OF ELLIS ISLAND

hodgepodge brigade/Flickr
Get a behind-the-scenes look at the unrestored Ellis Island Immigrant Hospital Complex. This gateway to America for millions of people is accessible again via City Statue Cruises—the only ride to Ellis Island and the Statue of Liberty. (If you opt for the Hard Hat Tour Ticket and its 90-minute guided tour of the hidden part of Ellis Island you'll get round-trip ferry service and audio Tours of Liberty and Ellis Islands.) The art exhibition "Unframed—Ellis Island," by renowned French artist JR, is on display throughout the hospital complex. Tours run on Saturdays and Sundays. 
HAVE A QUESTION ABOUT THE CITY?

City Guide brings you "Everything to Do NYC," a community of people helping each other get everything we can from the city. Looking for a restaurant? Ask ETD. Want to share a great find? Let us know about it. It's your go-to group for how to get everything you can from everything in New York. facebook.com/groups/everythingtodonyc
TALKS, LECTURES, AND EVENTS
Thought Gallery has hundreds of livestream talks, lectures, performances, and more. Check out sessions with celebs, live concerts, and opportunities to learn the latest on everything from science to philosophy to social justice.
NEW YORK'S ACTIVITY AUTHORITY
Get editors' curated recommendations and have more fun:
Get this week's best activities delivered to your email box

Discover the most fun on Instagram
SUMMER PROGRAMMING IN NYC
COMING ATTRACTIONS
Left: Vincent van Gogh (Dutch, 1853–1890). The Starry Night (detail), 1889. Oil on canvas, 29 x 36 1/4 in. (73.7 x 92.1 cm). The Museum of Modern Art, New York, Acquired through the Lillie P. Bliss Bequest (by exchange), 1941; Conservation was made possible by the Bank of America Art Conservation Project. Image © The Museum of Modern Art / Licensed by SCALA / Art Resource, NY; right: Vincent van Gogh (Dutch, 1853–1890). Wheat Field with Cypresses (detail), 1889. Oil on canvas, 28 7/8 x 36 3/4 in. (73.2 x 93.4 cm). The Metropolitan Museum of Art, New York, Purchase, The Annenberg Foundation Gift, 1993 (1993.132).
The Met has opened a new exhibition of 40 works by Vincent van Gogh. Van Gogh's Cypresses focuses on the artist's iconic portrayals of the towering evergreens. The show runs through August 27th. The Met will also be a participant in next Tuesday's massive block party marking the 45th Annual Museum Mile Festival. The Guggenheim, Cooper Hewitt, The Jewish Museum, and more open to the public for free, with live music and activities.
MOVIE NIGHTS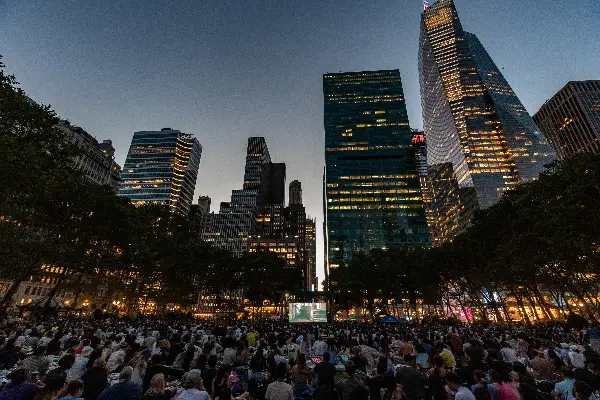 Image by Cassarino Studios.
Paramount+ Movie Nights return for Mondays full of film, food, and fun. The 30th season kicks off June 12th with Almost Famous. (For a downtown take on outdoor summer movies, Monday also sees the beginning of Seaport Cinema, at The Rooftop at Pier 17.)
E

VERYTHING TO DO NYC
​
Want free advice on what to do and see in New York? Join our Facebook Group Everything to Do NYC, a place for people to ask questions and get tips on how to make the most of the city.