Spider-Man, Turn Off the Dark
213 W. 42nd St.
877-250-2929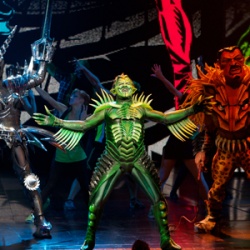 (2 hrs., 45 mins.) A new take on the mythic tale of Peter Parker, a teenager whose unremarkable life is turned upside-down -- literally -- when he's bitten by a genetically-altered spider. Bullied by classmates and tortured by a crush on Mary Jane, he discovers he has suddenly been endowed with astonishing powers. Featuring music and lyrics by Bono and The Edge of U2. Tues.-Thurs., 7:30; Fri. & Sat., 8; Wed., 1:30; Sat., 2; Sun., 3.
Looking for Group Tickets ?
Got a group headed to New York? City Guide provides free expert planning assistance and buying services-just complete the quick form below.