Dangerfield's Comedy Club Celebrates 40 Star-Studded Years
November 18, 2009 - by Caroline Cooney
Although comedian Rodney Dangerfield was famous for his trademark line "I don't get no respect," his namesake comedy club on New York's Upper East Side gets a whole lot of respect: Dangerfield's, the longest-running comedy club in the world, is now celebrating its 40th anniversary.

Dangerfield and business partner Tony Bevacqua founded the club in 1969, and despite today's economy, it remains a top attraction. Mayor Bloomberg recently acknowledged the milestone anniversary and credited the club as home to the "world's greatest comedians."

The club was originally opened so that Dangerfield could stay close to his two young children. "He loved the club," says Bevacqua, and performed there regularly for a decade, but eventually Hollywood movie offers (Caddyshack, Back to School) became irresistible. Rodney Dangerfield passed away in 2004 after complications from heart surgery. Comedy Central aired a star-studded tribute to him in 2006, portions of which were filmed at Dangerfield's.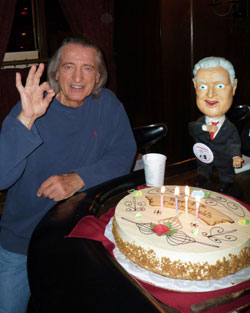 Co-founder Bevacqua (pictured at left) always had a keen eye for new talent. Bevacqua recalls allowing a nineteen-year-old Jim Carrey to make his first New York appearance at the club. He was impressed. "The kid was good." Dangerfield invited Carrey to be his opener on tour, and the young comedian went on to superstardom.

Stars who have performed at Dangerfields are a who's-who list of comedy legends: Jay Leno, Andy Kaufman, Roseanne Barr, Tim Allen, Andrew Dice Clay and Jerry Seinfeld have all logged stage time. Today, it's not unusual for celebrity comics, like Chris Rock, to drop by and test out new material.

Dangerfield's continues to attract the hottest new talent. "[There are] no amateurs," says Bevacqua. "All [the] comedians have TV credits." And what brings top comedians to his club? "Our longevity makes us unique," he says. "Comics like the prestige, the caliber, of the club."

Dangerfield's has shows seven nights a week, but Bevacqua suggests that guests call ahead for the line-up because "things can change quickly." There could be a special event (five HBO specials have taped there) and guests should prepare to be filmed. There's also "talk of a 40th-anniversary special."

Visitors can expect the club's atmosphere to remain true to its roots. Bevacqua thinks it's important to keep the club authentic "because it's a one-of-a kind landmark. It's more than just a comedy club, it's a comedy institution."

1118 First Ave. (61-62 Sts.), 212-593-1650; www.dangerfields.com
Reader Feedback