Halloween A-Go-Go at Hawaiian Tropic Zone
Little Steven's Underground Garage, the radio show hosted by garage band guru "Little" Steven Van Zant (E Street Band guitarist and "Sopranos" actor), presents Halloween A Go-Go! This Halloween Night concert features The Chesterfield Kings, Australian garage legends The Saints, and Garage Girls A Go-Go at Hawaiian Tropic Zone (729 Seventh Ave. at 49 St., 212-626-7312).  The $15 admission guarantees you: entry to show, a free drink, and a special collectible laminate. This all-ages show begins at 9pm on Wednesday, Oct. 31.

Buy your tickets from Wicked Cool Records (there are no funny service charges), and your laminate will be held under your name at Hawaiian Tropic Zone. You must bring your ID to the show for entry!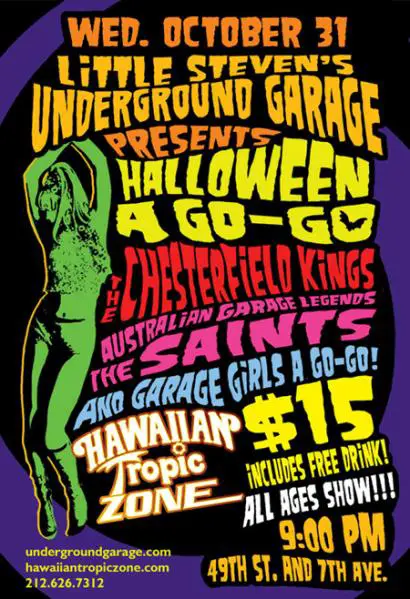 Reader Feedback -
0 Replies