Post Feedback | Printer-Friendly | Send Article to a Friend
February 29, 2012 - by City Guide
Featured Listings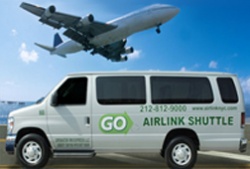 Go Airlink NYC· Direct, door-to-door transportation between Manhattan and JF...

SuperShuttle· Need a lift? Let SuperShuttle pick you up from your home, o...

MetroCard· The fastest and least expensive way to see all the famous pl...
The setting of several Mad Men episodes, The Roosevelt Hotel NYC celebrates the long-awaited return of the AMC hit series by inviting guests to live a few days in Don Draper's shoes with "Mad Men in the City," available March 1 – June 31, 2012, starting at $425/night*. Entering The Roosevelt Hotel's grand lobby boasting glamour and romance of yesteryear, guests go behind scenes with sixties-inspired mixers at mad46 or Madison Club Lounge (Draper's hot spot) and Mad Men Season 4 on DVD to take home, to spacious accommodations in a newly-renovated hotel room, an "Unofficial Mad Men Cookbook" taking readers inside the characters' favorite kitchens, restaurants and bars, and tickets to Paley Center for Media where guests enter the Sterling Cooper world and become advertising art directors with sixties-era commercials
"Mad Men in the City"
Accommodations in renovated room at The Roosevelt Hotel
Mad Men Season 4 on DVD to take home
Two tickets to Paley Center for Media
'60s-inspired cocktails at Madison Club Lounge or mad46
"Unofficial Mad Men Cookbook" to take home
A weekend fit for shined shoes and crisp suites, "Mad Men in the City" gives fans of the popular series a backstage pass to The Roosevelt Hotel, where Don Draper lived in Season 2 after his wife Betty threw him out. Whisking guests back to the days of The Sterling Company, visitors step into the '60's advertising world with celebrated commercials from the era at NYC's famed Paley Center for Media in Midtown. Toasting to the series' return, guests enjoy themed cocktails including "Tom Collins," "Greyhound to the Manhattan" and "Vodka Gimlet" at mad46 rooftop bar and Madison Club Lounge, Draper's frequented hot spot in the hotel's lobby. With a take home DVD of Season 4, guests are forever reminded of their NYC adventure and settle Mad Men fixes even after the current season comes to close.
For more information, call The Roosevelt Hotel toll free at 888-TEDDY-NY or visit www.theroosevelthotel.com. Stay socially connected on Facebook at www.facebook.com/rooseveltnyc, follow on Twitter@rooseveltNYC, or join all online communities at www.rooseveltconnect.com.
About The Roosevelt Hotel
Deemed Grand Dame of Madison Avenue since 1924, The Roosevelt Hotel New York City is located right in the thick of things -- steps from Fifth-Avenue shopping. Offering 1,015 guestrooms that will be completely redesigned by February 2012, its historic heritage is reflected in the meticulously restored interiors, designed to capture the original architecture and offer modern-day amenities. From April to October, The Roosevelt Hotel's rooftop lounge, mad46 welcomes guests and New Yorkers alike to enjoy an unsurpassed Midtown view atop the 19th floor above the hustle and bustle of the "city that never sleeps." Stay current with up-to-date information from The Roosevelt Hotel by checking the hotel's blog at www.TheNYKnow.com.
*Minimum of 3 night stay, can not be applied to previous reservations or other discounts
Archives:
Related Articles
Most Popular Articles on CGNY