Make NYE Plans with nycnewyears.com, Taylor Swift in Times Square and More!
December 25, 2014 - by CG News Desk
The clock will strike midnight, the Ball will drop, kisses will be exchanged, and the promise of a New Year will light up the night sky. New Year's is a time to reflect on all that has happened, and set ambitious new goals. Of course, it is also a time let our hair down and celebrate. New York City provides many opportunities for merrymaking on the 31st. Here's where you want to be when the clock strikes 2015.
For Christmas dining in NYC, click here.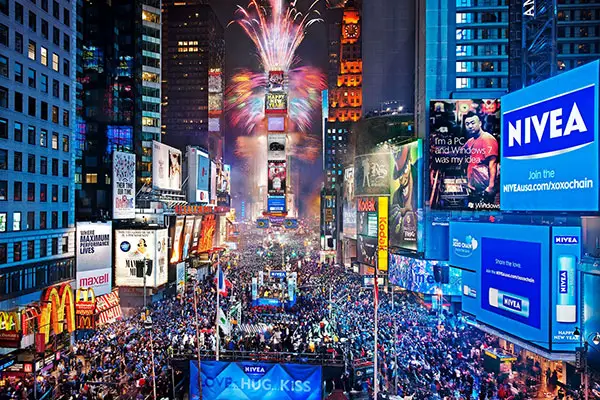 There is no minute of the year quite as exciting as 11:59 p.m. on December 31st in Times Square. The Times Square New Year's Eve Celebration and Ball Drop is easily the most famous NYE celebration in the world. A million people join together to celebrate this event, and over a billion people will watch it on television (ABC, locally.) If you're planning to go, dress warmly, bring something to eat, and be sure to get there early (before 5pm).
The big news for 2015 is that Taylor Swift and One Direction will be headlining this year's Dick Clark's New Year's Rockin' Eve with Ryan Seacrest. Swift, who was recently named New York City's Global Welcome Ambassador for 2014-2015, will be taking center stage in Times Square, while One Direction will be performing on the West Coast at the Billboard Hollywood Party.
It has also been confirmed that Idina Menzel will perform the worldwide hit from the film Frozen, "Let It Go," live at Times Square.
Other performances in Times Square will include Florida Georgia Line and MAGIC! Florida Georgia Line's medley of songs will include their record-breaking, multi-platinum #1 smash "Cruise," platinum-certified hit "This Is How We Roll" and current single "Sun Daze," and MAGIC! will perform their chart topper "Rude" and recent release "Let Your Hair Down."
Every year, viewers are eager to see "the ball" drop in Times Square. The Ball is a 12-foot geodesic sphere, weighing 11,875 pounds, covered in 2,688 Waterford crystals, powered by 32,256 Philips Luxeon Rebel LED lights and capable of creating a palette of more than 16 million vibrant colors.
Say Hello to 2015 on the Water
Ring in the new year aboard Spirit's New Year Eve Fireworks Dinner Cruise. The cruise will feature *delicious dining with a premium open bar *DJ music and endless dancing *midnight champagne toast and party favors *dazzling fireworks views and more. Cruise sails from 10pm-1am. spiritofnewyork.com
CitySightseeing New York Cruises is hosting its annual New Year's Eve Fireworks Cruise, that will offer incredible views of the New York City skyline, The Intrepid, Empire State Building, Ellis Island, United Nations, and much more. The three hour cruise will feature an open bar, desserts, live DJ & dancing the night away. citysightseeingnewyork.com.
New Year's Eve Parties
This week, NYCNewYears.com offers you and your family a chance to ring in the New Year at the top rated parties in the Big Apple. All of the participating venues feature NYC's top DJs, Open Bars and live broadcasting of the 2015 New Year's Countdown to give you the best party experience NYC has to offer. Traveling with kids? No worries!!
NYCNewYears.com has many family friendly options to ring in the New Year.
For more information on all of party options and/or to purchase tickets visit NYCNewYears.com. You may also contact a New Year's Eve Specialist to help choose the best option for you at 646-205-7600.
As a special promotion, please use code "cityguide" for $10 off select venues and events.
---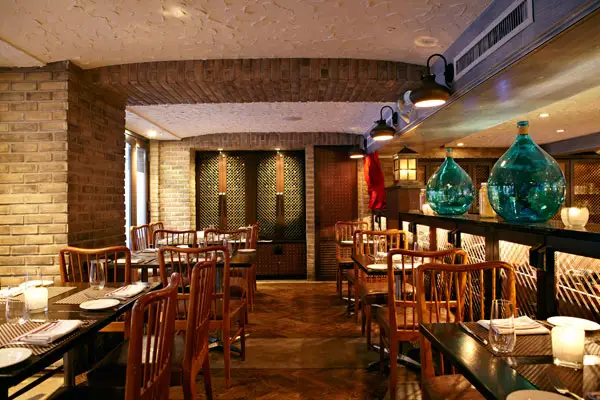 Abboccato Italian Kitchen will be serving breakfast on New Year's Eve from 7:30-10:30am, with their a la carte menu available from 5 to 7:30pm, and a Chef's Four-Course New Year's Eve menu ($85/$115 with select Italian wine pairing) from 8 to 11pm. Click here for more info and reservations.
---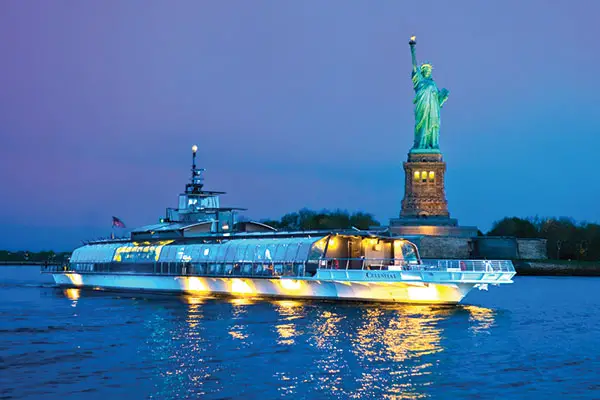 Bateaux New York is offering a special Eve of the Eve Dinner Cruise on December 30th, as well as a New Year's Eve Fireworks Dinner Cruise and New Year's Day Brunch & Dinner Cruises. All offer unparalleled views, premium open bar, live music with jazz classics and Broadway show tunes, party favors, and much more. Click here to reserve and for more info.
---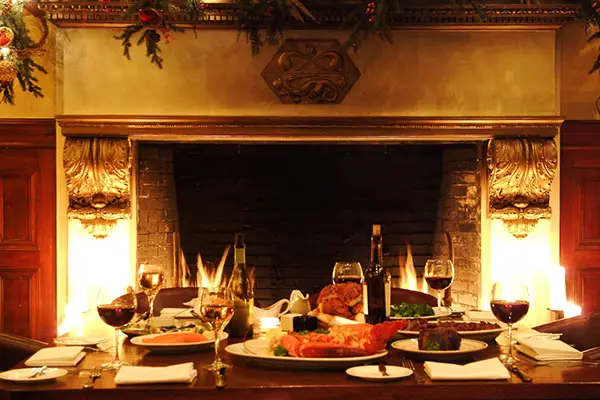 Benjamin Steakhouse will be offering a special menu for New Year's Eve. Seatings begin at 9pm, and the evening includes a lavish, three-course dinner with sides, full open bar from 9pm to 2am, and a champagne toast at midnight. Entree options include Rack of Lamb, USDA Prime Filet Mignon, Dry-Aged USDA Prime Rib Eye Steak, Twin Lobster Tails, Filet of Norwegian Salmon, and Filet of Chilean Sea Bass. $295/person. For the full menu and more details, click here.
---
Celebrate New Year's Eve at Del Frisco's Steak House, located near Radio City Music Hall in Rockefeller Center, midtown Manhattan. The expansive setting reflects the rhythm and energy of midtown, and the menu features fresh, aged prime beef shipped from the Midwest twice a week, and lobster, fish, lamb, and more. Del Frisco's is the perfect place to bring her to enjoy her day with impeccable chef-driven cuisine and world-class hospitality. Click here 212-575-5129.
---
On New Year's Eve, Garage Restaurant & Cafe will be offering a 5-Course Prix Fixe NYE Gala Dinner from 10pm with VIP bar seating, 3-hour open bar (including their famous martinis), unlimited gourmet hors d'oeuvres, live jazz from the David Coss Quartet, dancing, and more. Click here for the menu. On New Year's Day, they will be offering a special four-course New Year's Day Brunch with live jazz ($29.95) from 11am-4pm and a New Year's Day Dinner ($59.95). Call 212-645-0600 for more information and reservations.
---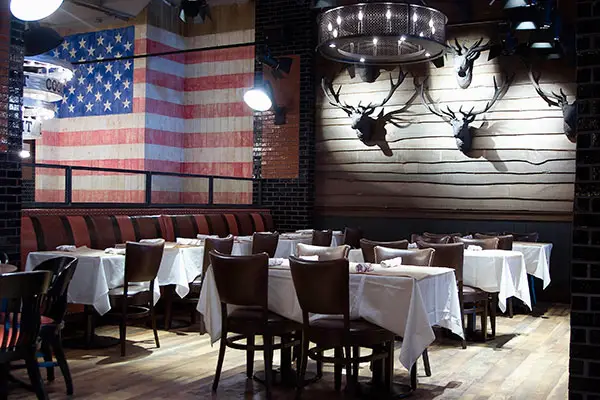 Guy's American Kitchen & Bar, created by Guy Fieri, will be getting in on the NYE festivities, with a special 5 Hour Open Bar event, from 8pm-1am. There will also be special DJ performances. VIP packages are also available.
___________________________________________________________________________
For an unforgettable evening, celebrate New Year's Eve with your friends and family at Hakkasan New York Restaurant located in midtown Manhattan.

Ring in 2015 with exclusive seven course prix-fixe menus by Michelin-starred Chef Ho Chee Boon and exquisite wine pairings, pre-selected through a dedicated tasting session by the talented Hakkasan wine team. Additionally, upon arrival each guest will receive a complimentary glass of champagne provided by Perrier-Jouët.

Seatings are available at 5:30 p.m., 6:30 p.m. and 9:30 p.m. for the $138 menu. The 10:00 p.m. seating will offer a $198 menu and starts with our exquisite Peking duck with Petrossian Osserta Caviar. Other highlights include our grilled Chilean seabass with Sacha and an exquisite chocolate tasting to conclude the meal.

To see our full New Year's Eve menus, please click here.
---
Heartland Brewery's Times Square location (127 W. 43rd St. btw. Sixth and Seventh Aves., 646-366-0235) will be hosting a New Year's Eve Bash with a buffet dinner — including NY sirloin au poivre, pumpkin-and-sage ravioli, and more — and open bar from 9pm to 1am. Click here for more information and reservations.
---
The two Morton's The Steakhouse locations, at 551 5th Ave. (near 45th St.) and near the World Trade Center at 136 Washington St., are available to host New Year's Eve and New Year's Day celebrations. For reservations, click here.
---
Oceana restaurant will be celebrating New Year's Eve in the lead up to the ball drop with their full menu, raw bar, and Chef Ben's specials from 5 to 11pm. Plus, they will be open on New Year's Day from 5 to 10pm. Click here to make reservations.
---
For $295 per person, The Sea Fire Grill's multi-course New Year's Eve celebration begins with seatings at 9pm, open bar until 2am, champagne toast, live DJ, and more. Entrée options include roast halibut, encrusted tuna, steamed lobster, Colorado rack of lamb, and filt mignon rossini. Click here for the full menu; call 212-935-3785 or click here for reservations.
---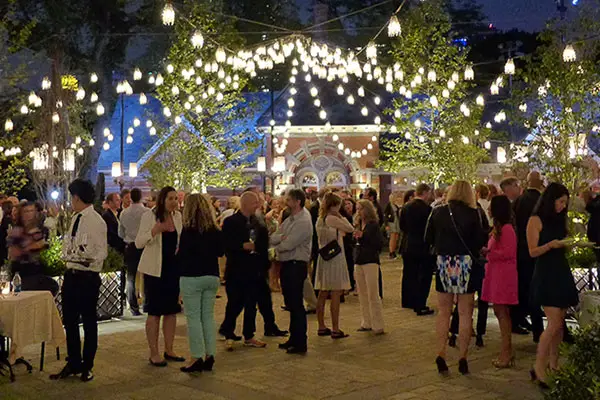 Photo: www.tavernonthegreen.com
NYC's historic Tavern on the Green will be hosting a New Year's Eve Ball with four hours of open bar, hors d'oeuvres, fireworks over Central Park, a live feed of the goings-on in Times Square, live jazz and DJs, and more. Both general admission and private tables are available; click here to buy tickets.
---
Planet Hollywood will be welcoming the new year with a special five hour live DJ performance, from 8pm-1am. Doors open at 7pm. loads of festive passed appetizers, all the NYE garb you could ask for, and of course, champagne toast at midnight! With a DJ spinning all night, you can party like the rock star you always wanted to be from 2014 into 2015! For a more low-key, family affair, Buca di Beppo offers a VIP family style Italian dinner and drinks galore for the family.

---
Ripley's Believe It or Not! Times Square will be hosting a New Year's Eve party that the whole family can enjoy, filled with endless entertainment.The evening includes an open bar and hors d'oeuvres from 8pm to 1am, a DJ dance party, champagne toast at midnight, and a great view of the live ball drop. For the kids, there will be the Impossible Laser Race, scavenger hunts, cotton candy, popcorn, and more. The party begins at 8pm and ends at 1am Sunday, January 1. All children ages 17 and under must be accompanied by an adult (over the age of 21). Explore and discover over 500 artifacts and over 20 galleries in North America's largest Ripley's attraction.
---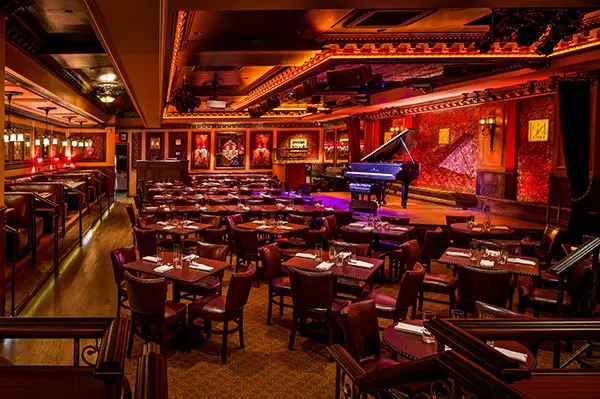 Broadway's cabaret hotspot 54 Below will be hosting two shows on New Year's Eve: the great drag legend Charles Busch performs at 7pm; Tony winner Laura Benanti presents a brand new show at 11pm.
---
CitySightseeing Cruises' annual New Year's Eve Fireworks Cruise will sail the New York Harbor, featuring views of the famous New Year's fireworks, the New York City sky-line, Empire State Building, The Intrepid, Ellis Island, United Nations, Brooklyn Bridge, South Street Seaport, One World Trade Center and the Statue of Liberty. Your ticket includes: 3-hour cruise; open bar; live DJ entertainment & dancing; champagne toast at midnight; desserts and coffee; and light meal options available for purchase. Must be 21 years old to board the cruise. Boarding at 9PM, cruise will sail from 10pm-1am. Click here for tickets and for a special coupon, click here.
New York Water Taxi's New Year's Eve Family Cruise offers another great option for families, with Wii games, party favors, and noise makers – while the grown-ups will be enchanted by spectacular views of the glittering Manhattan skyline and fireworks celebration. Click here for more information. NYWT/Circle Line Downtown also hosts a separate fireworks New Year's cruise for couples on the Zephyr, for more information on that, click here.
Spirit Cruises offers both a NYE Family lunch and a Fireworks New Year's Dinner Cruise.
Madame Tussauds, situated in the heart of Times Square, will be hosting a special New Years Eve event. The 85,000 square foot multi-level attraction is hosting a night of fun, food and cocktails. Madame Tussauds is home to 200+ lifesized wax figures, most recently including One Direction, Jon Hamm (from Mad Men), Rihanna, Anne Hathaway, and others. Festivities begin at 7pm. VIP packages available.
Reader Feedback