Post Feedback | Printer-Friendly | Send Article to a Friend
February 5, 2007 - by Griffin Miller
Featured Listings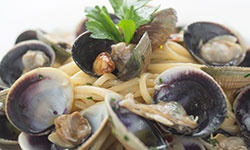 Da Marcella· A Mediterranean taverna in the Theater District...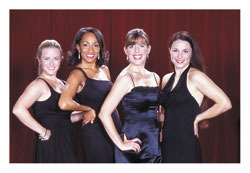 The fairer sex is front and center during this month of hearts, flowers, and badda-bling courtesy of Her Song, the four-femme musical revue that's garnered praise from the press- --- and word-of-mouth raves from theatergoers -- ever since it debuted last year at the legendary Birdland (315 W. 44th St., reservations: 212-581-3080) jazz club in the theatre district. (It's even caught the attention of singer Judy Collins, who was seen checking out a recent performance!)

Now in its ninth smash month, this unique show, focusing exclusively on the talents of women songwriters, has experienced increased momentum as audiences discover how neatly performance times (5:30pm on Thurs., Sat. & Sun.) mesh with Broadway curtains -- both matinees and evenings. And the fact that Birdland offers a dinner menu is an added perk!

Gabrielle Lee, Emma Zaks, Kelly McCormick, and Trisha Rapier make up the attractive cast, and each is a polished musical-theatre pro who's called upon to deliver one or more show-stopping numbers during the show's fast-paced 90 minutes. Lee's rendition of Billie Holiday's "God Bless the Child" and Rapier's performance of the Edith Piaf classic "La Vie En Rose" deliver an especially powerful one-two punch when performed back-to-back.

They're backed by an outstanding group of jazz musicians who provide just the right sound for what can only be described as an eclectic roster of songs-a list that spans both generations and genres from "America the Beautiful" written in 1895 to Dolly Parton's country standard "Nine to Five" to a trio of Ellie Greenwich's girl-group faves: "Do Wa Diddy," "Hanky Panky," and "Da Doo Ron Ron."

---

When TV's "Frasier" ended (or "left the building" for good) in 2004, David Hyde-Pierce was the first to arrive on the East Coast as one of the original stars of the megahit Monty Python's Spamalot. Now he's heading back to Broadway as a stage-struck detective in the highly anticipated new musical comedy Curtains, slated to begin previews on Feb. 27. But before he unpacks his trench coat, John Mahoney, who played his dad on the long-running sitcom, will be taking curtain calls at the American Airlines Theatre (starting Feb. 16) in the romantic drama Prelude to a Kiss.

But wait, there's more! Kelsey Grammer will be joining his former cast members in New York Mar. 7-10 when he takes on the role of Prof. Henry Higgins in the New York Philharmonic's semi-staged performance of My Fair Lady at Lincoln Center. Perhaps the three erstwhile co-stars will set up a reunion at, say, Sardi's? Wouldn't that be loverly!



Archives: Related Articles
Most Popular Articles on CGNY